A solo rider: A rickety motorcycle: 7 days: Rural Himachal: One ride to remember!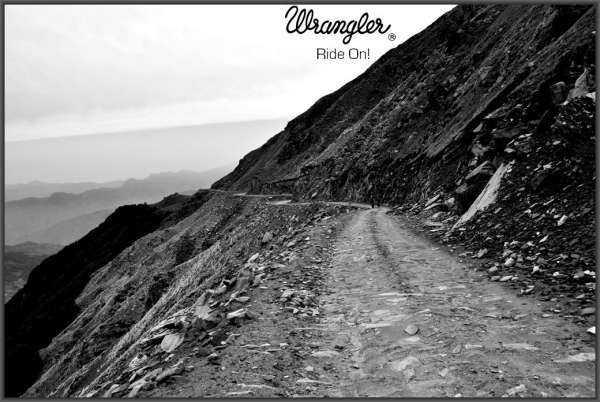 Click to navigate -

---
Chapter 1: Before it began!
Life comes back full circle. Oh yes, it does! The difference lies in the fact that the perimiter of this circle of life is way more than the renowned 2*pi*r. Because everytime you come back to the point where you started off, you feel just as excited and zealous to surge ahead, once again, like you did, when your circle last came back ;) . Just can't calcutate the distance you've covered so far, I can't! It's not mathematics, life never was!
And if I now talk about riding, riding is an art. Even though many don't recognize it as one, but it still is, an art. But there are some, who do infact acknowldge this art, and make the extra effort to highlight the artist in bright colors, bringing out the best in them. Wrangler did just that for ten artists, and I, am one of the lucky ones. Who am I is unimportant, what is important though is, the stuff I do to make the best use of this recognition! And would I do that? Time has answered many a question, and shall answer this too....
Lets roll back to a week ago..
"Would you be available in the first week of June?" pronounced a prominent and sincere voice at the other end of the line. As the conversation progressed, it became transparent that I was in for another ride, as a True Wanderer, a Wrangler True Wanderer! To wander wherever I want for a period of seven days on a motorcycle. The thought was enough to throw me off the chair and on the carpeted floor of my cubicle, making me the apple of everyone working around me's eye!
Days spent in office post that seemed like days spent in solitary confinement, only that confinement was better, as confinement has free food!
I had the option of choosing between my beloved and my beloved's new lover, which was incidentally my latest acquisition as well, widely known as the CBR250R! The love for the older machine, (which too as luck would have it, shares the CB with the CBR and is commonly known as the CBZ-Xtreme) trumped and thus, it was going to be me and her once again! I vaguely remember the day I went on my first ever solo ride, and that was straight to Leh! The 'Old-Lady' as I call her, was in her ravishing form in those days and by god's grace, she still hasn't lost her sheen! I'm a bad lover as I punish her, many times, in almost all my sojourns, but she takes it all in her stride and comes back with a bang just like me, yep, just like me. She was with me then, she's with tme now. She's brought me thus far, that I am in a position to write this log for you. So its deemed that I take her on her next mission.
Got her in shape the next day. She had'nt been ridden a lot for the last few months, so the wrinkles were all 'oiled' out and the face was given a make over.
Hey, The CBR too, would see his days. But that's a different story altogether, yet to unveil!

---
Chapter 2: The Kickoff!
Route Taken: Delhi - Chandigarh - Mandi - Barot
Stats: 550 kms, 16 hours (Including 3 hours flag-off time from Chandigarh)
Route Map:


It was 3 am by wall clock when I left Delhi. 4.5 hours, and after a brief catch up with a close friend, from Panipat, I was in Chandigarh. Around 9am, I rushed to the Wrangler exclusive outlet in sector 17d Chandigarh and met a bunch of real friendly people from Wrangler. They took me through the proceedings and finally I was flagged off. The flag off was even more special because my good friends and able riders from the BikerZone, Infosys were there to see me off!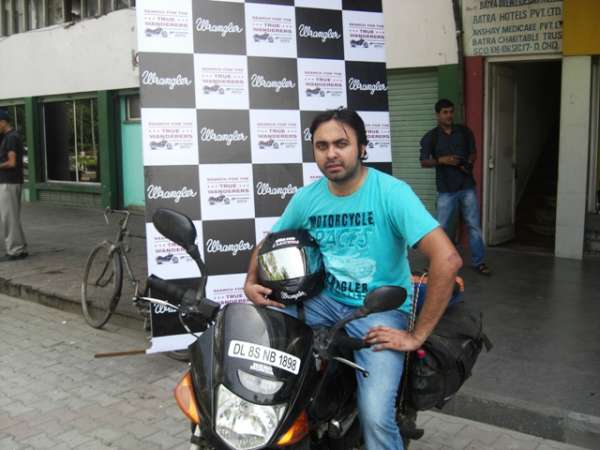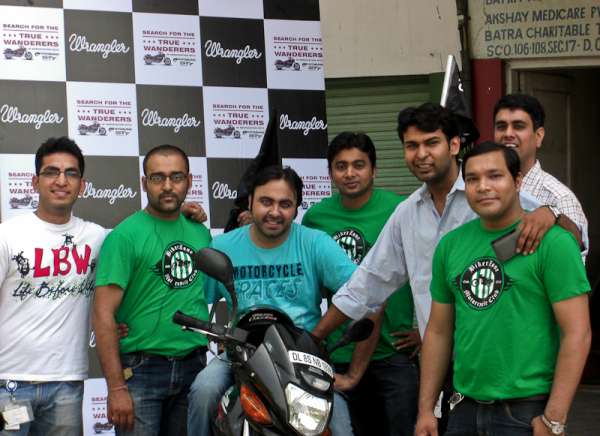 11 am saw me cruising at an aggressive but sustainable speed on the NH-21. Ah, the good old 21. I have a few vivid memories of it, or should I say on it! Have spent valuable time scaling this little one time and again. I was reminiscent of that fact!
5 hours, a puncture, and a few towns later saw me hiting Sundernagar where I relinquished my hunger over a bowl (or was it a pan!

) of cheese pulao. Was good, but could have been better, for the amount it sought! Nonetheless, I continued till Mandi and then took one of the best decisions ever! A left towards Ghatasni and then Barot!
For the uninitiated, Barot is a hamlet in the Mandi district at almost a height of 6000ft. In many of my sojourns across Himachal, I have seldom come across such beauty. Beauty reminds me; she once mentioned with such opulence, that she lies in the eyes of the beholder. I would request every such beholder to feast his/her eyes on Barot then :)
My bag began giving my shoulder some trouble. I normally do-not carry a shoulder bag and keep all my stuff in the saddle only. But this time I was carrying one and which was substantially heavy. So I tied it to the rear seat, a place which it shall retain for the next 7 days. Getting the weight off the shoulders was such a relief, and I carried on with a smile on my face.
The road from Ghatasni seemed to climb endlessly. Some 45 mins later, the valley opened like the sun, and just like the it pierces the skies of dawn and brings life back into life, the valley skimmed through the crevices of the virgin mountain, giving birth to a unique yet magnificent panorama!
Some pics of the ride are below: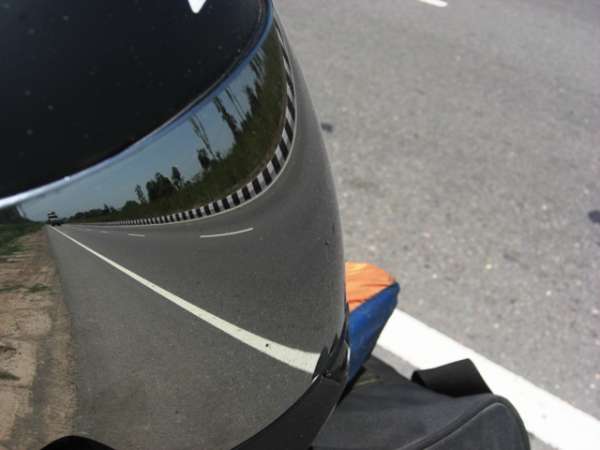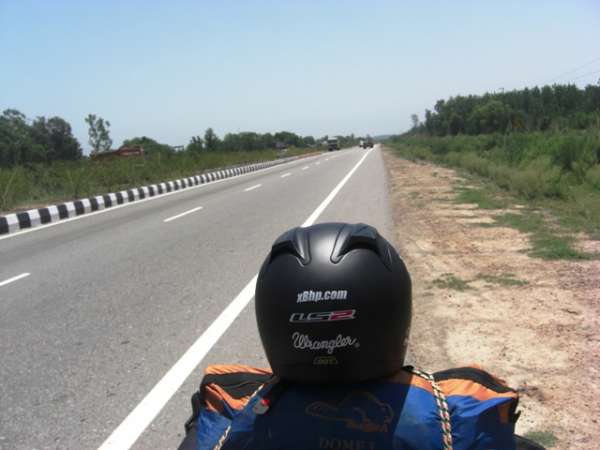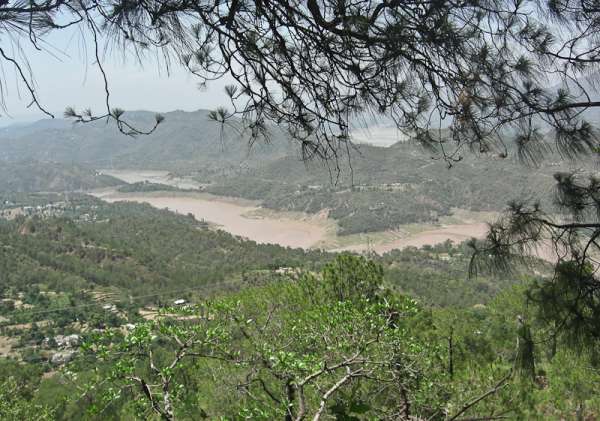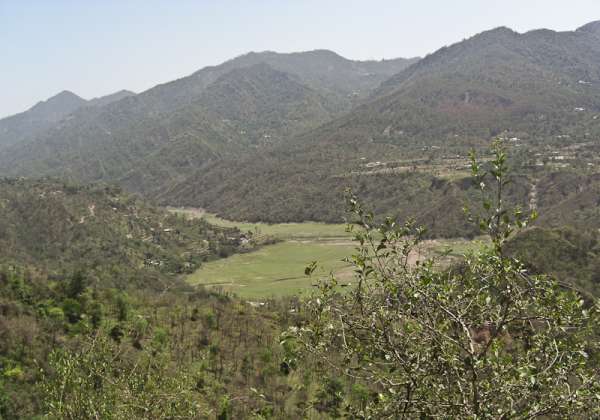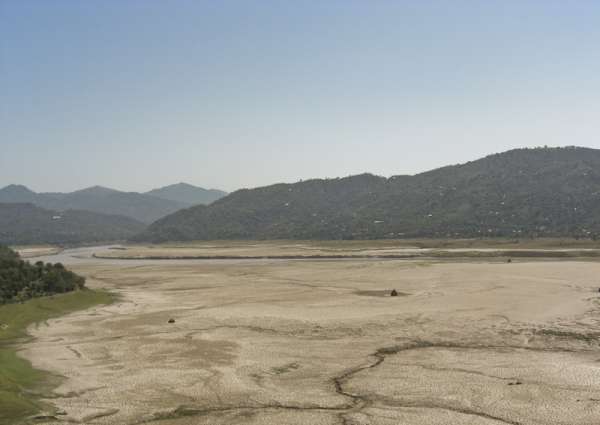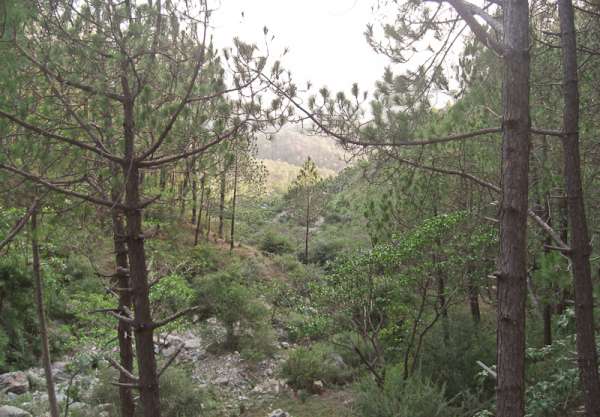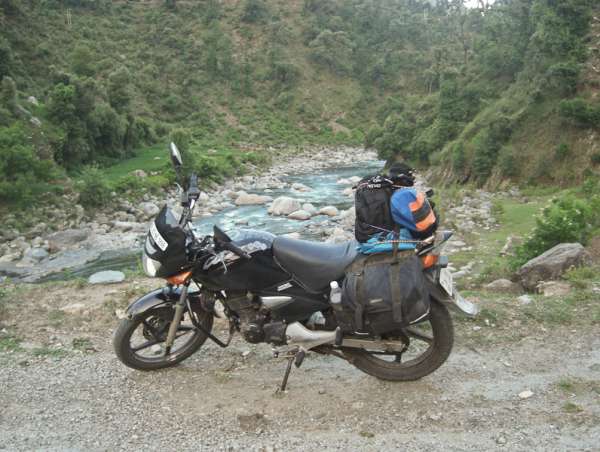 I got a room a Hira guest house for 400 bucks which was fine considering the interiors and the remote location of the place. My Hiralal is a friendly gentleman and I spent quite some time talking to him about Barot.
I didn't have a plan in the first place. All I had was a rough itinerary. But I have a plan for tomorrow. I am staying here. I saw some tracks leading up 20-30 kms from here. Will explore them. I have heard this line somewhere, and I guess it fits in: Wanderers Wander!
I want to write more, but I guess after riding for more than half a day, the night of the other half day, wants to engulf me in her arms!
Barot should be able to throw in some wonders tomorrow...
So till tomorrow..Ciao!

---
Chapter 3: Exploration Safari beings!
Route taken:
Leg 1: Barot - Meyot - Barot
Leg 2: Barot - Badagram - Barot
Some trek trails around the place
Stats: 70kms, 5-6 hours of exploration
Live: Early Morning View From the balcony of my room.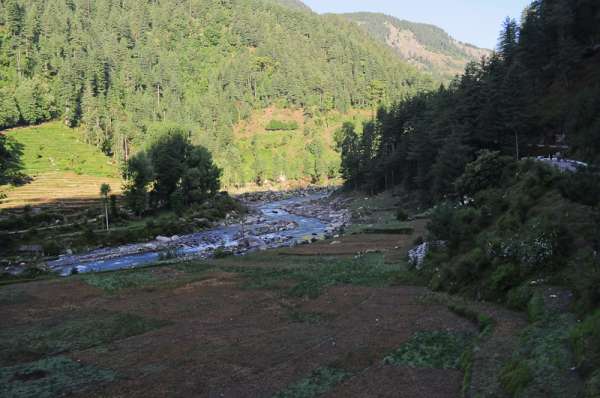 I have fallen in love with this place. I wonder why, in all my journeys across himachal, did I not, ever, think of paying this quaint little destination a visit.
Nevertheless, what did not happen then happened now! And I am glad that I took the destination of staying here that extra day even if that meant that the next day was going to be substantially longer.
My simple gadgets
AboutBarot
Barot is essentially made up of 2 sister towns, the other one called Multhan. But owing to the fact that they are adjacent to each other, you never realize where you are. Most of the guest houses are in Multhan, including the one I am currently staying in. The difference is that Barot is a part of Mandi district whereas Multhan is in the Kangra district!
Now, I fairly remember spotting three different roads leading to god knows where, when I pulled in last night. Today was the day to convert that unknown into known. So early in the morning at around 8 am I set off for the exploration. Initially I went to the fisheries area, where fish farming is done on a large scale. They give you permits for Rs 100 per day to fish, and either eat that fish, or throw it away, your call! But I being a vegetarian, wasn't too inclined on fishing. Heck, even if I wasn't one, the amount of patience one requires for holding that mile long fishing rod for eternity, waiting for something to catch the bait, strikes it off my list J
The catchment area
So then, what did I do? Well, I picked on a trekking trail and strode my bike on it. The old lady too (my Xtreme) was supportive of my antics and thus grunted forward. Love thy machine and thy machine love thy back ;)
Crossed this
Into this area, which was on the other side of the catchment area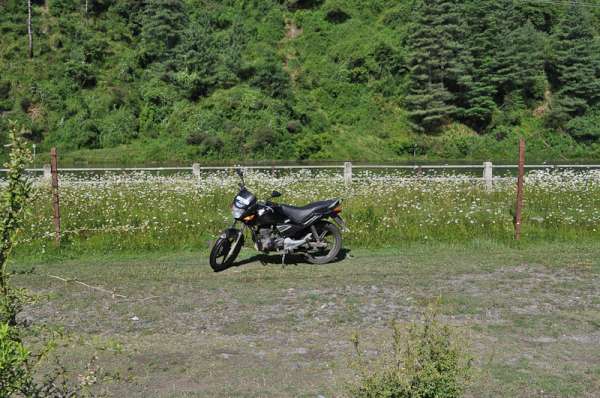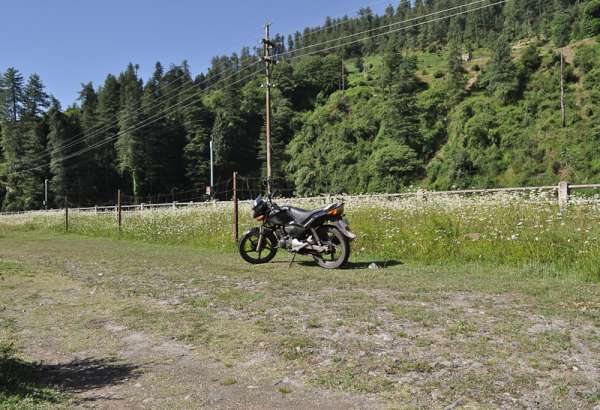 And continued…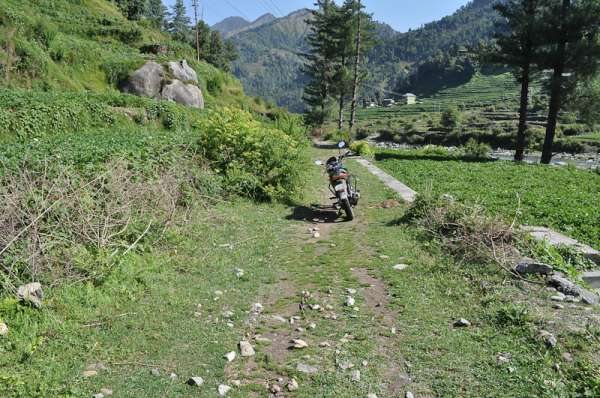 Then began a maze of tracks, like a wire mesh, entangled to make life worse, like an amalgamation of unknown streets, with no traffic on, so you can't ask anyone on which street to take!
I followed my instincts till I hit the dead end. No more motor able road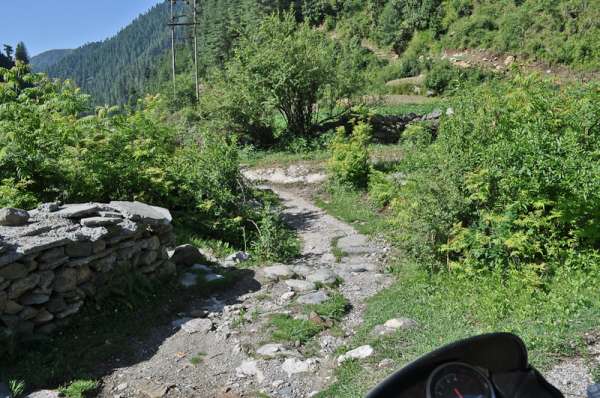 I turned around to head back where I came from and I can swear I must have taken the wrong trail back because I came across this on the return:
Now the log was situated at such an angle on the trail, that there was very little space for the bike to cross. Beyond that half a foot of space was the edge, where if I fell, I would have been spotted floating in the river (I'll reveal the name later) a few days later! So what do I do? Do I turn back and find another way out or do I think and find a solution to this loggy problem?
I sat on the log. And took the bike across on the first gear across the ledge and into wider space. I realized that there wasn't space for the both of us, but there was room for the bike to glide across and I did just that. However, in that process, I ended up with a little slit on my finger, thanks to a splinter! I had to remove my gloves after that and continue w/o them so that the wound is well aired!
Leg 1: Barot – Meyot - Barot: 16 kms, 90 mins
A trail led to the north of the town which on question from the locals was ascertained that it was 12 kms long and it culminated at a place called Meyot beyond which no road existed.
Some pics enroute: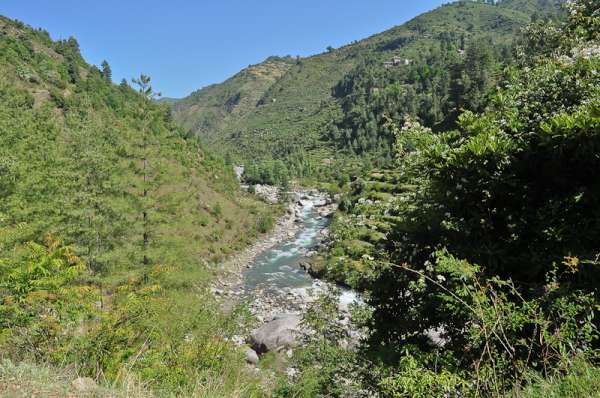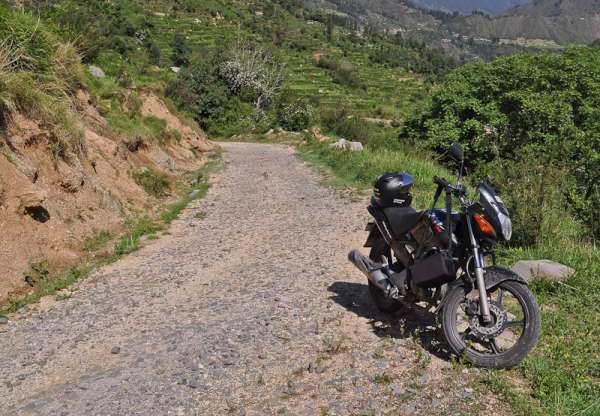 The trail was superb! Full of rocks and potholes and steep inclines. I reached Meyot in about 45 mins. I was a small little village with a few huts adorning the beautiful area.
First sign of snow capped peaks:
Then I turned around. And began 20 mins of blissful ecstasy! I reduced the tyre pressure to around 20 psi , positioned myself on the tank and gave throttle. The bike was not only moving on corners, it was literally gliding on them! The tyre was gleefully moving on multiple axis. It's the age of 3-D, even a real wheel understands that. Command it to present a flick for you in 3-D and it shall do just that! It shall not only rotate but shall also swivel, spin and glide. Rubber that would submit to your command. A rarity amongst rubber these days.
After my 20 mins of riding orgasm, I reached back to Barot, where another trail was waiting for me….The road to Bada Gram!
Live: 2011-06-04: 10:30 pm - But more on that later…I am hungry. Some dinner would be welcome. I am cold, perhaps I got to pull out the jacket from the saddle. I can hear the river flowing, with all its might. It's a tributary to the might Ravi, called Lumb-Dung.
Leg 2: Barot - Multhan - Badagram: 32 kms, 2 hours
My love for trails continues. After having my breakfast, which comprised of two scrumptuos 'paranthas', I head off on the second trail of the Day, which led to Badagram. Now what or where is Badagram. To throw more light on the place, a simple description would be that this is the place where the road ends. It's a village at road's end and blasting and excavation is going on here, to connect this part of the Kangra district to its other sibling i.e. Bir and Billing. The trail comprised of loose rock and gravel and was surprisingly wide.
A waterfall enroute: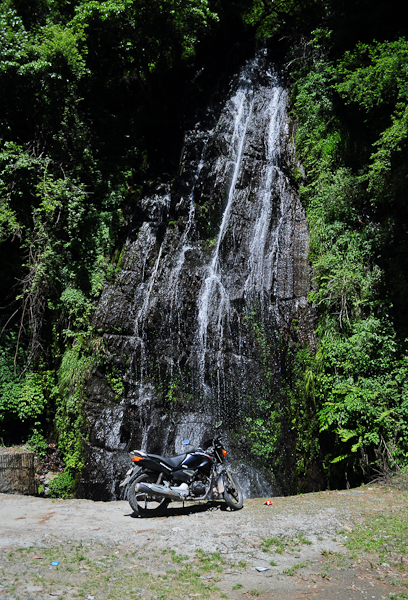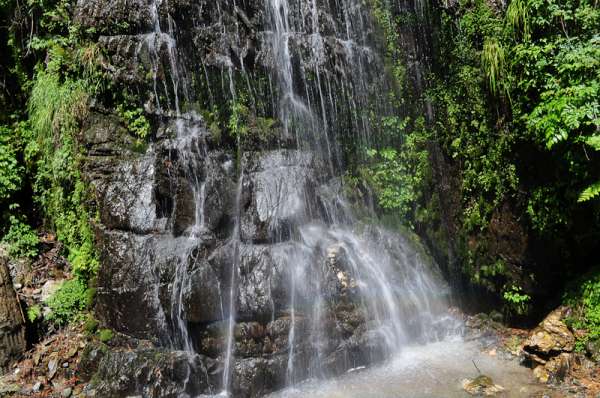 Some more pics on the way: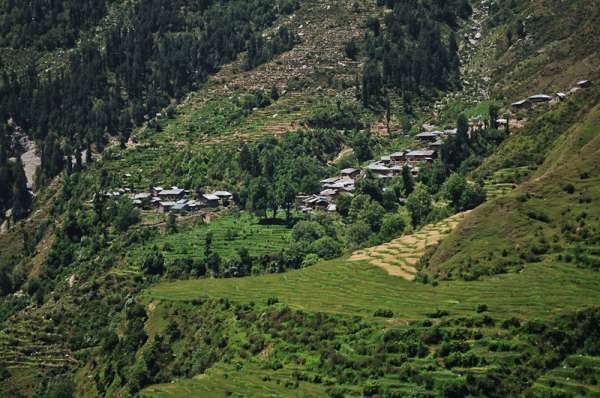 I had been told of a pretty wide and long nullah that crosses the road some 4 kms before badagram and being the monsoons, I would have swelled up as well! That is an uderstatement to what actually came my way
The longest water crossing the I have ever ridden through:
With that done, me, my wet bike, and my wet shoes together made our way onto Badagram. The road climbed agressively corner after corner and suddenly, it came to an abrupt end near a bridge.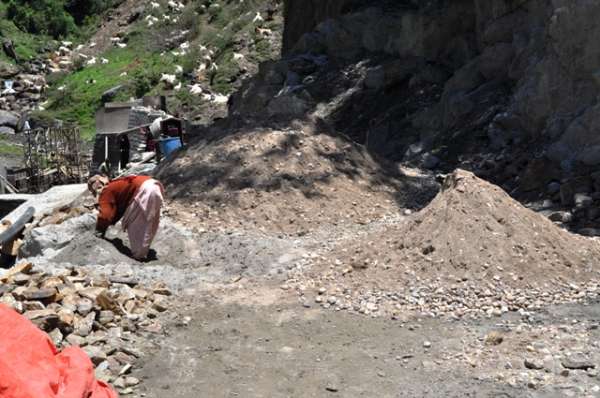 Spent some time there and turned back. Crossed the water crossing for the second time and head back to Barot. It was mid-afternoon by know and I was getting really hungry. Pulled up to the first dhaba that came my way. Dal-chawal and sabzi were the call of the day and were quite delicious!
A full tummy commands rest and mine was dying to get some urgently! What do I do, I find a perfect spot near a stream where I spend an hour relaxing and another hour sleeping on the huge rock on the bank of the stream. Its dark when I wake up. I take a stroll down the little market place and churn out what I would be doing in the days to come my way. As always, I am not able to formulate a perfect plan, and thus leave it up to time and energy.
The night passes by without much activity. My weary soul gets its much deserved rest after almost 550 kms done yesterday.
A pic of the setting where I spent about a couple relaxing and sleeping!
Some more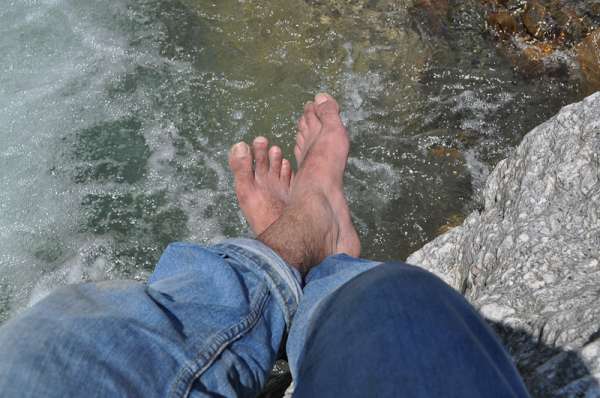 ---
Chapter 4: The Vagaries of Mother Nature: From Greenland to Rockland
Route taken: Barot – Ghatasni – Mandi – Pandoh – Aut – Banjar – Jalori Pass – Ani – Sainj – Rampur – Powari - Peo
Stats: 320 kms, 12 hours
Route Map:

Today I shall cross over from the mid-ranges to the higher reaches, just as planned.

Live: 2011-06-05: 4am- Its 4 am. About to leave Barot in a few minutes. I deliberately delayed the start. Why? Because I had a dream, that I am floating in fuel and suddenly I see a vision. Its of a friend called Vikas. A faint image of him lighting a fag and tossing the match on my fuel. Chaos follows. My fuel's ignited. I miraclously save myself from burning. BUT now, there's no fuel!
Eyes open. Its 1am. I push forward the alarm time to 3:30. More than a dream, its a hard fact. I need fuel, the bike's running half tank and the next fuel pump is in Mandi and its not scheduled to offer services before 7am!
...........Wish me luck!
I don't know the obsession I have with bathing before beginning the day for a ride. Some call it a fetish and some call it sheer foolishness. I don't care, I never did. I need water over me to freshen my sleepy eyes and aching body prior to kicking off.
Thus inspite of getting all set by 4, I was able to leave Barot only by 5 because the age old geyser that was warming water for me, took a good 45 mins to get the fluid in luke warm state! Talk about ISI mark and stuff!
Nonetheless, I was finally able to pull out of Barot at 5 am. I re-traced the path back to Ghatasni which was some 25 kms away. But before that I waited atop a hillock for the sun to rise. They say that the sunrise on a mountain top is very beautiful and should be captured on card, for sweet memories. I have many such memories captured in mind, however since 'they' are the ones who said, and 'they' play a very important role in liking what I am writing, I captured some on lens: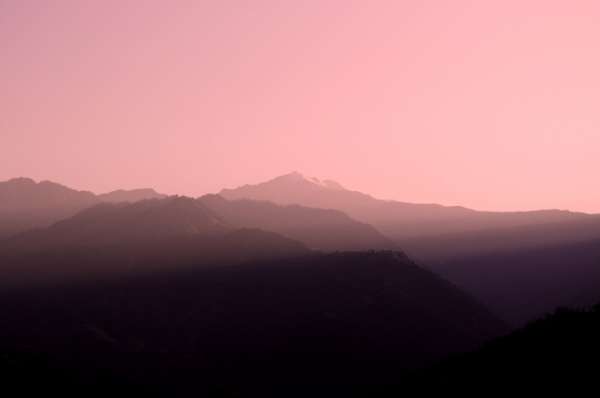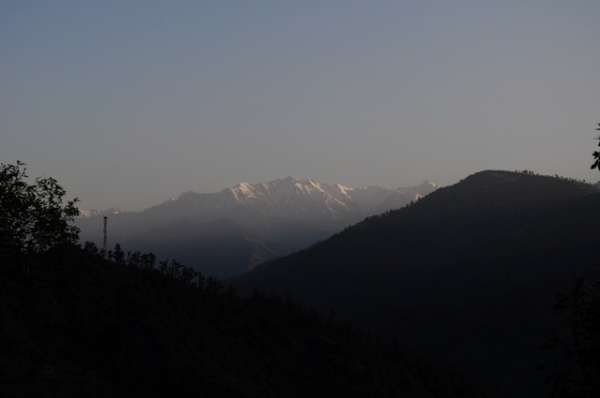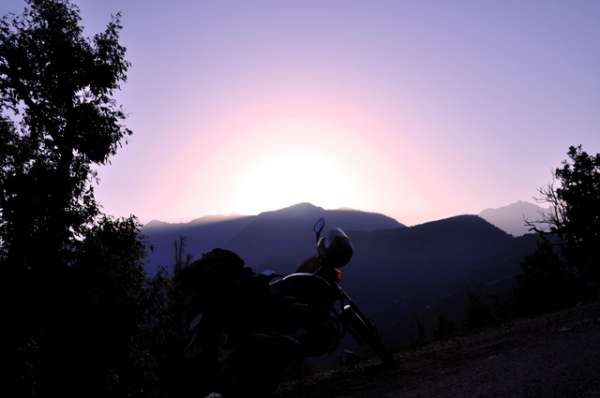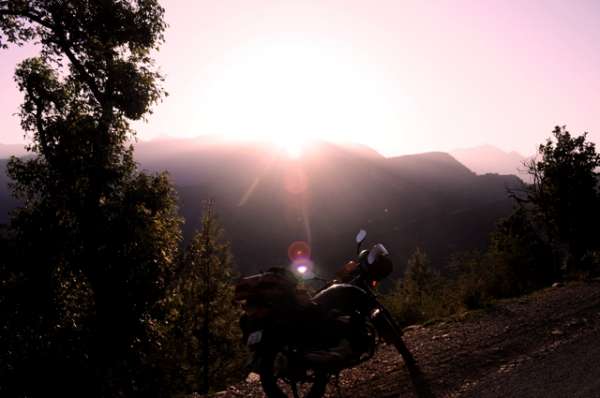 I carried on to Ghatasni. Took a left from there and hit the Pathankot – Mandi road. Mandi turned up in no time at all. It was 7 when I pulled to an atm, unplugged my wallet from the denim and withdrew some needed cash. Speaking of denim, these Wrangler jeans that I am donning from the last 3 days, seem to get more comfortable with the passage of each hour! Moreover, the colors as well as the characteristics are changing with time. It would be great to see them after 7 days of continuous wear!
Right so, getting back on track, I pulled away from Mandi on the road to Pandoh. I had thought of going through Janjehli and hitting the NH-22 from there. But I changed my mind! Yeah, we all reserve rights to do that don't we. The temptation of scaling a high altitude pass was too much for me! People like me can't stay away from such high altitudes for long. It's no good for health. And all of us have responsibility towards our well being ;)
Thus the nearest pass on the route (or the detour) was Jalori pass, at an height of 3120m. Jalori has one of the steepest climbs, which put to shame many of the ultra-high altitude passes enroute Ladakh. That's what I love about it!
A right from Aut saw me rising to banjar. Stopped for breakfast at 'Shringi Vatika' in Ghyagi before continuing with my trail to Jalori.
Some pics enroute: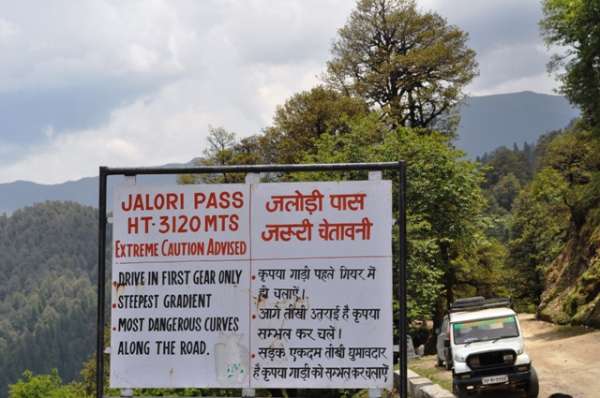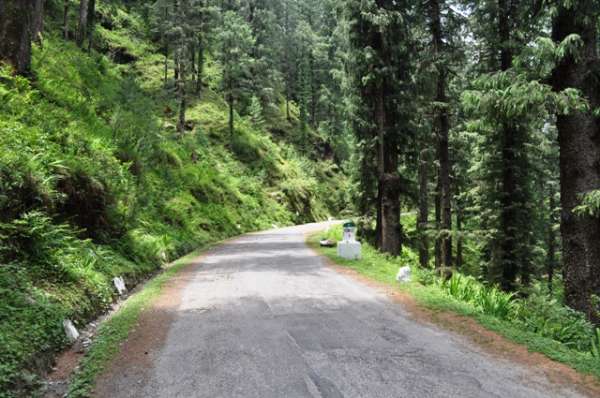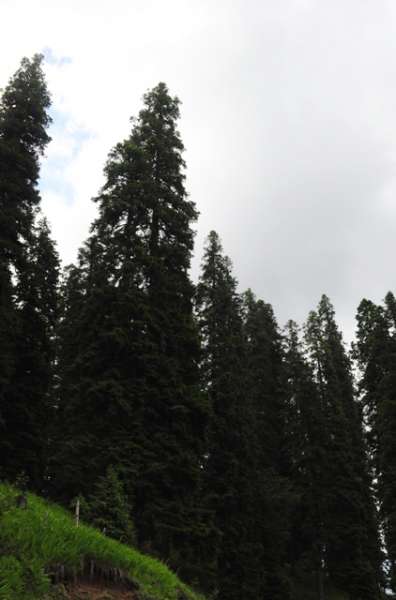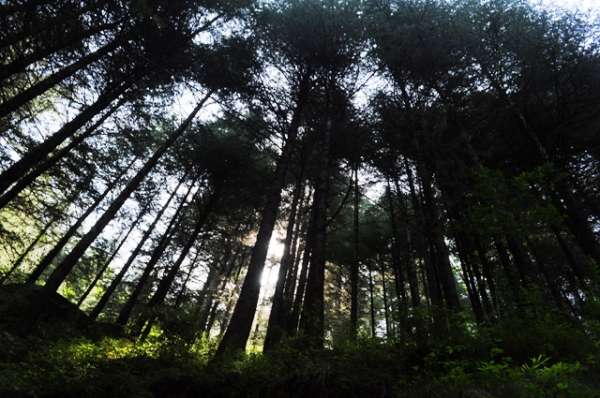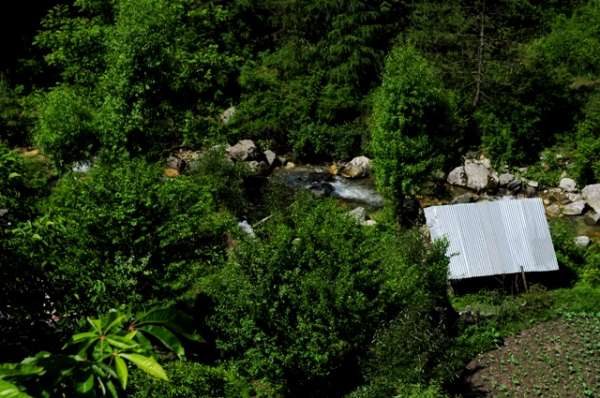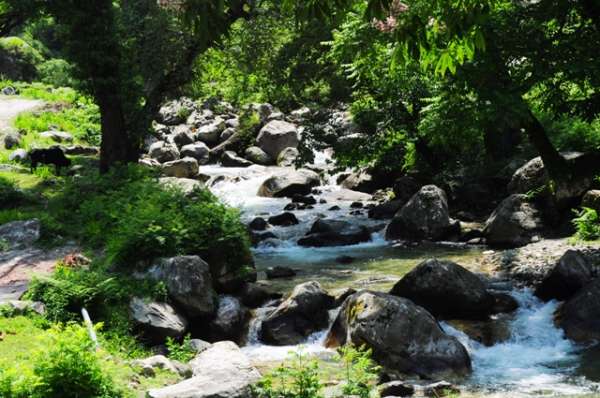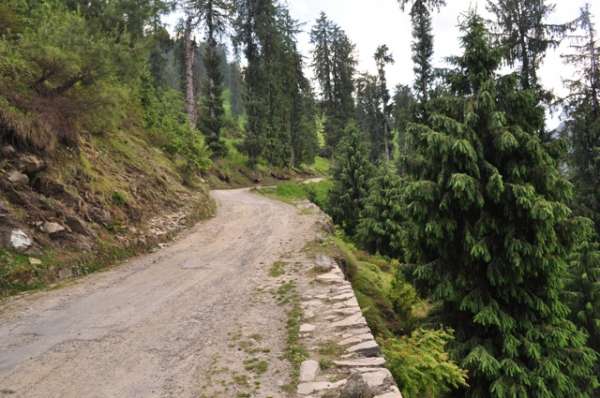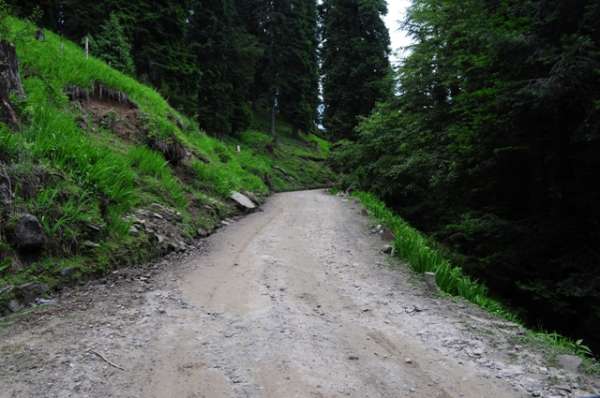 Took me more than an hour to cover the last 10 kms to Jalori. Such steep was the climb!
At Jalori:
The Descent from Jalori towards khanag is just as steep and more fun, since you are rolling down. I sprung up on the footpegs and enjoyed rolling down those sharp edged stones. Life seemed good! :)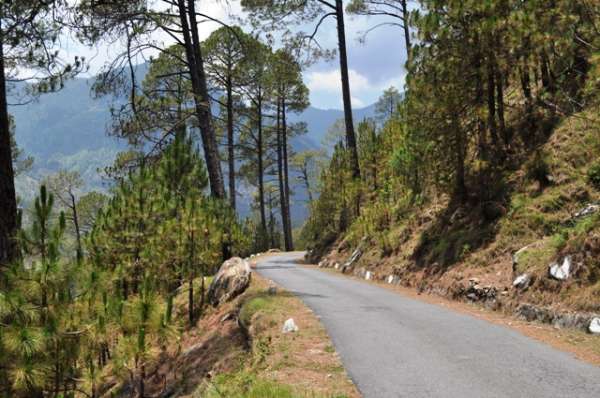 Hit the highway at Sainj, and took a left. Had decided to hit Peo by tonight. The NH-22 continued in its usual weary manner till Wangtu where it got all mucky. Again, the rear tyre, swishing swoshing on mud. Mud flying from vehicles that pass buy, mud splattering, and mud-enjoying this young lad was

. The bike however is in a sorry state by the looks of it! However, my dear old lady was supportive the whole way and I hope it shall behave in the same manner all throughout the ride, and forever…..
On the way to Karchamm, I spotted a familiar Karizma cross by. It stopped just after crossing me. I stopped, took off the helmet and turned around. It was a friend called Swagat who was returning from Chitkul after a 3 day ride. He accomplice were Akshay, another friend, and Deepak. I stopped for a short-chit chat before continuing on my way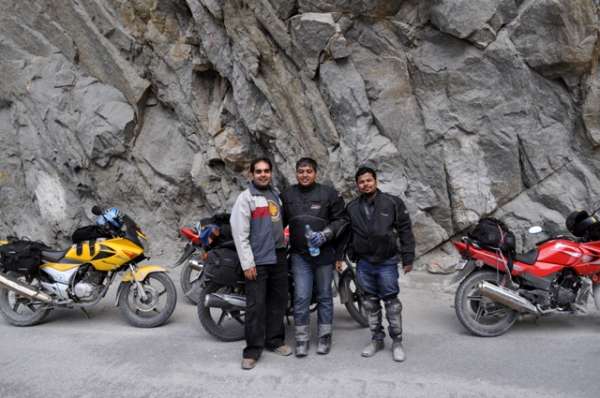 Some exotic pics…a few of the kinner kailash range: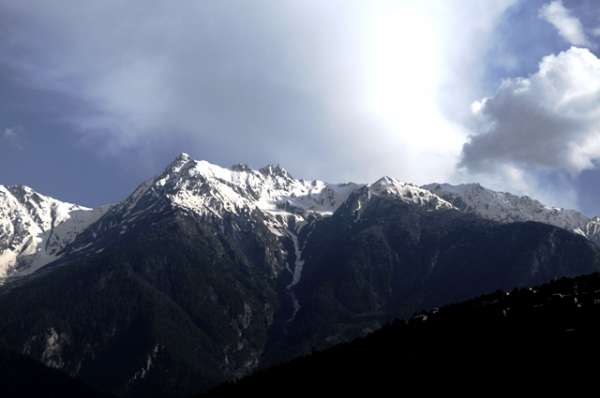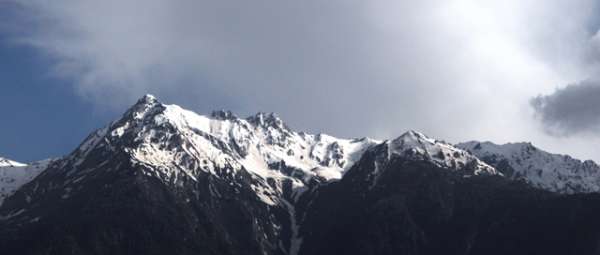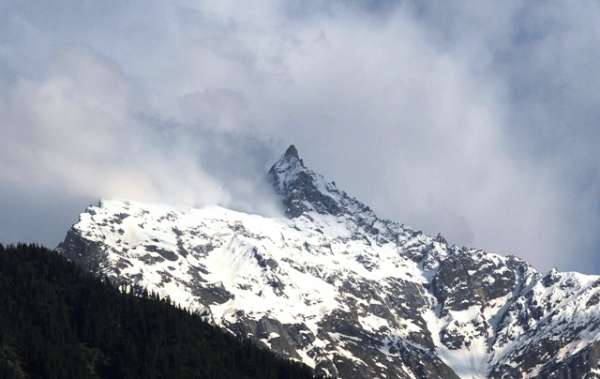 My pic of the day: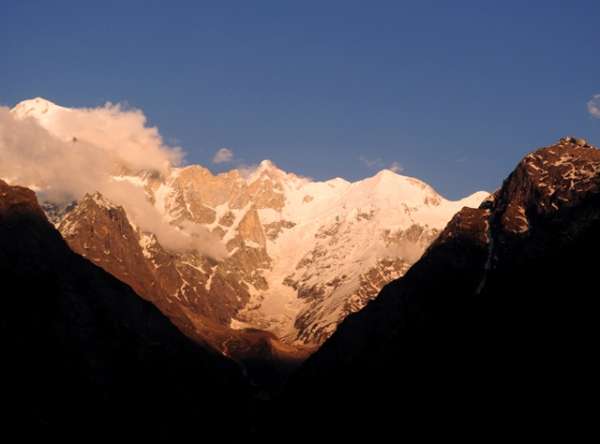 Hold on, don't shut this window just yet! Now there is a reason behind which I have come to Peo. A very important and special one..Didn't I tell you that? Oh..My bad..The thing is that…ummm….the thing is....the……...
…….And he dozes off…………..
---
Chapter 5: Dissappointment and then jubilance
Route Taken: Reckong Peo – Kalpa – Roghi – Reckong Peo - Jeori - Daranghati
Stats:180 kms, 9 hours
Route map:

Leg 1: Reckong Peo – Kalpa – Roghi – Reckong Peo
I woke pretty early today. Today was the Day of Judgment. I had a predicament of climbing shipki-la and then head off to kaurik for the night. But before that I needed permits for the same. Now, both these areas were border areas, infact shipkila 'was' the border! The permits, if issued were to be issued from the DC, Peo and then approved from the Commanding Officer, ITBP. Quite a tedious process I would say! However, I had to wait till 10:30 am till the DC arrived and then continue with the proceedings. So I thought of paying Kalpa a visit, it had been long and it was desperate to see me :) . So without wasting any further time, I left for Kalpa at around 7am in the morning. Kalpa was just the way I expected it to be. Fantastic views of the kinner kailash range, steep but infested with the hotel-tourist combination I found it uninteresting so I continued on the road to Roghi.
Some Pics from roghi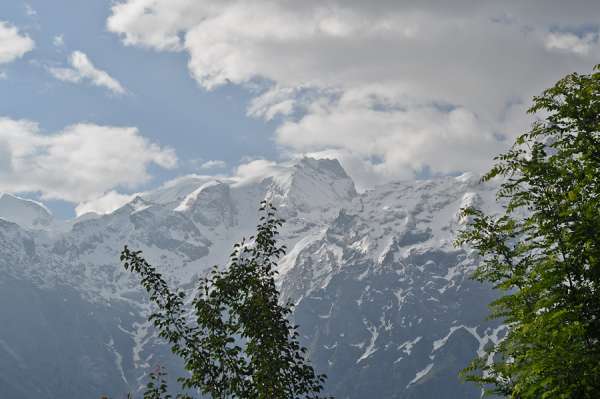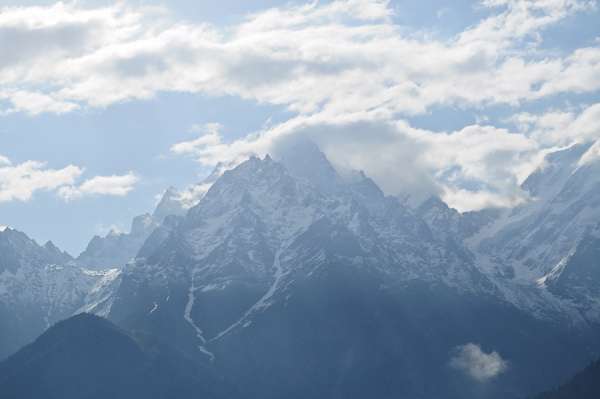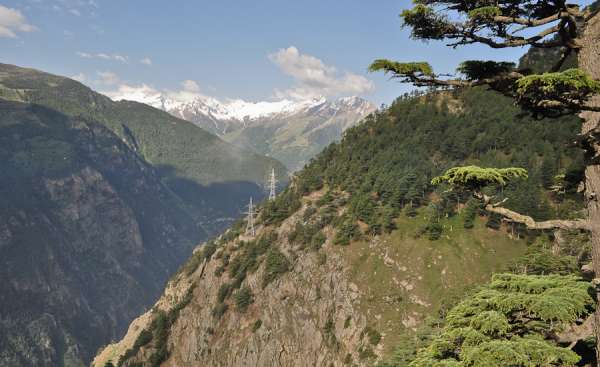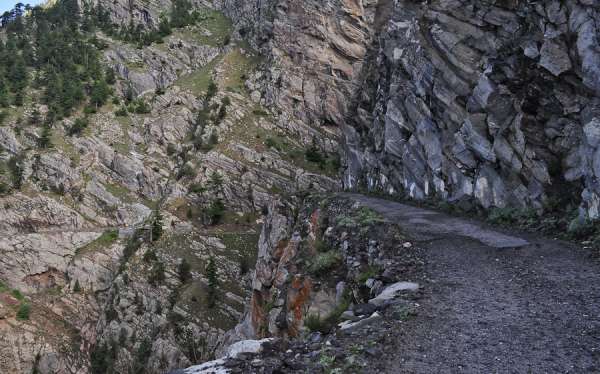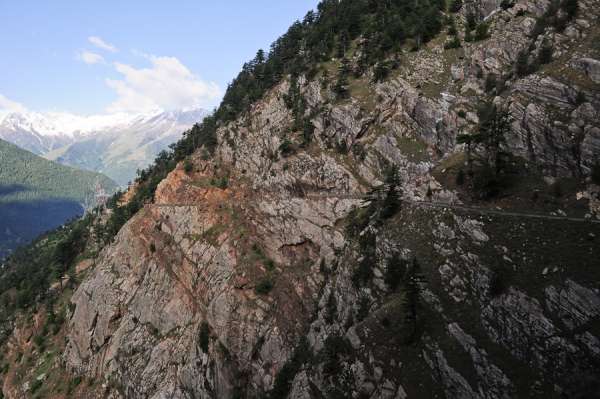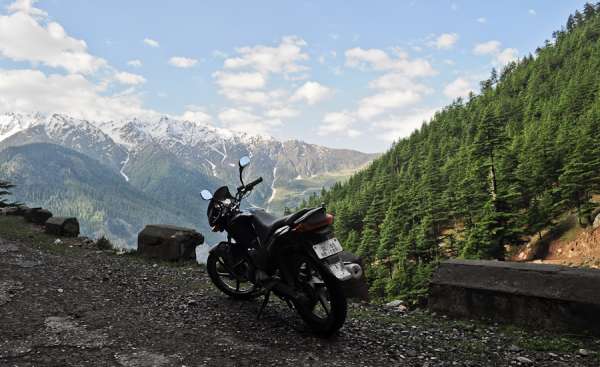 Upon reaching roghi, I continued down a narrow bylane into the village and out of it. On investigating, I found out that the road leaded to Tapri. Well, it was much of a road, more of a mule track which seemed exciting to traverse. I was told by an elderly-yet-astonishingly-fit-gentleman that the road was not meant for motored-vehicles but only for mules and trekkers. This got me even more inclined towards exploring it. I looked at my watch, it was nearing 9. So despite of the temptation to travel on it, I had to let it go since I had to be in Peo, upon the arrival of the DC.
With a heavy heart I turned back!
From my room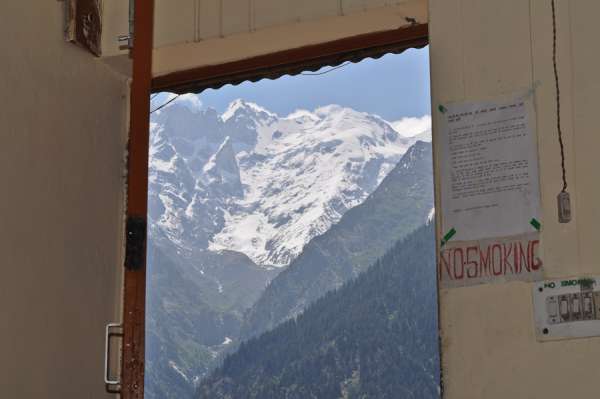 9 45 I picked my stuff up from Hotel Mehfil on the ITBP road (Yes, it had a bar as well, now don't get tempted, it was closed :P ) and went straight to the DC office. I waited for sometime and met the PA to the DC. I told him my tale and he promptly replied "Go visit ITBP first, that's when we'll be able to assist you". A stare at him, and I left for ITBP dett.
I met the orderly and got connected to the PA to the OC, ITBP. For the second time within 30 mins I repeated my tale to another person. He put up hows and whys, which I overcame with flying colors.
30 more mins. Waiting room. Got called up and told to head back to the DC office. This soared my temper. Upon quering I was told that even though the two places I intend on exploring are under the ITBP, but still, I needed a permit from the Civil authority which the DC and go-ahead would be provided by the ITPB. Yeah, well, kind of hell, doing rounds to and fro in riding gear!
Back to the DC office. I finally met the DC who blatantly refused to issue the permits! I felt like a foreigner requesting to travel across a restricted area. It was hard, but I managed to talk my way in convincing him and he asked to meet the SDM. Met the SDM and he began to put up questions, lots of them. Some relevant and some pure silly! With the passage of time, I grew impatient, more impatient, impatiently impatient!
And finally I walked out of the office; I rode out of Peo and hit the road back to Jeori. It was 1:30 PM. Furious yes, disappointed yes, down and out definitely not!
Leg 2: Peo - Jeori – Gharat – Mashnoo – Daran Ghati

On the NH-22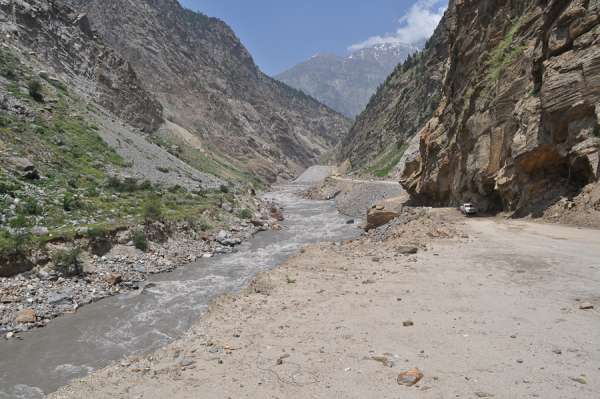 Taking a break
A water crossiing on the way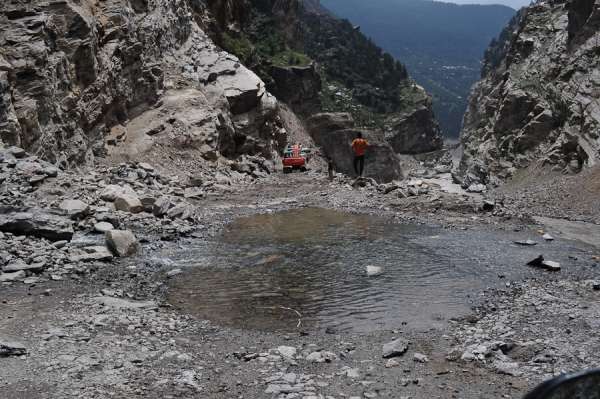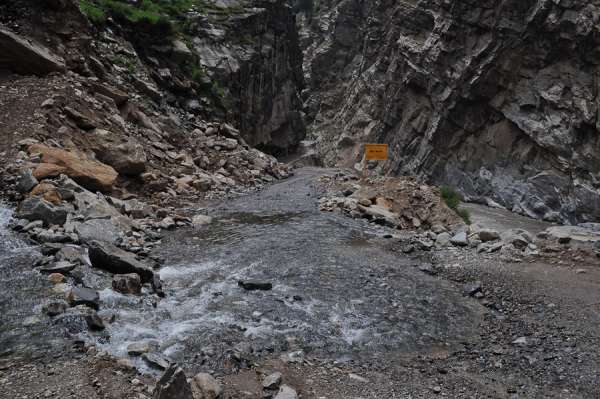 Blasting going on. Excavation in progress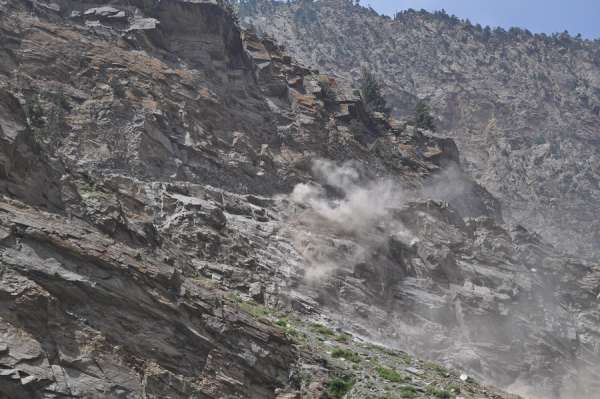 On the stretch from Karchamm to Wangtu
Had heard from a friend about this place called the Daran ghati. But even wasn't aware of what it was and how far it was. All we knew that the road that leads up to it bifurcated from the NH-22 at Jeori.
But currently I was aimlessly riding back from Peo, on the NH towards Powari. Life throws random tantrums at you. But the human mind is a wonderful creation. The moment one window of opportunity closes, the mind opens up another. Daranghati was flashing across the brain and enticing me just like the stars entices a little kid! He wants to touch them, he wants to feel them but he can only stare at them. The difference between us was that, I, had the opportunity to travel up………..screeeeeeeeechhhh!!!
I stop right in front of a parked truck on the NH! I need to focus. This is the highway, and it does not forgive many! So I continued politely towards jeori with not much activity.
Upon reaching jeori I had my lunch of momos and thupka (really good BTW). I enquired about the route, and with no idea about the place, I head on to it. 10 kms before Sarahan, from Gharat, I took a right to a small hill village called kinno, and then further to mashnoo.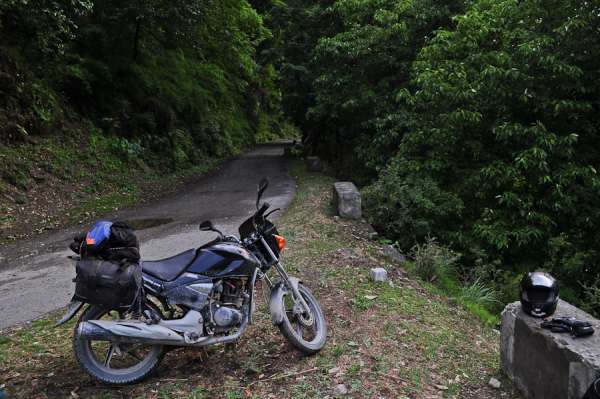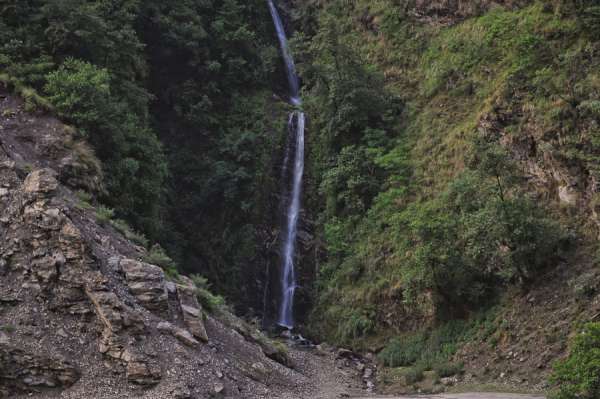 The road snaked up after mashnoo quite steeply and further away from civilization. It was made up of stones and bricks. The bike rattled away kilometer after kilometer. With the passage of time, even wildlife began to disappear. Isolation could not have been described with a better example.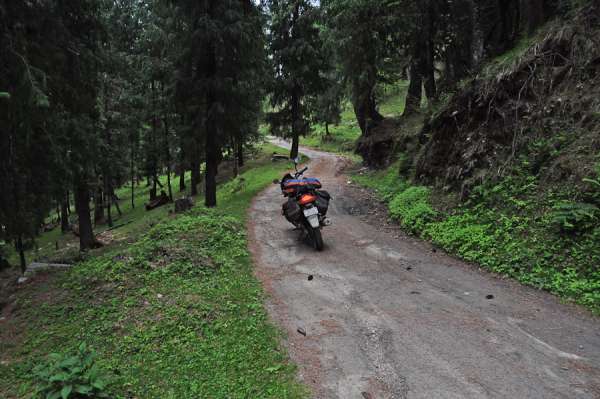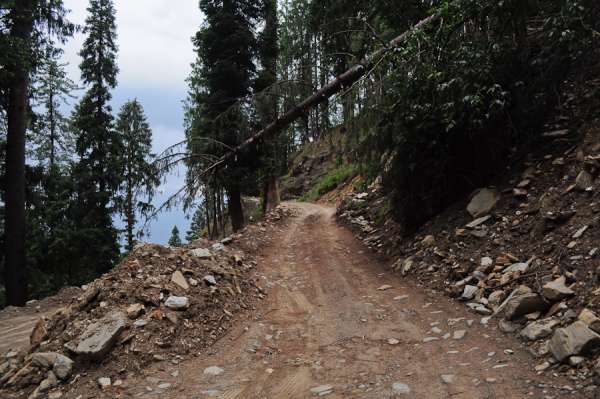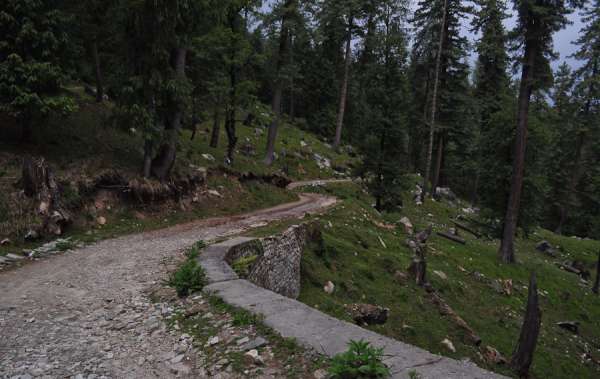 Spot the bike!
The road began to detoriate further and it had begun to drizzle as well. Excitement accompanied with fear crept in which pumped the adrenaline levels in the body. I was obviously enjoying as this was my kind of fun!
The rain began to increase in magnitude, and there was still no sign of a heart beating anywhere. Was I taking the right route? Was I prepared to camp in the rain when it go dark? I assumed I was at 8000ftand I was still, ascending without a signboard or direction. I had a plan to reach Rohru. Highly optimistic!
My thoughts at 6:30 pm
Moving up to Daranghati
"Why do you do this man. Everytime you put yourself in a situation which you have no control off. Moreover you put yourself in such a situation and still have the intrepidity to grin about it! Sudhar ja!" These were the questions that my mind was directing to my heart and my heart was paying no attention to it, and then suddenly:
The mind got its answers on its own and all my fears where somewhat laid to rest. 3 more kms!

The turn to paradise!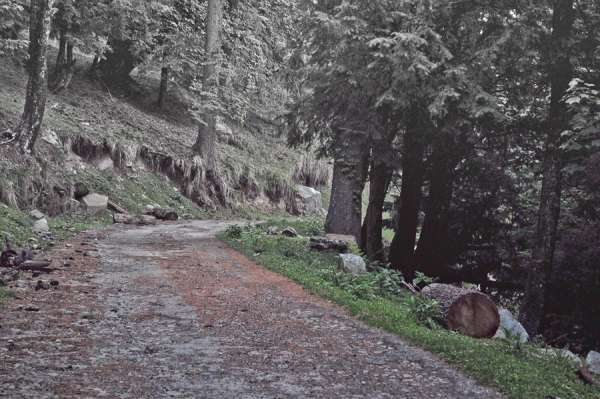 2 kms later I saw a Maruti 800 coming down towards me. Relief was the emotion that circumvent my nervous system! Finally a car or better still, a human. The guy's name was Tarun and he organized a small camp at Daranghati. He'd heard the sound of someone coming up and he was just as surprised to see me as I was to see him, since it was around 7:30 pm, and moreover rarely does anyone come up this trail.
So I went with him to the camp site. We sat and had tea, and then he invited me to camp here for the night. He insisted and I gave in. The place was simply superb! At a height of around 10,000 feet with the mesmerizing snow-line visible across dimensions. "People rarely come here, and most have not even heard of this place", exclaimed Tarun. How did you make your way here?
I hadn't. All I had done was ride, to a place which even I wasn't aware of! It was a decision which was a result of a un-worked plan but what a decision it turned out to be. I was ecstatic at the beauty which Daranghati had to offer!
Darkeness eventually crept in and I retired for the day:
My camp for the night (Actually it was tarun's, I was just a surprise visitor)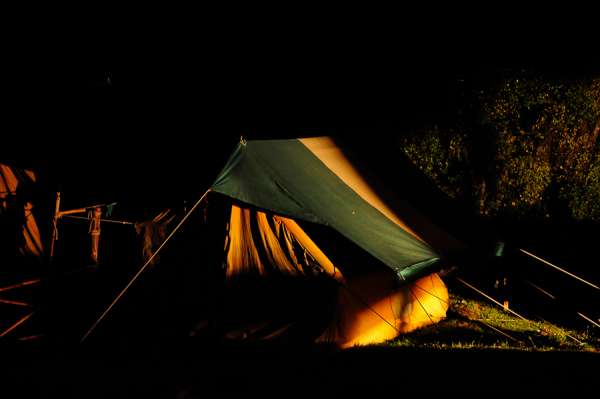 BTW, did I mention that Daranghati was actually a 'pass'? No? Well, it was, which doubled the jubilation, as I don't know why, but I have a thing for passes. I have loved scaling each and every one of them every time! This was the 2nd pass of the ride. Would there be another one? That remains to be seen……..
Live:2011-06-07: 8pm-Just got a call from Vaibhav Sabharwal aka KurtRules : He reached Kwar village after crossing mighty Chanshal Paas, another scarcely visited place, accompanied by heavy rain.
---
Chapter 6: On the rugged trail to Isolation
Route taken: DaranGhati - Taklech - Sungri - Rohru - Chirgaon - Larote - Chanshal Pass (3750m) - Dodra - Kwar
Stats: 220 kms; 12 hours
Route Map:
Early morning, birds chirping, music to the ears wind blowing ever so
slightly, faint sunrays wating to bisect the dawn and brighten up the sky occuring all simulataneously. Walking out of my camp site at 6:30, I could experiece the aforementioned. Human nature drew me into comparing my daily struggle in the concrete jungle to this, particular, environment setting and a thought struck:- Stay here, never leave..
But my plate wasn't empty. Today was the day that I had Chanshal pass to scale and thus, brushing aside the very tempting but unlikely thought I packed up my stuff. The weather was somewhat clear now, and Tarun and I walked up the the Daran pass and he showed me the various peaks. One particular one was the 'Rompu' peak which was still a virgin top. It was believed to be haunted. Whoever had attempted to scale it, never came back! Interesting! Tarun also mentioned the rich flaura and fauna that the place had offer. The Daranghati (or Daran pass) was part of the Daranghati wildlife sanctuary which spread across a vast area. The Sarahan sanctuary was also a part of this great range. In the middle of a jungle I was, that I knew. But this was of significant importance, that I was told!
The Rompu peak: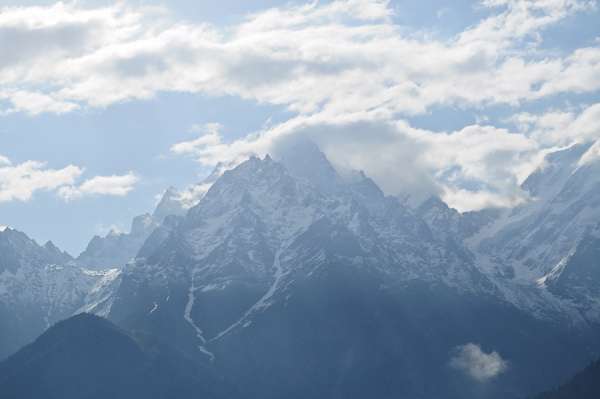 The camp in the morning:
Up top!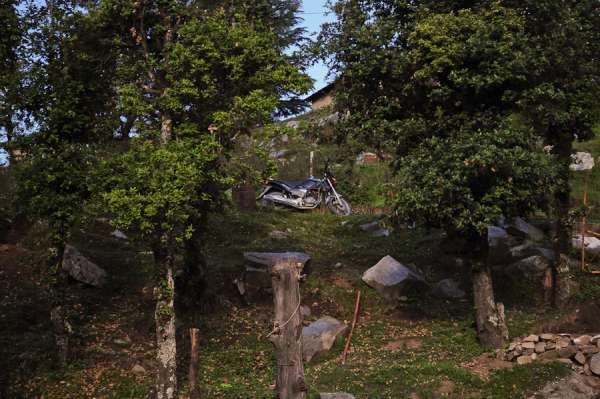 At the Daran Pass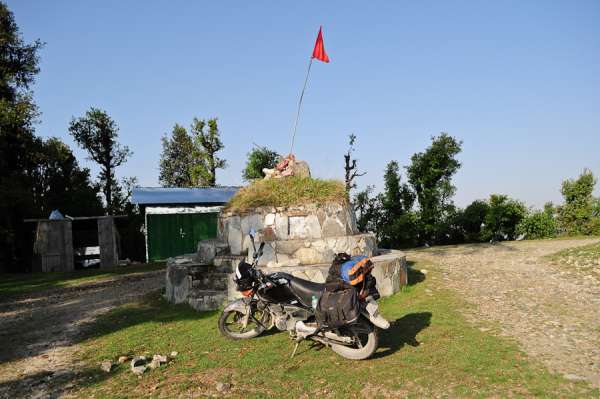 Tarun
The only rest house at Daranghati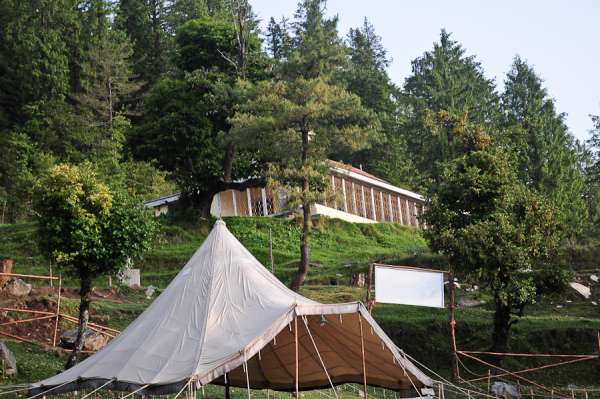 The name of the camp centre which Tarun was establishing: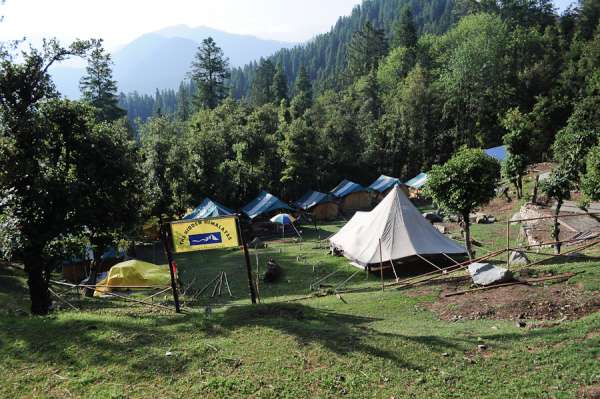 It was time for me to leave now. I had a long way to go and a rough road to cover. I descended down the Daran Pass on the road to Taklech after bidding farewell to Tarun and promising him that I shall be back!
Mud, a constant companion
Views from there:
A waterfall enroute: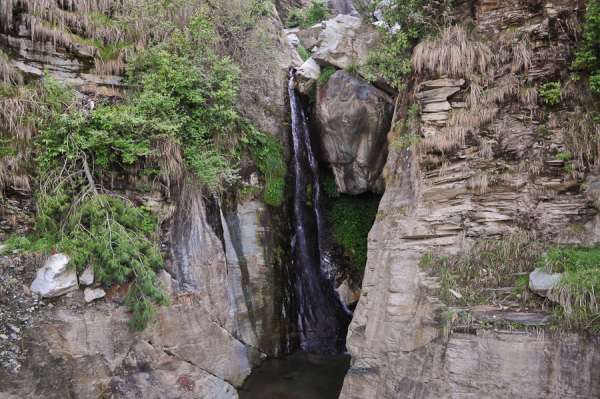 Some more: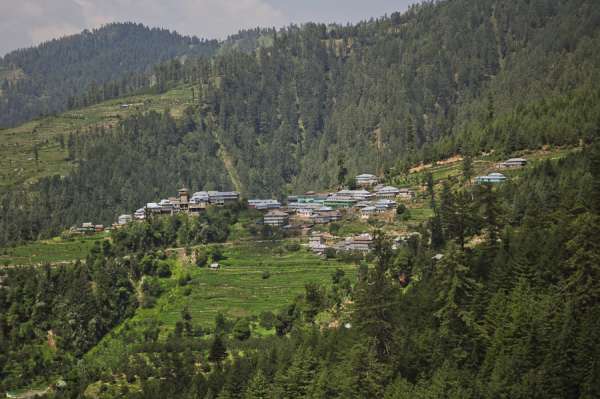 Reached Taklech and asked my way to Sungri where the road to Rohru was slated to divert from. The drive-chain had started giving me issues from the ascent to Daranghati, but I had thought of getting it fixed up along with the oil change and other stuff, at Rohru. The thoughts of getting there and scaling Chanshal were overwhelming my thoughts for the major part of the ride. On one real bad stretch, I was negotiating the craters on the steep downhill road when 'THUD' the bike sank in deep like a whale and came back raging up like a dolphin. Nonetheless, I was in full control and brought the bike back to a straight line when suddenly I realized that giving throttle was not much help as the vehicle was just not pulling forward. As I parked it on the sideline and glanced at the drive-chain, my vision sent a signal through my nervous system to my brain which then secreted 'horror' hormones that put me in shock! The drive chain had come off the sprocket as a link had broken off!
I looked around for a mechanic, but in this part of the world, that was like Katrina Kaif wanting be roomies with you! There was no-one, none whatsoever and there was no village in sight as well. The nearest one being around 5 kms away as per my approximate.
So, I undid the bungees, pulled out my tools and got to it myself. Thankfully I was carrying a spare chain link which I somehow managed to squeeze through and connect the loose ends, after spending like 30 mins.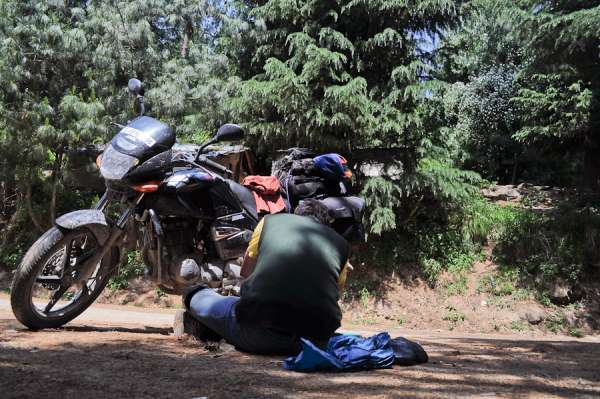 I reached Rohru in 30 more minutes and the firt thing I did was get the bike inspected! New shinly lube put in and the chain all straightened up, I rode off to the Divisional Forest Officer's workplace and got myself a booking permit for the village Kwar.
1:30 pm. The ride towards Chanshal beings!
The road out of Rohru was pretty good by the standards of the trails I had been upon. But I knew that wasn't going to last long as and I was right. Crossing Chirgaon and then Tikkar, the rock gods of the world bestowed upon me, this fine piece of tarmac: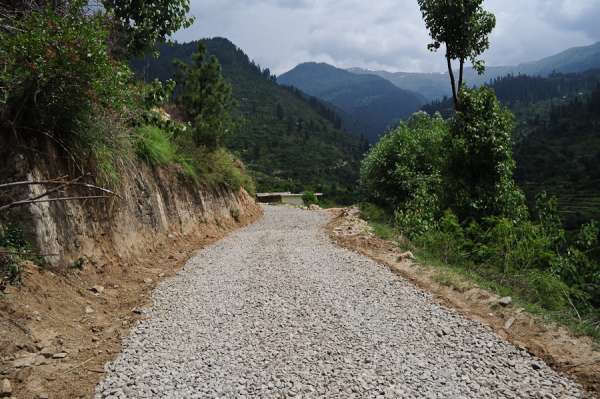 Stay tuned for more. The log's taking time as I was out of network for a good solid 2 days :) Shall be updated very soon..
And I am back..
Rattling up the wonderfully horrible road to chanshal, I was making very slow progress. The bike was ascending in the first and at times on half clutch owing to the steep incline. Nonetheless, I kept making good progress as I stopped very little. The shoulder bag that was tied on the rear was giving much needed support to my backbone which otherwise would have caused ripple effects in the spine! Such was the condition of the road!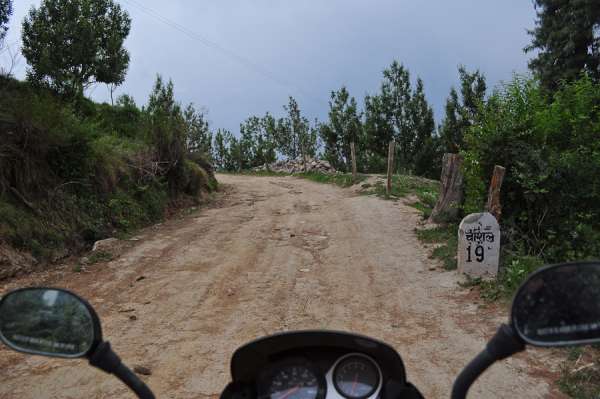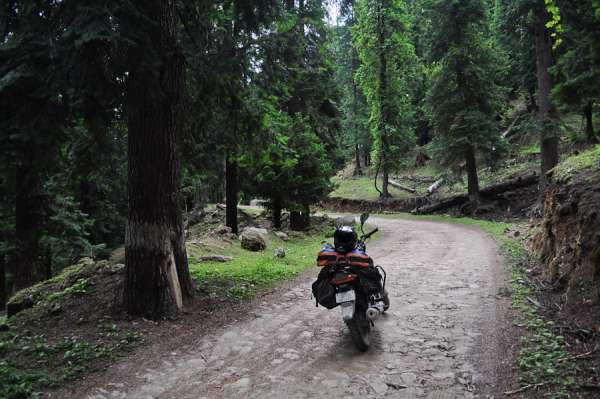 The omnipresent 'X'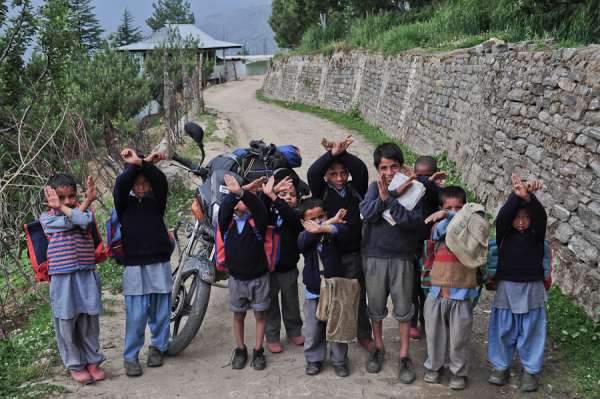 Population disappeared. I entered the dense and scary jungle. It was drizzling ever so slightly, and had gone dark owing to the thick pines and cedars. But I continued. An hour later, 3 kms before Chanshal, the jungle suddenly disappeared and the valley opened up. And oh good lord, what a view was on offer. Words would play spoilsport if I were to even begin to describe what the eyes were feasting upon!
On the way up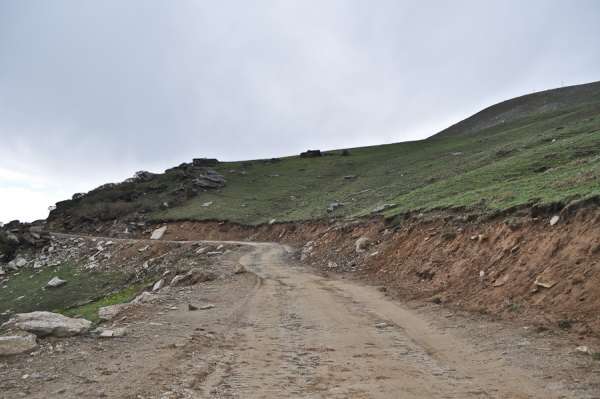 Some views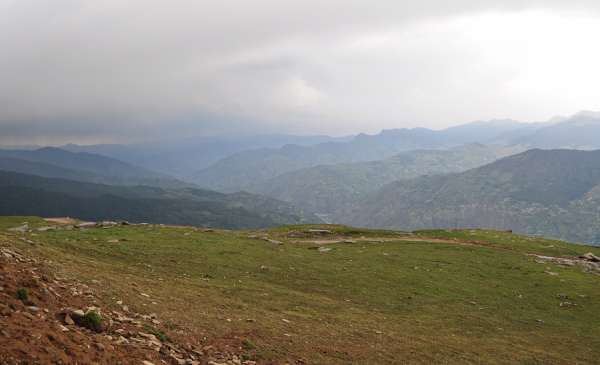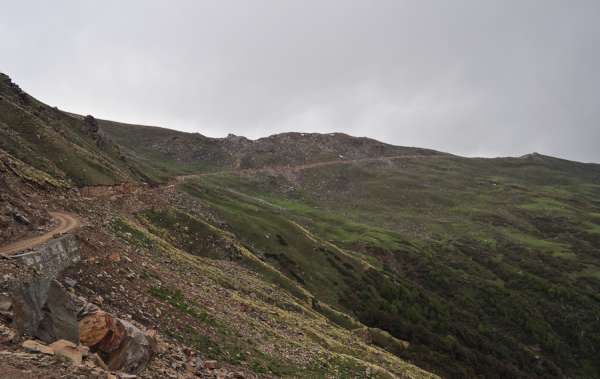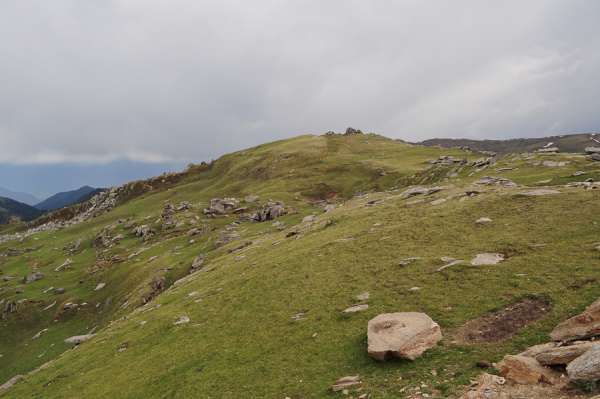 Finally there: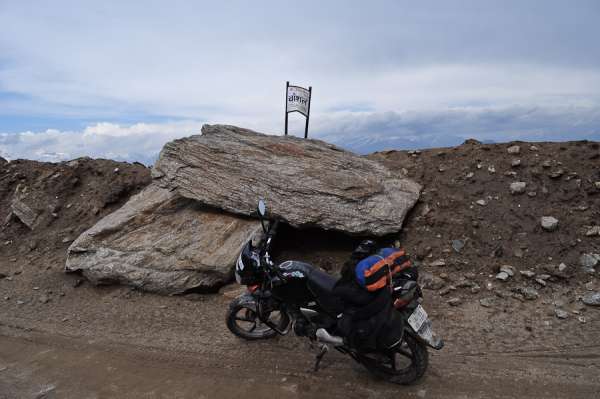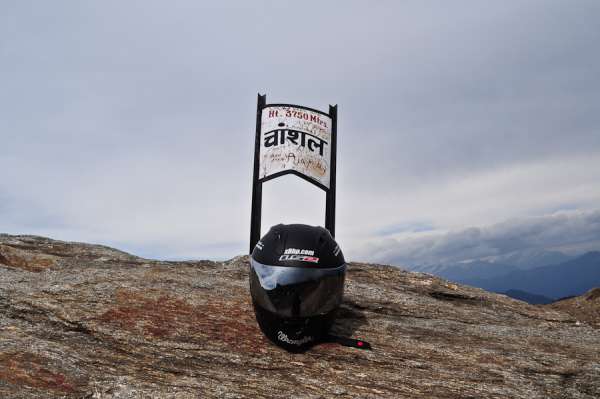 I was overwhelmed to say the least. This was my third attempt to Chanshal. The first two failed due to snow. Chanshal had been ever so elusive, but now, finally, I had scaled it. At 3750m, I couldn't help but make this video:
At the Chanshal top!
After spending around 20 mins absorbing the invirogating beauty, I continued on the other side of Chanshal, to the twin villages of Dodra and Kwar. Rarely had a motorcyclist traversed upon this roughed up pack track. Dodra was 20 from Chanshal and Kwar was a further 22. The road detoriated to an extent that there were 'steps' made of rocks at some stretches and going downhill on them required grit and determination apart from the mandatory skil. The villages I was heading to were the remotest villages in Himachal Pradesh (along with a village 'Kashapath', which only has a trek trail). Needles to mention that I was absolutely in isolation, which deep down inside I loved.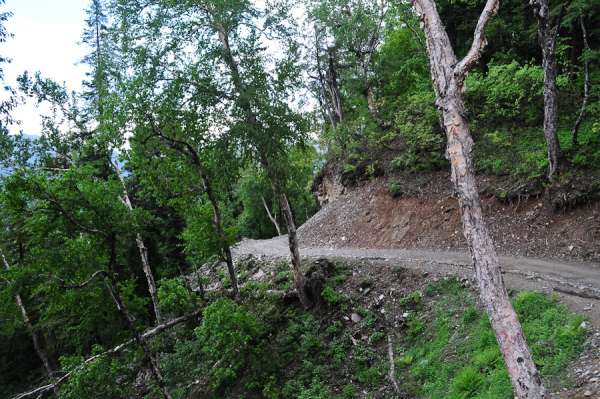 1.5 hours later, I was in Dodra. The road did not lead up to the village itself, it snaked around from a 100 m below it. However the locals had opened what felt like a small dhaba on the roadside. I had rajma-chawal amongst many staring eyes. It was evident that they had not seen many-a-crazy people rattling down the road on a squeky motorcycle. The emotion thus bestowed was pretty understandable!
From a distance: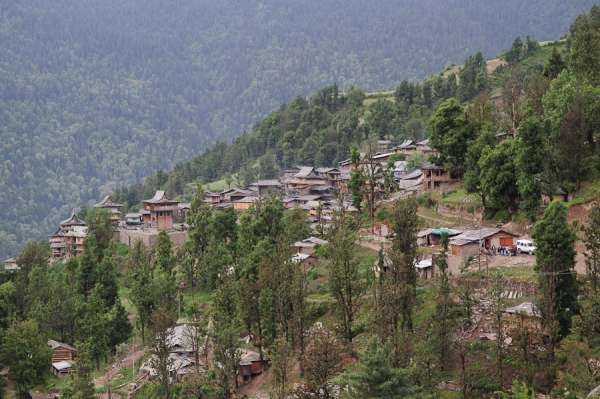 The Sarpanch of the Dodra village, Mr Tula Ram:
Some kids there: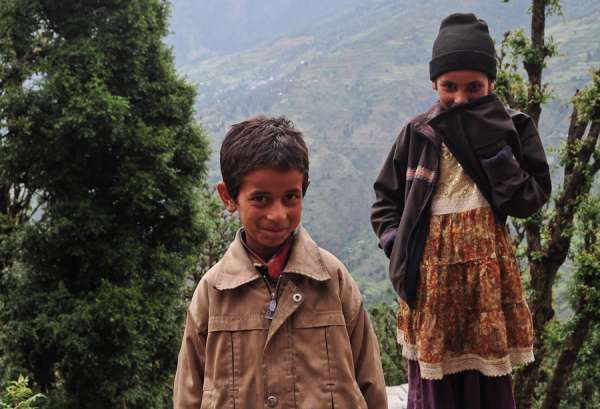 Paid off for the short meal and rode off to kwar. The trail now turned muddy. And by muddy, I don't mean the little brown patches on the road and sides, muddy mean axle high mud, almost all the 22 kms! (I shall show the pics of the bike at the end of this log, which I took on completing the journey. Perhaps you'd be able to relate

). Wriggling my way, intially down hill, and then up hill, I reached Kwar. Upon entering kwar, the road narrowed to barely a few meters in width between houses whose walls were of wood and the roof, of thick sandstones.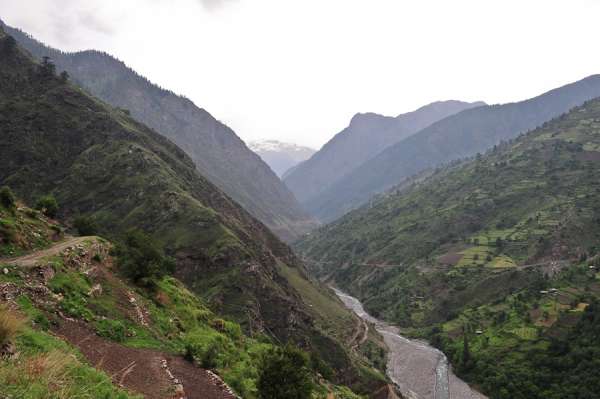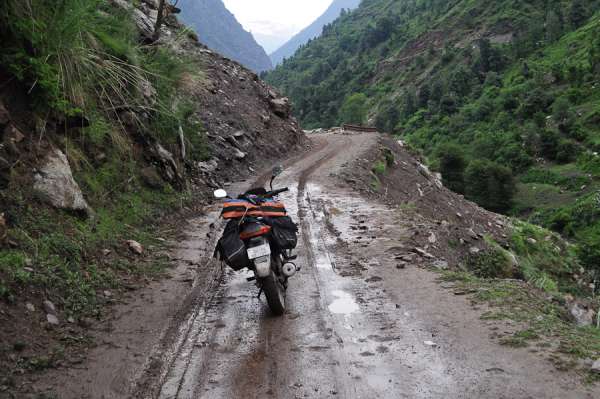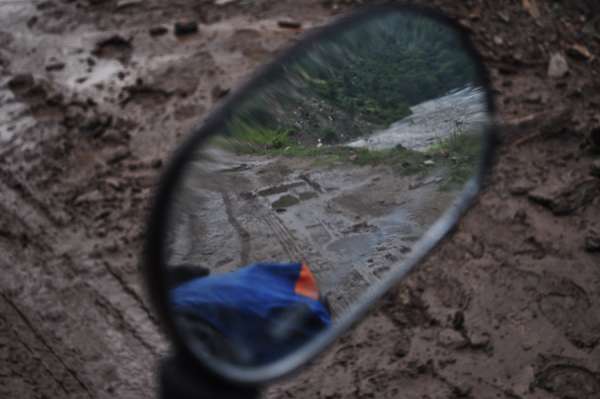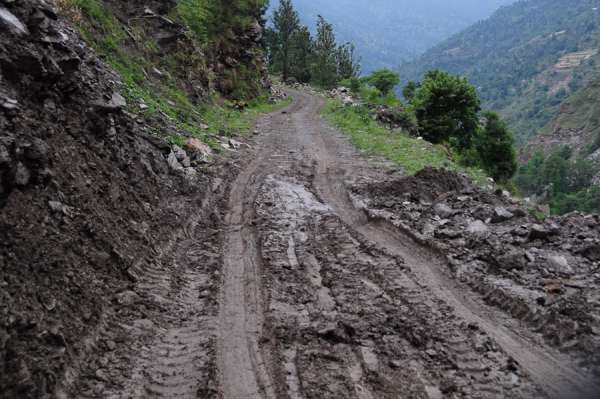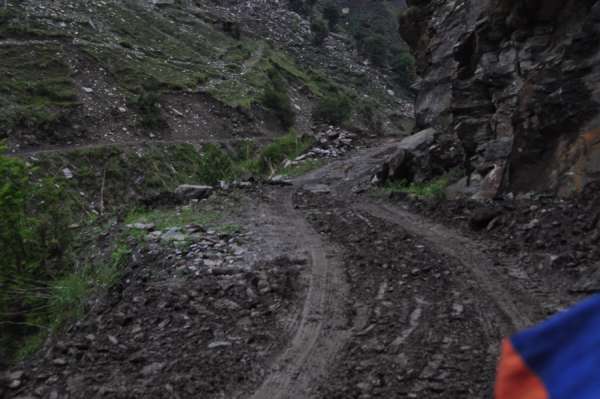 I had once seen a procession on the idiot box in which the protagonist travesed through a street in manhattan and the locals living on both the sides of the street, in the tall apartment complexes were showering petals (rose petals I believe) as he passed through.
Take away the petal, erase the high rises of manhattan, just focus on the people living in them. Now replace the high rises with what seemed like wooden chalets. The rest of the setting is the same. Not one house, I repeat not one house in that village was sans its occupants standing on the crammed balcony and staring down below on an alien, wearing god knows what, doing god know what, in their territory!
I made my way through all that, right to where the road ceased to exist. It seemed like a little school complex. I looked around and saw a small police station and on the right a 'Gramin tehsil block'. I went up to a person who was standing on the raised police station platform and introduced myself. He returned the gesture with his introduction. He was the ex-president (ex-sarpanch) of the Kwar 'panchayat' and lived nearby. I asked him where the forest rest house was and he pointed to what seemed like a spec on the mountain, many a mile away. There was only one way to get there, trek, which I was most definately not going to with all that luggage and riding for over 14 hours. I asked him if there was a rest house nearby. Yes there was, but that was booked and the only room available was the private room of the SDM of the Dodra-Kwar tehsil. The kind man took me to the 'Tehsildar's' residence which was nearby and explained my situation to him.
I adore the simple and helpful nature of people in rural areas! The 'Tehsildar' opened up the SDM's suite ;) and gave it to me to put up for the night. I thanked him with all my heart and promised that I would return the favor some day.
The Rest House (Revenue deptt.)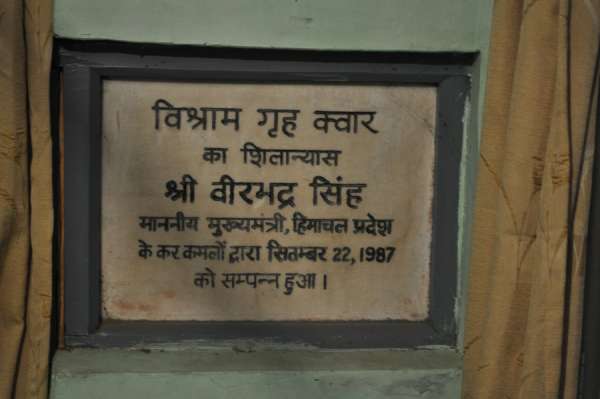 The room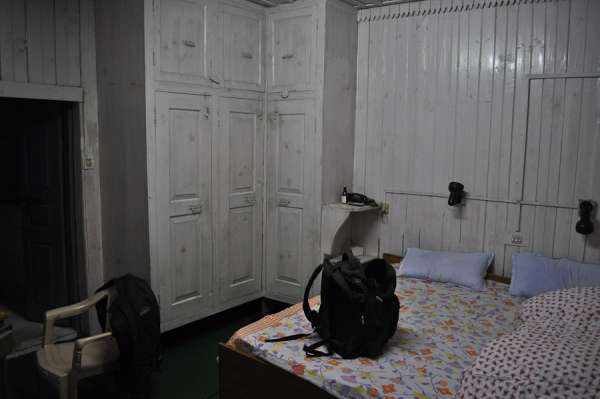 Before retiring for the night, I wanted to know more about the place that I had travelled all day to get to. Luckily the ex-Sarpanch (Ex-president of the kwar 'panchayat') willingly volunteered to answer my questions and I managed to capture that on camera. These videos will give you some insight on Kwar, Himachal's remotest village
The first video


The second video
Moreover, he also mentioned that there are a few elderly villagers in the village Jakhsu, which had not even seen a bus. The BSNL mobile tower has come up in the village only in the year 2010. Before that, they were completely cut-off from the rest-of the country.
It had gone dark now. There was no connectivity, and a very weak BSNL signal. I called a friend Archit Mittal and told him my whereabouts. For the second day in a row I was not able to update my blog, which was disappointing but not as relieving to have finally made it to the remotest village in Himachal.
The body was aching and needed rest. I was thinking about my poor Old Lady and what she had to endure. She was in a startling condition, she really was. One look at her and you wouldn't believe that she could get back! Little did I know, that there was more to come…
---
Chapter 7: The Retreat begins
Route: Kwar – Dodra – Chanshal Pass – Chirgaon – Rohru – Khadapatthar – Kotkhai – Theog – Shimla – Chandigarh
Stats: 223 kms, 13 hours
Route Map: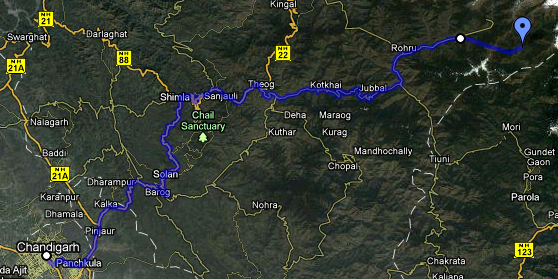 One other thing with mountains is that no matter when you sleep, you always wake up early in the morning. At least that's what happens with me!
6 am, I was up and ready to leave Kwar. I had bid farewell to the friends I had made earlier, last night itself, as I had to move on early today. Tied my luggage and turned around. The architecture of the village would put the architecture of many a modern edifices to shame! It was so well laid out.
Some pics of the Kwar village: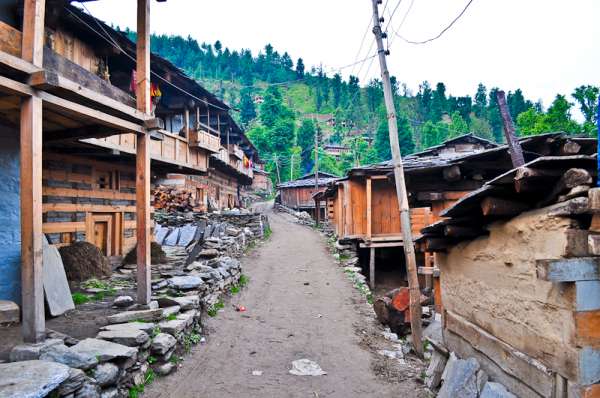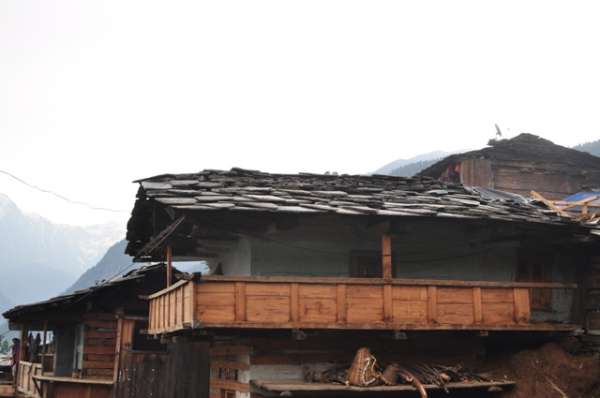 The dog who cried wolf: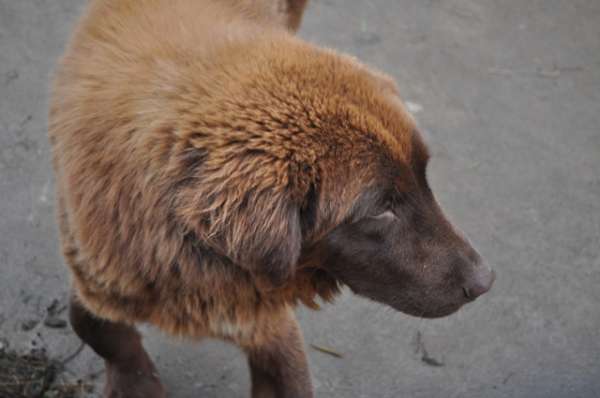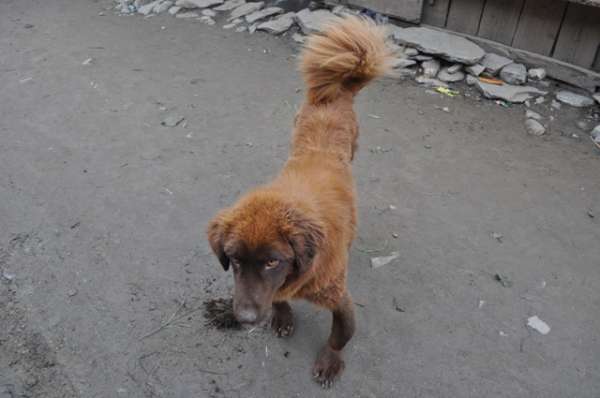 On the way up, somewhere!
Mud snake: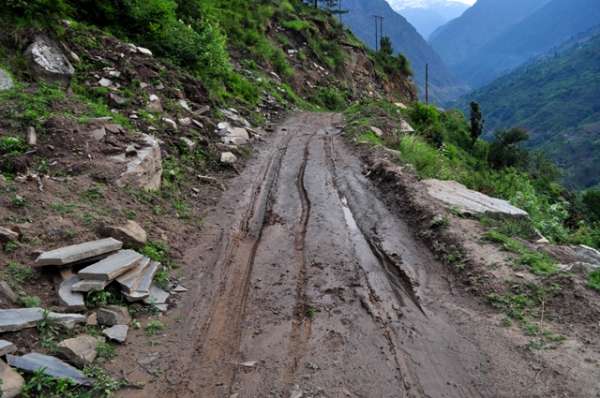 Dodra came up in no time:
Then the steep ascent began for Chanshal. The ascent felt never ending. The rocks were acting as painful obstacles, which were manageable yesterday but were creating trouble today. It had drizzled yesterday and the quantity as well as the quality of mud had grown two-found.
There is a limit to everything, be it the patience level of a human or the endurance of a rear-tyre. The human here was me who was crazy enough to still have fun on such trails and the rear-tyre was that of my bike which on one fine straight muddy stretch suddenly decided that it had gone through enough and shall not take any more torture from it's master! What did it do? It lost traction while I was on the foot-pegs ripping through the mud. And then, boom: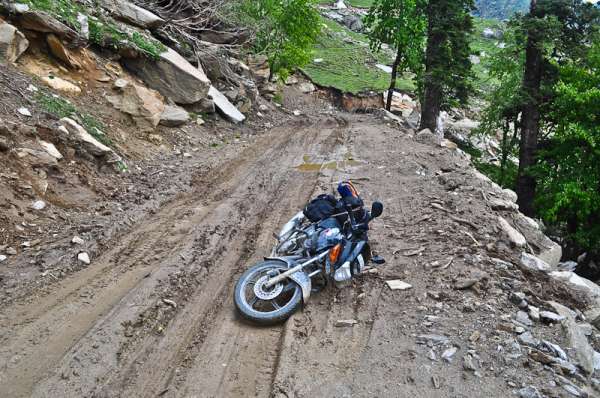 I gave out a sly-grin, and with humongous efforts, picked up the bike. Then I respectfully, 'slowly', continued with the ascent.
From the top: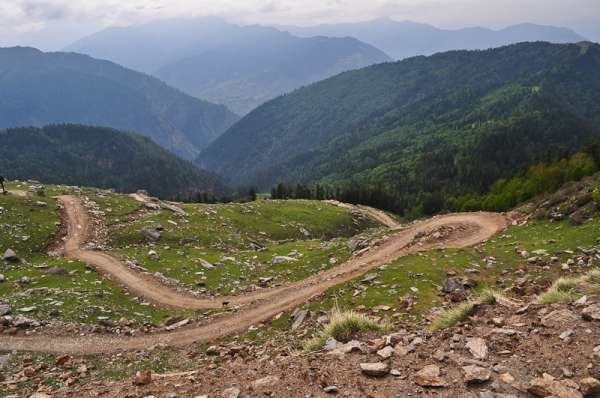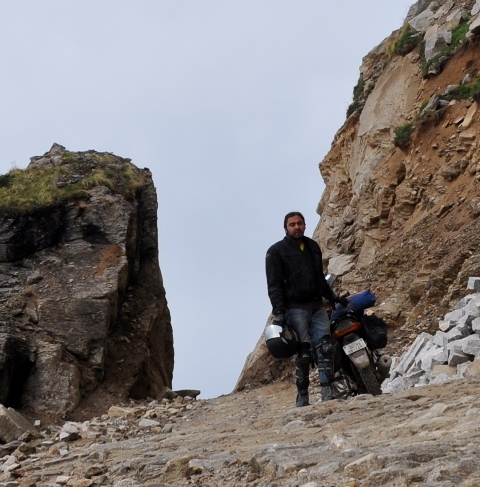 Some wonderful snowed out peaks that were not visible yesterday: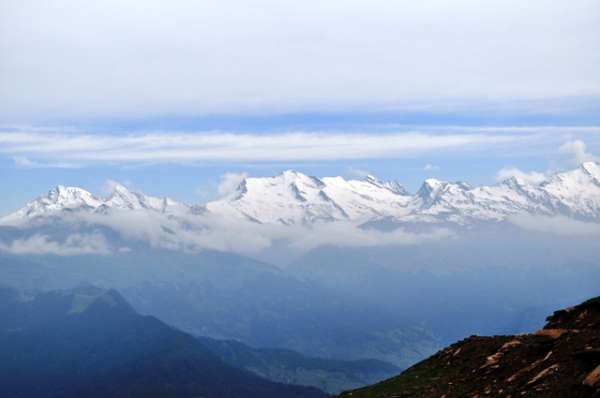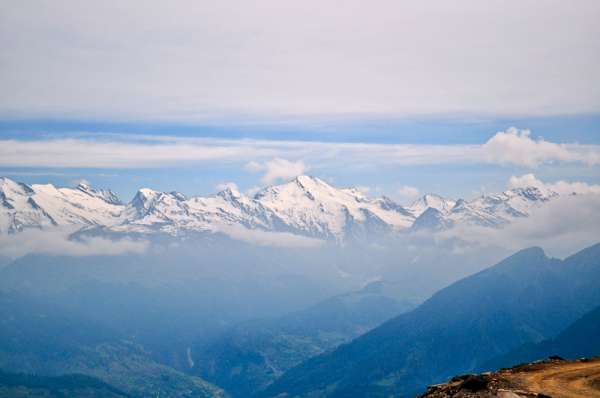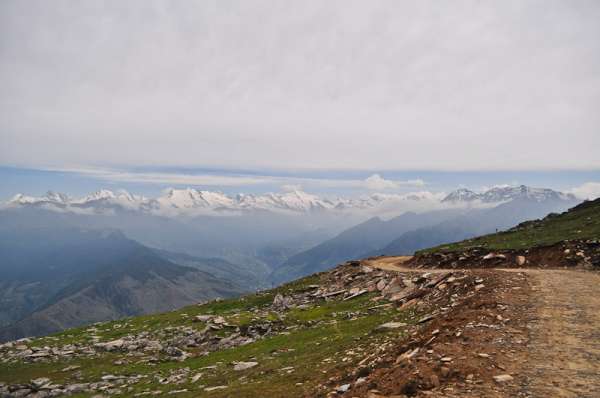 An elderly couple I met on the way down:
Ride On!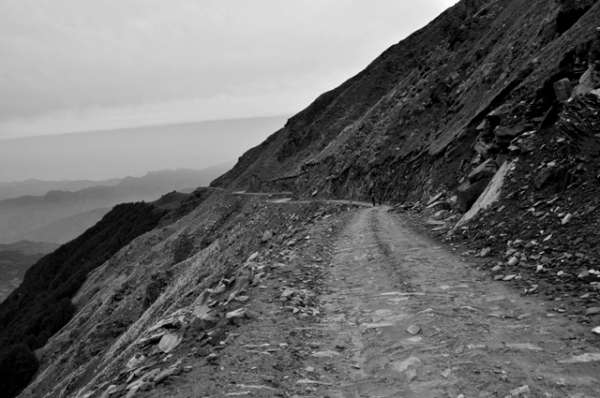 The plan was to head to Chandigarh via the Rohru - Theog route. Today, coming down Chanshal from Larote,I felt like I was gliding through soft butter. 30 mins flat I was in Larote and from there another 45 mins brought me to Tikkar.
Going up to kwar and coming back was THE hardest stretch of road I have EVER ridden on. So spotting tarmac was a welcome sight. I zipped past Chirgaon and other villages and landed in Rohru pretty early. The hunger pangs were ready to fall off the mouth, vowing never to return! I had to pacify them somehow. 2 gobi paranthas and yet another plate of Rajma-Chawal saw them satiated!
I continued. The road vanished and mud took charge yet again.
The Hatkoti village from the top:
Crossed khadapatthar sliding across mud and got stuck in a landslide near Kotkhai: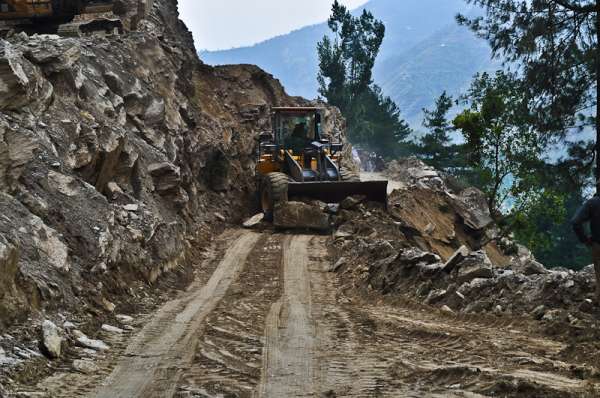 After that it was a normal ride to Theog and then further to Shimla
Came across a newly laid pad after shimla and then I truly went crazy. It was like a child had been given a free pass to Charlie's chocolate factory and he was to stay there for a year. I didn't have a year though, I just had 110 kms till Chandigarh
Some introspection after a long days's ride:


From off the road to some on the road fun:
Finally reached Chandigarh after around 13 hours of riding with very little breaks in between. I was tired. I needed a bed for a couple of hours, maybe a beer or two after that, and finally my laptop and data card which were finally in their network zone and I could eventually update my pending blog!
Moreover this is how the bike looked: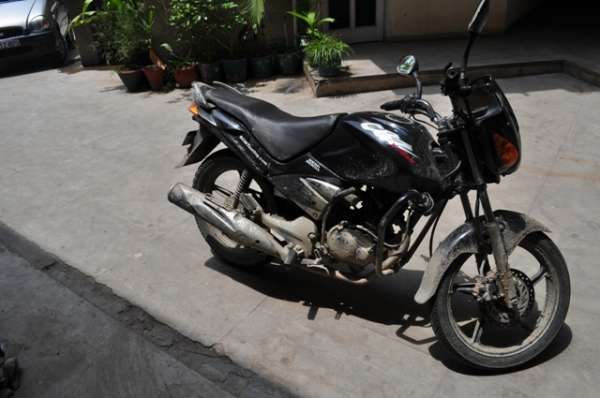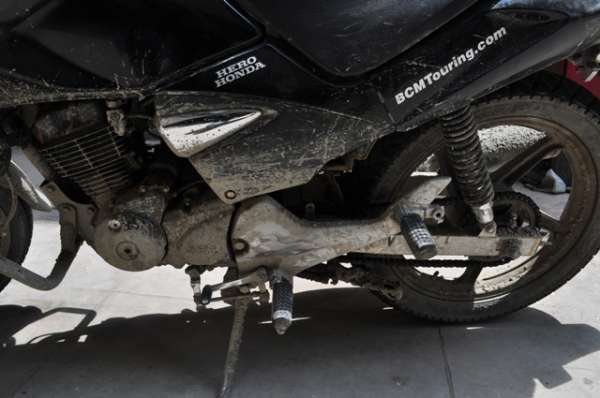 Cracked foot-rest panel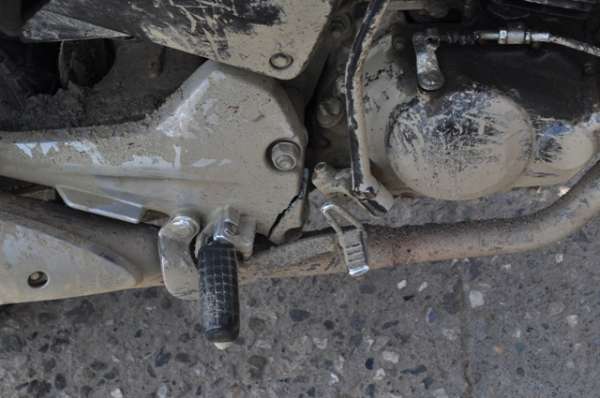 The hanging indicator light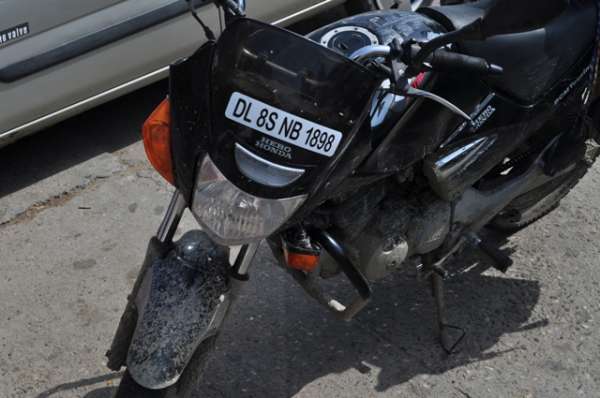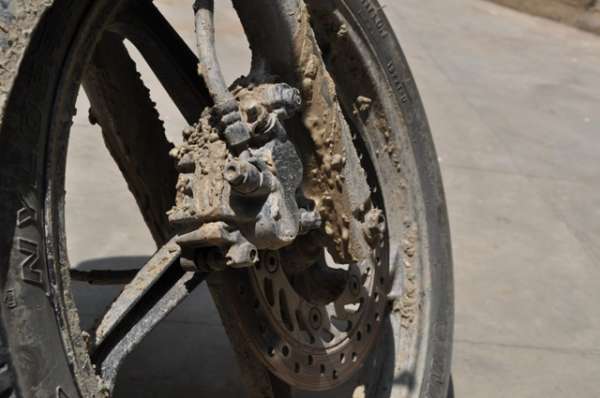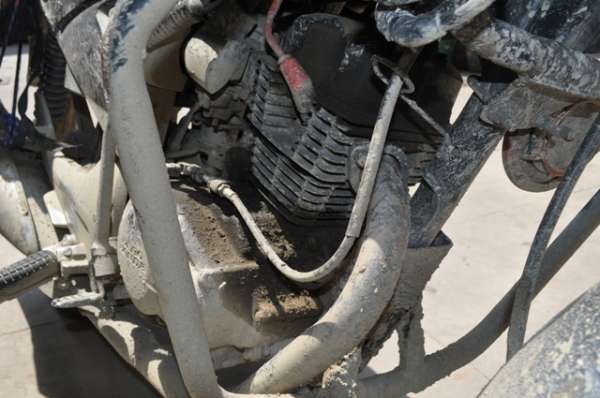 I was harsh on the old lady. But I shall get her all spik and span and in perfect shape over the weekend!
---
Chapter 8: Homecoming!
Route Taken: Chandigarh Delhi
Stats: 250 kms, 4 hours
Route Map:

Today was specifically chosen for a short ride after the long stretches that were covered in the last 3-4 days. After riding 10-12 hours each day, today brought in a welcome change. I spent the most of last night working on my blog and finally things did begin to fall in place.
The ride from Chandigarh back to New delhi started at mid-day as it was just a 4 hour journey. It was hot and NH-1 is not such pleasurable a place to be in, under scorching heat! And neither am I too found of it, nor any other arrow straight perfectly laid highway. I am better off, off the highway and into the less explored and least been on trails. That's how I like and thats what I enjoy!
My thoughts were focussed on the motorcycle. It still stood firm and brave even though it looked a sorry sight. With the push of the self start, it roared back to life and I could feel the familiar softness, within the prominent roughness.
The rest of the events that transpired on the NH-1 were not note-worthy. Reached home at around 5pm and was greeted to a warm welcome by my parents and siblings who were glad to see me back, alive and kicking! As I complete this, I am rushing off to my mechanic, and getting the old lady back to her pristine form because you never know, when and where will she and I be heading out next!
Chapter 9: Epilogue
Well, if you ask me on how the last 7 days have been, I would have no qualms in instantly replying that they have been really special and extremely wonderful. I got to do what I love the most, which is Riding Solo, on the mountains, and most importantly wandering in unknown territory, exploring rarely visited locations, without plans, without strategies and without fear!
Every ride is a learning experience, no matter how good or far-feteched you are as a tourer. My enlightenment and the probably the highlight of the ride was getting to know how people lived in remote areas which are surrounded by high mountain passes that remian snow-bound most of the year. The 'necessity' element in the lives that we lead out here, is a 'luxury' for those folks that they think twice to even visualize in dreams! The graphical and modern era of our world has yet to arrive in their lives and it remains to be seen, if it shall ever will.
Finally I would like to thank Wrangler and all it associate partners for providing this opputunity to me, and giving me the flexibility to do what I do best, and showcase my potential over such a platform. Moreover I would also like to thank my family and friends for rendering support throughout the ride. Whether or not I succed in my mission, that remains to be seen. All I know is that I enjoyed every bit and molecule of the ride and it shall always be etched somewhere in the cerebrum!
Thank You!
Vaibhav Sabharwal
Screw it, just ride!
If you like reading this little blog as much as I loved writing it, don't forget to rate it by clicking on the stars above!
---