I am a wanderer!!!
Like the water of a river kisses different shores, brushes through all the pebbles on its course, fumbles against the boulderse boulders stuck in its path, I Tilak Soni see the journey of life through the eyes of my camera lens and the breath of my trusted Enfield. Such is the journey that every wanderer has to undertake in order to keep finding places and churning out mankind's proximity to the Mother Nature we love. Blessed are the souls which wandered through the most dense forests, swam through the deepest oceans, crossed the highest passes and the fire still burns large within every single journey. I take up and thus began another journey undertaken.......
The Wrangler event is once in a life time opportunity for me and this is exactly how I see it, feel it… I take immense pleasure in thanking each and every single person whole heartedly who has worked on the idea of making this trip a reality.
My travels have led me to where i am today. Consider myself highly blessed that I got tons of opportunities to be one with nature, sometines painful, sometimes tricky but lead me to greater happiness and contentment. Through travel I first became aware of an unseen world, it was through my different journeys that i found my own introspective way into becoming a part of it.
The inclusion in Top 10 of true Wanderer contest is itself a great achievement for a person like me who has travelled freely for the sake of joy. Never imagined one day my sojourn shall be appraised by experts & veterans of this field.
The Planning- Brainscratching
I always love to carry my home with me as I never have a destination in mind. My ride day ends at the place where I can be one to one with Mother Nature. For this mega event I have chosen Kumaun expanse of Uttrakhand (DevBhoomi).Kumaon is a lesser known sibling of the state of Uttrakhand where in lies the home to many deitys , prominent ones being Badrinath, Kedarnath, Gangotri, Yamnotri, Hemkund Saab etc. Speaking for Kumaon, its a fascinating landscape painted in rain and famous for its "Maneaters" thanks to duly respected Mr. Rudyard Kypling. So Kumaon was the chosen facet of gods creation that I embarked upon to explore into.
The Preparations- Nervwracking
Preperations by far for any wanderer is something that is mental kick off . Mine started with getting my BULL serviced, gathering essential spares, procuring some ready to cook food, Tent, Sleeping Bag, travel stove and couple of cloths. Since it was required to blog the day's activities, had to include lappy aswell…
The Packing-Enthralling
Mental reverse timer rushing to zero on the countdown but one has to do what one has to do .
Had the final check, separated all the stuff in three parts, two for the pannier boxes and one for my backpack.
DAY I (June 03' 2011)- It gets going

Reached Wranglers Showroom at 09.00 am where I was greeted with huge fanfare. It was such an elating moment which words shall fall short to describe. First time in life felt privileged :) got into the gorgeous looking yet extremely comfortable wranglers attaire and started the photoshoot for next half hour.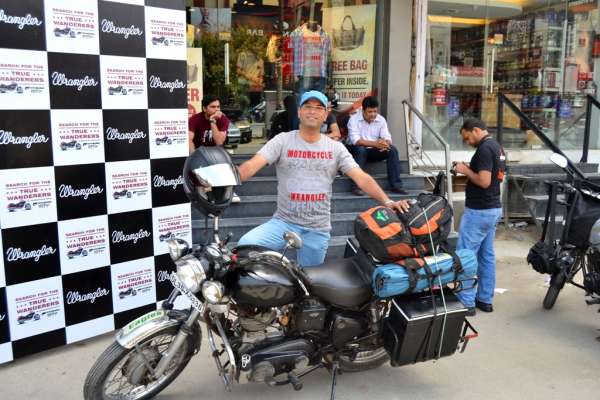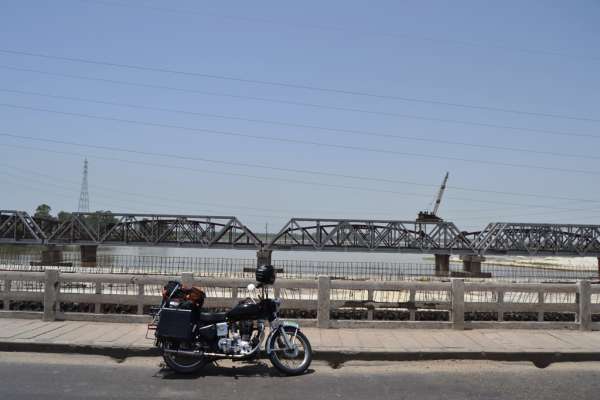 at Garh Mukteshwar Bridge
Reached at a point where there were two routes one for Nainital and other going straight towards Ranikhet. Resolved to do a small circuit reaching ranikhet via Nainital. Nainital is 280 kms from Delhi and I reached at 17.30 to find it crowded. Spent some time there capturing the famous Naini lake.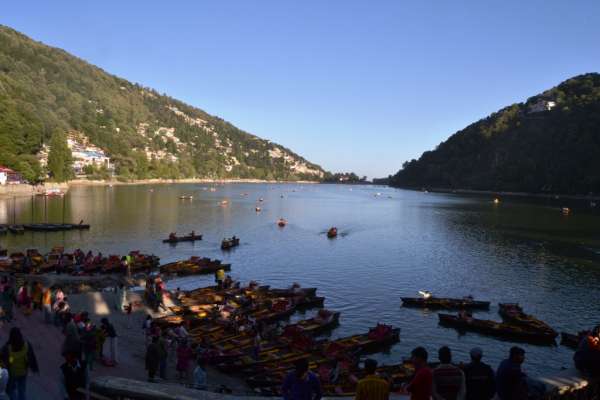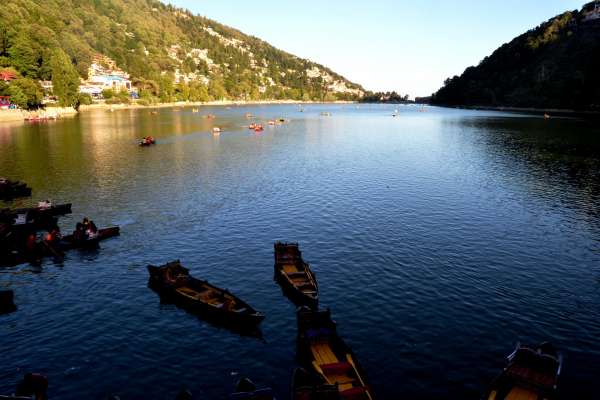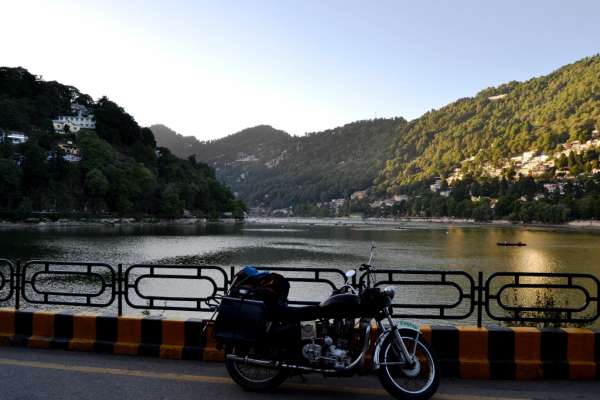 Captures of Naini Taal
After having tea n snacks checked time it was 18.30. Thought to move ahead to Ranikhet as there was enough sunlight. There were more 60 kms till I would have called for the day end. The section between Nainital and Ranikhet was really beautiful, stretch zipping through a wonderful valley. Reached Ranikhet at 20.10 and straight went to a hotel. Checked IN and got myself fresh from the days long ride of 340 kms. Weather here was very pleasant with temp not more than 18 degrees. As it was dark by this time so asked the hotel person about the views available from here. I was excited to know that I shall be getting snow covered visions from my room itself at the first rays. All my tiredness vanished hearing those pretty words.
*Days route : Delhi-Gajraula-Moradabad-Baazpur-Nainitaal-Ranikhet ( 340kms)
DAY II (June 04'11)
woke up at 6.00 fully recharged and the first thing i did was looked out of the room, but was disappointed not to get clear views for haze. took put the Map and looked for my days route. decided to touch Munshyari taking Bageshwar route. inquired with the locals about the stretch and other alternate/adventurous route and got to know about the Kapkot one. but also was warned about non availability of any necessaties on that 100 plus km stretch. decided to explore that virgin route as i was not worried about anything as i was already carrying my home with me.
left Ranikhet for Kausani around 7.30 am after having tea. it was a gr8 feel driving in mountain at morning hours with little feel of chill.
gave a halt at a small place called "Someshwar" which houses an ancient Shiva temple.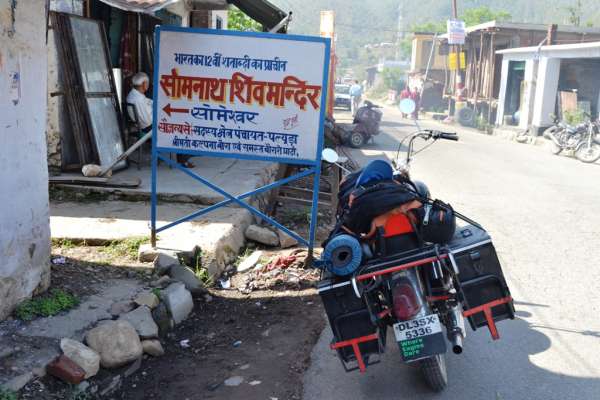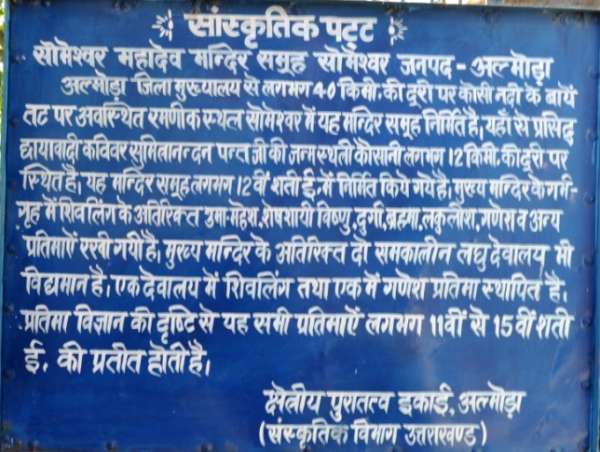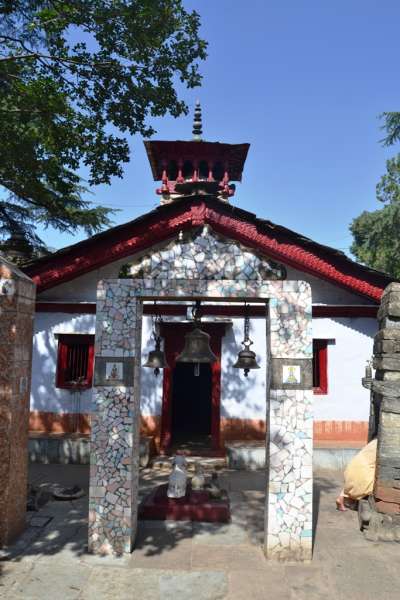 SOMESHWAR MAHADEV TEMPLE
Reached Kausani around 9.30 am which is about 1890 mtrs ASL. This place offers a 350 km view of the Himalayan peaks like Trishul, Nanda devi,and Panchachuli. There are very few places in the Himalayas which can compare with the beauty of Kausani. Kausani lies atop the ridge amidst dense Pine trees overlooking Someshwar valley on one side and Garur and Baijnath valley on the other. Mahatma Gandhi called this place the 'Switzerland of India', due to similarity in landscape.
Here i got the first views of snow capped Himalayan Range, not clear but can feel the whiteness..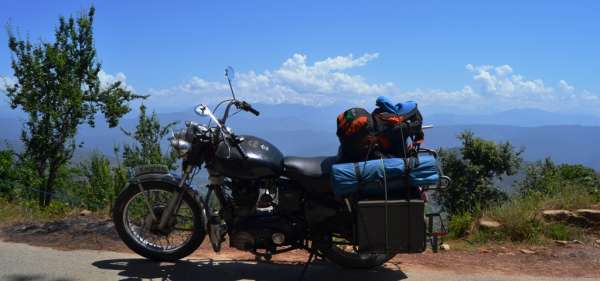 BEAUTIFUL RANGE OF NANDA DEVI, TRISHUL AND PANCHACHULI
Having finishied my breakfast I thought it would be wise to move further towards Bageshwar. Enroute found a board mentioning BAIJNATH DHAM. My BULL took brakes and I enquired about the place and got to know that this is a place of ancient group of temples. I was just astonished to see the place.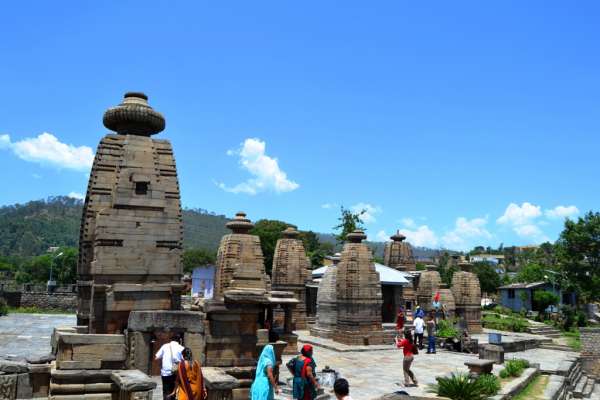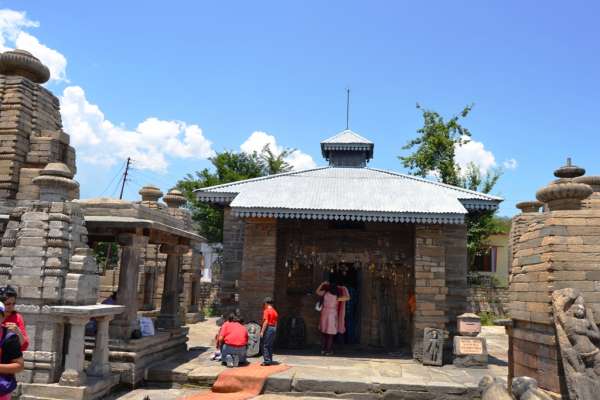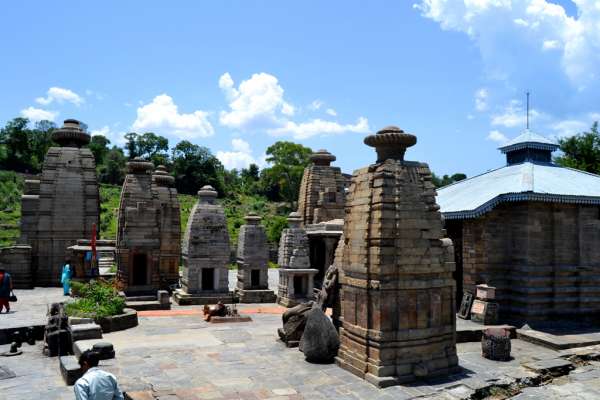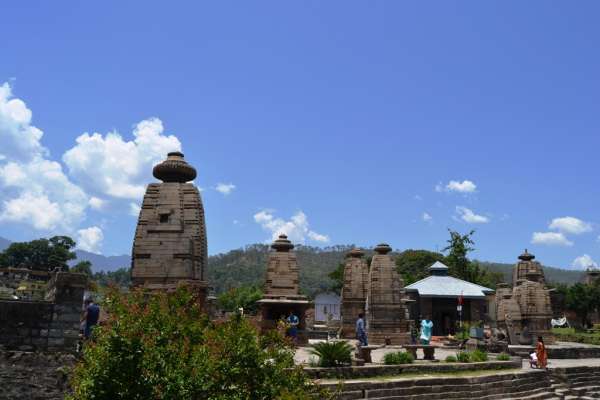 THE BEAUTIFULLY ARCHITECTED GROUP OF TEMPLES

there was a small river flowing just beside the temple and found fish in it....not planning on going fishing am I now !!
FISH IN THE RIVER FLOWING NEAR BAIJNATH TEMPLE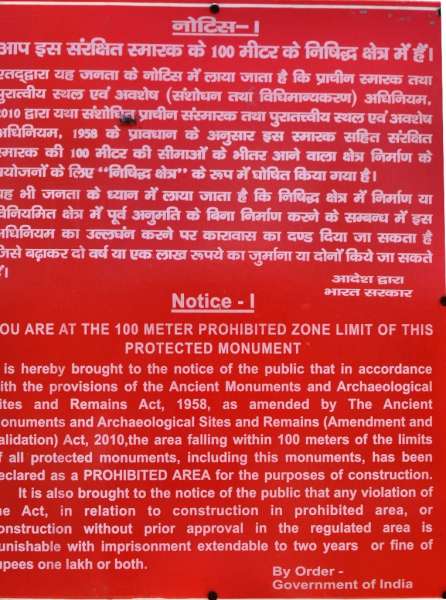 FACTS ABOUT THE BAIJNATH TEMPLE
After spending some time at the temple premises,I saw some people tring to move a stone almost the size of a watermelon. I grasped as there is something of my interest. When I went near it and asked the person standing there., he said this stone can not be lifted by a single person how strong he may be, BUT if nine people just give their index finger and raise it ...it will... The hulk in me even tried to lift the stone which is called BHIM Patthatr but couldd not even move it an inch. As lick would have it I was nineth person there so I summoned anothere eight minions to contribute their part... and vola I was just shocked to see that the nine index fingers were able to lift that Patthar...science or faith beats me !!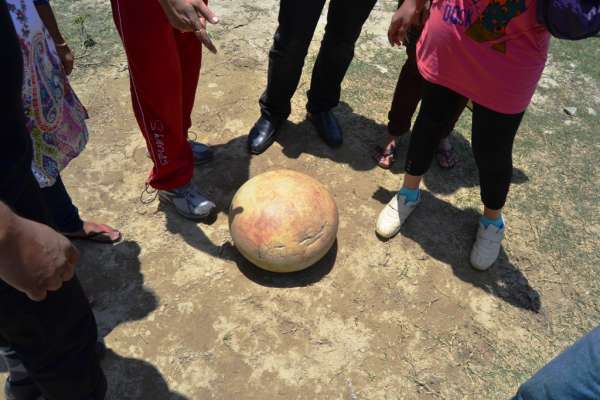 BHEEM PATTHAR AT THE BAIJNATH TAMPLE
Reached Bageshwar in next one hour and found it to be a big city. Had my lunch after topping up fuel in the bull. Inquired the further way towards Munshyari and got to know that the route via Kapkot is blocked due to recent rains and will not open soon as it is very isolated one. The other route was through Thal & Tejam. Sky was slightly becoming cloudy so decided to move further towards Munshyari my last stop for the day .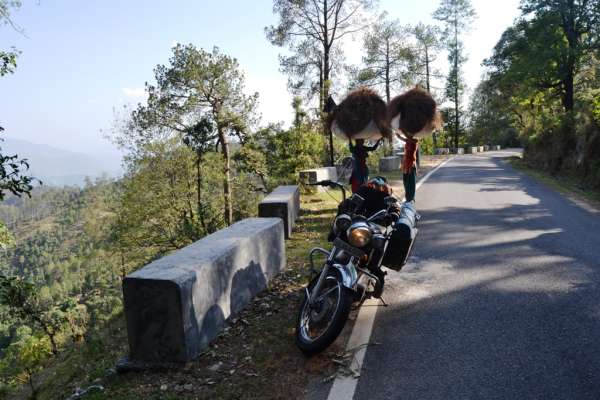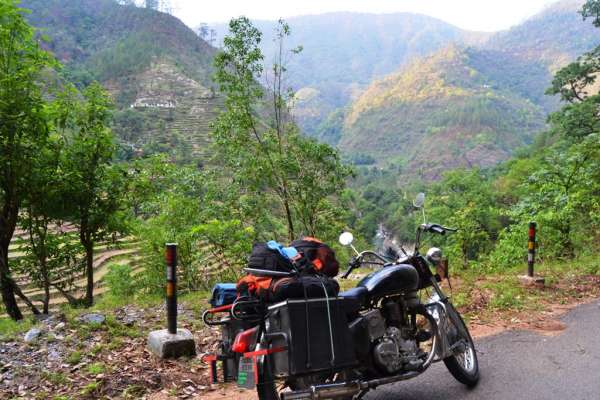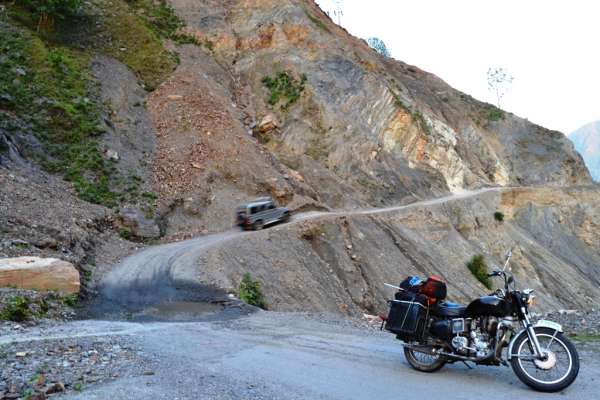 Enroute found some stretch little bit in shambles but was still ok
Arrived at a place called Birthee and saw a wonderful waterfall on my left. the first sight of it took away by breath. I decided to make my day end here rather reaching munshyari which was still 35kms away...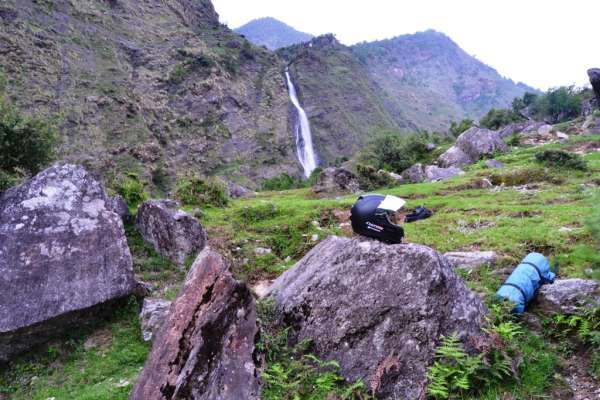 The place was nestled among high mountains offering beautiful place to camp. Unpacked my camping stuff and pitched my tent on flat ground which I was fortunate to find just beside the road.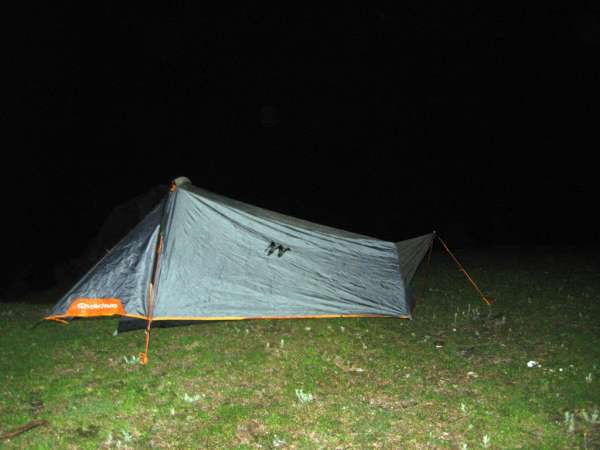 *Days Route : RaniKhet-Kausani-Bageshwar-Chaukori-Birthee (250 kms)
DAY III (June 05'11)-The start of wilderness...
By the time I was almost done with pitching my home it had become dark. First thought to take out my cooking stuff aswell but then realized I already had lots of things to eat which my mom had packed. Filled my tummy with it and then had a night walk which was blissfull givinen the isilation ,darkness and the sound of water falling at a distance . Seemed it was time to retire for the day so packed myself inside my temp home.
Got up all refereshed , with birds chirping all around which was music to ears. Noticed sun was already out so thought it was rational to explore the area. Took my camera and went towards the Birthee falls which was around 300 mtrs away. Followed me a new friend which escorted me till the falls. Captured the magnificent flow of water which came above around 150 mtrs.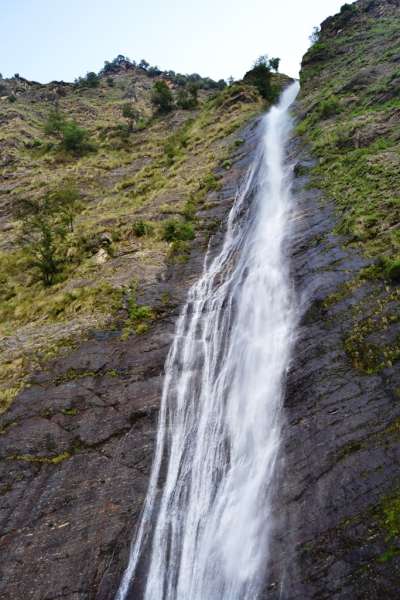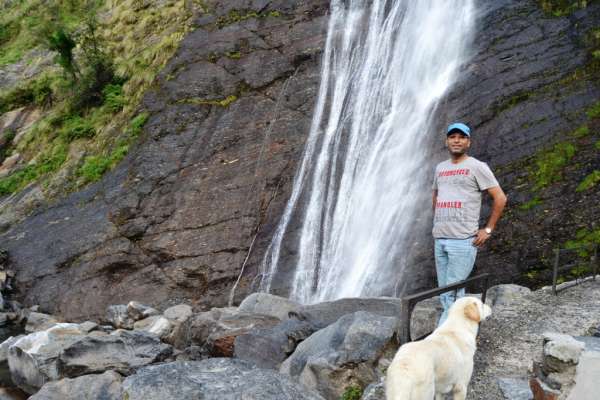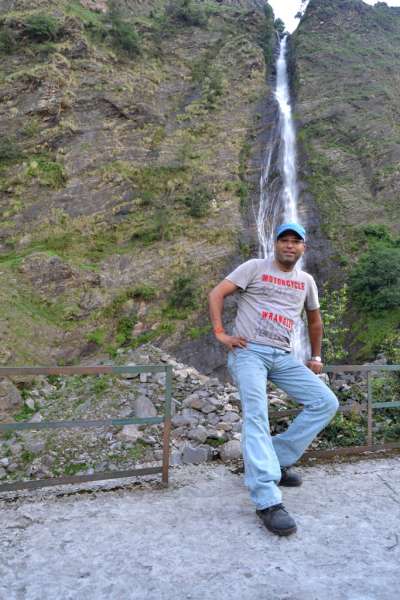 After having some nice moments at the falls, returned back to my camp and thought of having my tea.
It was time to take out my stove and help myself.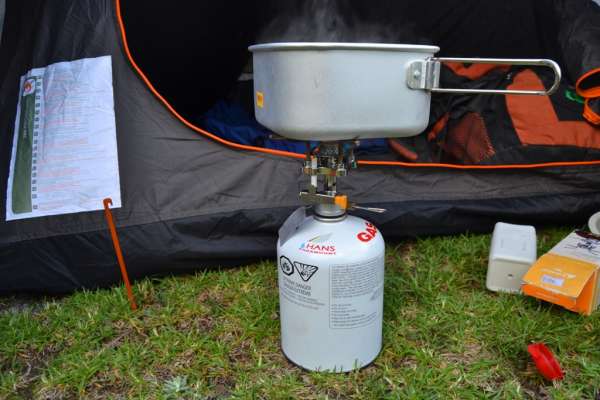 time to make my fav Maggi....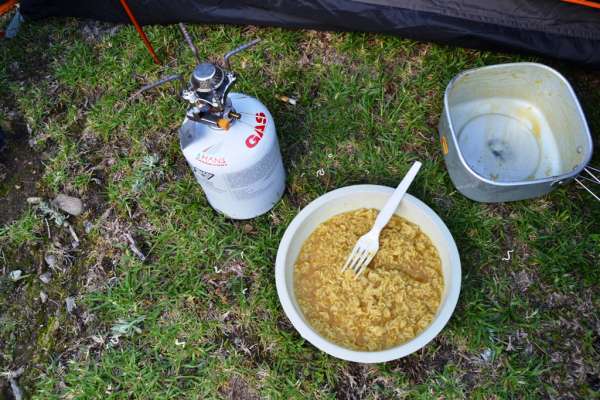 ENJOYING MY BREAKFAST
Hence packing my home, it was time to leave for Munshyari which was 35kms ahead.
Munshyari is a beautiful town at 2280 mtrs ASL with Panchachuli range towering at north. Went to KMVN TRH and understood there is KHULIYA meadow which needs to be trekked for 5km to reach. The locals said if sky is clear then I can have some stunning views of the majestic Panchachuli range.
Parked my Bull and got ready for day trek for the 3700mtrs meadow packing some essentials.
The trek was quite an ascent through dense jungle.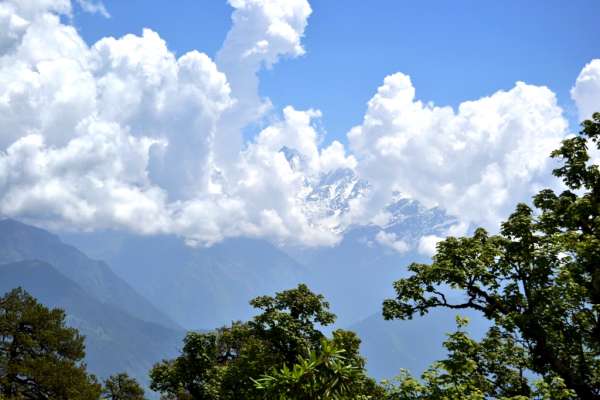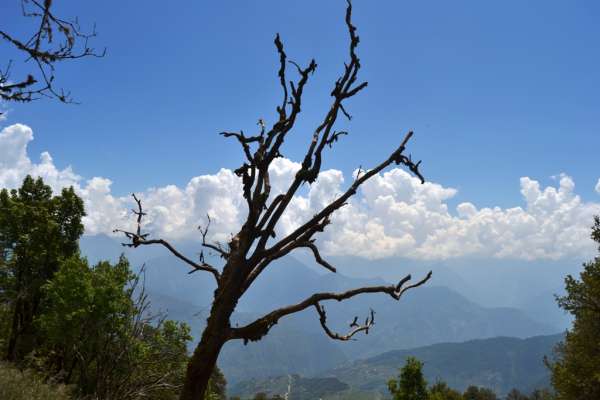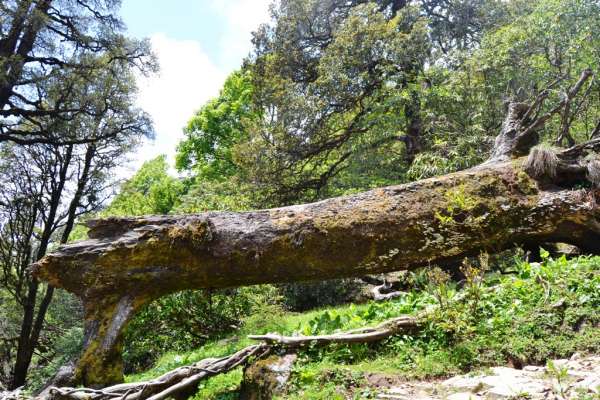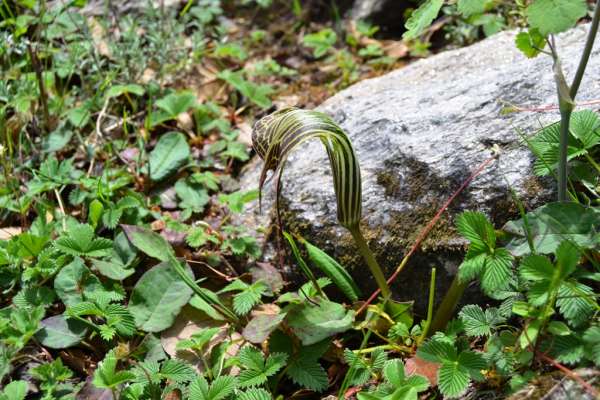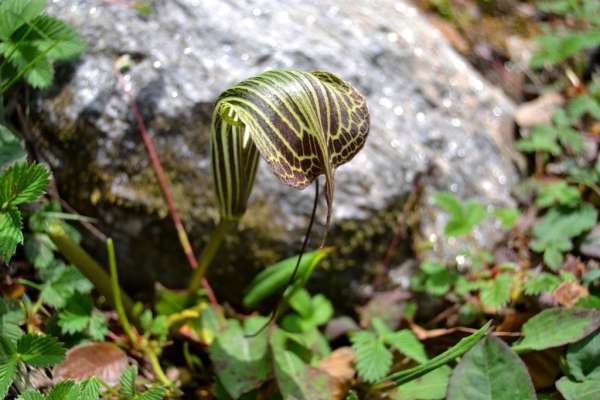 DANGEROUSLY YET BEAUTIFUL LOOKING "COBRA LILLY"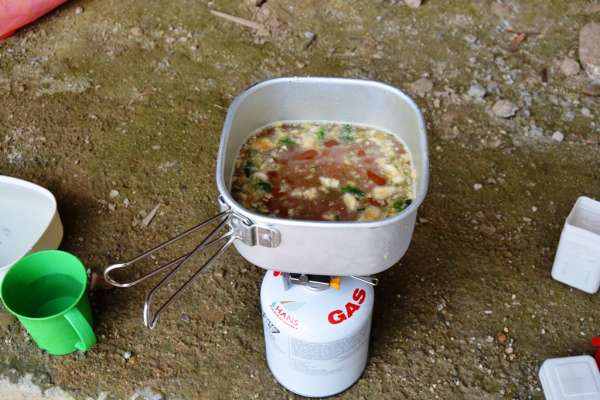 VEG SOUP SHALL GIVE RELIEF TO MY EMPTY STOMACH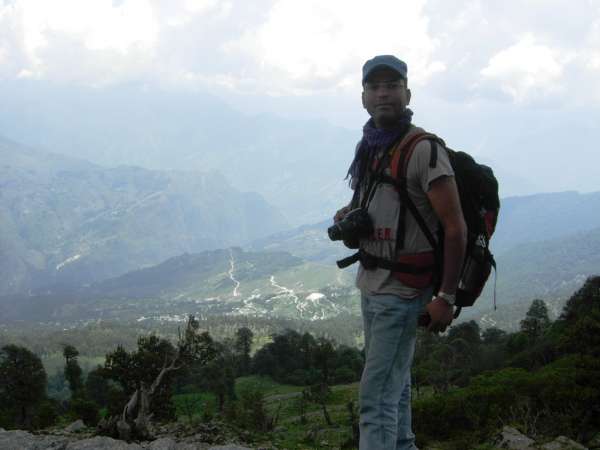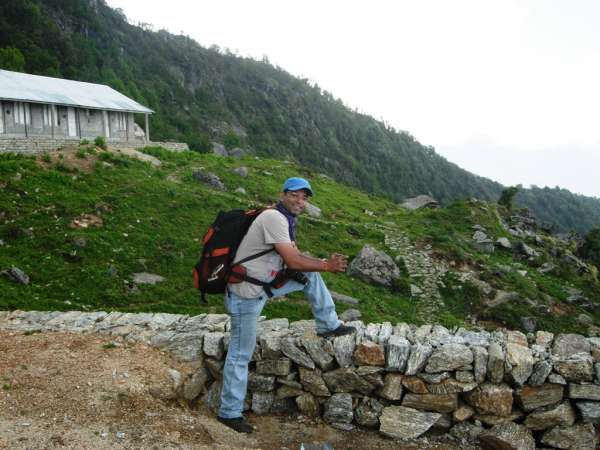 JUST BEFORE KHULIYA TOP
After spending some time at the top started my back trek to Munshyari as there was the famous Nanda Devi Temple which I wanted to visit. Reaching the town, headed for the temple which was on outskirts of the town. It was the best location of any temple I have ever seen till now...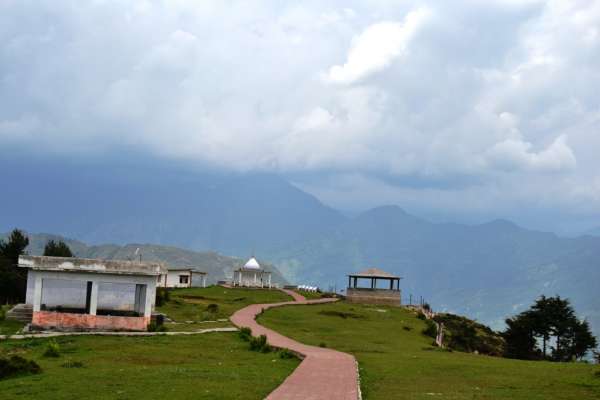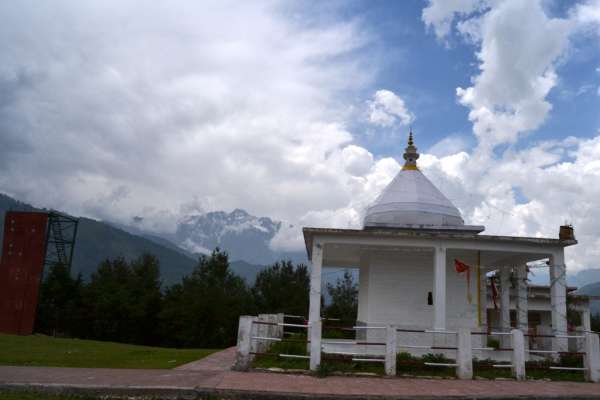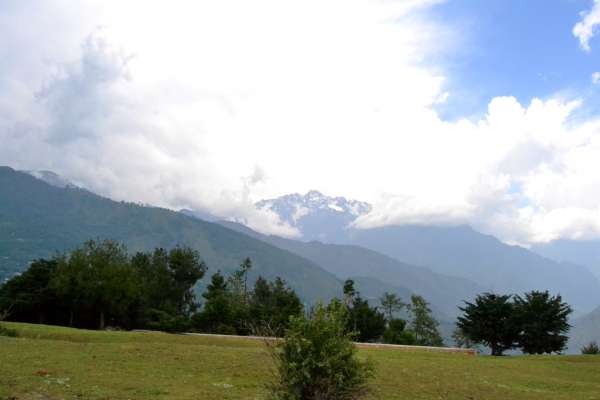 After enjoying the landscapes at the Temple asked a local for any other place for visit. He said there is an Heritage Museum where a visit is must. Reached the museum in no time. It was completely made of woods and stored some rare collections.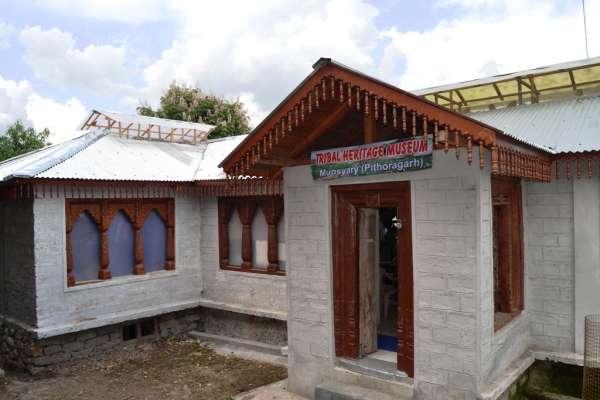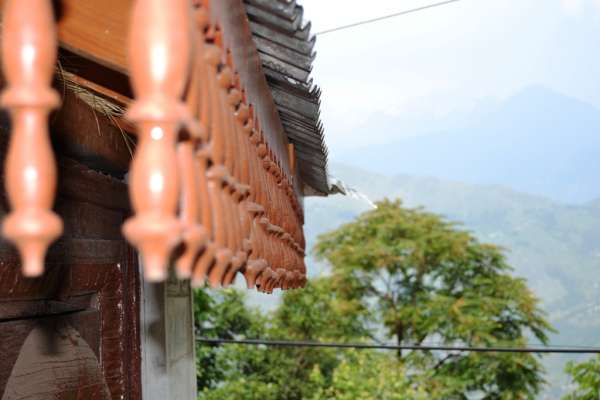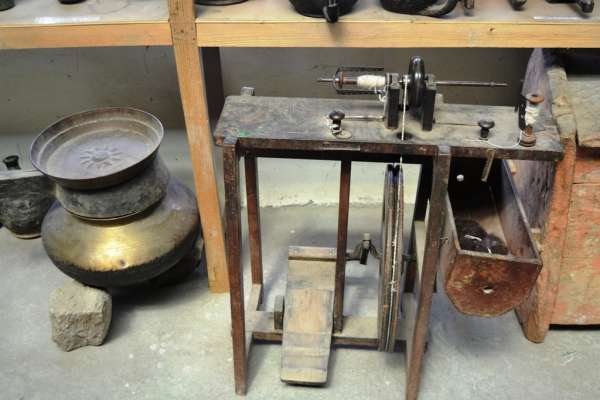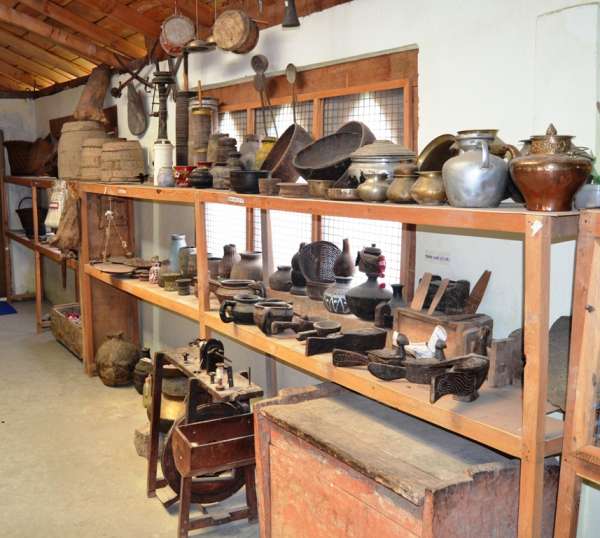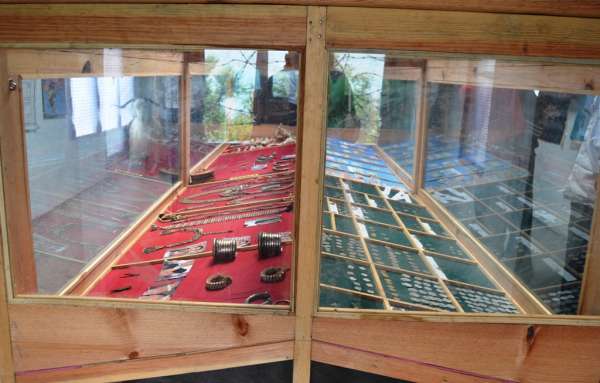 Could hear music from the clouds in the direction I intended to go now. I was a little worried as I knew if it starts raining then it shall continue for hours and landslides are very common in this part of the region.
Rushed back to start my onward journey till Dharchula which was 100 kms far. Inquired about the road conditions and was in awe to know 50-60 kms are completely torn and is it is very less frequented so maintenance is just zero. It was really horrible driving on that stretch with around 50 kms of off roading.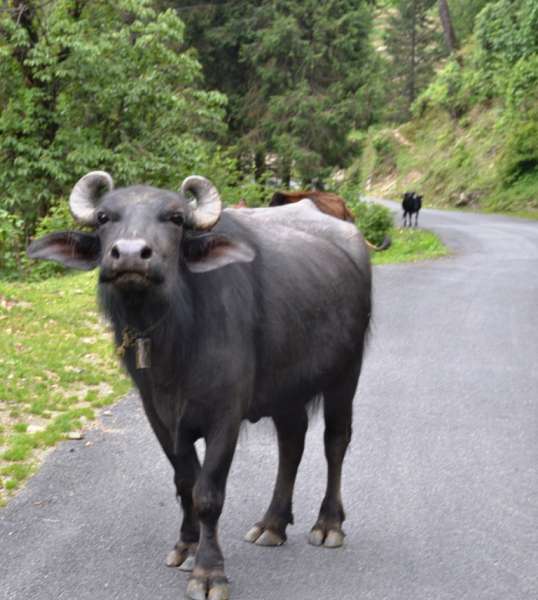 and the wanderers meet (mechanized bull v/s the bufflow) and like two spirited warriers we both gave each other respect and way to pass !!
what lies beneath !!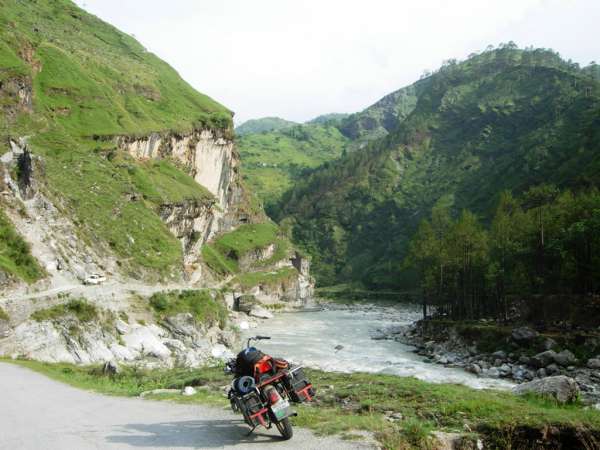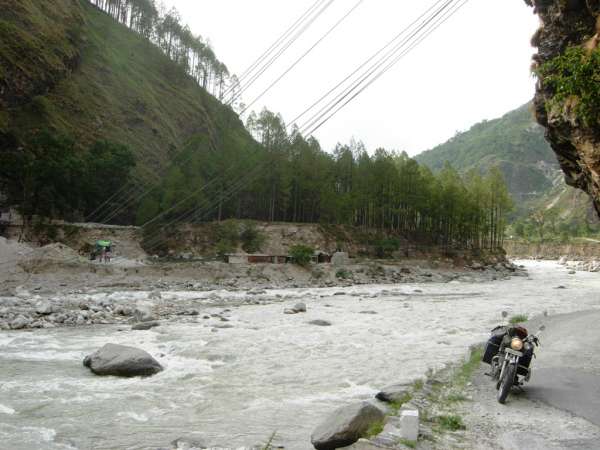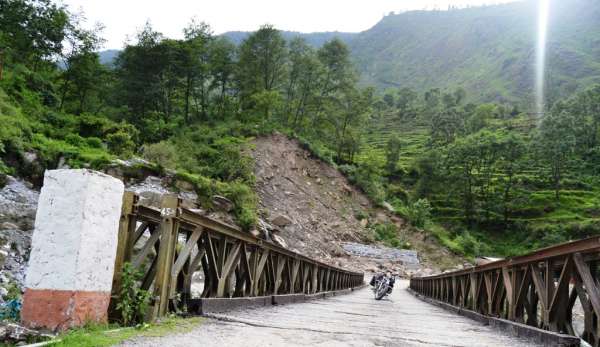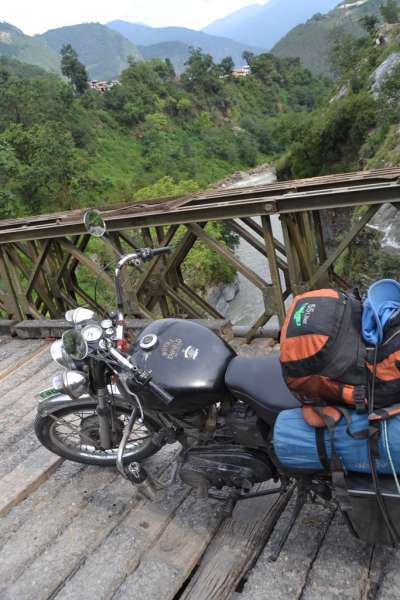 The whole stretch of 100 kms was besides Gauri Ganga offering some best views of an valley I have ever seen which compensated for the bad tarmac.
Reached Dharchula at 19.00 and straight went to KMVN rest house. was lucky to find a descent room as KMVN is always occupied. Dharchula is the gateway for Kailash Maan Sarovar yatra. All the yatris are last accommodated here before they depart for the heavenly yatra. Was completing my entry in the register and there got to know that just hundred meters away is flowing the furious KALI RIVER and on other side of it is NEPAL… WOW were the words which came out of my mouth. Also came to know that there is a big market aswell where purchasing can be done. Was curious to cross the border but it was now time for border to get sealed for the day. Had no other way to satisfy my wandering soul lest wait for next morning…
**DAYS ROUTE : Birthee-Munshyari-Jaul Jibi- DharChula ( 150 kms and 10 kms of trekking)
DAY IV (June 06' 2011)- wandering goes intenational...

Woke up with a rejuvenated soul with thoughts of crossing the border. Got ready and went towards crossing the Kali Nadi. There was a check post where army personals were at guards, where I was instructed NOT to capture the bridge connecting the two countries. Also they said i can purchase from the Nepal market but only for personal use nothing for commercial purpose.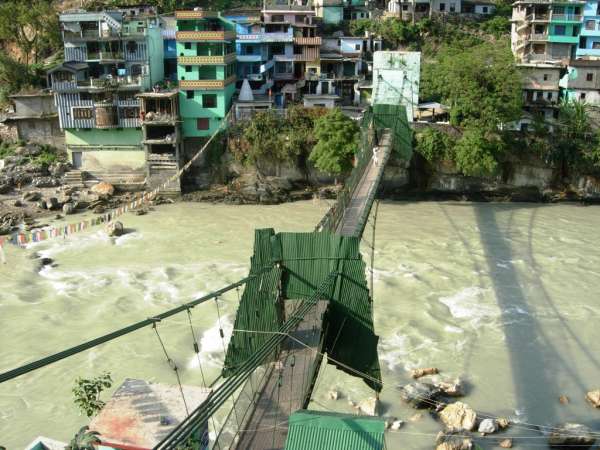 WITH KALI NADI FLOWING FURIOUSLY BENEATH, THE BRIDGE CONNECTING INDIA AND NEPAL ...
crossed the barrier and bridge to find myself in NEPAL… market was open and stuff were on display.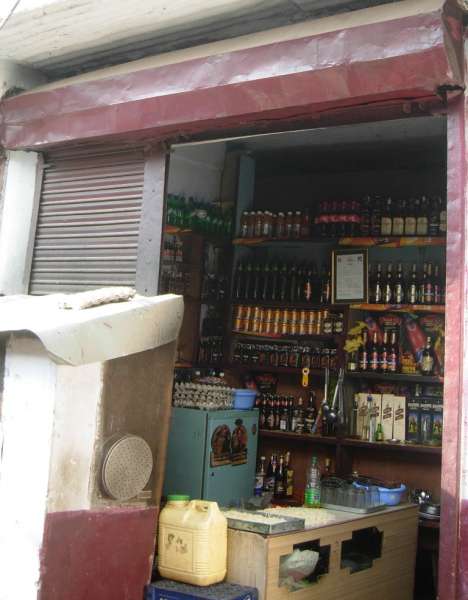 Visited couples of shops and purchases trekking shoes, Khukri and a multi pocket jacket.. there was surprised to see how much ppl love liquor as even the grocery shops stocked it.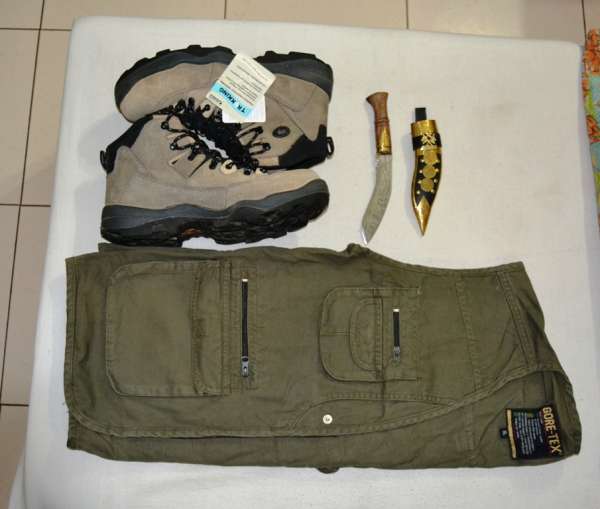 returned back to room as had lot more to do. Reached my room and in no time was ready to move further north. There is a place called Narayan Swami Ashram which I always wanted to visit as the words of its beautiful location were in my wits for long. It was around 60 kms away but with lots of rough patches as was told by the locals.
Kicked my BULL and was again on a roll. The stretch till Tawaghat was parallel the Kali Nadi which was enjoyable.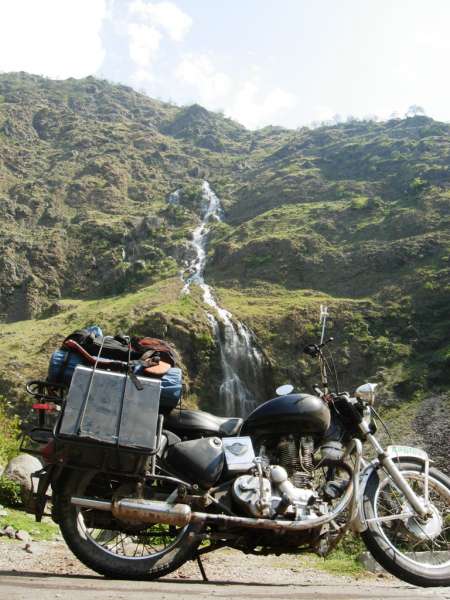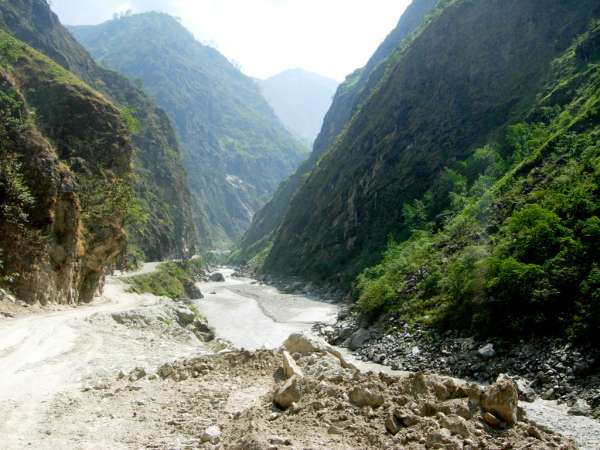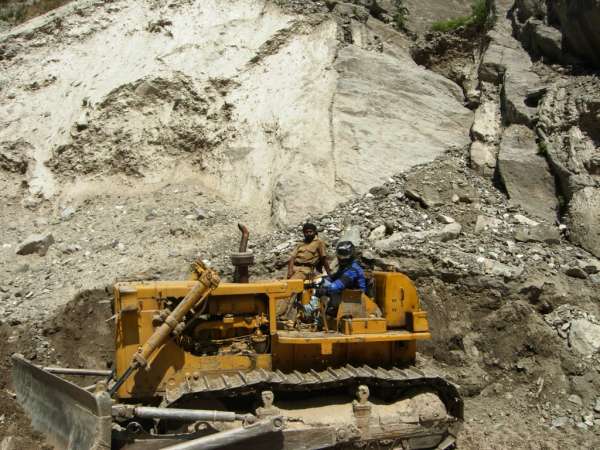 DAM NEAR TAWAGHAT
reached a place where there was a bifurcation and the left one goes till a small village called Daar. That is the road end and hence trek starts for the famous Pancha Chuli. Decided to first visit that dead end. The complete 15 km way was off roading with streams flowing freely. Reached the point where the so called road ceases and one has to trek further.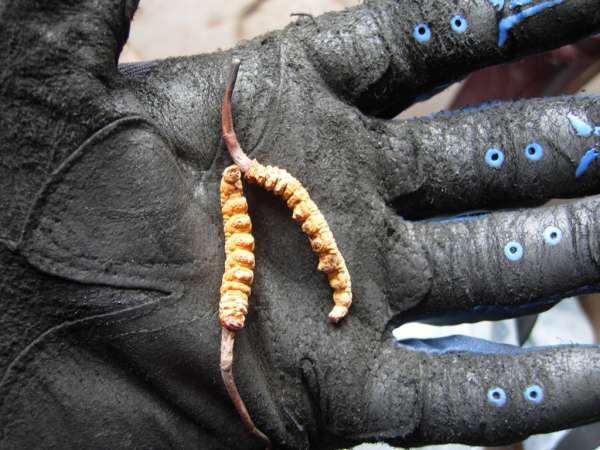 "BICCHU GHAS"
had heard about Bicchu Ghas and was lucky to see at a local shop on inquiry. this is used in making herbal medicines to cure impotency and is sold in the local market for 3 lacs/kg and can fetch 10 lacs at international market.
FROM HERE STARTS THE TREK TO PANCHACHULI AND CHOTA KAILASH
Captured the end point and took U turn for my next destination Narayan Swami Ashram..
It was amazing feeling reaching the ashram as the air started getting thinner cutting through pine forest.
Arrived at the ashram which was atop a ridge with Annapurna range guarding it on east offering fantabulous vistas. Visited the teple which houses God Vishnu. The temple was established 75 years back by a saint Narayan hence it is called Narayan Swami Ashram. The temple was all made of woods with marvellous traditional interiors. Captured the area and spent some time enjoying the serenity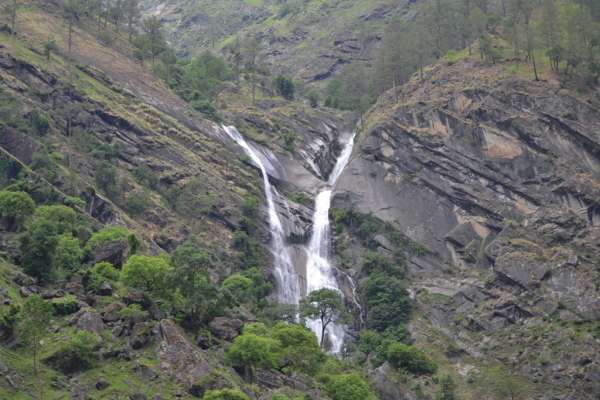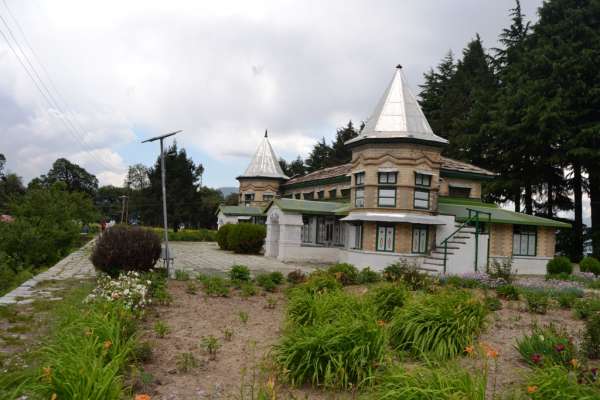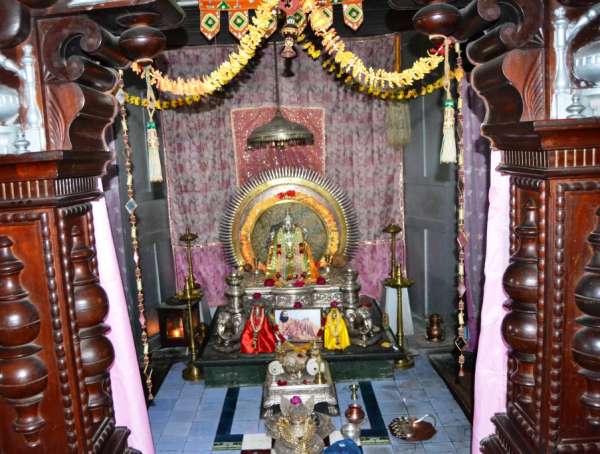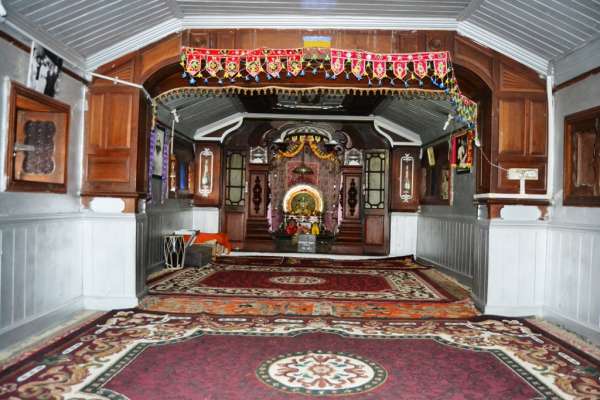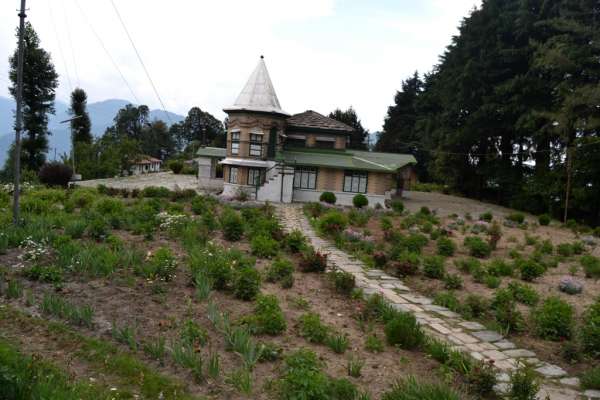 .
the temple priest offered me food which I readily accepted and relished like anything.
Wished I could spend couple of days at this blissful place but was not destined instant.
It was 2 pm and had a long way to go so started my back journey...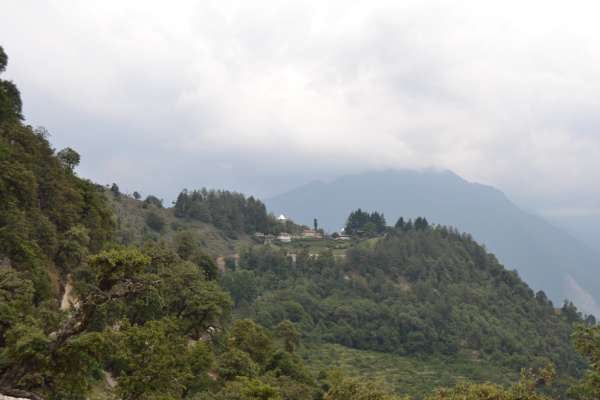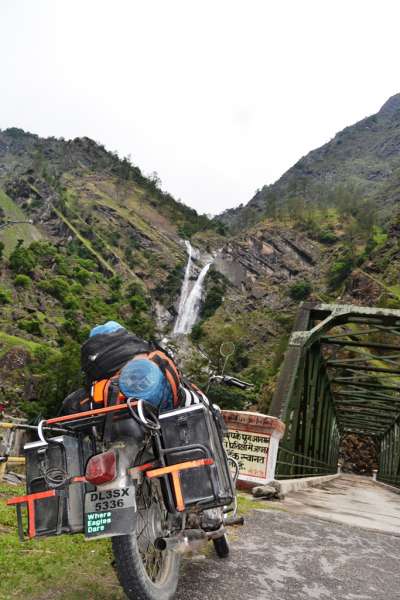 crossed Dharchula and reached Jaul Jibi. Appraised the area Map and chose my further directions. Reached a place called OGLA which it started getting dark and was my time to end my day. Now was in search of a place to erect my home and was fortunate to find it soon. Parked my BULL and started unfolding camping equipment's and in 10 mts was ready with my night shelter..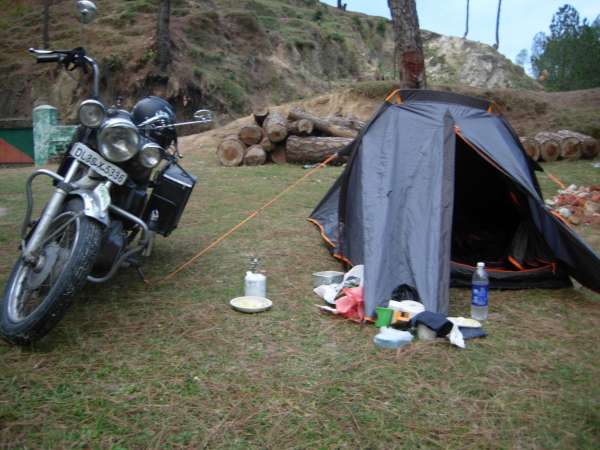 Took out my cooking stuff aswell and made tea to ward off tiredness.
This area is famous for leopards so had to arrange for a bonfire for precaution. Looked for some woods which I easily found. Was ready for the bonfire but before that thought to have something to eat. Looked my bag to find something interesting… guess what..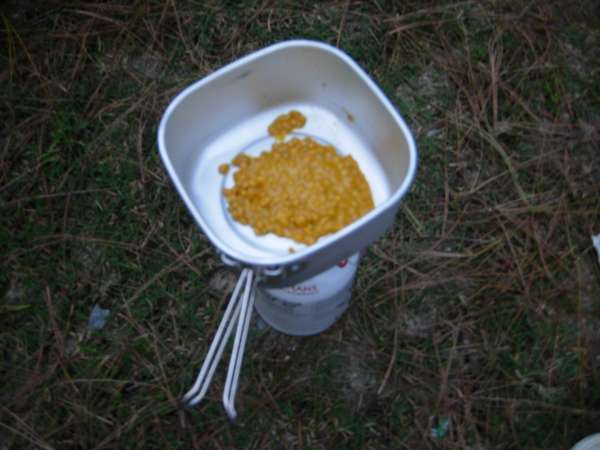 .
Lit the fire and was ready to enjoy the dark jungle night.
before dozzing off thought to have a cup of soup...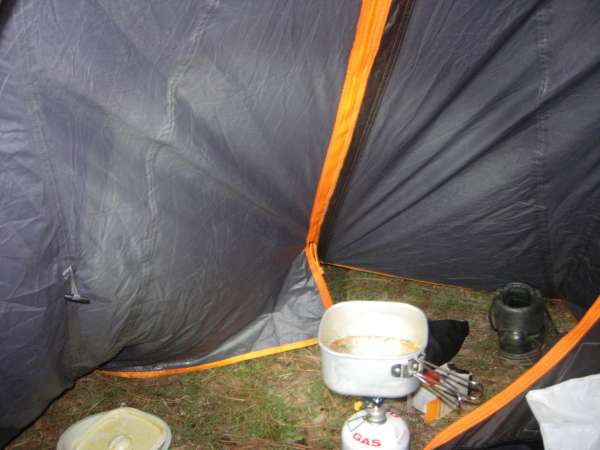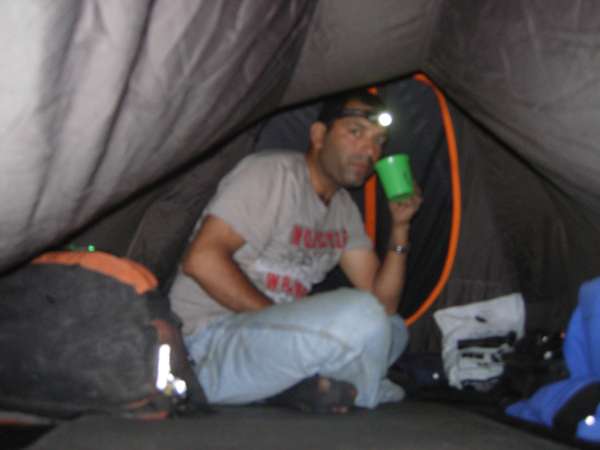 at night herd some sound definitely of some animal but was too tired to think much about it… also had with me my newly acquired Khukri in extreme case

had a deep sleep...
**DAYS ROUTE: DHARCHULA-DAAR-NARAYANSWAMI ASHRAM-DHARCHULA-JAULJIBI-OGLA (240 KMS)
DAY 5 (07 JUNE' 2011)
Awaked hearing the sweet music of birds. wanted to sleep more but realized had lots more to explore.
helped myself making tea to get active and begin packing..
It was also time to charge my camera battery and mobile as they were almost drained out. Took out the chargers and used BULLS power for the raw supply.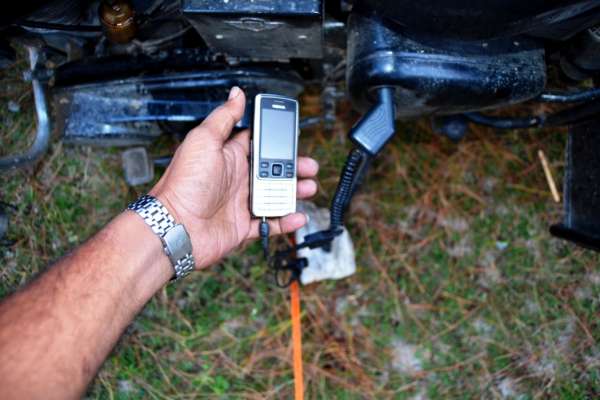 The time batteries were charged up I took the liberty of making Maggi.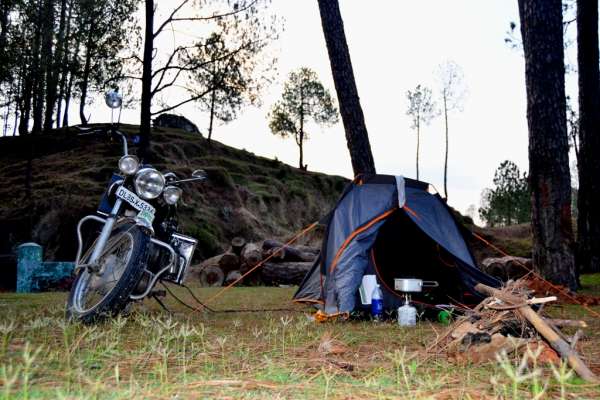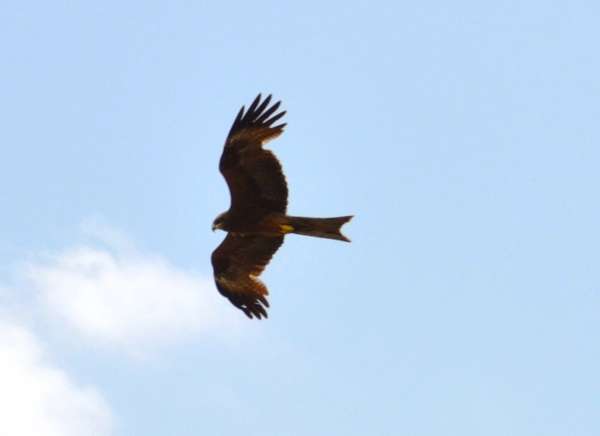 EAGLE... my motivator
Checked the map again to find two ways from here one towards Pithoragarh and other towards BeriNag. Decided to take the latter one as it will offer some snow views.
It was smooth riding cutting through green vegetation with almost no traffic.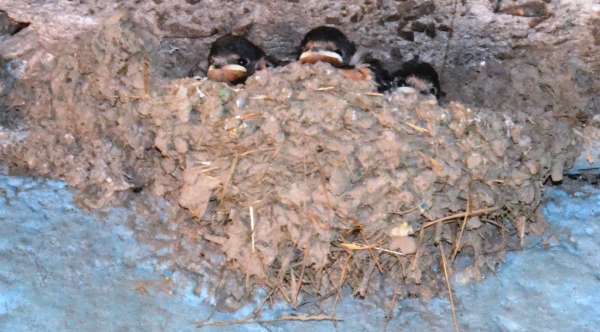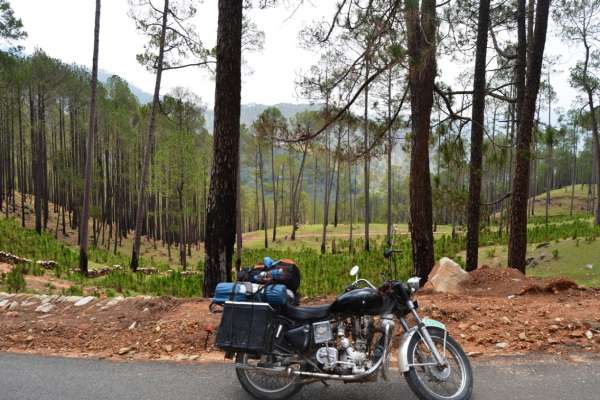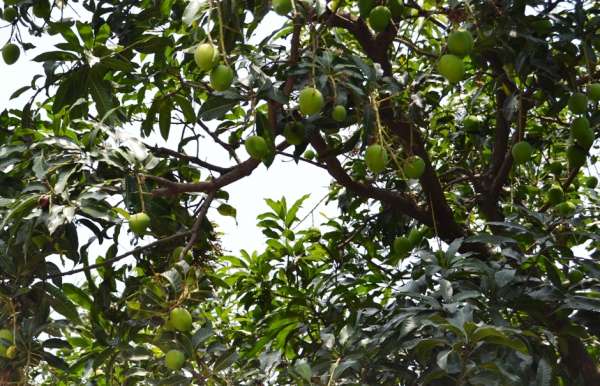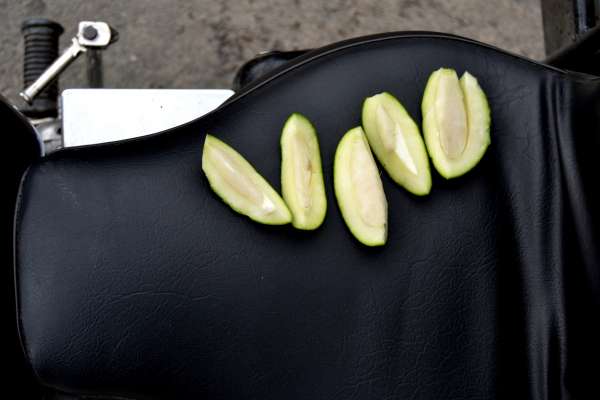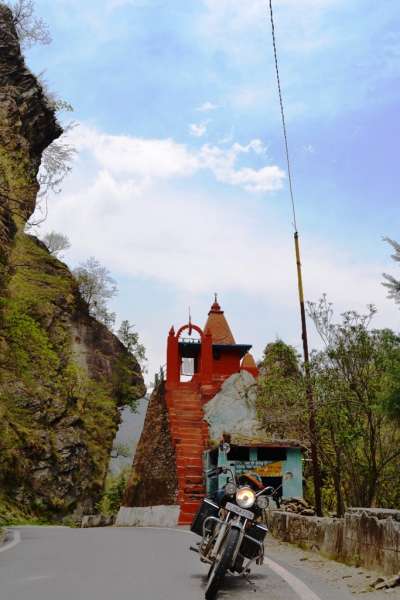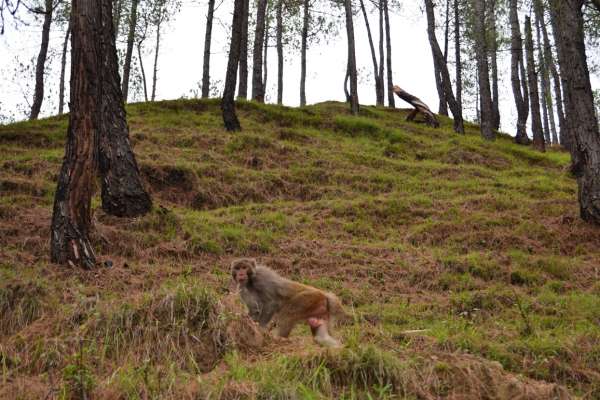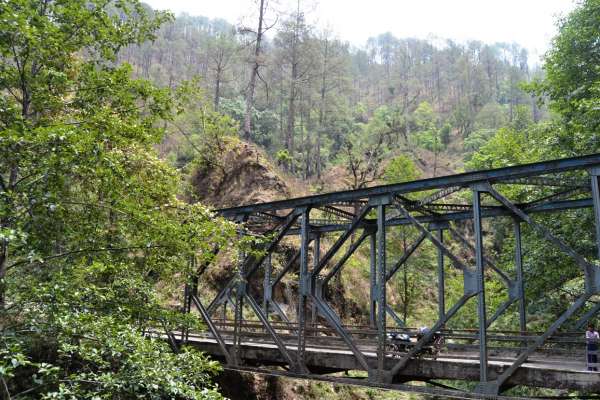 had to reach Almora before dusk but reaching Dhaulacheena comprehended that Binar wildlife sanctuary is just few kms away. My BULL changed direction and took an off road which reaches the entry gate of Binsar sanctuary.
Just before the entry check post saw lots of vehicles stationed and some noise of habitation. Inquired to know here is the famous temple of GOLU Devta. I had heard about them from many but today it was an opportunity to pay homage. Parked the BUL and reached the temple and offered prayers. Saw couple of goats and cocks and I understood they are for sacrifice. Witnessed one such which was tough for an 100% vegie but managed to do.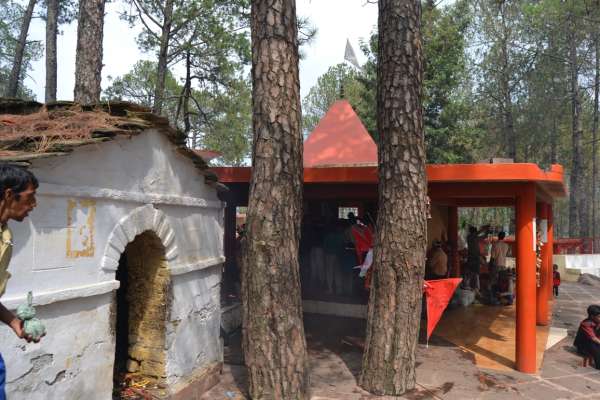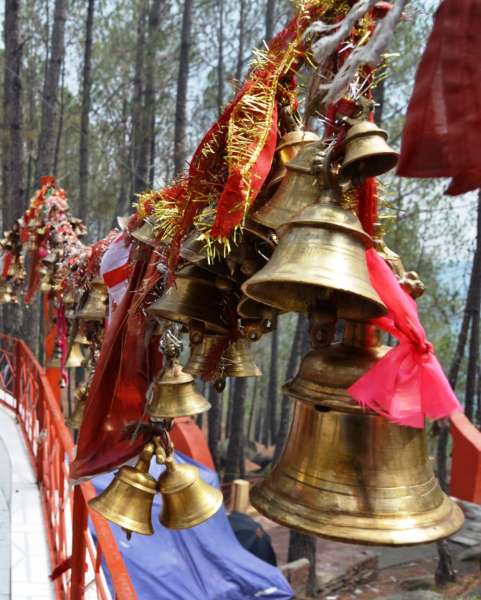 Paying final respect to GOLU Devta, I moved towards the sanctuary post. Got an entry pass for Rs.150 and entered in the wildlife area. To see the wildlife one needs to reach a point which is 10 kms far but thanks god vehicles are allowed. There is KMVN TRH where one can stay for night. Could see dark clouds hovering above the whole region and sensed clouds will rain soon. As I reached KMVN, drizzling started which in few minutes turned into a heavy downpour. Covered my BULL and prayed Rain Gods for a break but they were in no mood to listen. Rains lashed for an hour and the time I write these lines it is still continuing. Its 17.00 hrs and there were no signs of it stopping and further to aggravate the situation it became foggy offering not more than 50 mtrs of visibility. Now was in a bit trepidation as I had to reach Almora which is 35kms away as 3 days of blog was to be updated. Only there I could find Net signals.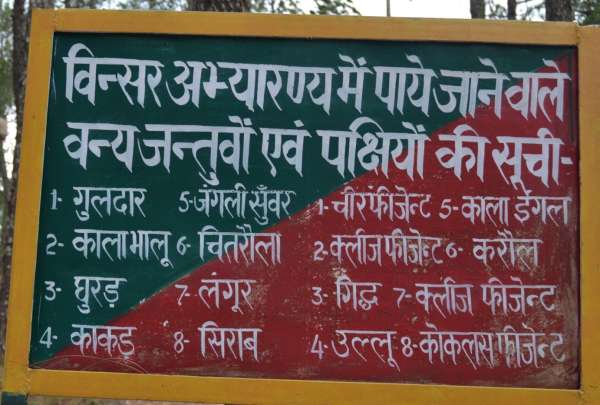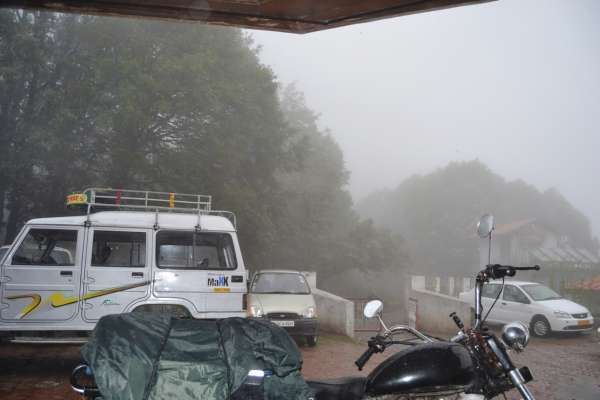 At last at 17.30 rains stopped and I got chance to escape this situation. packed what was out and got ready to move till Almora. Just before Almora suddenly sky got clear at north offering some class views of Nanda Devi range. Could not afford missing such chance to capture the majestic vistas.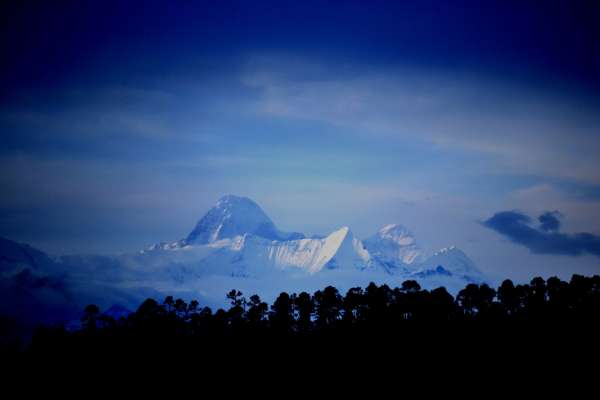 by the time I reached Almora, it was 19.30 and started drizzling. Searched for the hotel and easily found one in the main market. Keeping my gear in the room I went to the market in search of cyber café as reliance data card was not working here also. was not fluky as the market was almost closed so had to return back disheartened.
coming back to my room, was too tired to do anything so thought it better to rest as next day was going to be another hectic one as driving for another 375 kms was to be undertaken.
**DAYS ROUTE : OGLA-THAL-BERINAG-SHERAGHAT-BINSAR-ALMORA ( 235 KMS)
DAY 6, 08th June' 2011

got up with an fully recharged body, packed all stuff on my BULL and was ready to move towards home... had to reach delhi by evening as an trek expedition was awaiting me and had to leave same day by night...
taking breakfast at Bhowali headed towards BhimTaal... was delight to see the lake at peace.. there was no hstle bustle of of tourists as it was morning hours...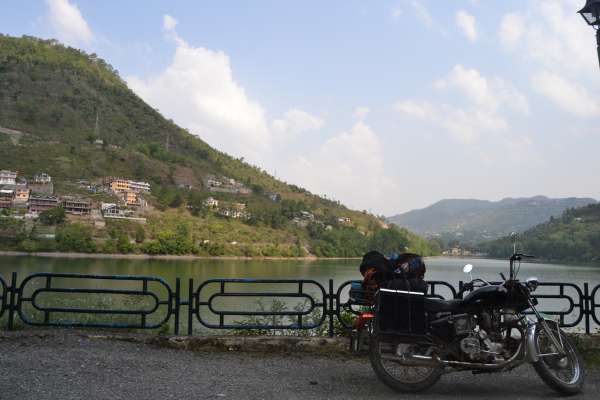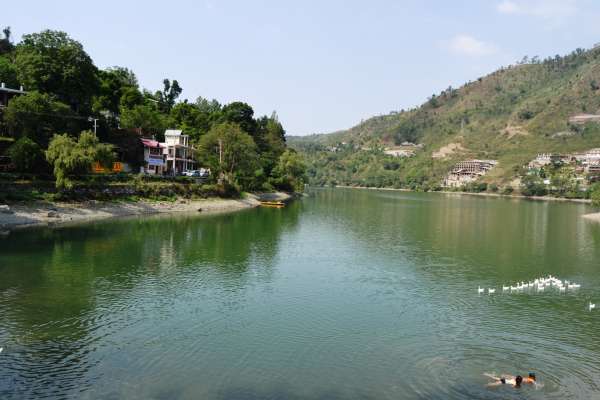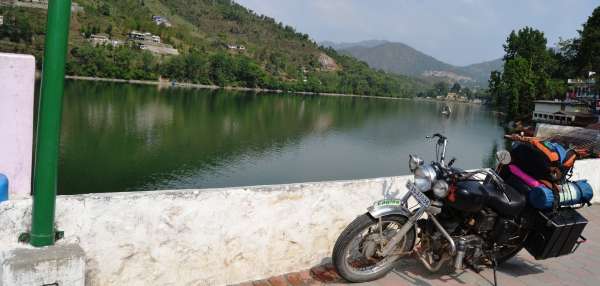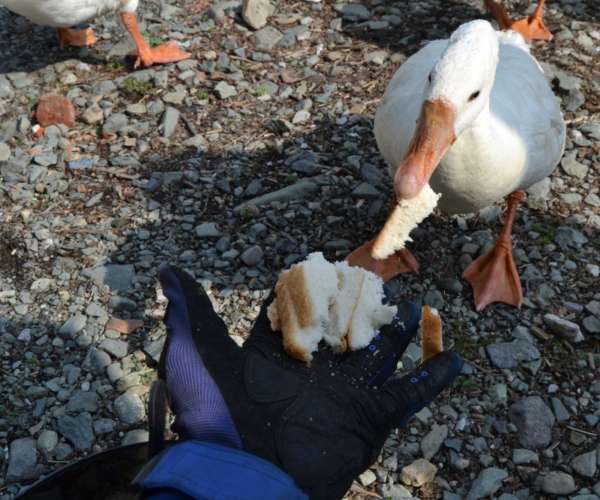 enjoying half an hour at the tall it was time to leave...
crossed Haldwani to find myself in plains...
HALDWANI TOWN AS SEEN 5 KMS BEFORE
felt sudden heat as was crossing Haldwani... knew it gonna be not easy reaching Delhi as sun was shining brightly..
reached gajraula to take last break of the trip and checked if Net connective is available... signals were coming but were very weak..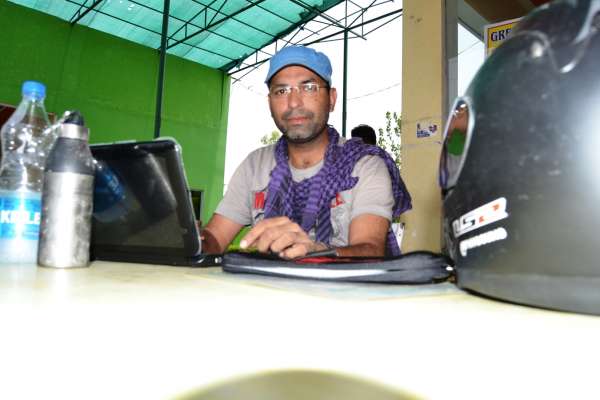 i always stop at Garh Mukteshwar bridge to enjoy the vast views of Ganga river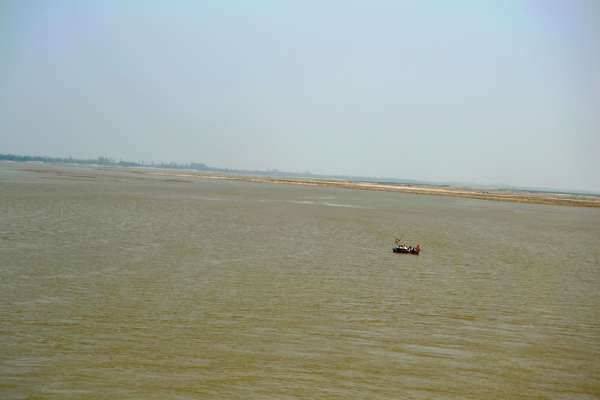 had to quench my dry throat so stopped at this movable infrastructure..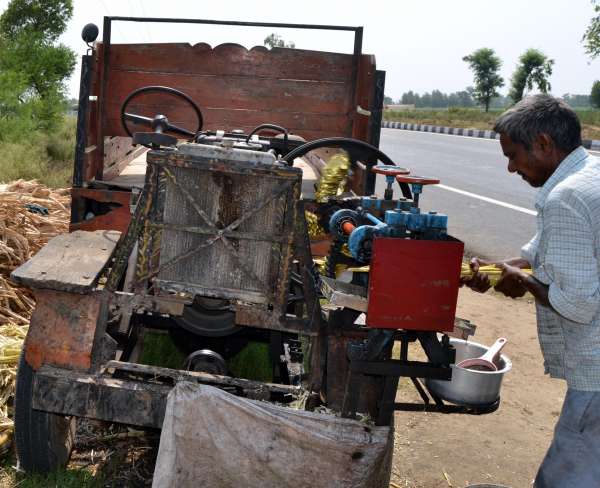 reached safely home at 16.00 hrs...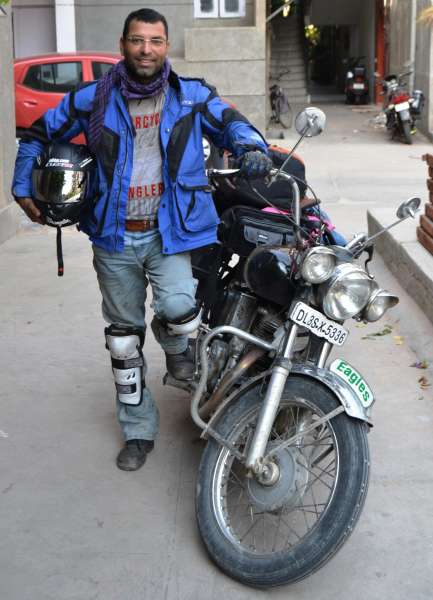 MY TRUSTED BULL, AGAIN MAINTAINING MY FAITH...

**DAYS ROUTE : ALMORA-BHOWALI-HALDWANI-MORADABAD-DELHI ( 360 KMS)
Life is a never ending journey.....