Wheelie To:
Day 0: Preparing for the big denim ride... (View Video)
Day 1: Advent of the Denim Ride (View Day 1 Video)
Day 2: Into the Rann in search of......?? (View Day 2 Video)
Day 3: Drop Of Blood & Sweat (View Day 3 Video)
Day 4 : A ride into the Ghost town of Lakhpat (View Day 4 Video)
Day 5: The Colours of Culture (View Day 5 Video)
Day 6 : The Mystic Triumph (View Day 6 Video)
Flashback (View FlashBack Video)
Preparing for the big denim ride...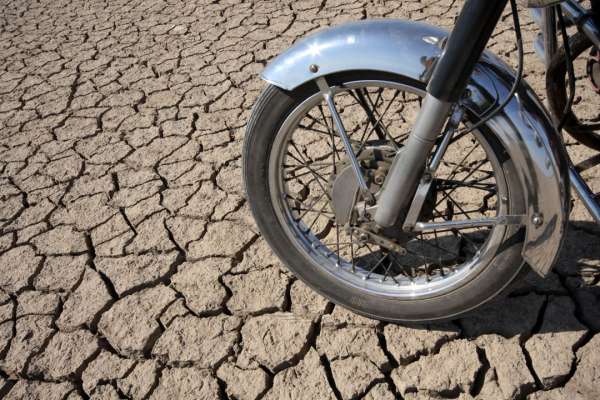 This time making a decision of riding into a destination was a bit difficult. Usually the choice is based on the weather conditions. In summer I select cooler places and in winter I ride in the plains of India. This time I have to select a place in the western region, so as per my choices I began looking for a hill station in the western zone. Glancing over the map to select destination my eyes fell on the Rann of Kutch.

It is easy for me to choose a cooler place in the western region but going beyond the comfort zone against all odds always satiates the quest for thrilling adventures. It also creates opportunity to surpass the set boundaries of human ease and comfort.

Having ridden in the arid region is not something I haven't done before. The only difference is that back then it was the chilly winter and now it is the sizzling summer with soaring temperatures enough to roast raw potatoes dug in sand.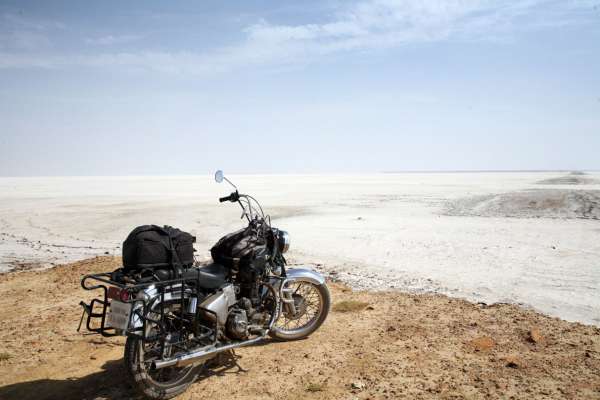 Riding in the heat has never been a personal preference, so I thought it would be good to put myself through the toughest test ever. I can take the cold very well but handling heat puts me off the grid. It is almost like taking a survival challenge.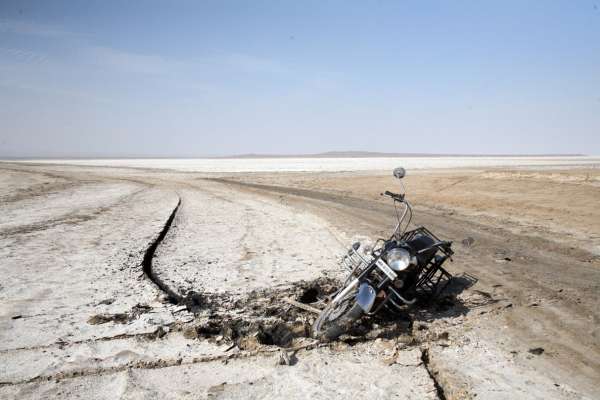 I remember being stuck in the desert at 10.00 am in the month of February. I sat there in the shade of my bike for four hours with only two liters of water till 4:00 PM. I then started walking a distance of 12 km with the limited water supply. In the arid terrain this was my only chance of survival. A bike breakdown in the midst of the barren land can cost a life. Having taken a wrong direction would have taken me to Pakistan with scope of no return. Walking back to the nearest village is the reason I'm here today writing to you. Looking back at the episode I can say I was a lucky survivor.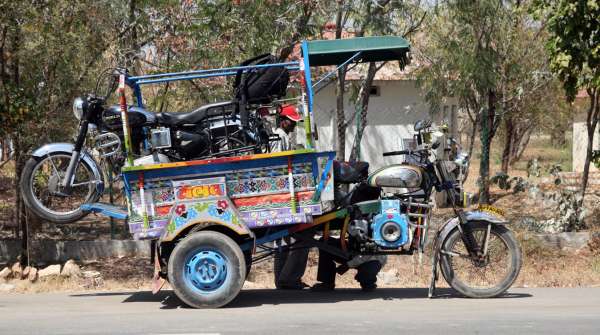 The toggle between life and death situations makes one think of the fearful moments and avoids re-living those risks forever. This trip is specially planned to triumph over those fears. We all have some kind of fears in life and as always, there are two choices we have. One either faces the fear or runs away from it. I decided to take option one and face it. So friends here I am all set to live the challenge, rise above and beat the fears of human mind and going in the distance. I thought to myself that if the dwellers in this place are capable of living in such harsh weather conditions, I surely take this, as a test to be a true wanderer.
I know that the weather will be harsh about 42 – 48 degrees and the confront is going to be tougher than the ever.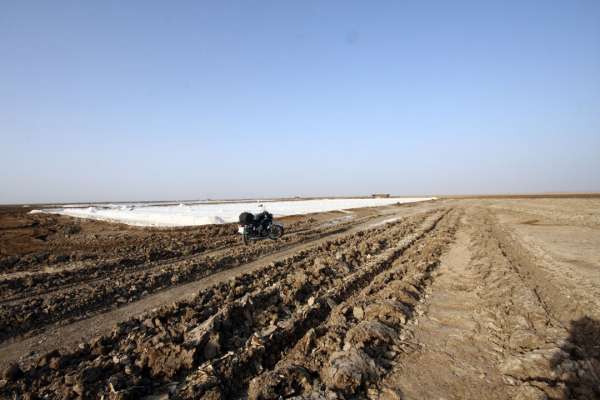 Recently my bike engine faced a break down. Post repairs it has only run for about 500 km. I'm hoping my trusted companion won't let me down this time in the midst of arid zone. So I'm wishing all goes well and I will come back with a few good stories for you, taking you along another splendid journey into the heart of India with the live updates.
___________________________________________________________________________________________________________________________
Day 1
Leaving for the flag off ceremony. Will update you from there.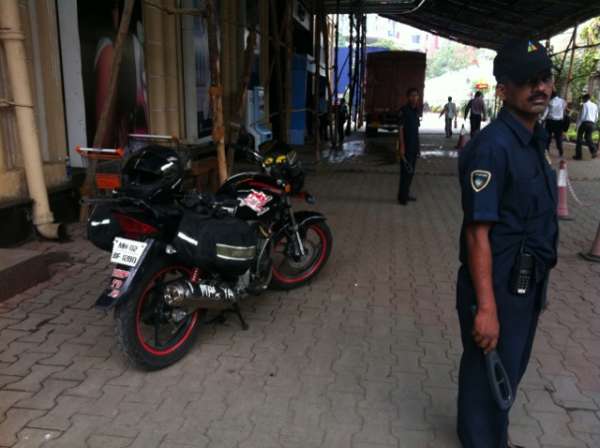 Waiting at the Phoenix Mills gate. Theres no one around. Should I wait or shouldI leave?
Have been waiting at the gate for the last forty minutes.No one is here as yet.
Finally I get to enter the show room where they were giving me one Jeans, I was running away with six ;)
Hey guys help me select a T-Shirt. Look at the next two pictures and tell me which one? Gray or Black??
SMS me on 9820341803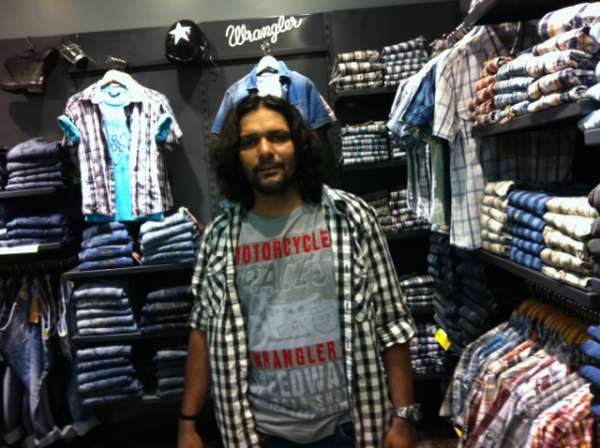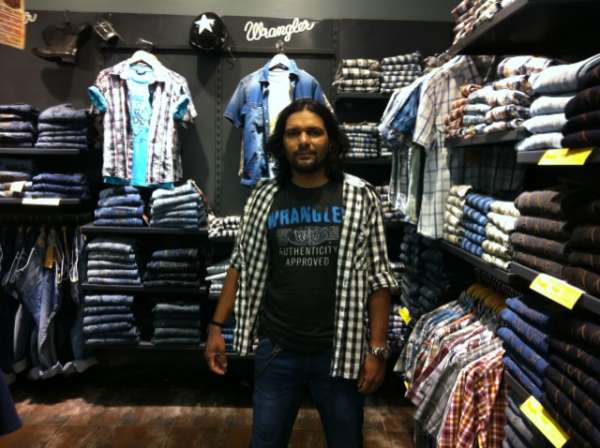 Which one do u think looks better? Now pls pick up your phone and message me ;)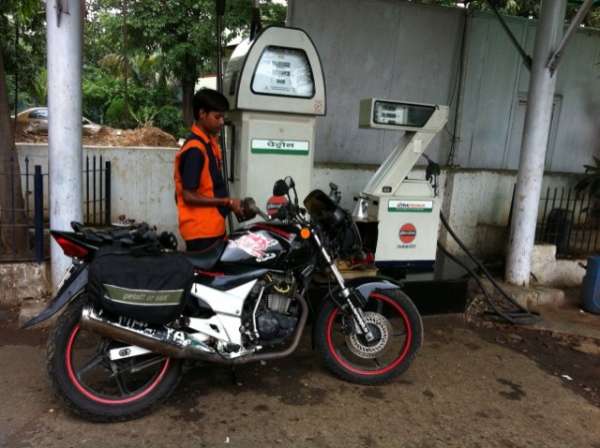 Stopped for fueling near Wada. First damages for the day were.....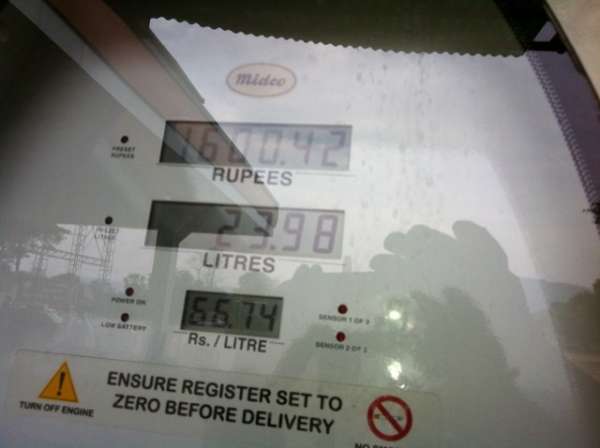 Rs 1600/= for 24 litres of petrol. Tank full !!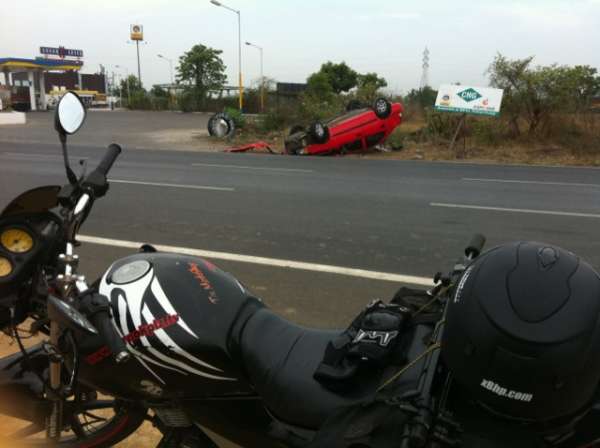 Time : 3.39 pm
On the highway near Navsari while cruising along enjoying the ride, I saw this car toppled over, lying on the side of the road. This is not an uncommon site on our National Highways. I wonder if they survied the tragedy. A little more caution would prevent the loss of human life...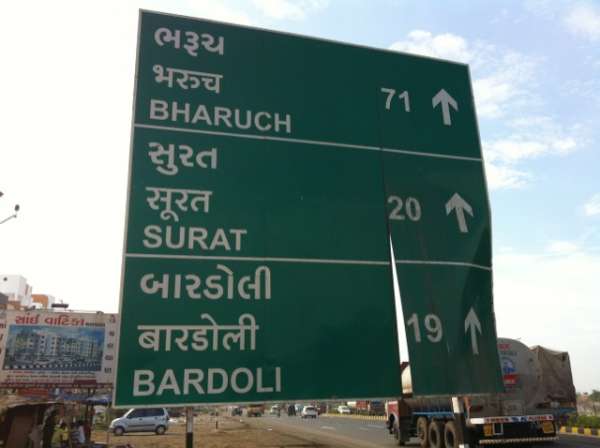 Time: 4.34 pm
Now nearing Surat covering a distance of almost 263 km.
Time 9.00 pm
Just reached Nalsarovar - Nine hours of riding time traversed 600 kilometers.. updates coming soon.
Day 1: Advent of the Denim Ride
The adventure journey begins….
All saddled up and ready to go, I kick start the bike taking off to the Phoenix Mills reaching there at about 9.00 am odd. This is going to be a different ride for me in terms of clothing. Probably the first time in riding long distances I will be wearing Wrangler Denim. My usual choice is comfortable clothing or biking trouser. Was not quite sure how comfortable it would be to ride in Jeans.
On reaching Phoenix Mills I waited for more than forty odd minutes at the gate waiting for someone to arrive at the store. Finally I was taken in to the store. I was free to choose and select one pair of clothing of my choice from the available variety of designs. I selected my pair of jeans and T-Shirt with your help. Thanks for the sms some of you sent.
Wearing the new clothing I was all set for being flagged off…I started the journey for an exclusive Denim Ride from the Wrangler showroom in Phoenix Mills- Lower Parel at around noon time.
Facing a lot of traffic, I was riding slowly as a snail. I rode along slowly gauging the balance and analysing the load of luggage on either sides of the bike. By then it was 1.30 in the afternoon and I was only 80 km away from Mumbai.
Having gained the required knowledge it was time to open throttle and go as fast as I can. I became one with my bike and enjoyed the ride. I like being safe on the roads than leaving room for being sorry. Competing with other bikers on the highways is something I avoid as most bikers I come across are without proper gear or helmets. When they see riders an instinct to compete takes over the sense of safety.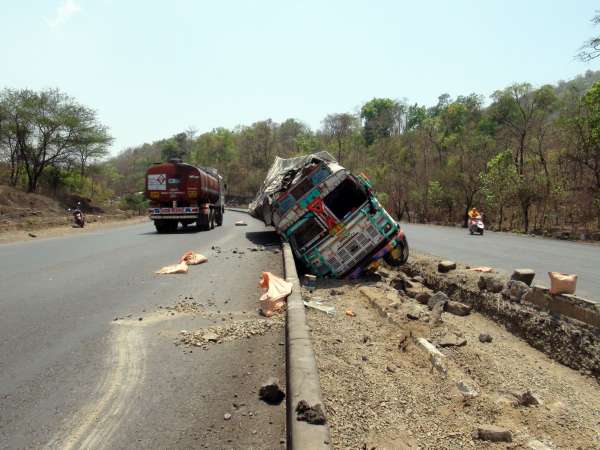 On the way I saw accidents on the road just too many. Every time I came across a deformed vehicle my thoughts wandered about thinking sorts of things. I found a lot of questions arisen in my mind What could be the reason to these high rates of road mishaps? The roads are pretty good. Over a decade ago, when I rode on this route I cursed the authorities for the high number of accidents the reason then, was really bad roads mostly single lane with potholes all over. But today the roads are really good; there are three lane highways in buttery smooth conditions for vehicles to smoothly glide in grace.
If educated people aware of traffic rules and with proper licenses break traffic rules, what can we expect from those who are unware of traffic rules, and those who have not passed a driving test before getting their licenses? What can we expect from drunk drivers? What can we expect from drivers who suffer from road rage? All these and more are reasons to the increasing number of road accidents. For a change l am not blaming the authorities as they are working and doing their bit but the people are breaking the rules all the time. To save
a few riding kilometers they prefer to risk life and take the wrong side of the road, overtake from the left at high speeds break signals and what not ! Do they forget they have a family and some who is awaiting their safe arrival back home? I recently read figures on road accidents shockingly we are ranking among the top five in the world for the highest number of deaths by accidents on roads.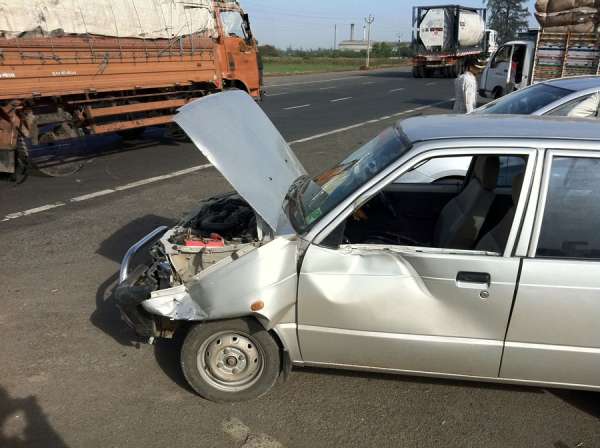 Be safe than sorry! Ride and drive safely. Follow the rules they are made for your safety only.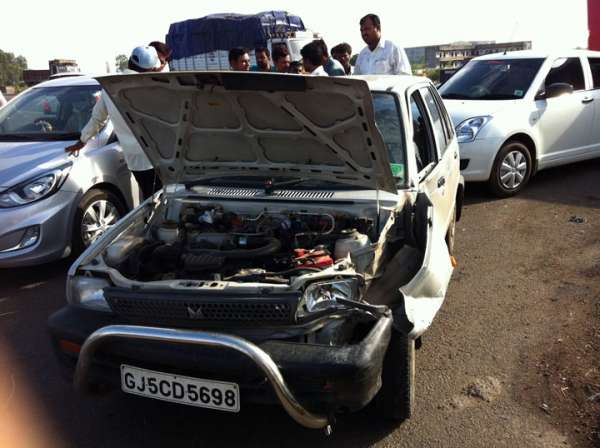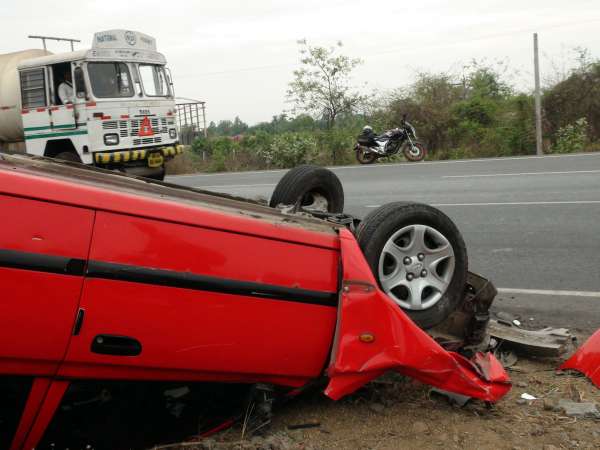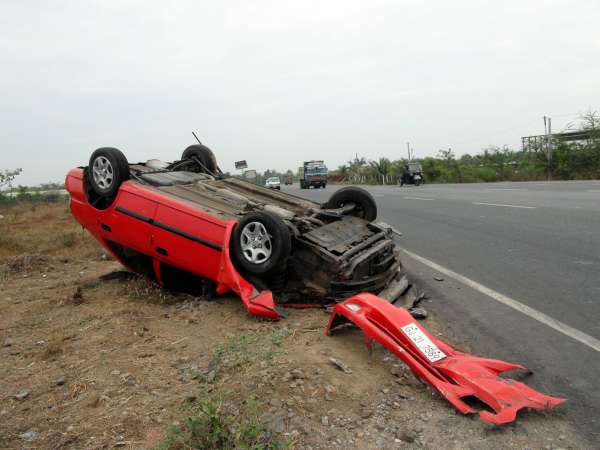 It was around 6.00 pm when I was in Vadodra. The roads were wonderful so far, Now it was getting darker so I slowed down my pace. 30 Km before Bagodra it began to rain. I had to be more careful than ever as the oil spills on the road mixed with water are a perfect recipe to skids leading to accidents. Bikes usually skid faster than other vehicles. I was over cautious. I reached Bagodra and rode upto Nal Sarovar.
On the way I saw this happy family working on building their own home before the monsoon. Interacted with the friendly faces pleased to see the smiling faces.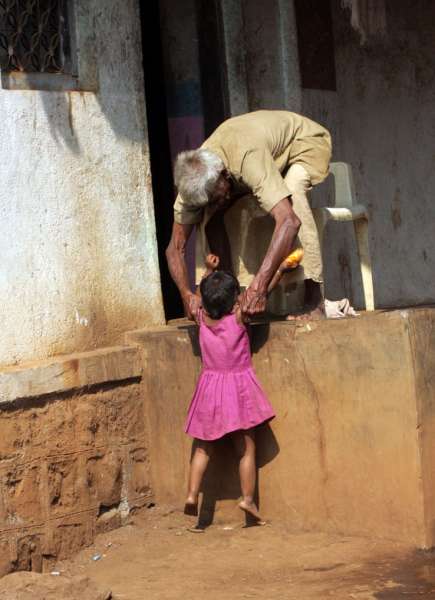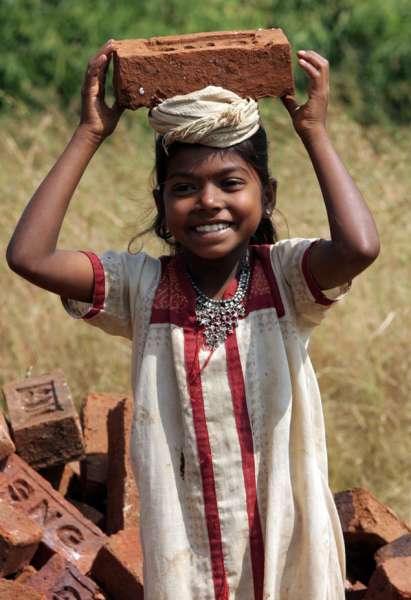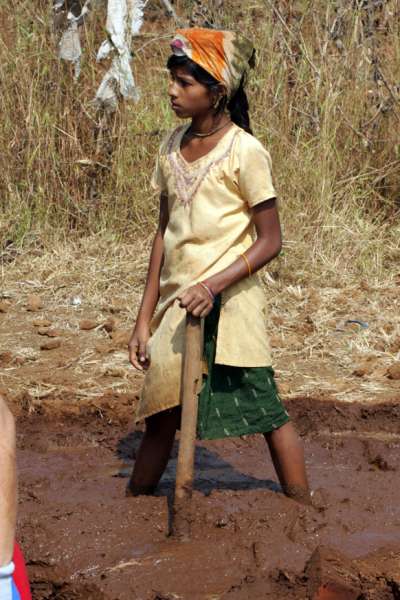 Today was a good day, within nine riding hours I reached Nalsarovar traversing a distance of 600 Kms. I had planned to reach the Rann by night. lt seems like Mother Nature has another plan for me. She showered her blessings in form of rains and lit my path with lightening.l hold gratitude within for a drop in the tempratures. With all due respect I've had a change in plan and will spend the night in Nalsarovar.
Looking for accomodation I arrived at the GTDC resort in Nalsarovar. It is closed for renovations. At first I was not allowed an accomodation, with a lot of pleading and convincing I managed to get myself a decent shelter for the night, but have no food to fuel my tank ;) my only meal for the day has been an Uttapam. There are no shops around where I can get something to eat.
This was day one reported to you from the Denim Ride
. ø ¤ º ° º ¤ ø . ¸ . ø ¤ º ° º ¤ ø . ¸ . ø ¤ º ° º ¤ ø . ¸ End of Day One ¸ . ø ¤ º ° º ¤ ø . ¸ . ø ¤ º ° º ¤ ø . ¸. ø ¤ º ° º ¤ ø .
Time 9.00 am
Sitting on the bike this morning my own ass has turned into a sizzling brownie so I decided to go look for some good asses.
It is really hot here. I'm starting the day with an insufficient sleep and an empty stomach. It was so hot that I had to go to the balcony to get some sleep but it all seemed in vain. The temprature is so high that I am unable to think clearly. Lack of proper sleep and food gives me a headache and the heat is enough to sap the moisture from my body.
But I cant stop thinking of the ass..... hmm !!! How will it be ? What size? What colour? Where will I find it? I wont give up till I find the right one. Im sure I will have to look for as many as possible to find that one right one.
To quench my thirst Im sipping on some sweet Sugarcane Juice... duh I just cant stop thinking of the ass!
Im now heading into the Rann and taking the bike for a run. I dont know if the search of ass will be complete today... but I know it has already begun. I am heading to the desert now, if you dont hear from me for the next two days then please do come to search for me in there. Will you look for an ass too ;)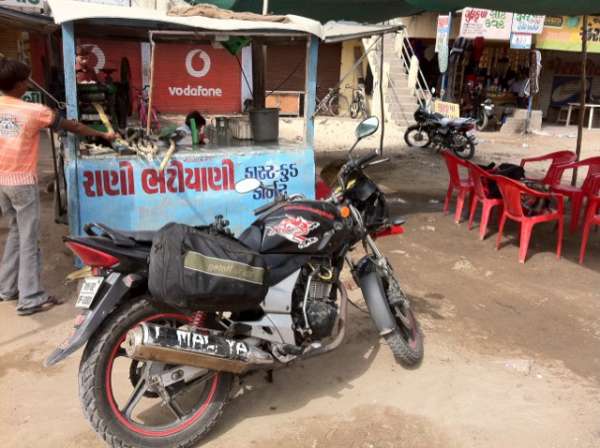 Sweet sugarcane juice....yumm!!!
Time - 7:00 pm
Going into the desert was a challenge in itself and looking for the perfect ass is anything but easy in the scorching heat. The heat is easily comparable to that of a furnace or a baking oven.....do l care....baked or burnt I wont give up so easily without looking for the ass. Riding into the arid zone in 47 degrees for a purpose so important to me l was so lost literally.
If you have any enimies you can send them here on a tour in search of the perfect ass ;)
After singing the song ' but i still havent found what im looking for'' I finally found what I was looking for yipeee!! I spotted that one perfect WILD ASS in the desert running across the desert horizon ;) Man I did get lucky finally. Why? Hmm for one I found the wild ass secondly I found my way out of the desert and thirdly I returned back alive.
Keep watching this space for more details... blog and pictures coming soon.

07:43:03 am
Day 2: Into the Rann in search of......??
I was up and about early, as I had a totally sleepless night. Splashed up some water to refresh myself from the sleep deprevation and starvation. It was time to work, but hard to focus for a sleepy head that I was. Somehow pushing myself I began to work on the blogs and videos. Having issues with connectivity added to the frustration.
Having finished the backend work I embark on yet another eventful day of wandering about in the vast desert exloring the unknown sacred spaces. I decided to head to the Rann (desert) It is going to be a day bringing along its own challenges and thrills and a day to test my will power a day to beat heat and triumph my fears. The aim is to learn the game of survival and master the human mind pushing it beyond the imaginable zone of comfort levels.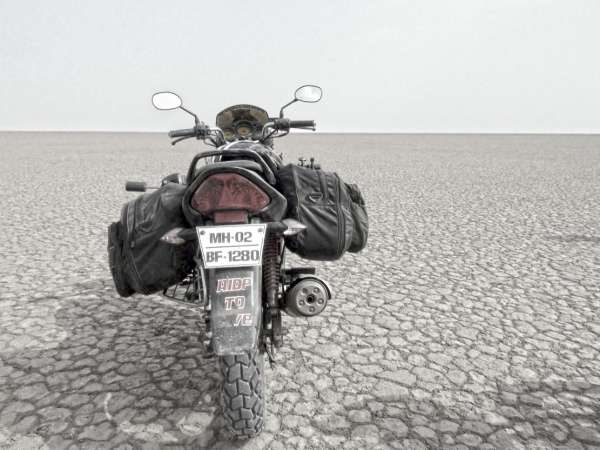 In the wee morning hour the tempratures were high. I was trying not to think much about it and enjoy myself... so began a thought..to entertain my self - The ASS!!! I have already written about it is better to not blow the horn again.
No food intake since yesterday was draining me off the energy so I started looking for something to eat. After fueling up the bike tank, this time I got 25 litres of petrol in the tank for the same amount spent as the last time. I kick started the bike and headed to Viramgaum from Nalsarovar. Riding in this stretch is such a treat to my eyes, the colourful culture of Gujarat is so evident here. Ladies attired in the traditional ghaghra choli with the amazing ornaments makes me proud of our cultural heritage. Thinking of mordernism makes me wonder will it over shadow the essence of lindian culture?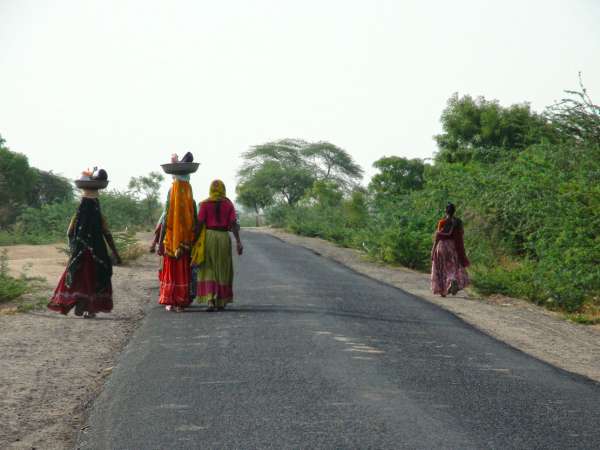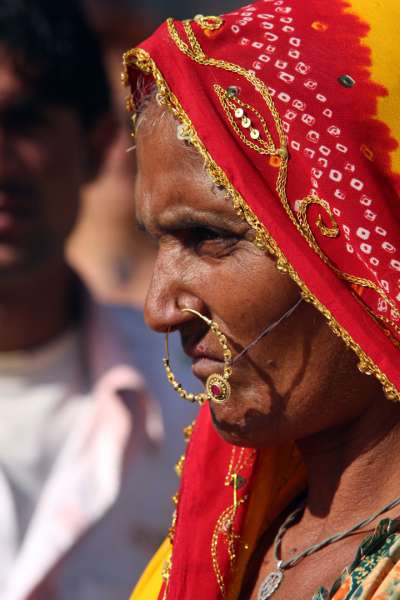 Looking for food I reached Viramgaum but the roads were very bad so I decided to go on and eat something at the next village. Riding on I landed up in a place called Dasada where I found nothing to eat so I tanked myself with cold sweet sugarcane juice a glass after another. I needed the sugar for instant energy and to beat the heat theres nothing better than this divine sugary liquid.
Taking the route to Dasada - Jenabad - Jinjwada I was headed to the desert, still contemplating whether to go in or not as it had rained last night. This makes it mucky and hard to ride on. To get better information on the current status, conversation with the local people brought mixed opinions that only helped in adding to the confusion. I took a call on it, come what may I will go.... so I did!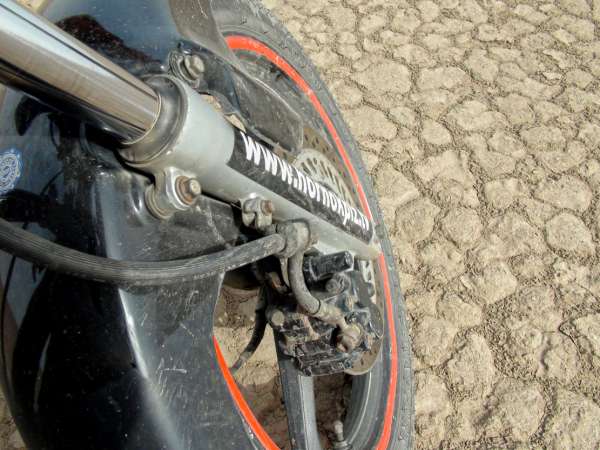 Entering the desert I saw a lot of salt around. The Agris (Salt workers) had just taken out a lot of salt and were loading so many trucks to transport it to the cities. A desire to know more about them had taen over me. It was almost 9.00 in the morning and the mercury was already rising to 43 degrees. It was undescribably hot hot hot!!! Riding seemed more difficult as an aftereffect of sleeplessness and hunger resulting in a bad head ache. So to distract myself I thought about the ASS and started singing "But I still havent found what Im looking for...!!"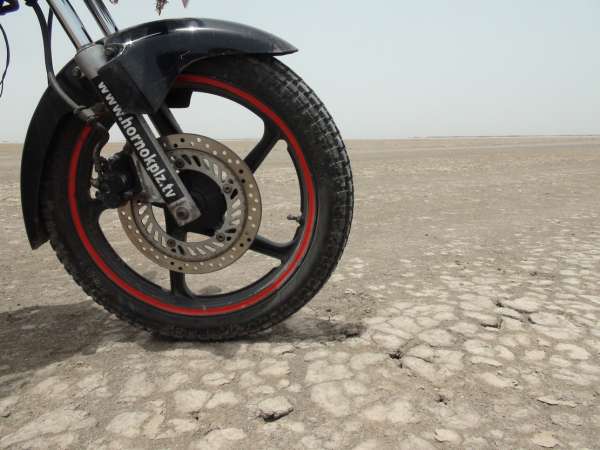 On the way I stopped to take a few pictures. I was totally engrossed in it. Further having ridden for 7-10 km I thought something was wrong. And yes it turns out that the sleepy head was lost in the desert. I saw many trails and knew not which one to take. I lost my bearings in the heat, not again I thought to myself feeling a bit out of control in this situation. The mercury in my head was also rising. Looking around till far distances I saw nothing and found myself alone in the vast nothingness. Waited for a while thinking of where to go when far away on the horizon I spotted a truck. Full throttle and I had to catch my only chance of survival to find a way out of the nothingness of the vast land. Somehow I did manage to chase the truck and I landed on the right road taking me to Vasdadada. Sigh!! That was a relief. Survival at last, my heart was back in its normal pace after loosing its beat for a while.
Vasada dada is a pilgrim place in the middle of the desert. It has a temple and a gaushala with over 500 cows. I was kindly invited for food by the temple attendants. I was starving and sweating both at the same time. The heat was killing me. I realised how ddrained. The desert heat is unbearable, almost like a gigantic furnace. Making bakes potatoes should be an easy task here. I sat here in the heat for fifteen minutes and was soaking wet. My body was oozing out every drop of sweat and left me drenched. I had my first meal in the last tweny four hours - roti and some aalu bhaji. What a relief!! I was feeling much better now. The hunger pang and head ache began to subside.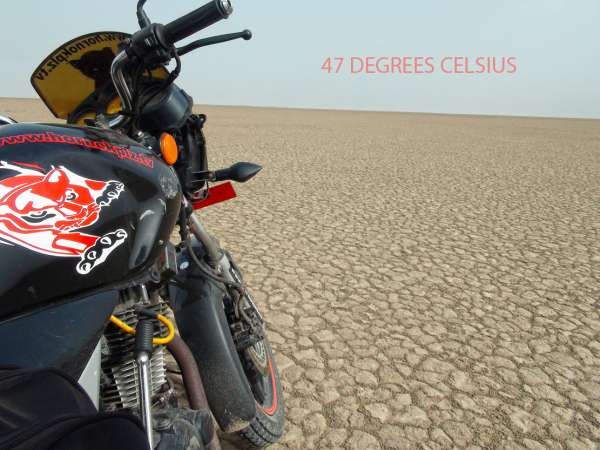 When I started the ride again my butt felt like a sizzling brownie on a hot platter! Luckily I saw no steam from it. Ouch!! My Ass was hot and burnt! The heat was so much that I could not touch my camera it got crazily hot. My fingers burned touching the mounted camera. Unbelievalbly hot!!! How do these people stay here I thought to myself. No water no proper food or shelter no electricity. And here I was not being able to take it even for a day?
I waited for it to cool off a bit and then would start riding again. Mean while I met a few people, striking general conversations with them. It was two teachers I'm refering to in particular - Jawan Singh and Bhikha Bhai. They too decided to accompany me as they had their own bikes. We decied to ride together on the way back. I was happy as they could help me with the video shoot. We started at 3.30 as we were not sure of the weather conditions. It rained heavily last evening. It was wiser to leave early than be stuck up due to bad weather.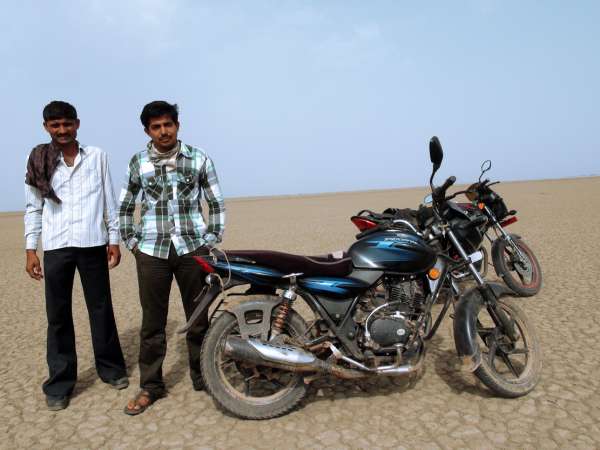 On the way back we met some salt makers. I wanted to know more about them. So I decided to stop and talk to them. They belonged to Dhangadra. In a year they work for eight months in the salt pans. Surviving the extreme harsh weather day in and out, during summers the tempratures rise to 47 -48 degree C and the frosty winters are sometimes sub zero degrees. Usually they live here with their families which means there is no scope of education for their children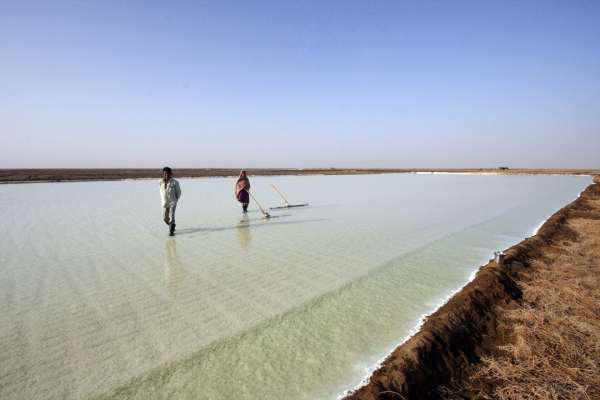 Under these harsh conditions they work without a roof on their head. Their condition is much worse than mine I thought do I have a right to complain? It is just one or two days for me in the face of adversity but for them this is a life style. Look at those children. No choice or option at all for them. My heart was heavy seeing them living in these harsh conditions. Do they have a choice?The generations down are thrown into this viscious cycle as the children have to be with parents; due to lack of education and scarce work options they too are learning the art of salt making so it is a never ending story. Their lives seem so far away from the world beyond the boundaries of the desert. If they can remain happy in such conditions so can we!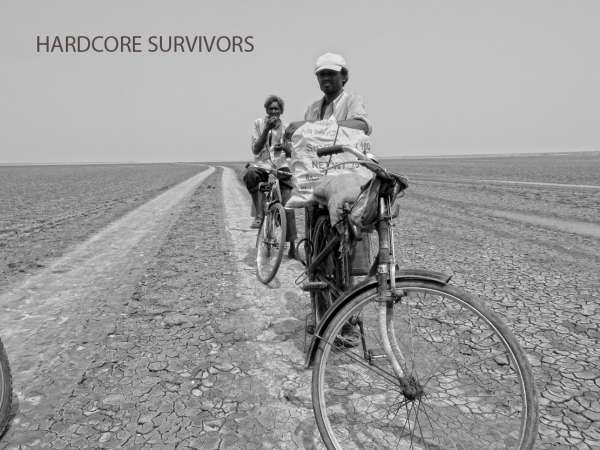 I was curious to know about their earnings. I thought they make this choice as there may be good monetary gain in it. I was so wrong in thinking so. They had been working for the last eight months without proper remunarations. The salt yielded was not as expected so they had to let go of their rightful wages. This is insane and inhuman! It is sheer blood sucking and exploitation of the poor. Who is responsible for this? The children suffer without education, sanitation, proper food and shelter. They survive without a bath for days as there is no availability of water. They spend nearly Rs 10000 per year to get a supply of clean drinking water. Every week they get a drum of water delivered to their homes. We waste so much water in bathing for hours, to know its true worth a visit to these regions can be a true eye opener. Remember to not waste water from today because it wont be long before we too will be living in these conditions of scarce water supply. Every drop counts. Save it !
A glimpse into their life and homes has left me with a heavy heart and lots to ponder over. They have mud stacks for walls and torn rags in the name of a roof. Despite this I can see a smile on their face. This is the adaptability of the human race. Heavy hearted, l left the desert lost in thoughts of sorts. Life still goes on and so must the wanderer, making his learnings from the journey into strange lands in the search of touching stories from a beating heart.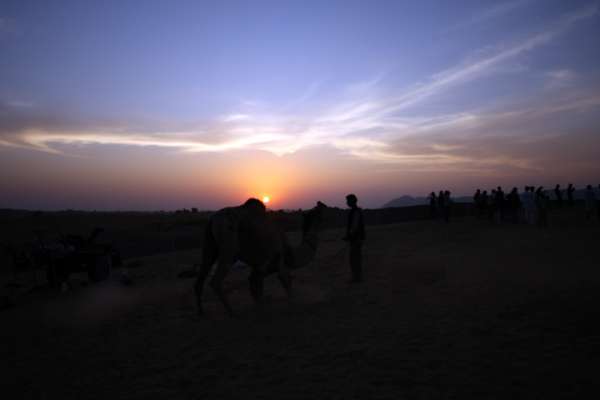 Hey and guess what??? I finally found what I was looking for that ASS~The Wild Ass ;) Having seen that perfect ass running around in the desert brought a smile to me as I rode to Maliya at the border of Kutch. l saw the sun go down as l bid goodbye to day two of the ride learning a lot more than l knew yesterday.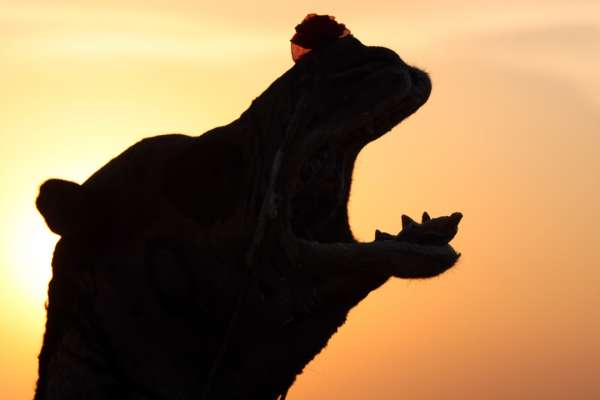 This was day two reported to you from the Denim ride!
. ø ¤ º ° º ¤ ø . ¸ . ø ¤ º ° º ¤ ø . ¸ . ø ¤ º ° º ¤ ø . ¸ End of Day Two ¸ . ø ¤ º ° º ¤ ø . ¸ . ø ¤ º ° º ¤ ø . ¸. ø ¤ º ° º ¤ ø .
Day Three: Drop Of Blood & Sweat
2011-06-06
I know not where to begin or what to say I feel sort of lost for the right words. After speaking to the salt workers yesterday a quest to dig deep into the reality of their life had taken over me. So, at 8.30 in the morning I landed up at a place near maliya where the salt pan workers were in full action of a routine day. My eyes wandered about soaking in glimpses of the prevailing scene huts with minimal belongings, with no roofs or proper walls, the salt workers and some supervisors, a truck being laden with salt, the children and workers were doing their chores. These were the snippets I saw from a typical day of their usual life. The conditions they live in are very poor, no sanitation, improper housing and overall it looked miserably disheartening.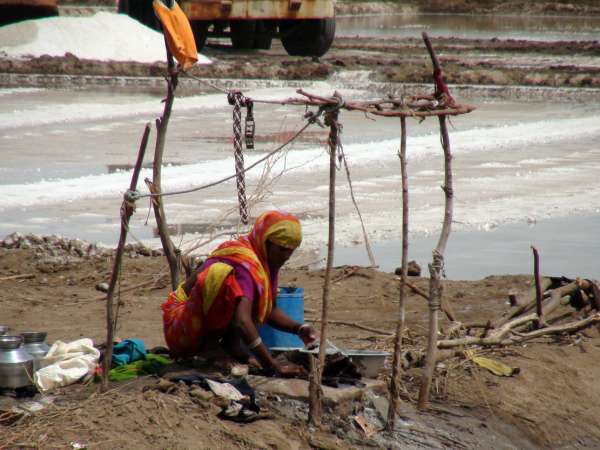 Seeing their condition I could not hold back the desire to know more about them and their lives than just wander about riding aimlessly. I wondered what was in the deeps of their beating hearts. A story they had to tell swept me off balance.
In conversation with them I found out that they had long working hours in the open under the burning sun. Their feet soaked in salt all day gave them sores. Children worked in these salt fields at the early age of seven and eight. A family of five working at the salt pans for eight long months only earns rupees sixteen thousand in totality
The price they get is not worth the sweat and blood they waste. Living in inhuman conditions with improper sanitation, being sun burnt, improper and insufficient drinking water and working in salty water all day is the gory truth of their working atmosphere. The living conditions are so pathetic that I wonder how can anyone survive here. The heat is so much that the water always remains hot. To get some cool drinking water is only a dream.
My heart was in pain and feeling helpless I was taken over by grief envoloped in sadness, seeing the sorry state of affairs. It is the workers sweat and blood that goes into making that grain of salt that is a part of our daily meals. We remain unaware and ignorant about the hardships and exploitation so many of these people go through to make that one grain of salt to perfect our meals. What are we doing for them? Can we do something for them to improve their conditions and help them in some way? The question is not if we can or we cannot it is do we have the will to make a difference? Their standard of living is so much below the limits of our imagination. Reality strikes again and this time it is really hard.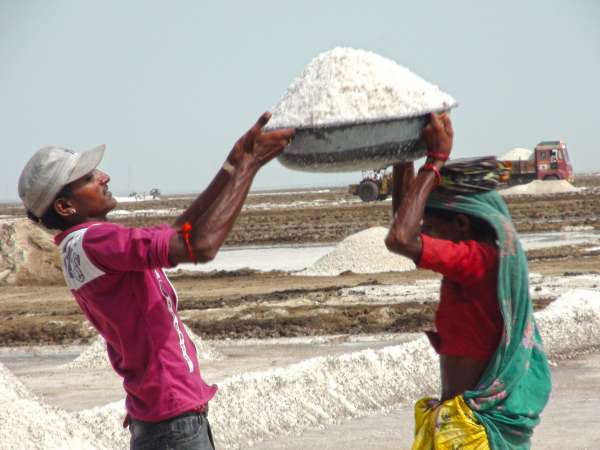 Despite feeling very sad and grieved within I somehow managed to hold myself up in the face of harsh reality. I was quiet and compassionate seeing and feeling the pain of our fellow beings that was more unbearable than the desert heat. Suddenly I thought we are sometimes unhappy about the situations we face, suddenly all that seemed so small in comparision to what I saw.
While shooting and in between I had some heart felt talks with the salt workers. Heres what they had to say.....
In conversation a worker he said,
'My son has appeared for his tenth standard exam this year. I managed to give him education burning my sweat and blood both. Now I can't afford it any further. If he could study and make an alternative earning I would stop this business of making salt and leave this place forever. Saying this in helplessness, tears of pain flooded his eyes and rolled down his tragically wrinkled cheeks, his eyes drained the very salt that has sucked the blood and sweat out of him leading to desolation.
I was profusely moved by his touching words.
Another worker said:
'I would be happier if I was born as a wild ass than a human. I live a life worse than the beast of burden. They at least have the freedom of life and are allowed to be in their natural habitat.
The Wild Ass Sanctuary, Surendranagar is also known as the Indian Wild Ass Sanctuary is situated in the Little Rann of Kutch in Gujarat, close to the Arabian Sea. The marshy land of the Wild Ass Sanctuary of Gujarat is the natural home to a wide variety of animal species. The sporadic grassy land of the Wild Ass Sanctuary, Surendranagar is called the baits which is the main vegetation. The Wild Ass Sanctuary, Surendranagar at Gujarat is locally known as 'Ghud Khar'.
The locals here hate the Wild Asses – They have a reason to hate them.
The Government has declared this land as a protected sanctuary for the wild ass. The dwellers of this region are asked to vacate the spaces and migrate to another place. The debate locals have is that since 1972 the population of the species has risen from 300 to 4000 in the current times. So where are we coming in way of the endangerment of the animals or their habitat. By us being here the numbers have only risen. Then why does the Government want us to leave our habitats.
A lady spoke to me saying this
"I have three sons; I can never get them married, for a simple reason that I don't have the money for it. They will have to remain single"
Listening to the melancholy of the wretched pouring heart of fellow beings my head was spinning and spirits were damp. I found it hard to keep control of my emotions hearing the horrific truth you are now reading.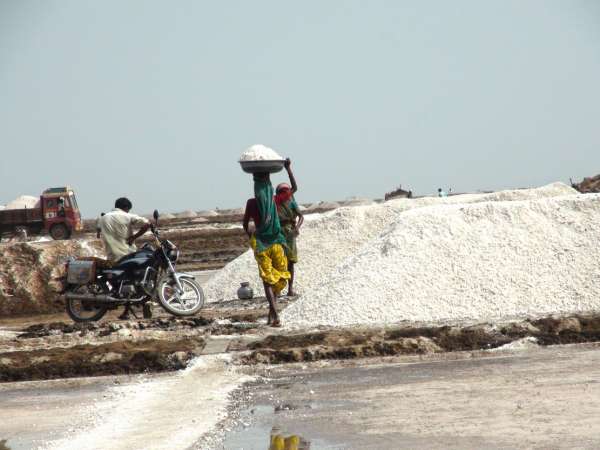 Glimpses from the salt pans
In a year they work for eight months making salt. Typically a family of four to six people working together for eight months manage to yield 1500 to 2000 tons of salt. The cost of production for making salt is Rs 100 per ton. The profit margin is only Rs 5 per ton. SHOCKING!!! (That is the cost of a cup of tea where we belong) so the calculation is 5 x 2000 that is Rs 10000 only!!! That is the labour they earn in the entire year. How can they afford anything at all with 5-6 mouths feeding on that much? My heads reeling I am unable to think or speak. I can't just get over it.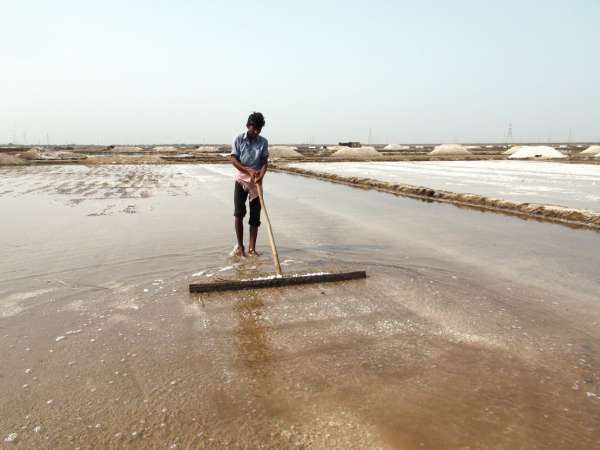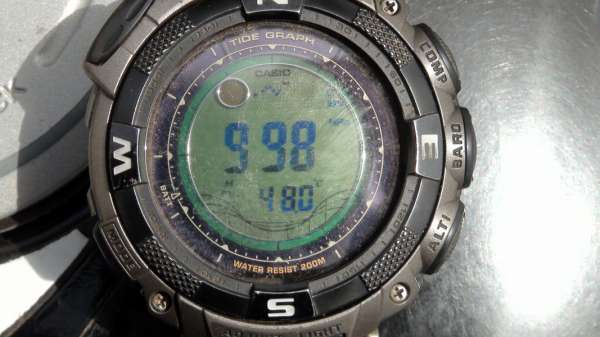 The barometer shows 48° C
By now I was in the beat of the heat. I put up the barometer of my watch to check the temperature and here is what it showed. 48° C
With all this I was feeling nausea, disoriented, unable to think, I wanted to throw up. I was feeling sick in only three hours of video shooting in the killing heat. How do they live a life in such harsh conditions?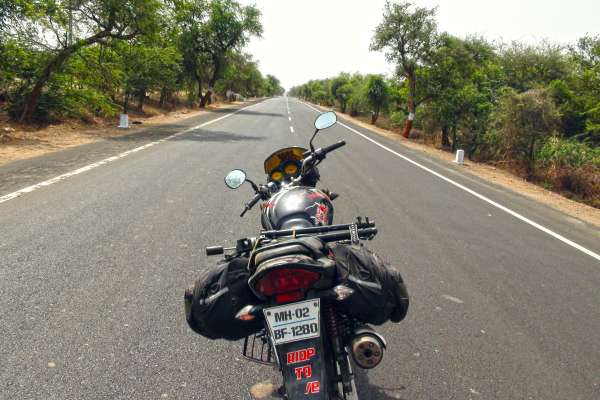 A traveller always sees what lies ahead, and learns from what was left behind.
Heavy hearted I left the Little Rann Of Kutch. I was on the beautiful roads leading to Mandvi gliding on the bike feeling the air on me, but my heart and soul still wept for the salt makers of the desert.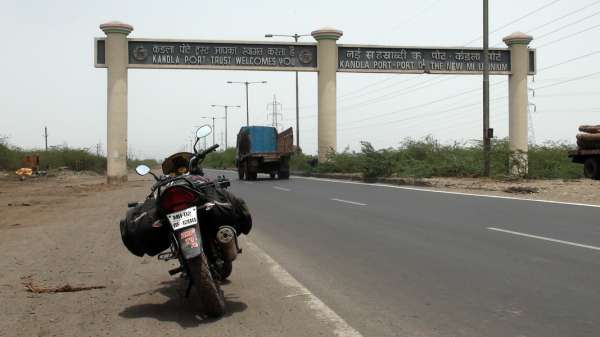 On the way to Mandvi I stopped to take a butt break near Kandla.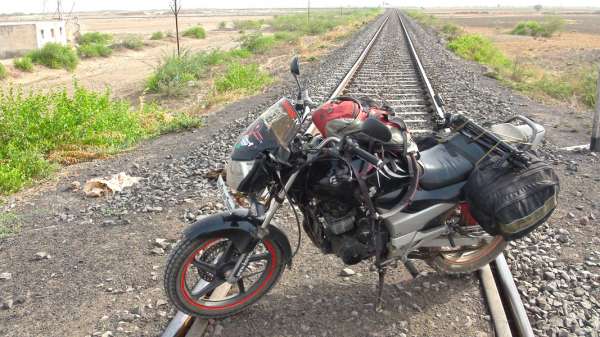 Biking bridges the gaps between parellel lines making the two ends meet.
On reaching Mandvi I began to look for a hotel to stay in. I started asking people about some hotel and they directed me to the beach area saying the I would find hotels there. I went along with the guidance and was surprised to see no hotel there, the whole place was lined up with eateries. The people here don't seem to understand the difference between a hotel and a restaurant.
As I moved on asking for a hotel another person directed me to some strange looking constructed place. I went in search of a hotel and he sent me to the Hindu crematoria. Dude what was he thinking? Without understanding people here misguide travellers!!! I did not know if I should laugh or be angry at him! Hahahah!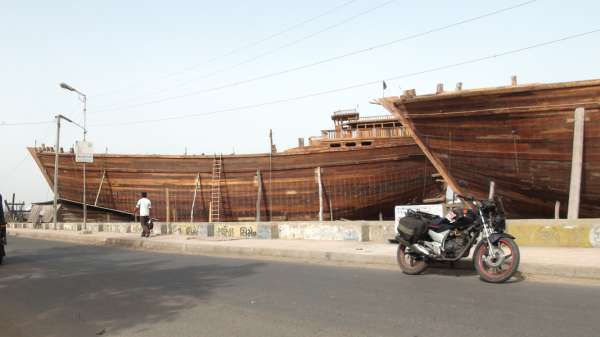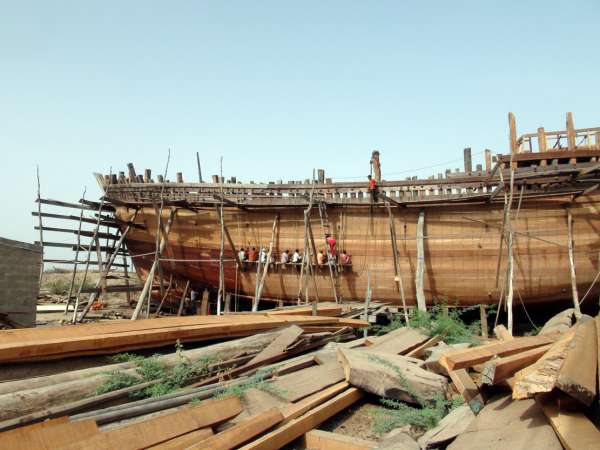 Ship building yard at Mandvi.
Looking around the town of Mandvi I finally checked into a hotel by the name Sea View. Here I had a choice between a non AC room with a view and an AC room without a view. For the first time in the fifteen year history of travelling I have opted for an AC room without a view. The reason is I am super exhausted from the past two days of meaningful wandering now Im in search of sleep which is hiding behind those red droopy tired hot and irritated eyes. I need good sleep after three long days of riding shooting editing blogging in a non stop manner. Today I cant do any work. I'm going to hit the sac.
Will blog some more details tomorrow. I cant keep my eyes open now even for a minute more.
Keep looking for more updates and some more heart stirring stories.
Remember to hit the votes for your favourite bloggers
Contd...
After a lot of struggle I managed uploading the videos embeded into the blog. There is one short video film for each day. Due to technical issues these are all posted in random orders one after another, at the end of todays blog.
Some more details of the day three are continued here on.
I was told by a friendly tea stall owner that it is best to keep drinking liquids at small intervals to rehydrate the loss of moisture in the body. Adding glucose to the water would be a great idea. The route I took was
MALIYA - SAMKHIALI - ANJAAR - BYPASS TO MANDVI.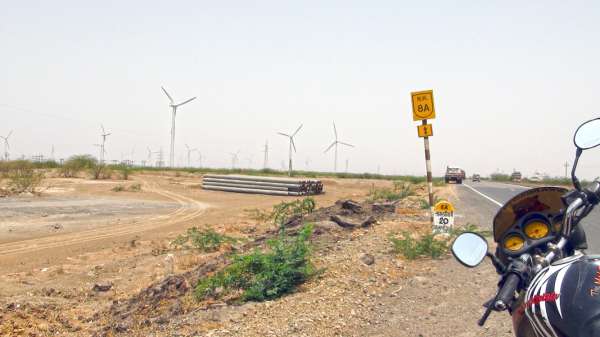 !!!ACCIDENT!!!
As I was riding along I witnessed a terrible head on collision of a Qualis and a bus. The qualis was speeding and tried overtaking the bus on a single road with too much carelessness. I was behind the bus he overtook. He banged into another bus and his vehicle toppled over. He did manage to prevent it though , but only succeeded in reducing the impact by applying the breaks. There were some people in the vehicle who managed a narrow escape to the situation so grave. Being his own fault the Qualis guy still had the cheek to shout at the bus driver. It was his own mistake and someone else was being blamed for it. This is pretty much a flaw of the human mind, it blames others when faced with situations where the fault lies within.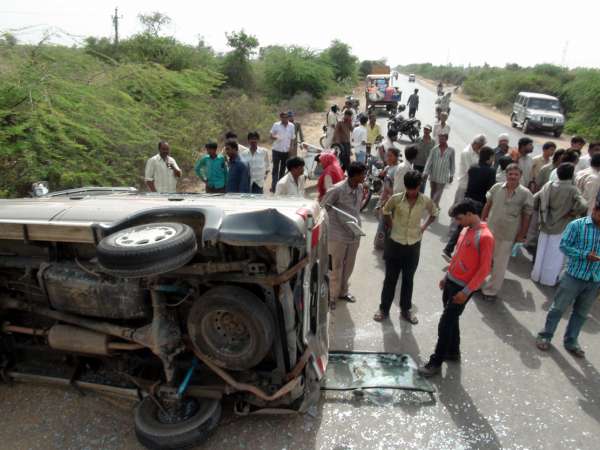 Being an onlooker I decided to move on. On my way to the bike repairing shop I was thinking about the carelessness of the Qualis driver risking the passengers lives and about the accidents that I saw on the way, my mind was thinking of possible solutions and change in policies. In general mulling over a lot of random thoughts I reached the place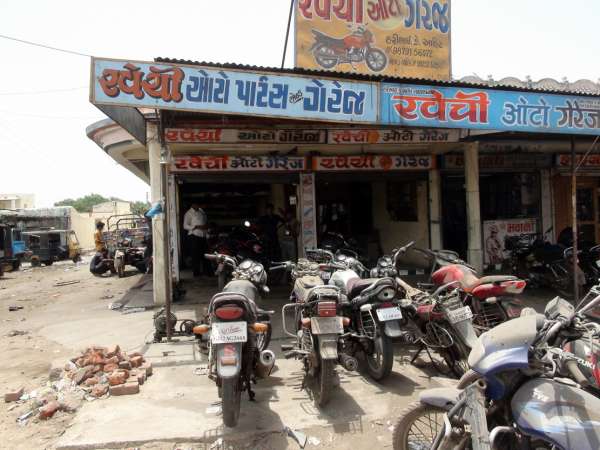 At the workshop I met Ramesh bhai who worked on the Karizma servicing it overall - greasing, change of oil, headlight repair and cleaning it overall he did a great job. My baby was sparkling clean :)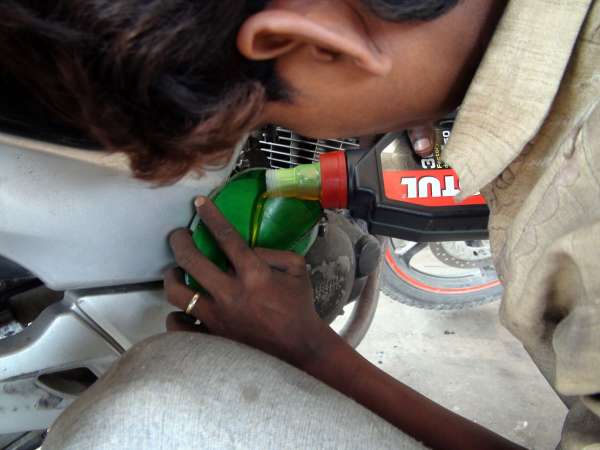 After all the servicing was done, I asked him how much do I owe you in Gujarati? " Ketla paisa thaya?" To my surprise he spoke in kutchi language saying, "Paisa na ganja" which means I dont want money. He said you are a guest in Kutch and you are welcome here. Athithi devo bhava! I was so touched by his warmth and impressed with the humbleness. This is the essence of our Indian culture and the warmth of the beating hearts of our people. He did not take a penny. I thanked him for his kindness.
In my travels over the past years I have met several such souls who value being human. They prioritize anything else but money. With a heart full of gratitude and a smile on my face I moved on after having a cup of chai with Ramesh bhai.
After servicing the bike performed flawlessly and the engine sounded like music to my ears. I was one with the bike gliding on the roads like a fish does in water.
Now I was heading to the Ghost village ! Keep watching this space for more.
. ø ¤ º ° º ¤ ø . ¸ . ø ¤ º ° º ¤ ø . ¸ . ø ¤ º ° º ¤ ø . ¸ End of Day Three ¸ . ø ¤ º ° º ¤ ø . ¸ . ø ¤ º ° º ¤ ø . ¸. ø ¤ º ° º ¤ ø .
Day Four: A ride into the Ghost town of Lakhpat
Route taken - Mandvi - Narayansarovar - Lakhpat
Having done the works of servicing the motorcycle at the mechanic, I went back to the hotel. Since early morning I have been working on the editing the video film. When I returned to the hotel the video I had left for uploading was complete. Packed my bags after working on the pictures and videos, I loaded my bike. I was ready to welcome the events and adventure of another day of this beautiful journey wandering in the most fascinating land of Kutch.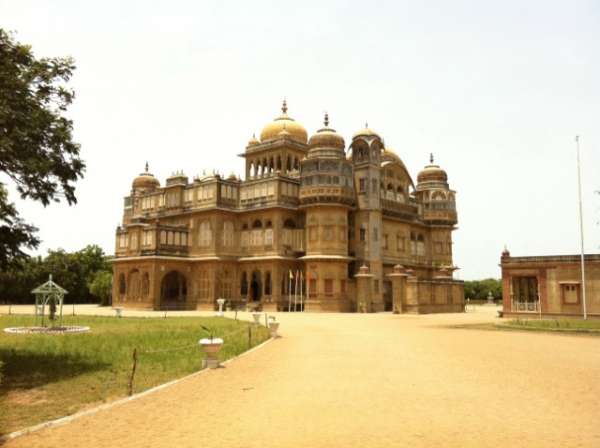 THE MANDVI PALACE – VIJAY VILAS
I decided to go to the Mandvi Palace - The historic piece of well maintained architecture is named Vijay Vilas It is a treat to the eyes. Simply beautiful!! Built in 1929 by Raja Vijayrajji. This Royal abode is set in the middle of well-laid gardens with water channels and marble fountains. The architect and craftsmen from Jaipur designed and constructed the palace in 1920 AD The palace was built of red sandstone in the Rajput style, with a main central dome, Bengal domes at the sides, bastions at the corner, and coloured glass windows. The balcony at the top affords a superb view of the surrounding area, and the king's tomb can also be seen. The Vijay Vilas Palace has its own private beach. The pristine beaches of Mandvi attract an enormous number of beach lovers and tourists.
THE PORT TOWN
The port town of Mandvi is one among the five famous ports of Kutch. It is an eminent maritime hub from the historic times. Mandvi is renowned for its ship building industry. The vessels they built were so sturdy for long distance voyages that they were extensively used during the British period. The kutchi skilled craftsmen were known as "Misrtis" they engaged in the traditional ship building vocation crafting long lasting technically corrects vessels. The shipyard of Mandvi was established during the time of Rao Godji (1700 – 1778) to anchor and repair a fleet of four hundred vessels. These vessels used to bring a lot of produce and trade goods from foreign lands. It is said that the vessels built here were carefully crafted for long journeys and returned safely from as long as England and some parts of Europe. Mandvi was at the junction of two famous trade routes the maritime spice trade-route and the desert camel caravan route, acting as an important trade centre. The port was also used for the Haj Yatra to Macca.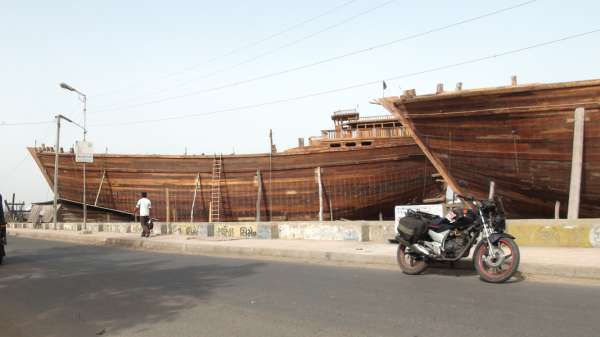 Soon I hit the roads leading from Mandvi to Narayansarovar. I must say this path is a feast for any rider. Long stretches of good roads with no traffic are so perfect to ride. Riding here is a sheer thrilling joy! Im loving it! I feel one with the bike feeling the air on my face. The landscapes are dry and arid. There are vast lands all around. For the first time in so many days I have got a free stretch to ride at high speeds without having to worry about the traffic. For kilometres together I see no one and no vehicle. The only sound I hear is that of the engine. The mechanic did a great job of servicing. It feels awesome to ride like this.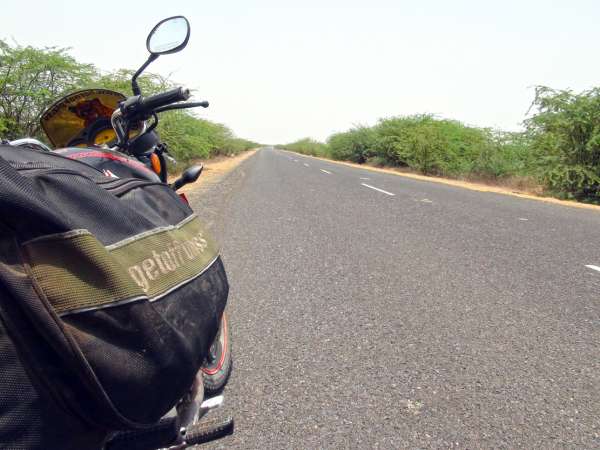 I just stopped here for a while to refresh myself over some cold drinks, taking a break before heading to the next destination. I was still wondering about where to go, just then in conversation with some people I got to know about the ghost town of Lakhpat. It sounded really fascinating – an abandoned town with a scarce population and endless number of empty homes. What must've happened I wondered? Without wasting much time I was headed to explore the ghost town of Lakpat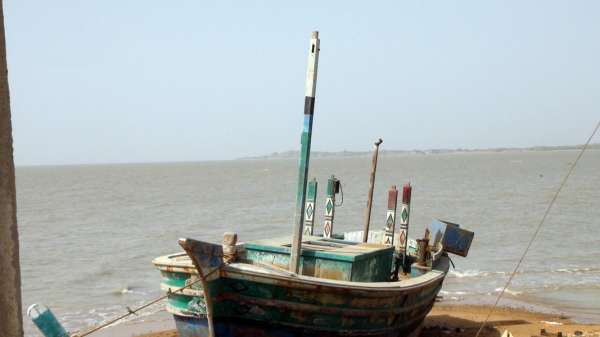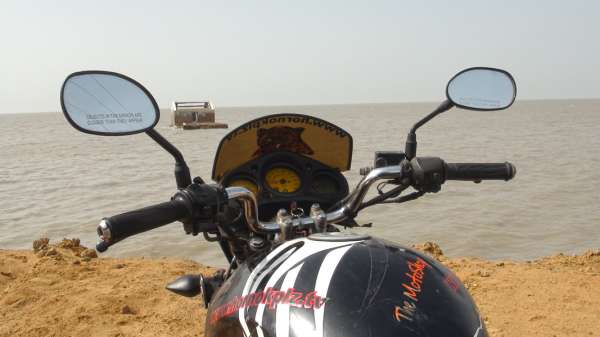 I was intrigued to know about the history of this amazing place.
Riding and enjoying the ride on the way to Lakhpat I wondered about the uncertainties of life; that we live in a world of illusions. Change is by far the most certain thing in life. A fraction of a moment changes everything that we think was going to be there forever. If we learn this one truth of life things would be much easier. EVERY THING CHANGES!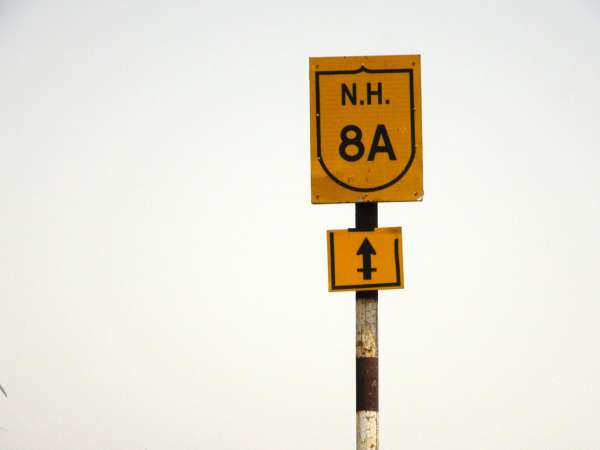 On the way to Lakhpat taking NH 8A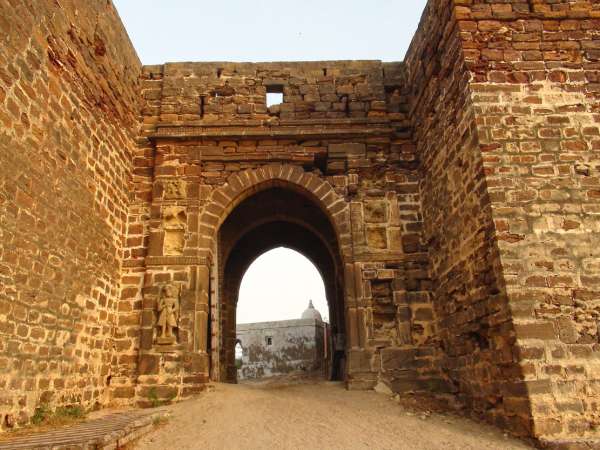 The Sea Side Gate
The town of Lakhpat has been virtually abandoned for over 200 years. The port town that once had a revenue generation of over hundred thousand kori is now an abandoned settlement. Disaster struck in the name of a natural calamity when in 1819 a massive earthquake changed the course of the Indus River on its present course and the great Rann dried up, so did Lakhpat. ghost city is located in the northwest corner of Kutch, facing north across the Great Rann towards Pakistan. Once an important port city but now virtually it is abandoned this is the ill fate of Lakhpat. It is a place where you can imagine the rise and decline of a great port city, and simultaneously contemplate the vast emptiness of the desert and the sea.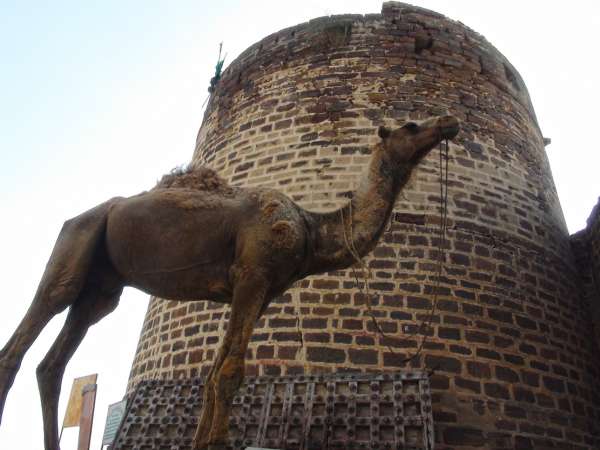 The 1819 earthquake sent the Indus River on its present course to the west and the Great Rann dried up, so did Lakhpat. It was left a humble town around the ruins of its former grandness, now only with Kori Creek that still flows into the Rann. Though it requires a long journey to reach Lakhpat but the visit is worth the effort. The 7 km fort walls, erected in 1801 by Jamadar Fateh Muhammed, are still nearly intact, and offer phenomenal views over the Rann. Due to the extremely clear desert air and remote location, the night sky is spectacular the landscapes of such endless horizons are not to be missed.
Lakhpat has religious significance for three of India's most populous religions: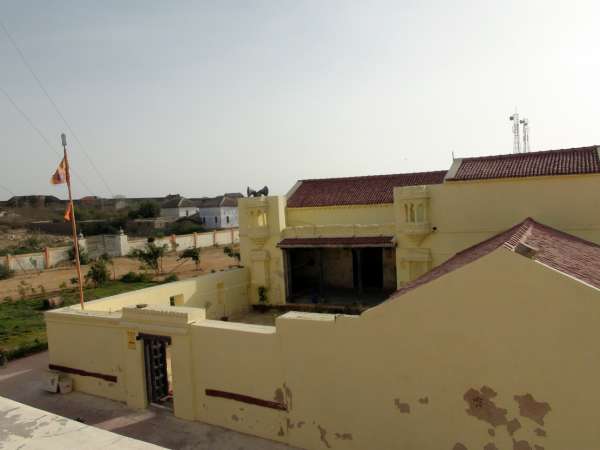 Lakhpat Gurudwara - The house where Guru Nanak stayed on his way to Mecca
Guru Nanak, the founder of Sikhism, reportedly camped here on his journey to Mecca. The site later became a gurudwara, which holds some of Nanak's possessions. The house where Guru Nanak stayed is now a gurudwara. I met babaji, a humble gentle person who lives at the gurudwara. In the first meeting with him we seemed to have made a connection. He shared various stories from sikkhism and Guru Nanak. Talked about religion and other philosophies.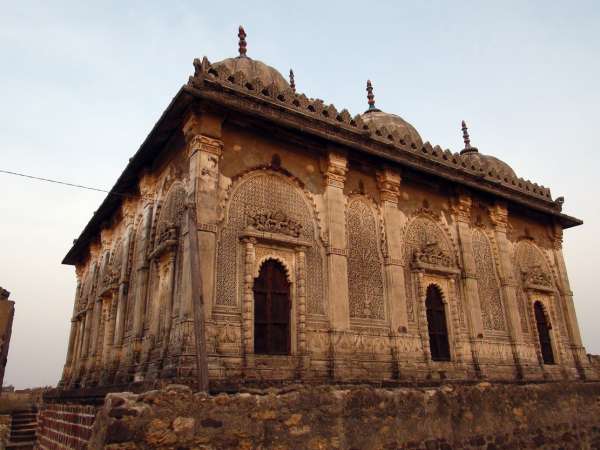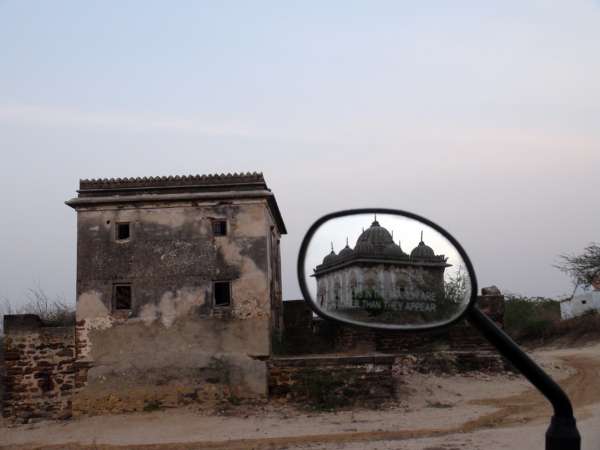 Pir Ghaus Muhammed, a Sufi mystic who from the age of twelve devoted himself to spiritual practice and reportedly practiced half as a Hindu and half as a Muslim, is buried here in Lakhpat. His tomb is a stone construction with very complex carvings and a water tank that is said to have healing properties for skin problems;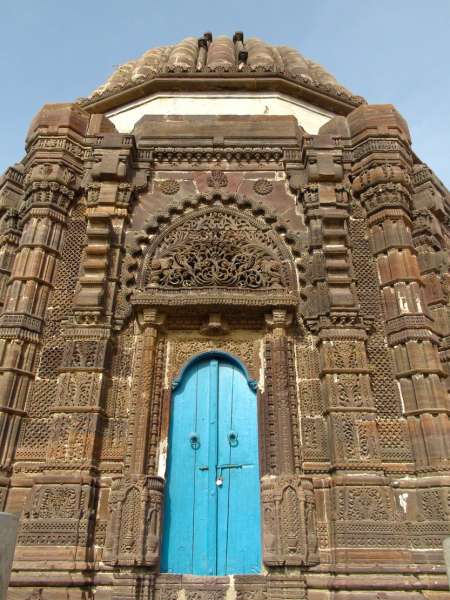 The intricate carvings and Jaalis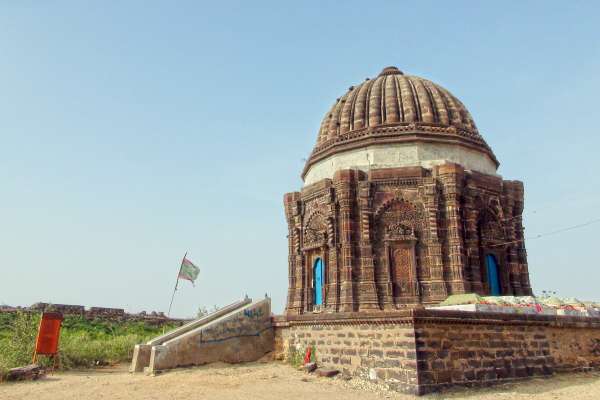 Sayyed Peer Shah's nine-domed mausoleum has intricate carvings, doors, windows and jaalis.
This place is truly amazing.
Wandering about my eyes soaked in the vastness and emptiness about this awesome place. Glancing through the landscape I saw hundreds of abandoned homes and ruins where once lived a busy city with the most active life of a port. I walked along the 7 km wall looking over the most fascinating view of the Rann.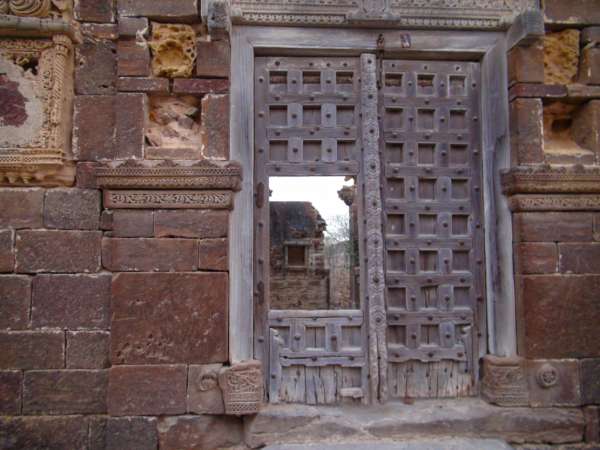 A glimpse of the ruins of the Ghost Town of Lakhpat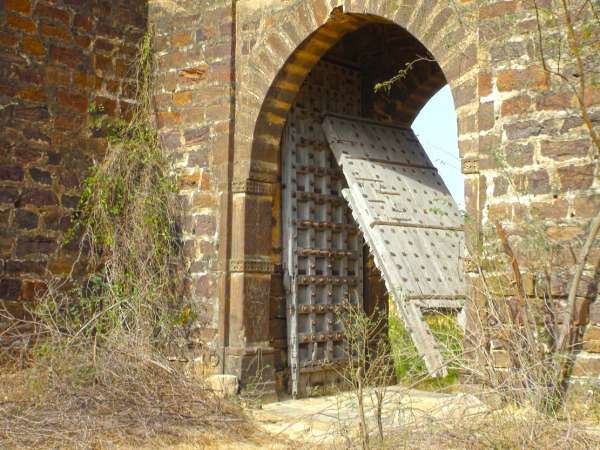 Another Sea Side Gate Crashed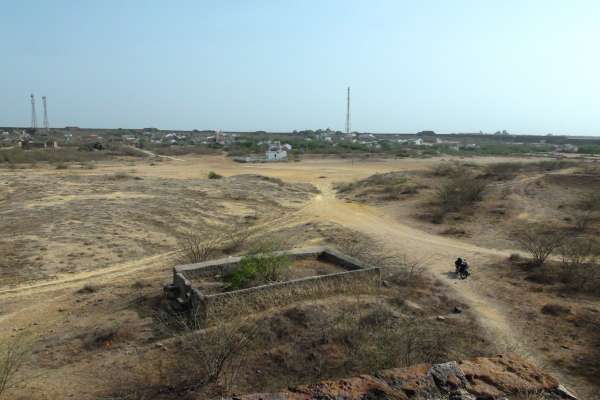 Life and its mysteries are ever fascinating to wanderer's eyes! Thinking about the life then I felt the need to go back in time to know more about a town where now only a few hundred people live. I walked back to the gurudwara and met babaji, very lovingly he said to me, " beta langar me kha ke jaana." How could I say no to such a loving humble request? I decided to stay the night in Lakhpat.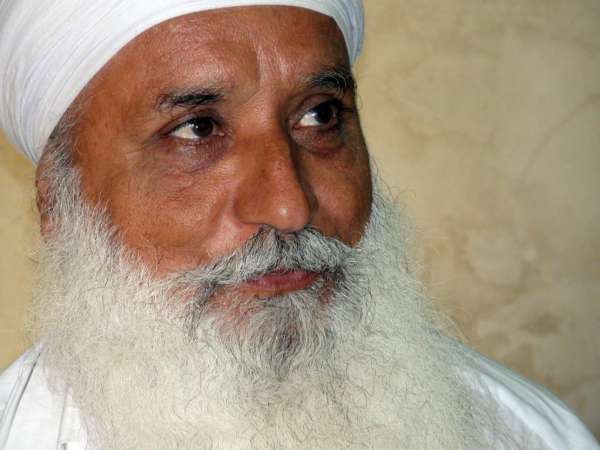 Lakhpat Babaji
Babaji and I indulged in soulful conversations before I retired for the day under a dome of stars, with music made from the sound of birds and insects on a charpoy that was my resting nest for the night. It has been an amazing experience being here.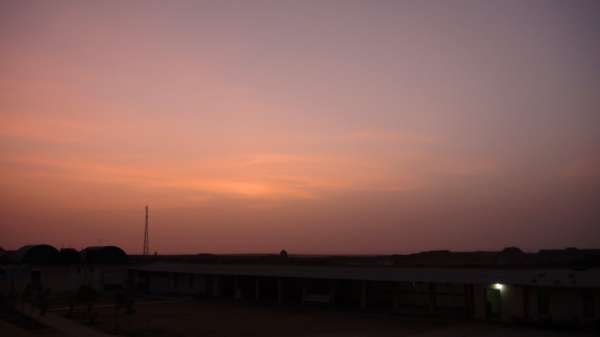 The dusky skies at Lakhpat. The chirping of the birds was the background score for this moment.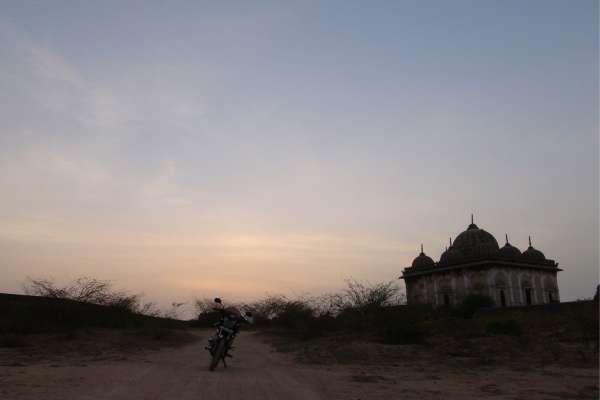 This was day four from the Denim ride I have lots to say and write and share but it is not possible to pack in all the details. So I bring to you the most important ones. You can see the live actions and the places in the video I made for you. Enjoy! Zzzzzzzz…!!!
. ø ¤ º ° º ¤ ø . ¸ . ø ¤ º ° º ¤ ø . ¸ . ø ¤ º ° º ¤ ø . ¸ End of Day Four ¸ . ø ¤ º ° º ¤ ø . ¸ . ø ¤ º ° º ¤ ø . ¸. ø ¤ º ° º ¤ ø .
Day Five: The Colours of Culture
The cultural legacy of our nation has always amazed me. In the endless travels over the past one and a half decade of satiating the quest, I still remain in awe of the richness of Indian culture. Every state and every village has something so unique about it. It tells a tale about the life of its dwellers, giving an insight of their lifestyle thoughts and traditions.
Last night in an insightful spiritual conversation with Babaji, he shared a very interesting story.
A young Guru Maharaj was given a sum of Rs 20 by his father for starting a business. His father was an entrepreneur and had same expectations from his son. Wondering what to do? He walked down the street with the twenty rupees in hand. Just then he saw two Sadhus standing by the side of the road. Guru Saheb thought of a wonderful idea, he spent the twenty rupees on feeding a wholesome meal to the two sadhus, feeling satisfied in his soul, for having wisely spent the money in this business. He went back home and was asked by his father about what business did he do? Where did he spend the twenty rupees? To this he promptly answered " Father I did a business for which people will remember me for ever!" hearing this his father surprisingly asked him " I have been in business of sorts for so many years and no one remembers me. What did u do with Rs Twenty that people will remember you for ever? Guru Saheb humbly replied I did the business of feeding the hungry with those twenty rupees.
He was right! Even today the world remembers it and follows the tradition he once started – The Langar was started by him and even now it is followed as a tradition in all the gurudwaras across the globe. I too had the opportunity to be a part of the langar last night I had the best dal and roti, it tasted so good because it was made with the feeling of humbleness in a noble deed.
This morning I woke up to the chirping of the birds and blowing of the pleasant breeze in an enormously calm dawn of the Ghost town of Lakhpat. Waking up early I video shot a typical morning in the gurudwara. The not only believe in feeding humans but also animals, birds and any living being. It was wonderful to see such a noble act performed by the people here. Man and nature does co-exist here. It was indeed serene.
After the shoot I took a bath and was ready to go post breakfast. Babaji called me into the gurudwara; he showered his blessings on me, praying for my safety and well being. It was wonderful. I had a turban tied on my head and he even put a saffron coloured cloth around my neck. I believe it is a way to show respect of some sort. I was humble and wordless at such divinity and grace. My heart was filled with joy and gratitude, taking babaji's blessings. He lovingly made pohas for me which I gobbled up in no time.
I left Lakhpat by 10.00 to go towards Bhuj as I wanted to ride on the salt plains. This was the purpose for which I have planned to ride in this region. On the way I crossed the Tropic of Cancer.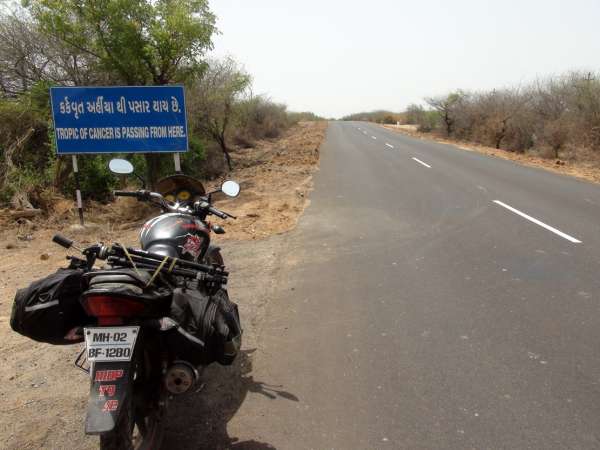 On the way I saw a sign board that said – Kala Raksha. I was curious to know what it would be? So I decided to explore and know more about it. I rode along and reached the place. I was fascinated to see what I observed.
Kala Raksha is an NGO as the name suggests it is involved in preserving the art of the tribal of Bhuj. The culturally rich community specialize in thread work they are master embroiders. It is wonderfully colourful. Each sub tribe of the rabari community had its unique way of embroidery. They tell tales of their lives in form of a carefully threaded piece of art. It is not just embroidery it is the thought the feeling and emotion of a story that goes into the creation of these crafts.
In olden days the Rabaris could not afford expensive jewellery so they took pride in wearing these intricate embroideries as a replacement to the need for expensive jewels. Generations down this art and tradition is passed down from mothers to their daughters. It is truly amazing!
I met the manager, Prakash bhai – a true gentleman, who explained me the details about how the NGO works. There are more than 1000 women in 25 villages benefit from Kala Raksha and how they gain monetarily from the work they do. It helps them benefit from the work than being exploited by middle persons who eat up the profits leaving these artisans with almost nothing. This NGO was founded by an American lady.
After knowing all the trivia we headed out to meet the artisans. The artisans here have a traditional culture of colour. In the barren surroundings the colour of clothing enhances the landscapes and life of the people living in the stretches of the desert land. This is visibly evident in Kutch and Rajasthan are so colourfully dressed.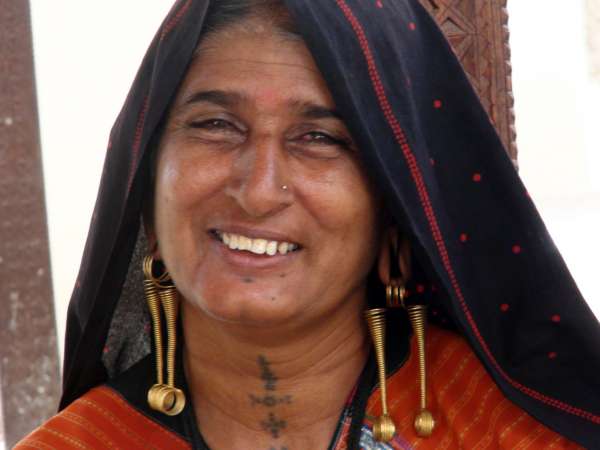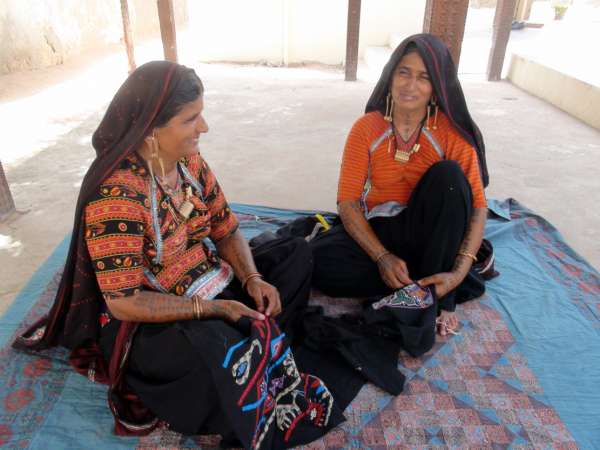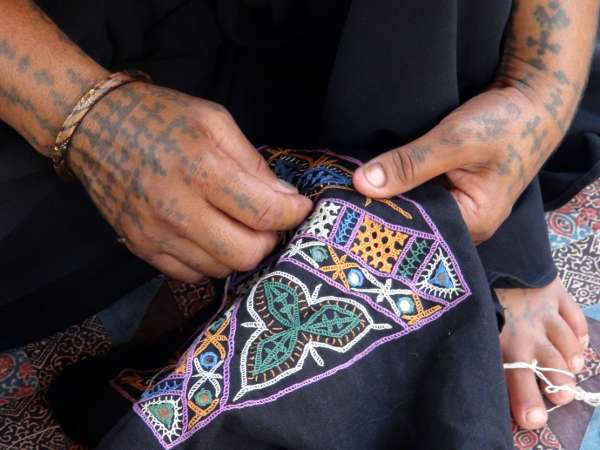 On the little tour around the place I saw this bubbly, energetic and enthused young lady who was only in her early seventies. She had something so special about her, had a tale to tell about every craft she made. The feelings were embroidered in the crafts she made. It was so meaningful. Art knows no limits; it bounces to creation flowing beyond the imagination of the artist. Fascinating it was indeed!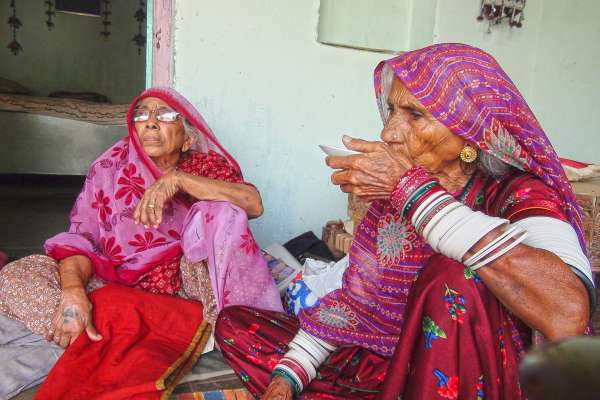 Talking to her I was told that she had recently been flown to USA for one month probably participating in some art display, I believe. She was so happy and proud about it. The joy in the wrinkled face made it glow with pride. It was her art and creativity along with the jolly happy attitude that made her so special. In a village that may never have seen an aircraft she was the one to experience the journey into a foreign land. Awesome!!!
I smilingly listened enjoying the stories she had to tell.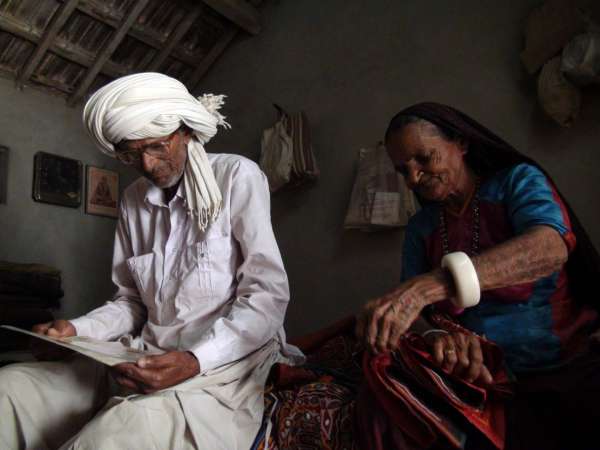 The system that they follow is – One artisan from each of the twenty five villages comes to the Kala Raksha centre to collect the raw materials for the works. Then the work is done the finished products are returned to the centre and the ladies are immediately remunerated accordingly.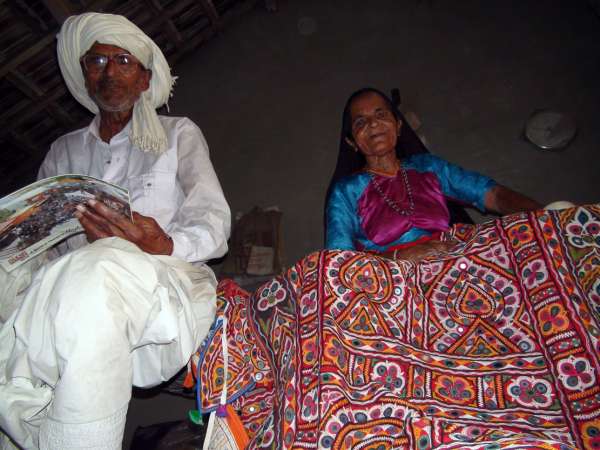 Truly amazing work! A thought came to my mind to revive and help sustain the art of Kutch, the least we can do is buy crafts from them, because if we buy it will only bring a rewarding opportunity for the artisans to thrive and earn a better living! Lets help flourish the art and preserve our culture. For more details you can browze through their website at www.kala-raksha.org
Our country is truly fascinating and stunningly streaked with the colours of culture!
It was now time for me to head to Kala Dungar via Bhuj, this would be my night halt. I rode along speeding the empty roads and reached Kaladungar 90 kilometers away from Bhuj. I reached there and found out there was no network. Hell!!! No Network??? What would I do without the internet, uploading, writing and making videos I had loads to do. I could live without anything but internet and mobile network, so I took a turn back to Bhuj. Decided to spend the night there instead of Kala dungar, I rode 90 km only for telephone and internet network!! Thought it was quite crazy!
It was about twelve in the night when I reached the hotel in Bhuj. Called for some food as I was starved. After eating and taking a shower, I rested for a while. Then began the work on the video editing!
. ø ¤ º ° º ¤ ø . ¸ . ø ¤ º ° º ¤ ø . ¸ . ø ¤ º ° º ¤ ø . ¸ End of Day Five ¸ . ø ¤ º ° º ¤ ø . ¸ . ø ¤ º ° º ¤ ø . ¸. ø ¤ º ° º ¤ ø .
Day Six: The Mystic Triumph
This morning I woke up early, driven by the will to work on the video, photos and blog. I was rushing with work in the speed of top gear. It took longer than I expected. It was around 11.00 a.m. and I was hard pressed for time. I had to travel a distance of 90 km after fuelling the bike in less than an hour to reach the place before noon. Now that was a real challenge for me. I filled in the petrol and zoomed as fast as I could go at the speed of 90-110 km ph. I managed to cover the distance in one hour and three minutes. Hmm you are wondering what the rush all about is.
Kala Dungar (The Black Mountain)
Well here is how the legendary story goes - Located at the edge of the diverse land of Kutch is the Kala Dungar watching over the haunting landscape at 1500 ft ASL The view from this place is spectacular. It is the best cation to get a bird's eye view of the endless vista of the Great Rann as far as the horizon and beyond.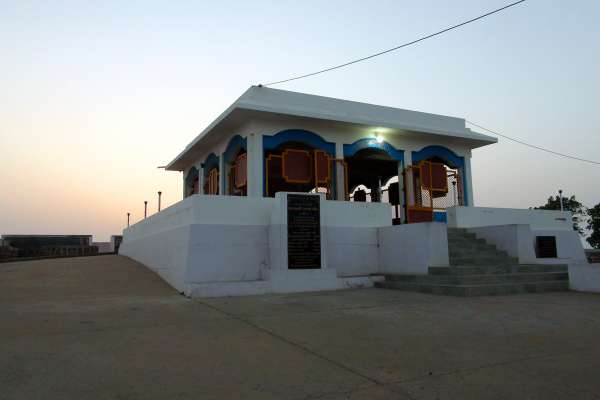 Atop the Kala Dungar is an old temple of Guru Dattatreya. Here for over 800 years, a strange phenomenon of feeding foxes with sweet rice has been carried on from centuries. It is said that, Guruji lived here for meditation he compassionately practiced feeding the speechless animals. No one ever went hungry from where he lived. One day Guruji came across a starved fox and had nothing to offer him as food. So he cut a piece of his own flesh and gave it to the fox hoping it would consume it and save its life from starvation.
The fox out of respect for some reason unknown did not touch the piece of flesh. The following day when he spotted the fox again it was fed sweet rice. The fox ate it. Since then the tradition of feeding foxes had continued from centuries. It was captivating! How can a vast number of flesh eating foxes emerge from nowhere at particular times twice a day to eat the offered prasad by Guru Dattatreya.
In the olden days a shout of "le aang, le aang" mysteriously brought about thirty to forty foxes to a platform near the temple, where they are fed sweet rice. Now in the modern times the human cry has been replaced by a bell that alerts the animals about the offerings. It is astonishing! The foxes gobble up eight kilos of rice mixed with four kilos of jaggery in no time. The locals say that the foxes do not eat anything before they consume the prasad. It is said that when the people of this place travelled long distances in caravans, they made the offering of rice to the foxes before starting the journey. The foxes accepting the offerings were taken as an assurance of well being and success. The rejection of offering generally meant that some difficulty would arise so the caravan would return not commencing their journeys.
Truly amazing! I spent some time here talking to people listening to interesting stories and details about the significance of this place. It was an awesome experience seeing the foxes come and feed on the platform. There were about five to six of them who ate up the sweet rice in no time.
Soaking in facts of the strange occurrence in the mysterious mountains of Kala Dungar, after taking blessings at the temple, I continued the quest.
The White Desert

I wanted to ride in the salt. This was one of the main purposes of my trip and so I decided to go to Dholavira. Before moving towards Dholavira I went to the police station to get some information about the roads but they had no clue. Some locals informed me that ten feet of sea water had submerged the area so it is not possible to go there.
I was depressed and sad. I knew not where to go. This journey of miles I have covered only to ride on the salt and overcome my fears. I was disheartened feeling hopeless. I felt that the very purpose of this trip was lost. Now wondering what to do, I sat in the police station for a while, when my eyes fell on a board that said white desert. I asked them what it was and was overjoyed to know that it was a salt desert. That is what I wanted to do - ride on salt.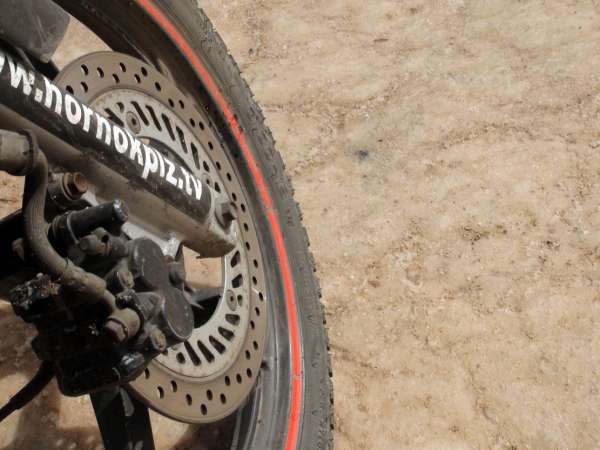 I was more than happy to take this up as an opportunity to work on my fears, so I decided to go on and explore the salt desert. The salt here did not appear as white because in this season the blowing winds bring along sand particles from the land and thus the salt appears reddish in colour. I was riding on the salt! At last I was a few moments away from the quest to conquer my fear!!!!
I thought to myself, at the end of the darkest night is seen the first hopeful ray of light, just when I gave up, hope dawned upon me with new opportunities. Never give up, if one door shuts itself, surely another one will open up bringing scope of new explorations!
In this trip I overcame my fear of heat, as in the past one week I rode continuously in high temperature between 42 to 48 degrees, I never imagined I could. Now that I have it is reassuring to believe that when there is a will, there is a way to fight our fears against all odds and emerge triumphant! Now was the time for overcoming the fear of riding in a salt desert. I had to replace the unpleasant memories from the last experience with more positive ones.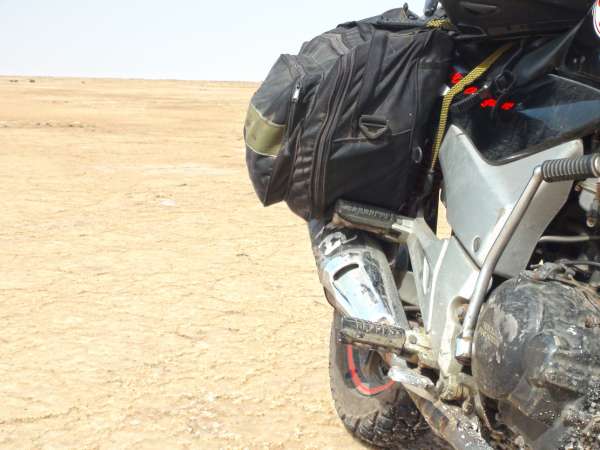 All excited I rode to the place following the guidelines. Stopping at the BSF post I went to get the permissions to enter the restricted area. They warned me that if I got stuck they would not come to bail me outand I would have to get help from the villagers.
I was ready to take to risk. Soon I was in the desert riding on salt, and loving every moment of the ride. The crushing of salt under the tyres and the sound of the engine sounded like jugalbandi of music. I was going crazy riding on the salt when at some places I felt my tyre was getting stuck. The fear took over me again, but I went on and did not give up. I had to be the victorious over my fear this time I won't let it win. I felt free in spirits and triumphant in the soul. A sense of achievement brought back the lost confidence in riding on these rough salty terrains of the white deserts! My soul was set free of its fears as I faced them with courage, most importantly, not giving up in the face of adversity and believing it is achievable.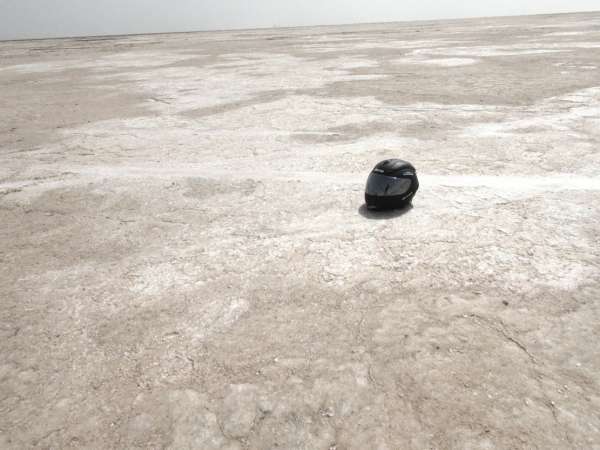 Not everything that is faced can be changed but; nothing can be changed until it is faced!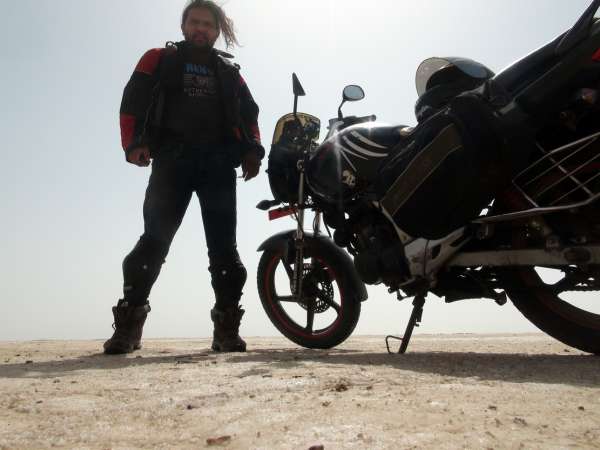 It feels wonderful to have conquered the fears that lived deep within me!! :)
Mission successful!!
This was day six reported from the Denim Ride - Wrangler True Wanderers
. ø ¤ º ° º ¤ ø . ¸ . ø ¤ º ° º ¤ ø . ¸ . ø ¤ º ° º ¤ ø . ¸ End of Day Six ¸ . ø ¤ º ° º ¤ ø . ¸ . ø ¤ º ° º ¤ ø . ¸. ø ¤ º ° º ¤ ø .
Day 7: Back To Base
The adventures continue!


After the hectic last six days my body butt and bones are all rattling. On Saturday I have a training program to conduct for which I need to rush back to Mumbai. Today my target is to ride more than 900 km from Bhuj to Mumbai. Being so tired and exhausted I overslept and woke up at 6.45, packed up and left the place by 7.30 without any tea from the Dollar Hotel in Bhuj.

ROUTE – Bhuj – Bhachau – Maliya – Halvad – Dhangadra – Surendranagar – Limdi – Bhagodra – Vadodra – Surat – Wapi – Virar – Mumbai

I was zooming till Maliya hitting 105- 115 on those excellent roads. I was loving the speed and my chemistry with the bike at the early hours of the day. My bike was doing good. After Maliya the roads were really bad. My speed dropped to 80-100 km ph due to the bad roads and even worse sense of driving. The big vehicles treat bikes like peanuts. I wished for some spinach power for the bike like Popeye to boost the bike size and trashing the huge monsters on the road. I had to leave the road twice to save my self from the oncoming traffic and wrong overtake. So often I had to totally cut down on the speed. So far it was 230 km in three hours.

By the time I reached Dhangadra my bike was not doing too good. The engine was making a horrible sound. I reached Dhangadra and found a garage to identify and rectify the problem. We opened the magnet and found it was fine. So he opened the timing chain cover and adjusted it, but no, even that did not solve the problem. So now it was the clutch he opened up next. We found out that the rubber bush broke and fell out, so the clutch made the sound. It was difficult to find that part in a small place like this. I had to go find a turner and Lathe machine to make the part. The whole thing took about four hours. It was about 2.30 when I left Dhangadra. I wanted to zoom as I fast as I could to make up for the lost time and make the best of the available daylight. I just went on without a break for the entire day. The only thing I had since morning was two cutting chai, while the bike was being repaired. My stomach was demanding food. At Borasad I just had two chikoos and some water. Because if I went to a restaurant it would take time, so I made do with the chikoo and water.

As I went on the bike was not doing too good. The speed was down to 85 by the time I reached Vadodra it further dropped to 80. Some how I reached Surat by 8.00 pm from here I had to do 140 km to reach Mumbai. Even if I went at 70 it would mean three hours of riding time.

As I started from Surat it went down further to 60 km. It began to drizzle and I was loving the feel of getting wet. I was so happy to feel cool again unlike the last six days of beating heat. I felt like I was in a natural shower!

By now my bike was even slower speed dropped from 60-45 by the time I reached Manor. From Manor to Virar there are a lot of lovely slopes, but today they seem like highest motor able roads. My bike would just not climb – It was crazy! The speed kept dropping and in the engine was and Indo Pak war with noises that sound like firing of bullets and missiles! I reached Virar at 12.30. Now it was not climbing the hill any more. I was in the midst of nowhere. I looked for help but all in vain. People here in the city have a care a damn attitude. I asked a tempo guy to hitch a ride for my bike he said u leave your bike and manage to go. Yet another drunk driver said that if my bike was working he would have ridden it for me.

I decided to push my bike up the slope. It was exhausting! Once I reached the top of the slope the bike slid down I kept going with the momentum to keep it rolling.

A few trucks parked near the toll plaza, I requested them for lift even offered to pay them they refused any help saying I should just ride. So I did as there was not much of an option besides that. This is the difference between the city and village. In the village people are so helpful and humble and here it is the exact opposite. The compassion factor is missing. Thinking of another way I tried calling a friend in Thane as he had a carry van, he was sleeping. I have a lot of friends with cars but needed something to lug the bike. I saw the hotel at the Ghodbunder junction near the bridge, I have never been so happy seeing that bridge ever. I was thrilled as there is only one more slope after this and then I would be in Mumbai. The joy in my was indescribable.

By now my bike was slower than a bullock cart. It turned into a snail from a stallion! Well with seven days of extensive riding I guess it was not ready to go any further! It shouted out loud no more of this!! Riding on at snail speed I reached home by three in the night. My bones and every part of the body is in pain. I console myself saying there is no gain without pain. The triumph over the two fears of riding on salt in the killing heat is sweeter than the body pain I face. I enjoyed and loved every bit of the last one week living the passion of riding.
. ø ¤ º ° º ¤ ø . ¸ . ø ¤ º ° º ¤ ø . ¸ . ø ¤ º ° º ¤ ø . ¸ End of Day Seven ¸ . ø ¤ º ° º ¤ ø . ¸ . ø ¤ º ° º ¤ ø . ¸. ø ¤ º ° º ¤ ø .