Quick Navigation
Episode 1 - Prologue - The Beginning
Episode 2 - Day 1 - Headstart and A Date with the Beaches
Episode 3 - Day 2 - Goa..Here I Come !!
Episode 4 - Day 3 - A Tourist In GOA
Episode 5 - Day 4 - A Day of Disasters and Experiences
Episode 6 - Day 5 - Escape from the Rains into the Western Ghats
Episode 7 - Day 6 - Deep Dive Into The History
Episode 8 - Day 7 - More Of Vijaynagar Ruins And End Of The Wandering
Episode 9 - END OF ANOTHER EPIC JOURNEY
_________________________________________________________________________________________________________________________________
***Prologue - The Beginning***

They say 'Dreams comes true for those who believes in themself', and I am a living example of it. It all started when few of my travelogues got selected by Wrangler and Xbhp for the True Wanderers contest. And one fine day I received a call from Sunil (Xbhp ID - Sunilg) and he told me that I have made it to the top 10 finalist. It was one of the best day of my life, where I topped the list of Wanderers with 7 days of opportunity to live a life of Nomad.
Who are these Wanderers actually and Who am I ???
Some souls chant in meditation, few of them practice deep, austere meditation; some souls worship it as adoration, some practice daily rituals. But I live the life of a wanderer. Being a solo Tourer all that I have seen, there is still a certain longing for the things I missed: the Palaces I didn't see, the Cities I didn't crossed ,the lakes I didn't dived in, Beauty of the Ghats which I didn't admired, the beers I didn't tasted and the people I didn't meet.
I will be heading to South, to the places I have already been and explored. But I could spend a zillion lifetimes exploring my Country and still have the world to see. That no matter how many times you have been to a place, there's always more road to ride and more places to unearth. According to me the most important thing is that the Wandering doesn't have to be out there, miles away, chalked out as a route on a map. I am a Wanderer...the avenue, and the Journey is wherever I roam.
Here is my 7 Days Itenary.Now which all places I will be covering between these places is still a mystery, which will be unfolded in the course of 7 days :).Lets see how much I stick to my Original Plan.
Day 1: Pune to Ratnagiri
Day 2: Ratnagiri to Honnavar
Day 3: Honnavar to Mysore
Day 4: Mysore to Pattikad
Day 5: Pattikad to Salem
Day 6: Salem to Davanagere
Day 7: Davanagere to Pune
Also got some special tips from my fellow Pune Xbhp'ians on how to crack the ST7 in 7 days. Here is an example of a crash course which I got for getting maximum number of votes.
Get down on your knees and beg for it :P :D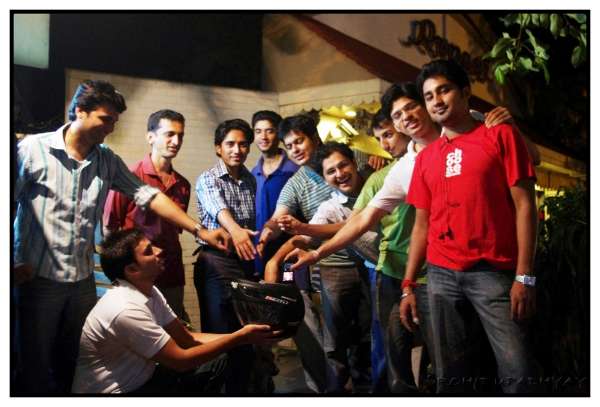 And Finally they agreed and posed for a group pic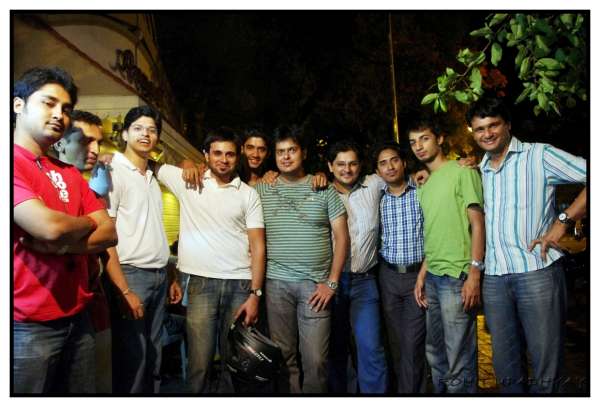 It was 02 June 2011 already and no preparation was done except the rough travel itenary.So the last night was spent on packing and here is the end result.
All saddled up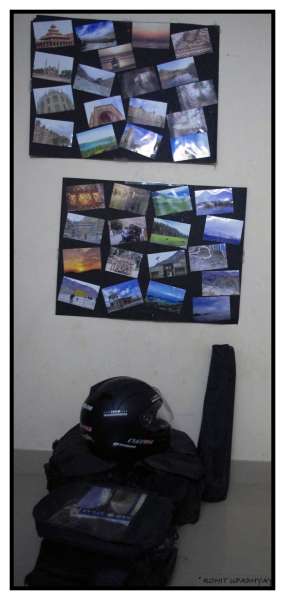 At last I want to extend my thanks WRANGLER and XBHP for providing such 'Once in a life time opportunity'.
All the best to my fellow Wanderers for their journey. Ride safe Ride hard.
Cheers
Biru
______________________________________________________________________
***Day 1 - Headstart and A Date with the Beaches***
Route :- Pune -> Managaon -> Murud -> Janjira -> Dighi -> Diveagar -> Shrivardhan -> Harihareshwar -> Khed -> Chiplun
KMs Munched :- 372
Expenses :-
Fuel - 850 INR
Brunch - 42 INR
Dighi Ferry - 65 INR
Harihareshwar Ferry - 25 INR
Tea Break - 17 INR
Motel - 900 INR
Dinner - 170 INR
Route Map
Excitement is like a forest fire, you can smell it, taste it, and see it from a mile away. And I was excited and enthusiastic about my own dream and these dreams didn't let me sleep well. I hardly slept for 2-3 hours in the night. Early morning I had to rush to office as the Prologue I had written with hours of effort was on my Office PC.Rushed to office in the morning at 06:30 AM to get things in place. It took around one hour to finalize and post the Prologue along with the pictures, this one hour includes the travelling time to-fro office as well.
Returned from office at around 07:40 AM and the first thing I did was kicked Ankit's (Xbhp id - Roadzilla) butt to wake him up so that he can accompany me at the Flag Off ceremony. After some continuous and desperate attempts the mighty woke up. Without wasting much time we packed the remaining stuff and started for the Wrangler Exclusive Showroom, Aundh.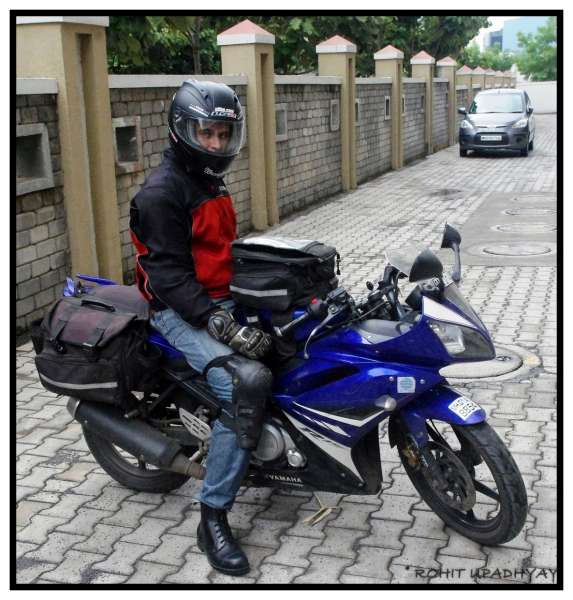 We made it to the Wrangler Showroom around 09:20 AM. There we saw the world famous personality G2G baba (Xbhp id - Rohitlc), hanging around with his Canon 450D.
In few mins photo shoot started ,I have been provided a set of jeans from the stock of the Wrangler True Wanderer collection along with the newly arrived On Road Wrangler T-Shirts. Fitting was perfect and comfort level of these pairs were mind blowing. One after another, changed at least 10-15 pairs of them for the photo shoot. If I recall it precisely, I did not even change that much numbers of pairs in a week's time, which I changed in last 1 hour :P.So,with every new pairs of Wrangler Merchandise,i just kept on posing for the lens's of the shutterbugs .I was very much enjoying the short lived feeling of being a Super Model :P :D.Meanwhile Rishabh and Surojit also arrived. It was good to see some more good-old buddies. The shootout lasted for an hour and finally the time came for the flag off...All the events happened according to the plans, except the interview thing by the Radio City RJ.For all these 07 days of wandering,Wrnagler provided me One Jeans and three T shirts. Three T-shirts is ok,but only one Denim jeans for 07 days :-|. Actually they want to showcase the concept behing the True Wanderer Collection of Denims that how nicely it wears out and acquires a different rugged look after the ride.
Flag Off happened at 11:30 and the Real Journey began.
I picked the shortest route to reach Murud, which is Pune - Paud - Managaon - Murud.
Calm Water of Mulshi Lake surrounded by the mystic sahyadri ranges.The sight was very enticing.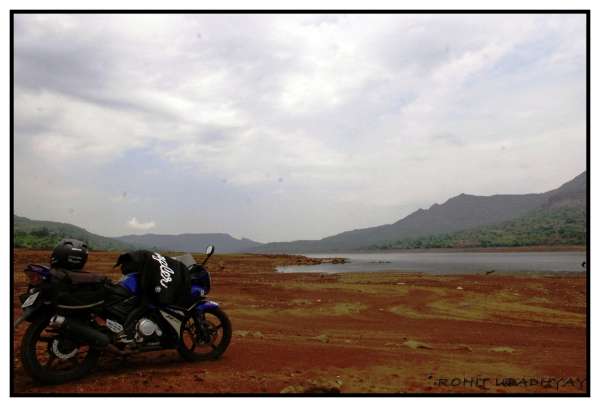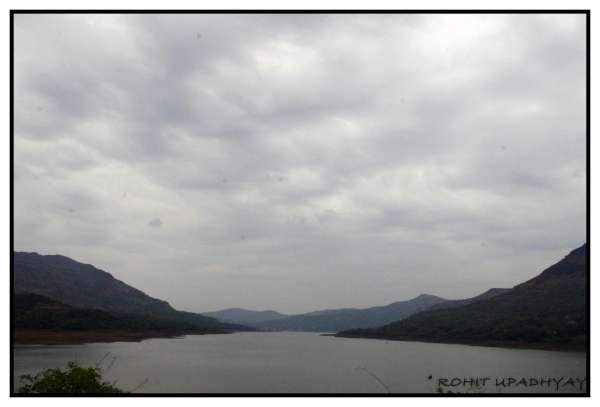 While I was clicking some shots at Mulshi Lake,i got a call from RJ Deb from Radio City, where he asked me few set of questions.
Continued my quest towards Murud munching miles on those lonely but beautiful state highways.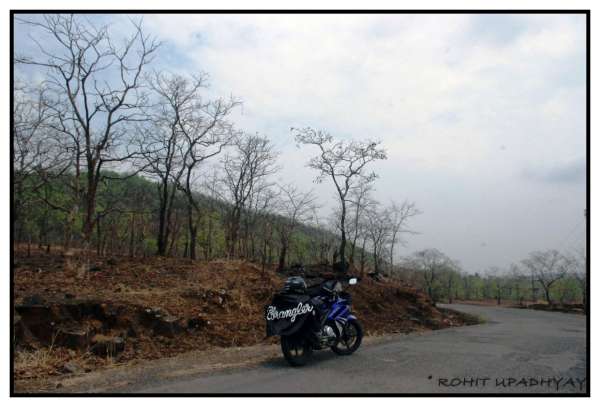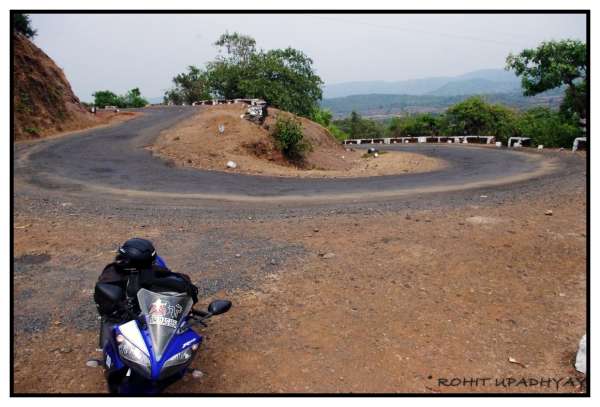 Finally I made it to Murud around 03:00 PM.
Beautiful shore of Murud Village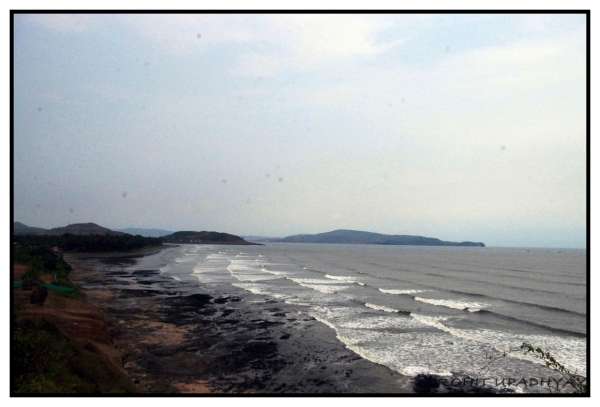 Next was Janjira where I loaded my bike to get onto the other side at Dighi. This is a shortcut to reach Diveagar from Murud, where it saves around 85 Kms of road rash.
Janjira Fort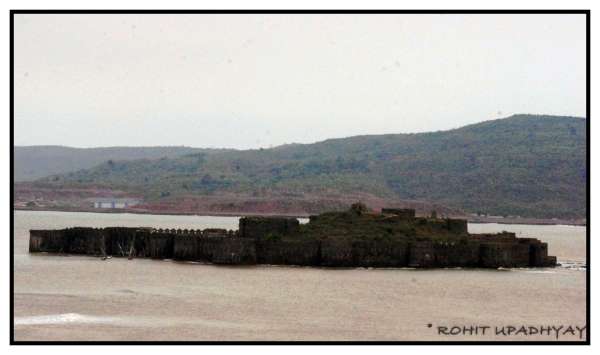 Ferry Timings
Murud to Dighi
7.00
9.00
10.30
12.30
14.30
16.15
17.15
Divegar is just 16 Kms from Dighi. Went straight to the beach, rode there for few mins, sat for a while, enjoyed the Calmness and adored the endless immensity of the Sea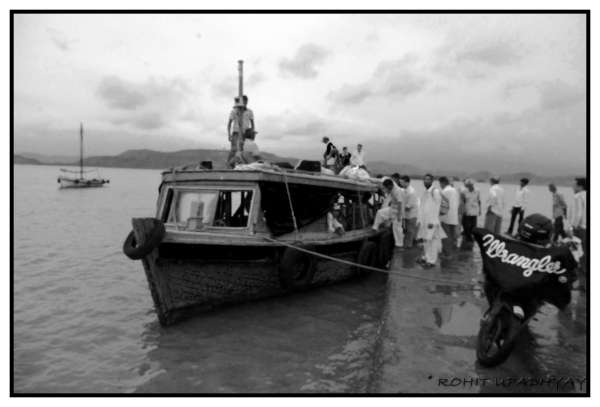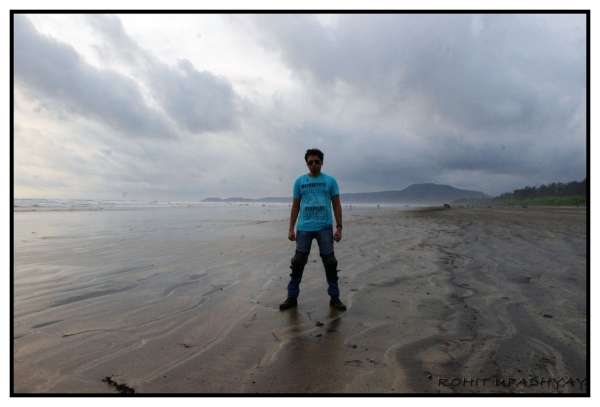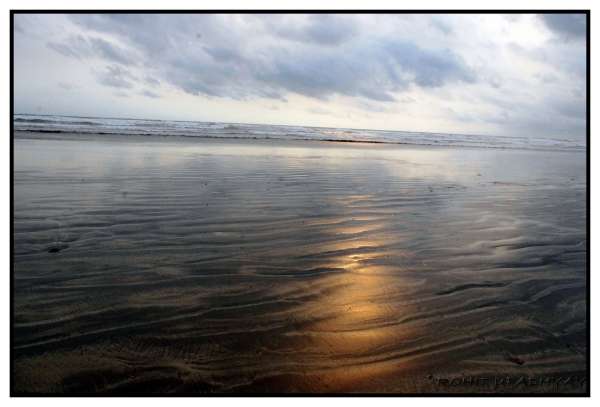 The road leading to Shrivardhan from Divegar is very scenic and has Spectacular views.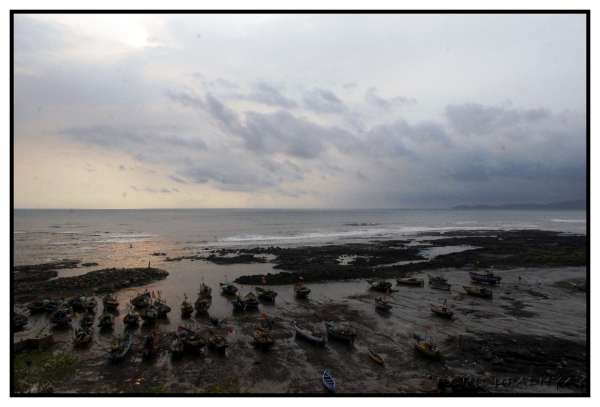 Met some fellow Wanderer's :D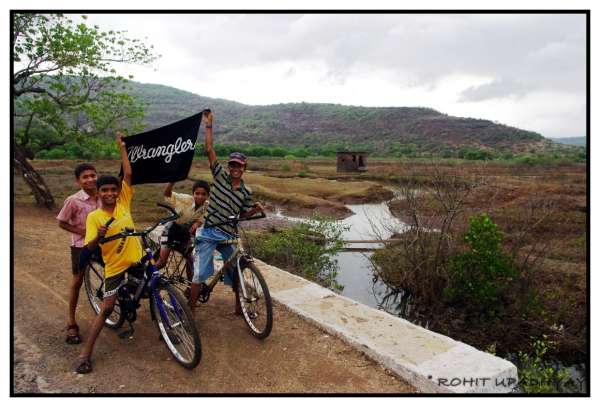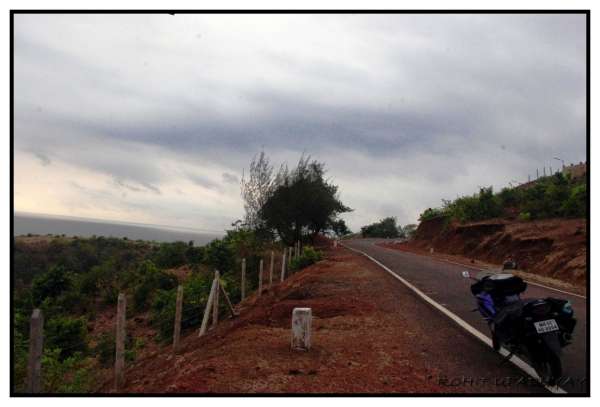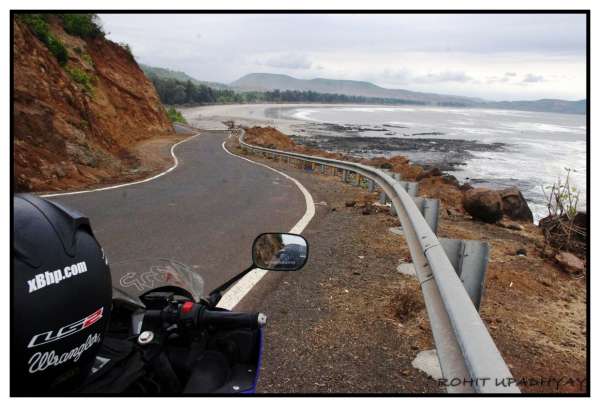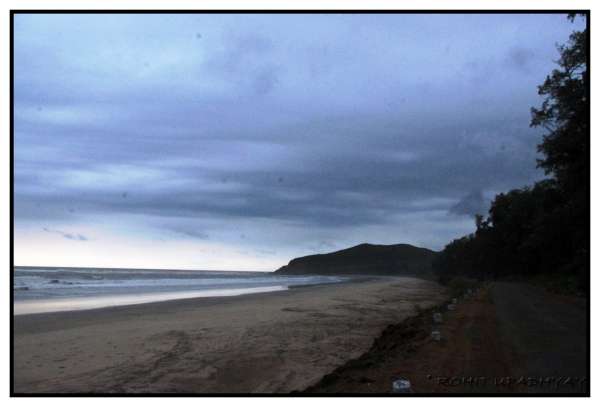 Just when I reached Shrivardhan it started drizzling and in matter of seconds, that drizzle transformed into never ending Heavy Downpour.
Shrivardhan Beach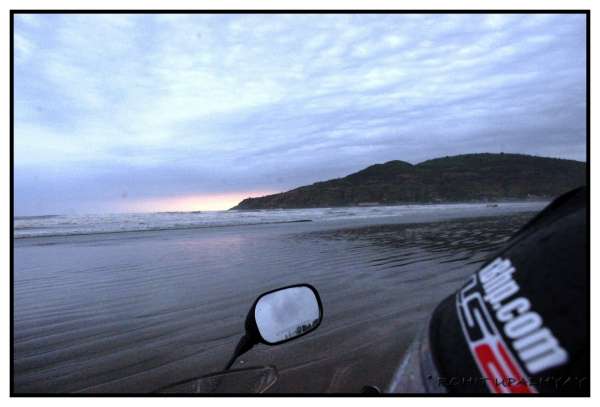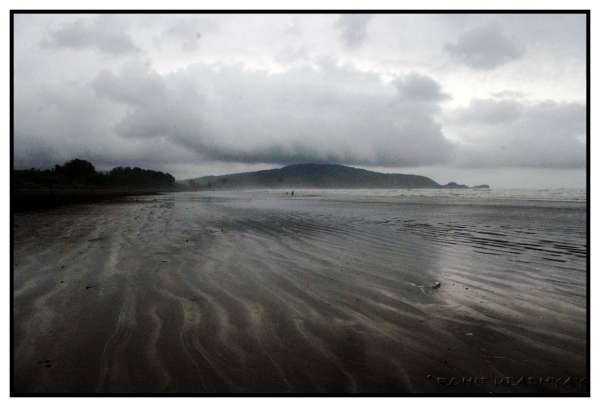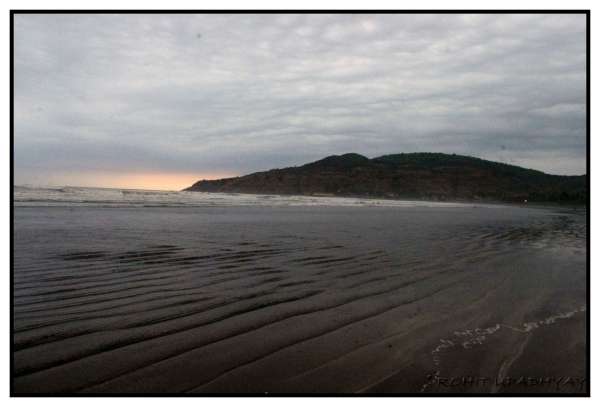 It made the riding more difficult as the visibility got reduced, I was unable to see anything. Now from shrivardhan I had two options either I can take ferry from Hariharshwar( Saves almost 70-80 kms of road rash) or take the Highway. Since the conditions were not in favor of riding I chose to take the Ferry. Next destination was Khed, which was 60 Kms from the place where Harihareshwar Ferry left me.
It was already dark and rain was in its full swing for past few hours. In between went into wrong direction and ended up doing 40 Kms extra munching. Did a not stop stretch and made it to Chiplun at 10:30 PM.Enquired in 2-3 hotels and finally checked-in in a hotel for 900 bucks.
Each and every stuff with me is totally wet, All the precautionary measures I took to save my stuffs from the rain didn't worked at all :(.Present Condition of my room is like Palika bazaar.
Its time I should crash to bed now..Good night guys.
Ride Safe...Ride Hard
Cheers
Biru
________________________________________________________________________________________________________________________________
***Day 2 - Goa..Here I Come !!***
Route: - Chiplun -> Ratnagiri -> Pavas -> Rajapur -> Vijaydurga -> Kankawali -> Mapusa -> Baga
KMs Munched: - 402 Kms
Expenses:-
Fuel - 650 INR
Chai/Paani - 25 INR
Brunch - 30 INR
Wada Paav Break - 17 INR
Motel - 1300 INR
Beer - !!
Last night or shall I say today morning I slept at around 02:00 AM, blame it on the heavy rains I faced. It's obvious that I got a very late start.
Sky seemed to clear when I started from the Motel or was it trying to fool me around, but then a Fool got fooled again and I met him again ..The creep who is following me, bugging me from last evening. My fellow companion everyone's truly 'The Rain'
I cried in pain not again,
At least not at the start of the day
Oh please rain go away go away.
So the pain is real, it has made me a Poet :P.Stopped in Ratnagiri to post my Day 1 blog and its raining like anything out there. :D :P
As I finish penning down my Day 1 travelogue, it's time to zoom ahead, to be back on the place where I belong. No don't think about the word 'ROADCHAAP'.The road stretches on before me, what lies ahead is unknown. I must continue the journey though, my destiny awaits me and Rains are not going to stop me to achieve it.
Ratnagiri district lying in the lap of Konkan Region, another paradise in earth. Stunning beaches and the Ratnagiri Fort adding feathers to the beauty of this place.
Theeba Palace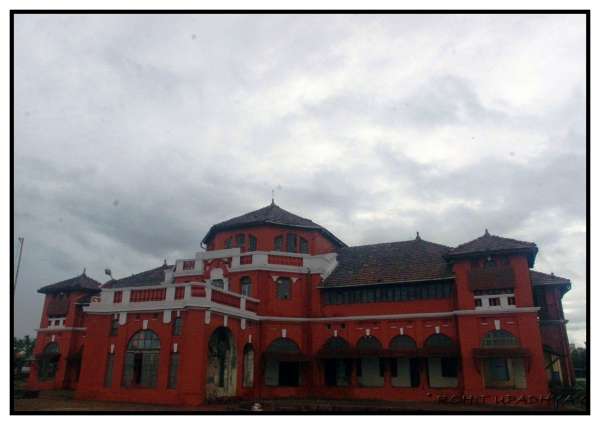 With the help of driving direction signboards, I made it to the Ratnagiri Fort.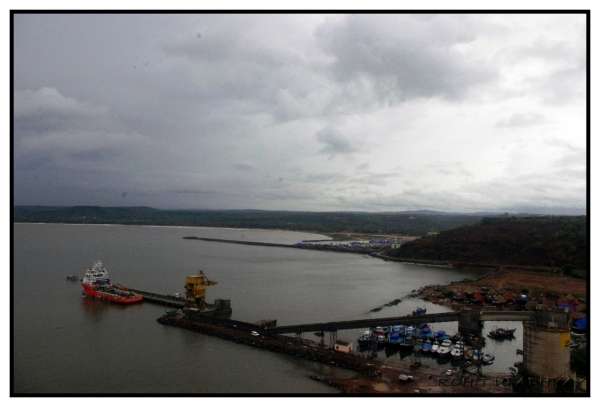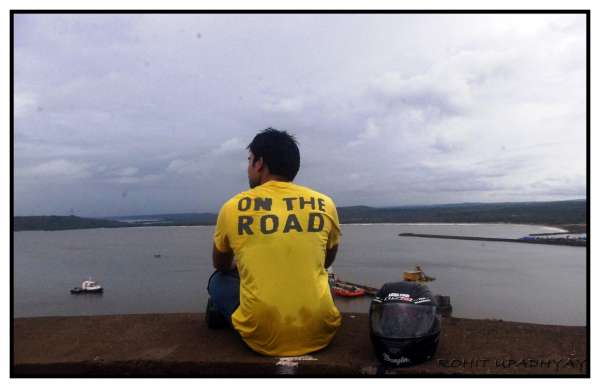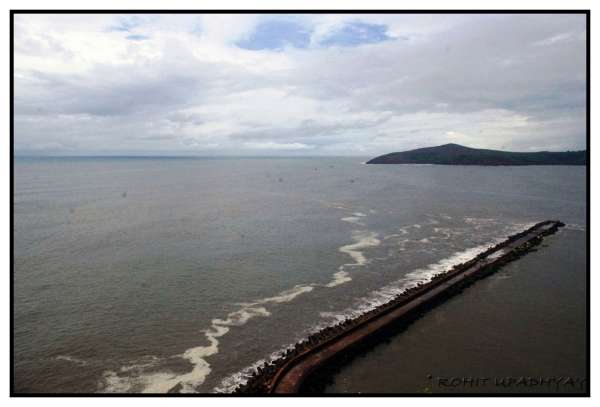 To move head, to my next destination. I had two options. Either I go back to the same old Mumbai - Goa highway (NH17) OR take the MSH4 till Pavasa, which runs along with the coast.It's pretty obvious I took the second one.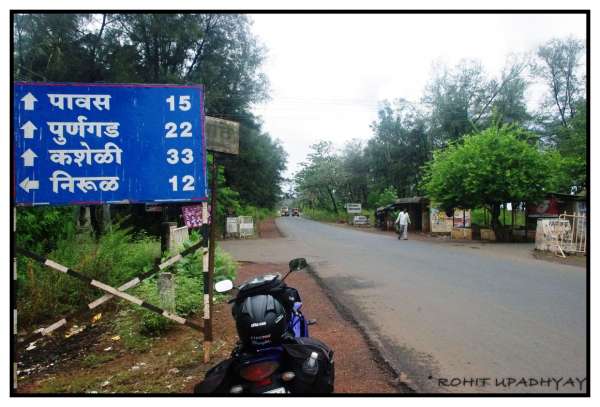 I came out at Rajapur on NH17.Now where to head next, there were two thoughts going on my mind that time. Head to Goa or and relax or pay a visit to the Mighty Vijaydurg.Finally the thought of a crazy tourer won over the thought of a Lazy arse and I headed to Vijaydurga.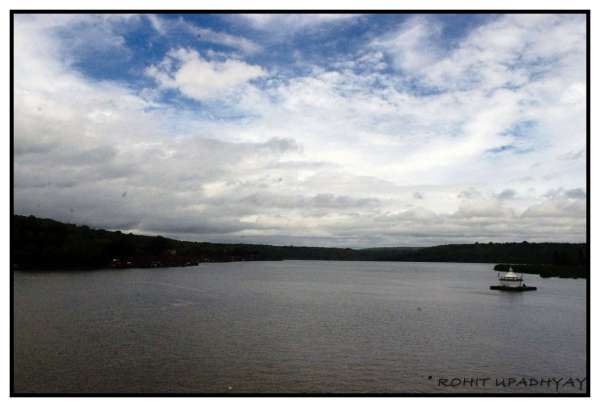 SH113 was the highway leading to Vijaydurg,Turns,corners,sudden dips, Zero traffic on the road and magical scenery around the road. Can't be binded in the words.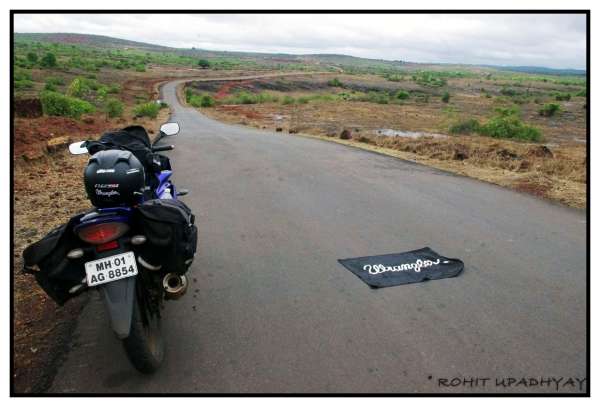 Vijaydurg is one of very prominent sea forts which were built in the Maratha period. Victory Fort is one of the great forts of the Konkan. Vijaydurg Fort was strengthened around the 17th century by Shivaji, to whom it owes its finest features - the triple line of walls, the numerous towers and the massive interior buildings.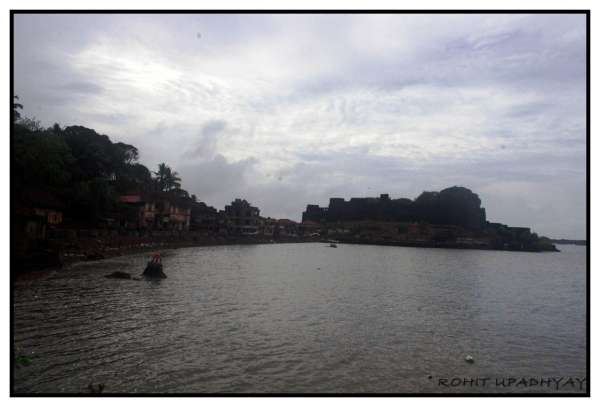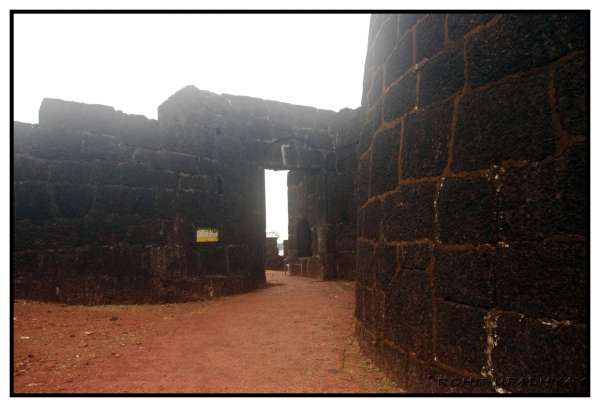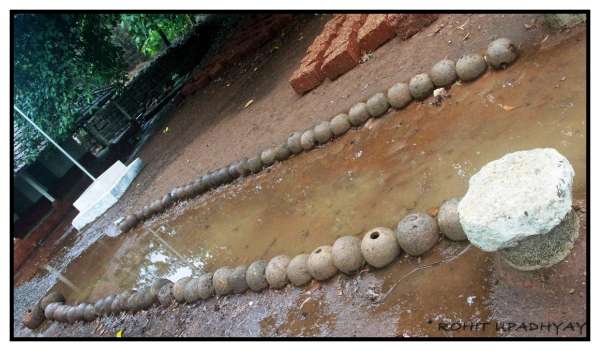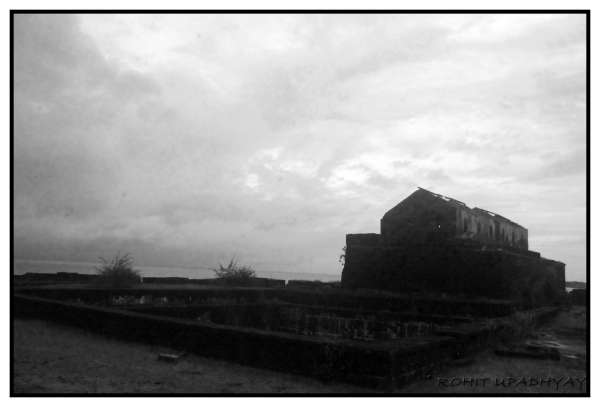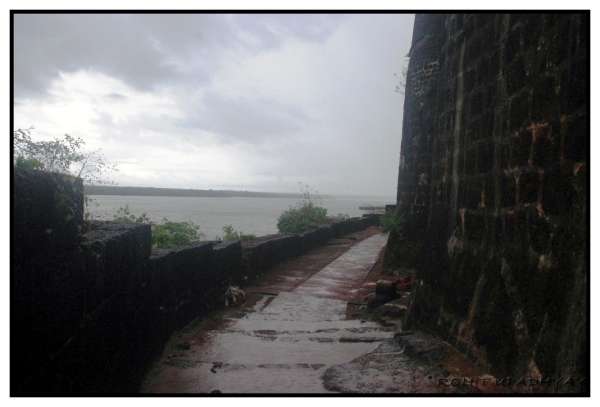 Heavy rains everywhere I go, it just keeps following me. Girls should learn something from these desperate rains :P :D.So, I was back on the NH17 and Goa was still 140 Kms far. All I had to do is a nonstop stretch.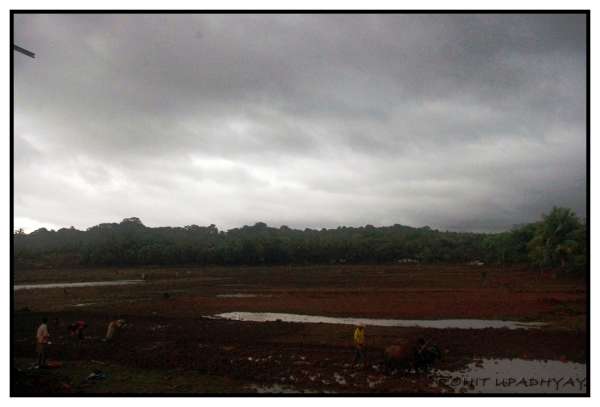 Finally made it to Goa in few hours, went straight to Baga Beach.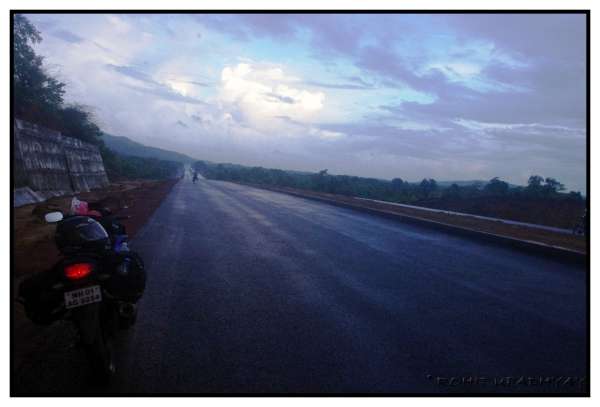 Baga Beach, my favorite joint in Goa,infact everyone's favorite joint. Every Tom Dick and Harry who comes to Goa lands up in Baga Beach. First thing I had to do is to get out of the wet gear and dry myself up. Scouted for hotel, due to weekend most of them were full or out of my budget. Got one hotel room at Calangute for 1300 bucks with lot of terms & conditions and clauses.
Again the same task like last night, took out each and every stuff and spreaded in the room for drying. People must be thinking such a stupid guy he is, why didn't he carried any rain gear. And my answer to those people is
'I am a fan of Raw adventure,
I don't believe in heavy duty preparation,i just pack my bags and hit the highway,
and last but not the least True Wanderer is about being unpredictable to the core and taking things as they come to you'
Now is the time go out and Party Hard, it is time to feel and taste the essence of Goa. Being a True Wanderer enjoy your ride, but don't forget to Enjoy your life as well. Three cheers to my fellow wanderers, Fellow Xbhpian's and Rain
Ride Hard, Ride safe
Cheers
Biru
_________________________________________________________________________________________________________________________________
***Day 3 - A Tourist In GOA***
Route: - Goa -> Palolem
KMs Munched: - 130 Kms
Expenses:-
Fuel - 690 INR
Breakfast - 215 INR
Motel - 900 INR
Dinner - 391 INR
Goa, the coastal paradise located in South Western India is popular for its sun kissed sandy beaches, easygoing life style, fenni, beer and various fairs and festivals. The relaxed and tranquil atmosphere of Goa makes it a hit place among people like us who comes wandering in search of sun, sand, food and beer. :)
A delayed start to the day and it was dedicated to Goa darshan.While I relax and blog at Calangute Cafe Coffee Day, I sipped around 3 cappuccinos and burped a Cole slaw sandwich. Feeling good now, last night party hangover is on the easier side now. The rain Saga continues in Full glory. I waited for a while to see it end or stop. But that didn't happened at all.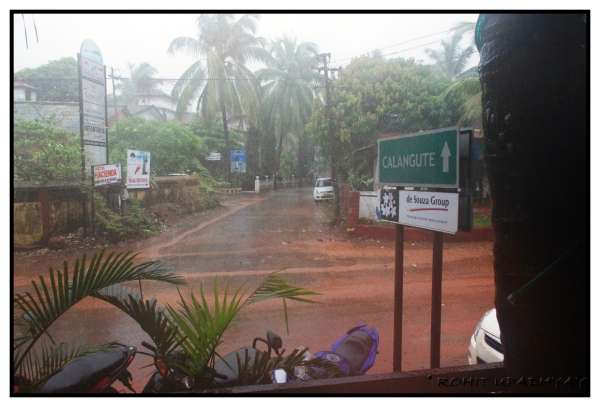 Considering waiting to be waste of time I moved back to Hotel loaded my bags and started for Goa Darshan.
Beauty of the Beaches
Baga Beach - The most crowdy beach of GOA,but it is clean, safe and dynamic. Quite popular for its throbbing nightlife.
Calangute Beach - Very commercialized beach which has a magnificent view, beautiful and romantic sunrise and sunsets. The shopper's appetite is fulfilled by the market which provides handicraft items, clothes and various other things. One can enjoy various water sport activities such as Parasailing, water skiing and wind surfing , night parties, on the beach.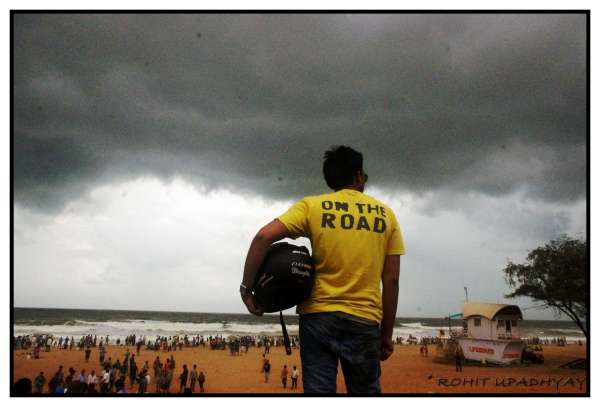 Dona Paula - Dona Paula is named after Dona Paula De Menezes. The place is also known as Lovers Paradise, there is a myth behind this place that the viceroy's daughter jumped off the cliff after facing objections for loving a poor fisherman.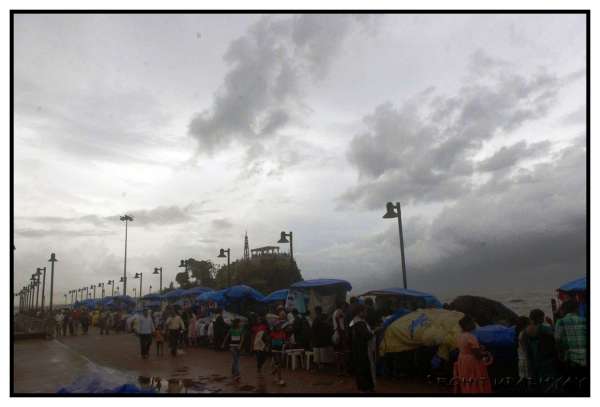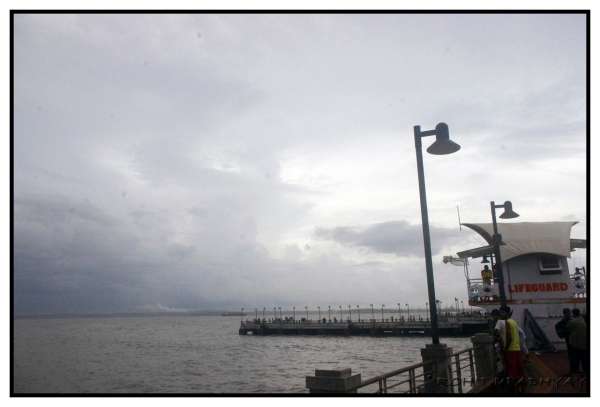 Aguada Fort - Aguada Fort, which crowns the rocky flattened top of the headland, is the best-preserved Portuguese bastion in Goa. Built in 1612 to protect the northern shores of the Mandovi estuary from Dutch and Maratha raiders
Backwaters enroute Aguada...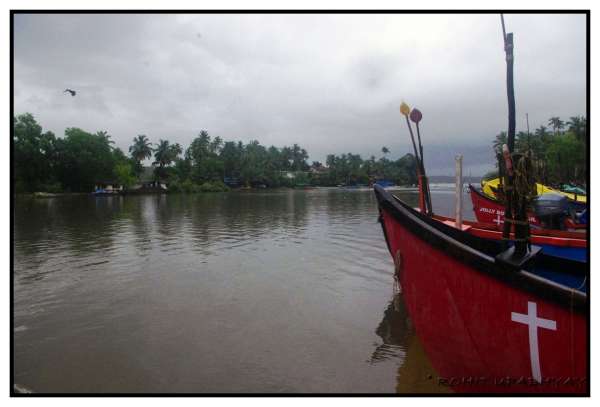 Didn't went inside the fort as i was having difficulty in walking due to Shoe Bite :)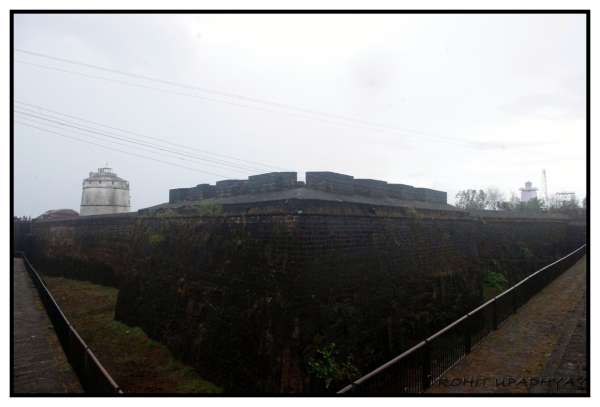 Old Goa - The Churches and Convents at Old Goa owe their existence to the Portuguese rule.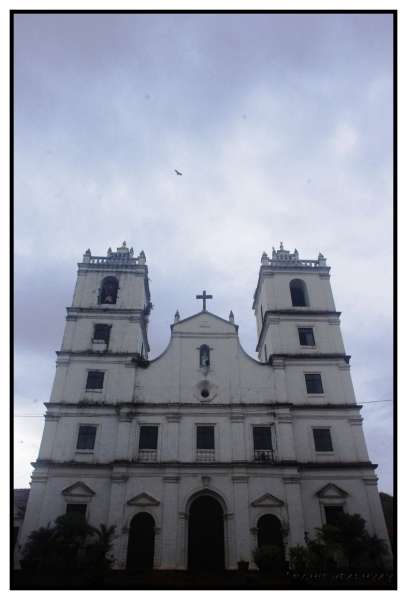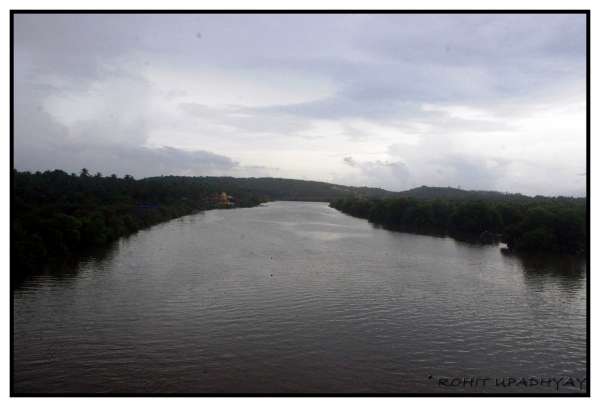 SE Cathedral - One of the largest churches in Asia which took eighty years to get completed .This Church is dedicated to Catherine of Alexandria. This Cathedral was built to commemorate the victory of Portuguese over a Muslim Army, leading to the capture of the city of Goa in 1510.This is one of the most sacred buildings for Christians and has been declared as a heritage site by UNESCO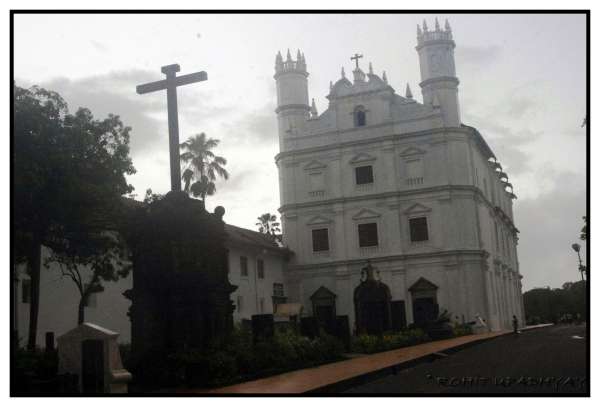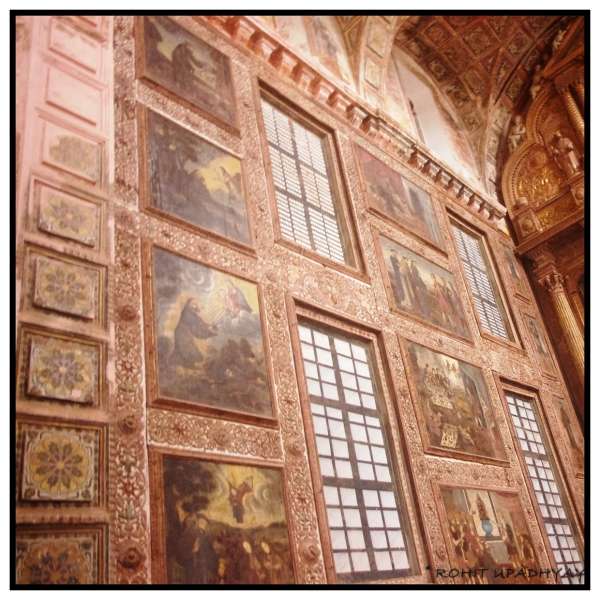 Basilica of Bom Jesus -Another World Heritage Monument, it was constructed in 1695. It has surfaced as a milestone in the history of Christianity. The name Bom Jesus basically means "good Jesus" or "infant Jesus". The Bom Jesus Church contains the body of St. Francis Xavier, a member of the Society of Jesus, who came to India with the Portuguese to spread Christianity in India.
The Basilica of Bom Jesus is one of the richest churches in Goa. It is carpeted with marble flooring and inlaid with valuable and rare gems and stones.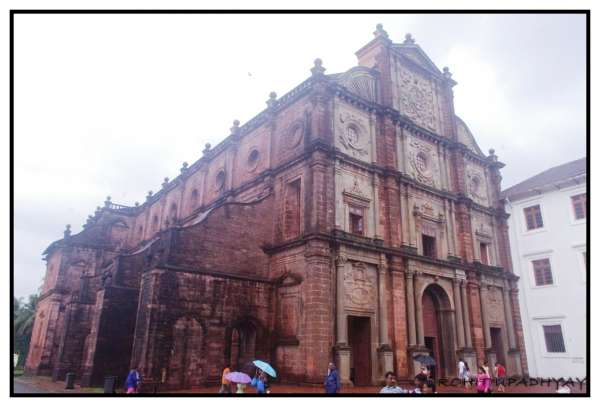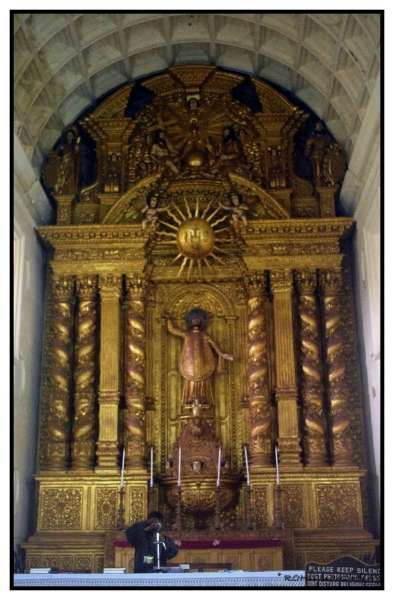 ST Augustine's Tower - Body of the is already destroyed and a part of it is only remaining, which looks like a tower. But I must say it is one of the most spectacular of all Goa's monuments, which is in peril, and must not be allowed to collapse.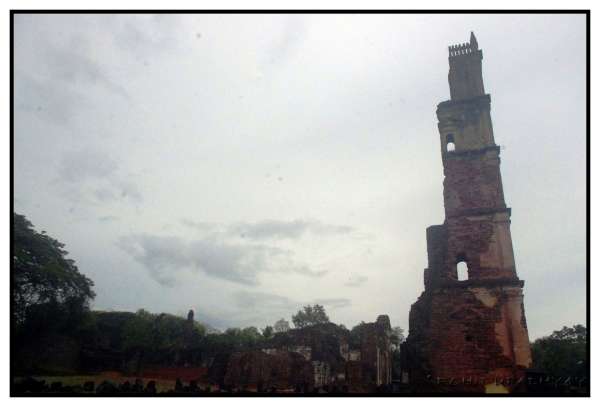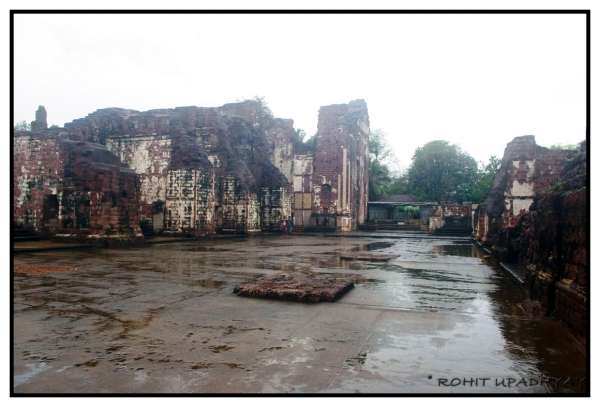 By the time I finished visiting these places, it was already 06 PM.In my mind I fixed my target to at least reach till Karwar.But things went in different way and I had to stop at Palolem as I was shivering very badly in cold.
Ride safe, Ride Hard
Cheers
Biru
________________________________________________________________________________________________________________________________
*** Day 4 - A Day of Disasters and Experiences***
Route: - Palolem -> Karwar -> Gokarna -> OM Beach -> Murudeshwara -> Honnavar -> Bhatkal
KMs Munched: - 211 Kms
Expenses:-
Brunch - 31 INR
Mech - 30 INR
Tea break - 30 INR
Key maker - 50 INR
Mech - 40 INR
Auto Wala - 50 INR
Motel - 300 INR
As the heading says it was a day filled with disasters. Strike, Broken key, Shoe bite and what not !!
Was very happy in the morning as got I got an early start today, went to the beach to get some early morning shots. Unlike the commercialized Baga,Calangute,Anjuna beach...Palolem is one of the most beautiful Goan beaches, a crescent like coastline of silvery sand, lined by coconut trees swaying in the breeze and hemmed scenically by a couple of steep, rocky cliffs. Making this perfect silvery arc shaped beach even lovelier are thehuts made of thatched palm for tourists. Though affording this type of accommodation is a costly affair for people like me :D :P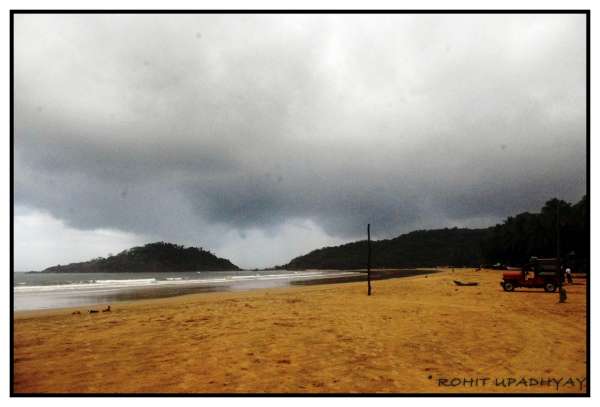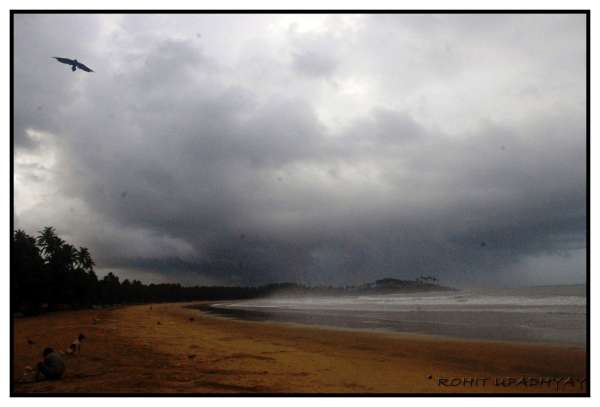 I started towards Karwar, as going further south was in the cards.30 Km from Palolem and spotted a long jam ahead. I suspected it to be an accident, but to my surprise it was something else. Bunch of peoples were standing on the road and doing some skit. What the heck,why can't they book some auditorium for it. They are doing right in the middle of one of the busiest National Highway 'NH17'. I waited for a while and spotted some bike fellas passing by from the side. I also moved slowly to cross the crowd and suddenly I was stopped. They nodded with negative reaction and said -
You cannot go ahead...It's a strike today !!
I asked 'Then why you are allowing these peoples ?'
They are one of US.
Not fair,Strike is not for them who are actually doing it and are part of it ??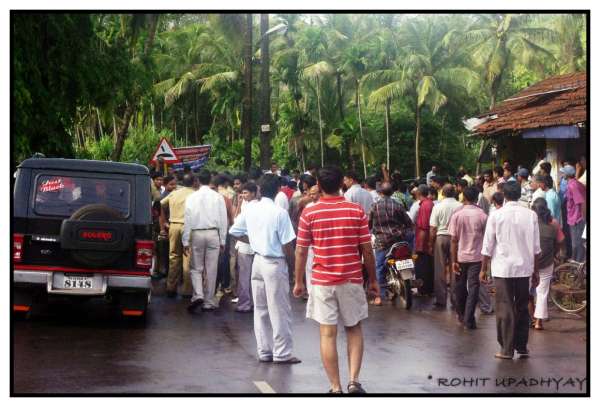 I explained them, that I am on a ride and I need to go ON. Explained them for 10-15 mins in ENGLISH and suddenly everyone got angry, and started shouting on me in Goan ??..No it was not Marathi either. It was typical Konkani . Seeing them angry I backed out quietly and went back with the traffic jam crowd to be a spectator. I parked my bike and asked the guy standing next to me, boss what is this Strike all about ??
This strike is to save the Hindi and Marathi Language and stop English being a compulsory language in Schools and college. Now I understood why those people got angry on me. I think I just saved myself from getting beaten up :P :D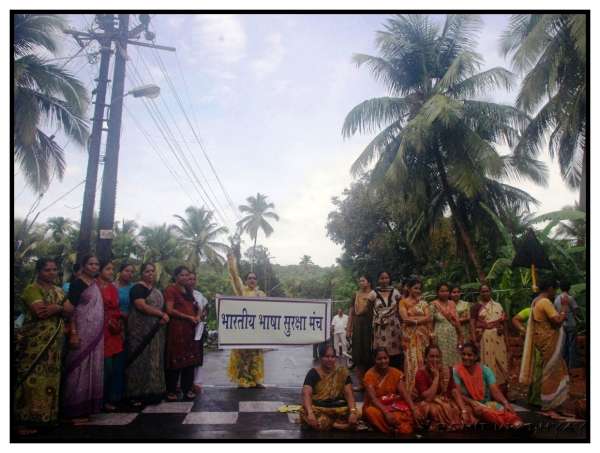 I waited for a while bugged the same guy with another question, when is this going to end. Irritated guy replied 'by 5 PM today'
No,No,No..This is not happening to me. Checked Eicher MAP to see if there is any alternate route to bypass this strike. But it ain't showed any such route. Let's make our own way I say. Took a left from the sign board indicating to a place named Chiplem
I roamed for an hour but my luck didn't favoured me on this part. So I came back to where I started. Waiting was the only option. Waited patiently for three hours and the patient paid at last. The strike ended at around 11:30 and I started towards Karwar-Gokarna.And here starts the Karnataka Border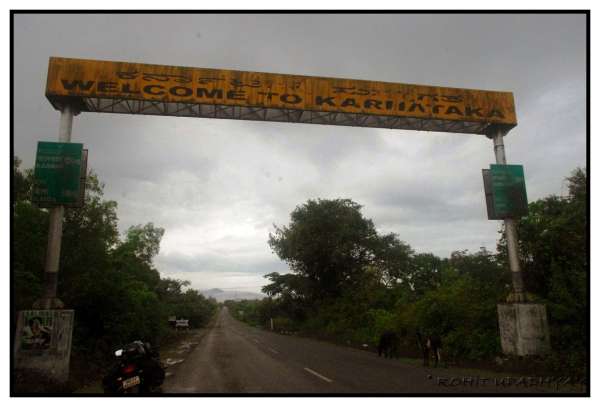 Pretty soon I made it to Karwar,another beautiful city situated at the shore of Arabian Sea. There is a famous quote said by Rabindranath Tagore on Karwar.
"The sea beach of Karwar is certainly a fit place in which to realize that beauty of nature is not a mirage of imagination, but reflects the joy of the infinite and thus draws us to lose ourselves into it."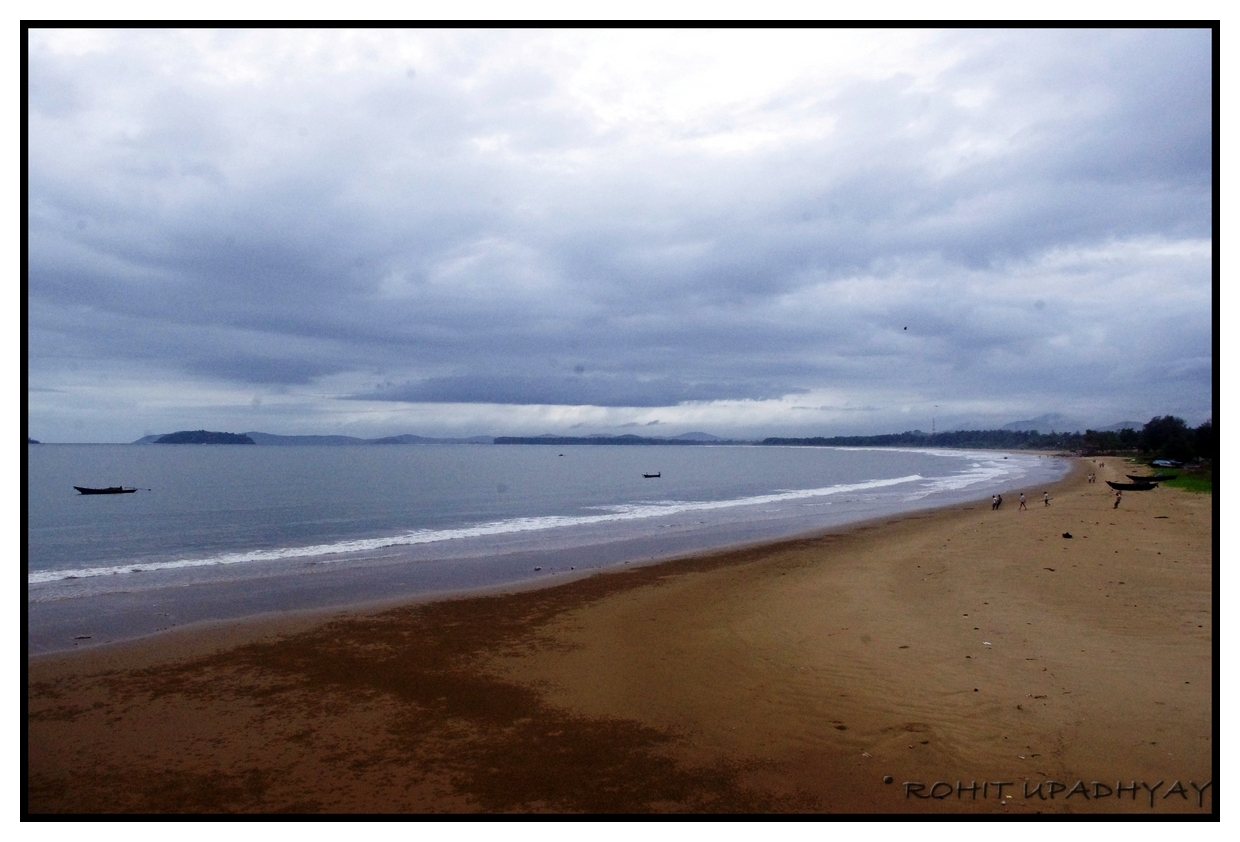 OM Beach a very quiet and peaceful place, with breathtaking views. It is 3-4 Kms inside from the Gokarna Village and around 20-25 Kms inside from the NH17 (Goa - Mangalore Highway).This beach is in theshape of OM in script when viewed from top, hence the name 'OM Beach'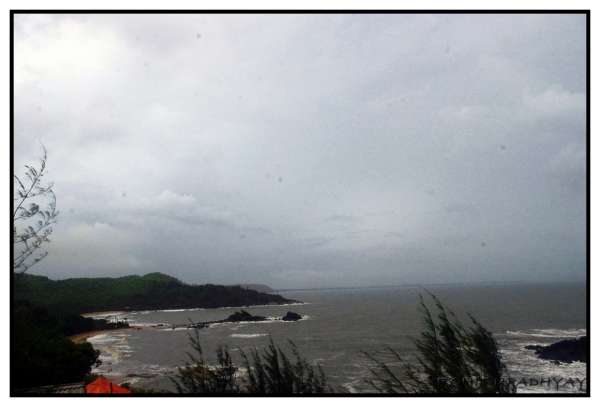 Next destination was Murudeshwara Temple. Which was another 80 Kms from Gokarna.Since it has been raining crazy from the day I started Pune,that's why I had just stopped mentioning it again and again. Heavy-Heavy-Heavy rains, without any break. :(
Western Ghats on the side and Arabian Sea hanging around on the other side and Lord Shiva's statue standing tall admist, Yes I made it to Murudeshwara.A very famous pilgrimage in Southern part of India. I cannot express in words how divine is the look of the Lord Shiva's statue. Lord Shiva Statue which is 123 feet high erected in the Beach is the tallest Shiva Idol in the World.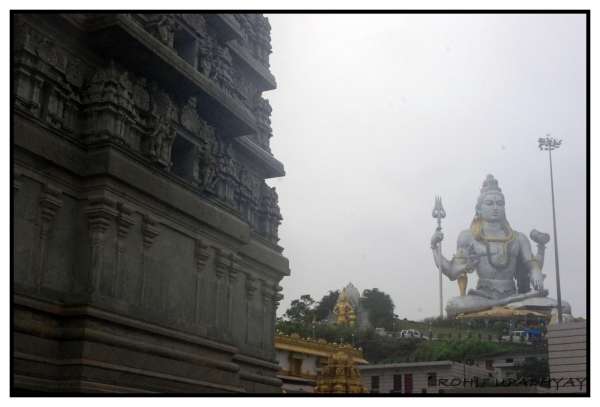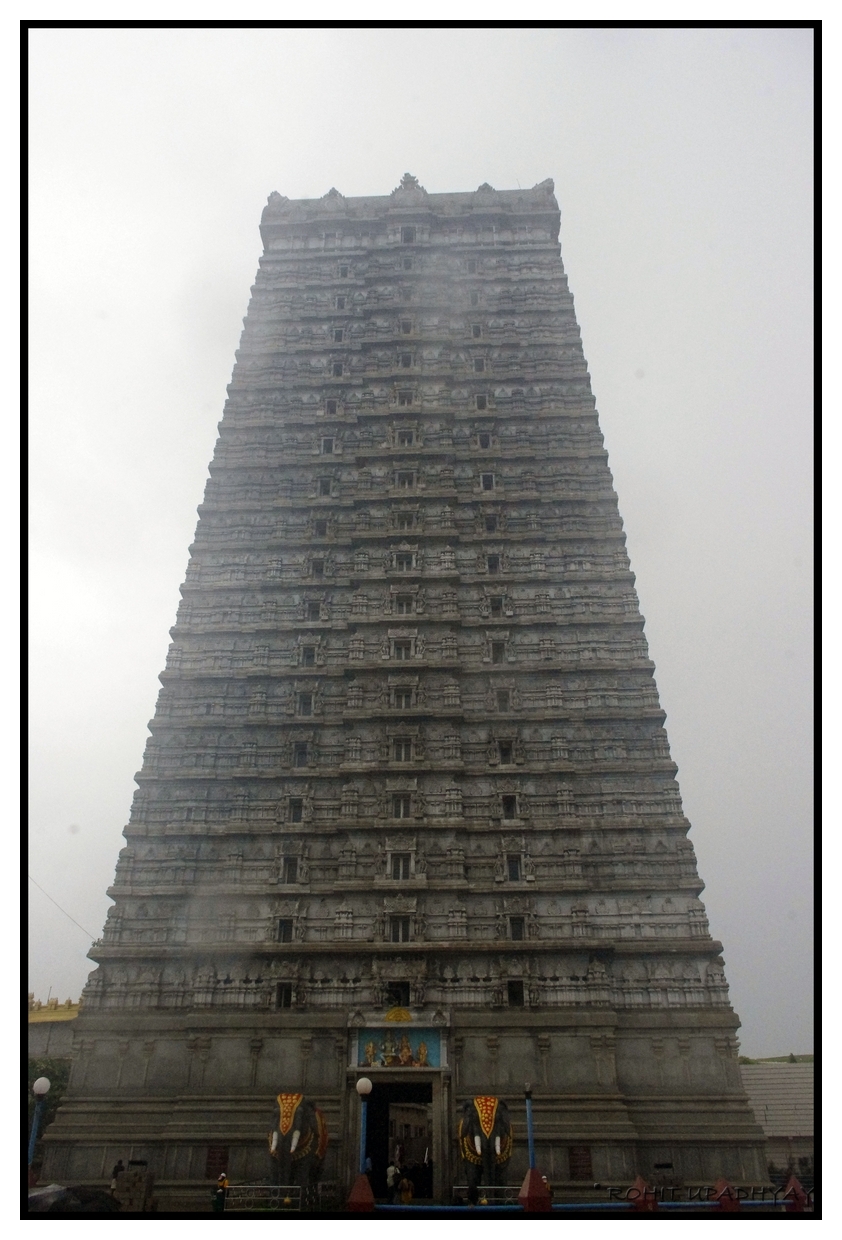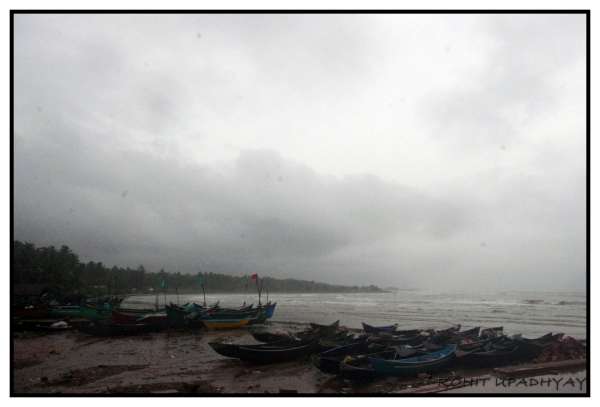 With quick darshan,i moved towards Honnavar.Further plans were to move ahead on NH17 until it becomes dark. Stopped in a fuel station for fuel top up. Just when I was opening the tank lock, the only key I was carrying got broken.Oh Hell !!..Second disaster in a day.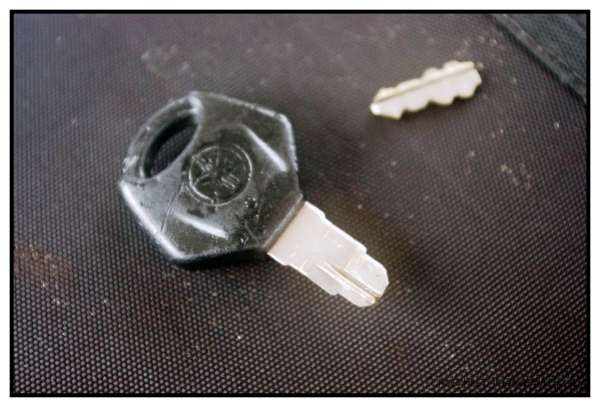 I enquired about key makers in the town, but no luck at all. Everyone advised that I had to go till bhatkal for getting new keys done. So here is series of event which happened post to this disaster.
1) Went to a Mechanic and got the electricals changed, so that it can be started without key. Carried few extra wires in case the direct wire fell off.
2) Went to a welding shop to get the Key welded, if I can open the tank then my major problem will be solved. But the welded key didn't worked either.
3) Bhatkal was another 40 Kms,Reached Bhatkal at around 04 PM.Keymaker shop was bang on the highway. But he needed the Ignition switch loose, so that he can make the key in peace.
4) Searched in many Mech shops, who can open the Ignition Switch for me, but everyone refused. Some tried but they were unable to open it.
5) Finally got hold of a Yamaha Outlet, where they opened up the Ignition switch.Not to forget the Shop is open till 06:30 PM.
6) Picked an Auto rickshaw and went to the keymaker.The shop said computerized keymaking.I thought it will be quick.Infact it was very quick, it took 2:45 mins to get the key job done.
7) In between went to the Yamaha showroom as it was about to close at 06:30.Convinced one of the mech to stay over for my bike work. They pulled my bike outside the Service station and rest of them left for the day.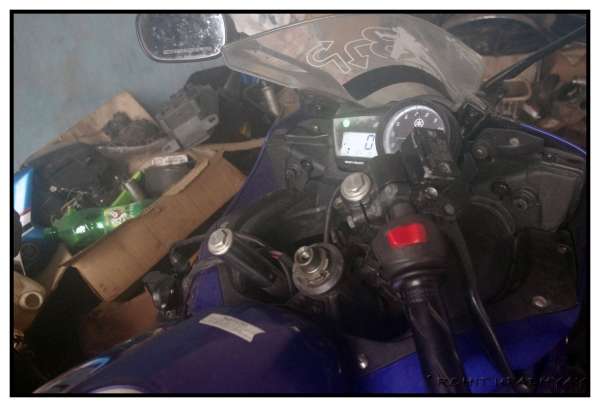 8) Collected the keys, went back to showroom.Rajiv the Mechanic fixed my bike and finally 4 hours of chase comes to an end.
While all this was going on I requested my fellow Xbhpian - Anant Bhatia (Antzbin) to send me a good route plan to reach Belur-Halebidu,covering places Kudremukh and Agumbe.And he did came up with a pretty good route plan.
"Head south till Maniapl/Uduppi.Stay the night if it's too dark..Aaage jungle lagega.Take the route Karkala,head towards kudremukh(Sringeri road)- Kalasa - Kottogehara -Belur "
Thanks for the route help Anant.It was already 08:30 PM and I was dead tired. I decided to stay over at Bhatkal.
And the shoe bite which surfaced himself in the nice cozy place,due to which i am unable to walk too much.Imagine when the boot is wet for whole day,and its rubbing against the wound full day :P .How painful it would be :) :D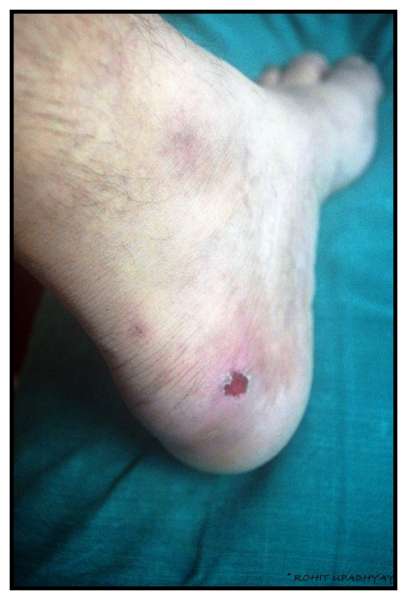 Ride Hard, Ride safe
Cheers
Biru
________________________________________________________________________________________________________________________________
***Day 5 - Escape from the Rains into the Western Ghats ***
Route: - Bhatkal -> Honnavar - Jog Falls - Shimoga - Kemmangudi -> Mulyangiri -> Chickmanglur -> Belur -> Halebidu -> Banavar -> Hiryur
KMs Munched: - 511 Kms
Expenses:-
Brunch - 65 INR
Petrol - 200 + 200 + 710 INR
Motel - 1000 INR
Dinner - 300 INR
Rejuvinated,cant express in words how great i am feeling today.I didnt go as per the plan shared by Anant(Xbhpid - Antzbin).I preffered to take the known route,to head towards Belur-Halebidu.Went back to Honavar and headed towards Jog Falls which was around 60 Kms from Honavar.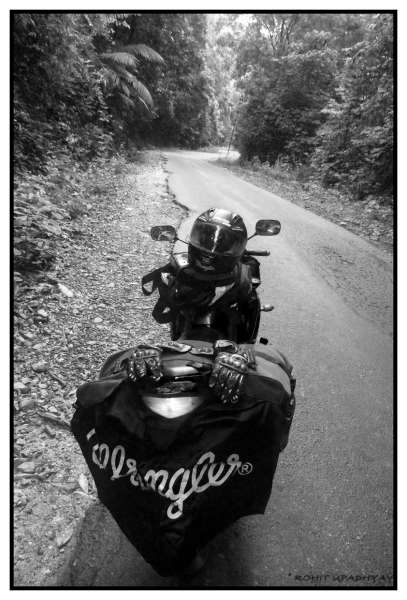 Jog falls is the highest untiered waterfall in India and it falls from a height of around 900 feet. River Sharavati splits into four streams before taking the plunge. These 4 streams together form the so called Jog falls.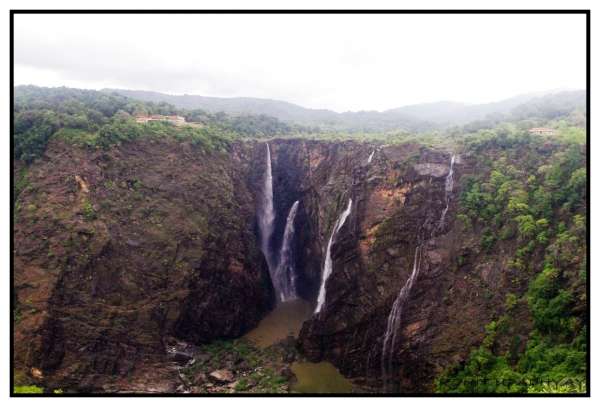 After visiting Jog Falls i moved towards Shimoga via Sagar.Road condition was pretty good.I was loving the experience of riding on the those lonely State Highways.Quaint Villages, beautiful ghats, outstretched back waters, friendly people, and never ending forest sound.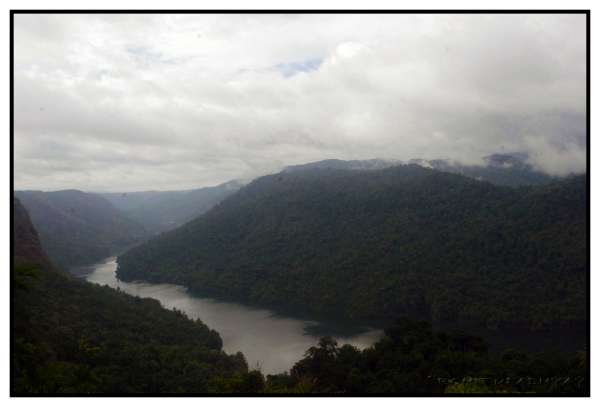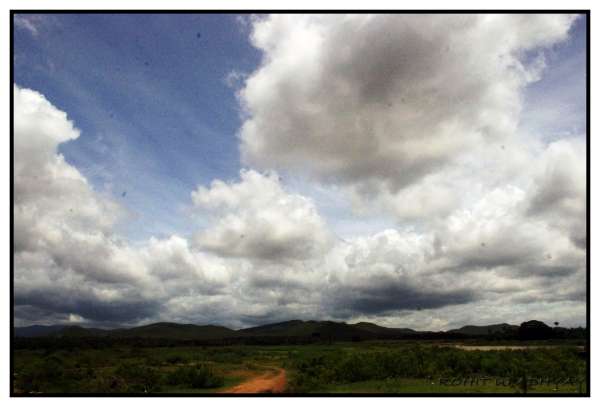 I reached Shimoga in the afternoon and without any delay..started for Chickmanglur.I planned to cover Kemmangudi and Mulyangiri.There is an exit on the Shimoga and Chickmanglur maine highway at a village named Tarekere which takes you to these places.Kemmangudi is exactly 34 Kms from there.
Coffee Gardens enroute Kemmangudi.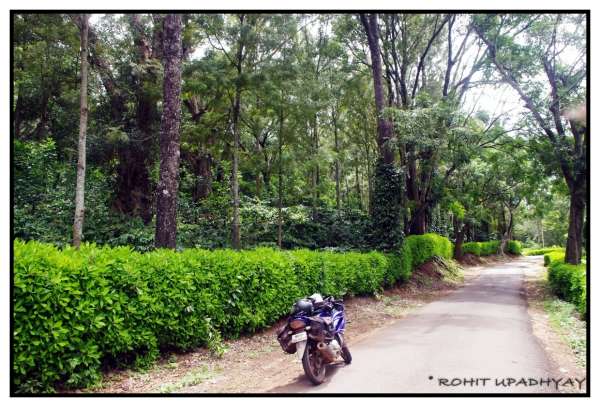 Kemmanguddi,one of a very beautiful Hill Station in Tarikere Tehsil.Kemmanagundi is a combination of three Kannada words..Kempu - Mannu - Gundi..That means Red - Soil - Pit
I didnt saw any redsoil pit though..It was all lush green everywhere.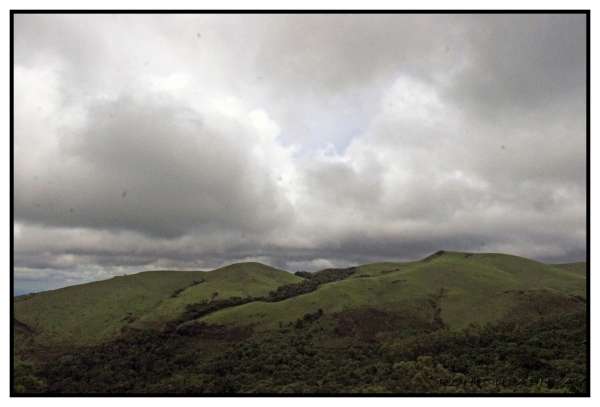 I went till the top of Kemmanagundi,there was an nominal 10 rs fee for two wheeler entry. Also there was a Govt rest house in between.Finally I made it to the top,there I found huge but nicely maintained gardens and some view points which offers a spectacular view of the surrounding hills.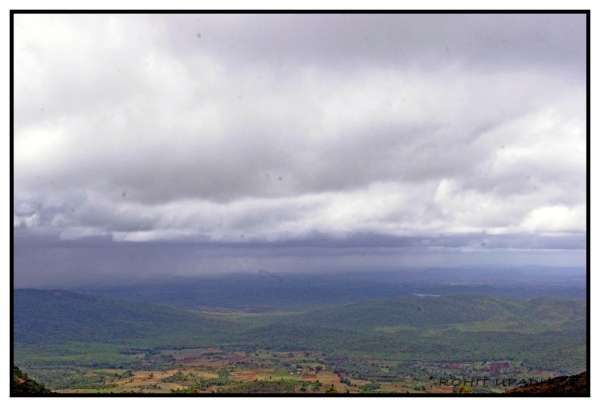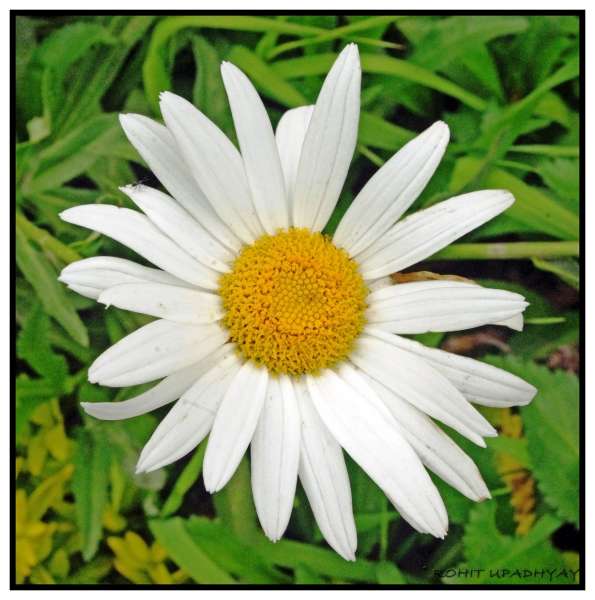 Sat at the top for few a while to admire and cherish the beauty of those mountains,fully covered with green beds.
It was time to move ahead...Mulyangiri was just 40 kms ahead of Kemmanagundi.I have already been in this route before and these 40 Kms will be going to take hell lot of time,as the road condition is pretty bad.
Coudn't find even a single soul in the complete stretch due to the bad condition of the route.But whole route is very scenic,these hills are like heaven on the earth..everything is generously god gifted.Luxuriant green grass, moss infested trees, sparkling waterfalls, rugged hills and most importantly pure air.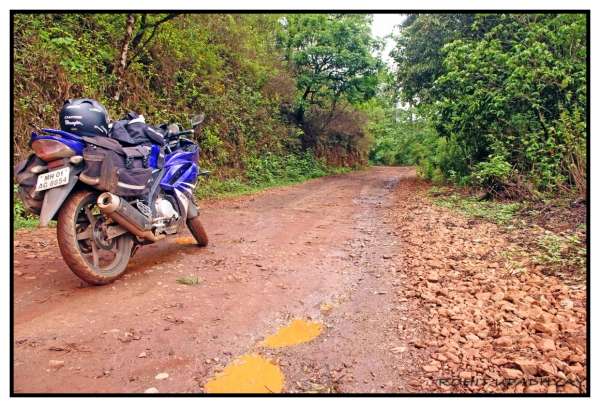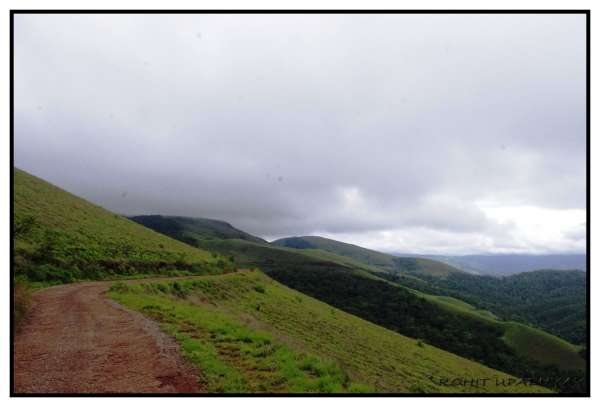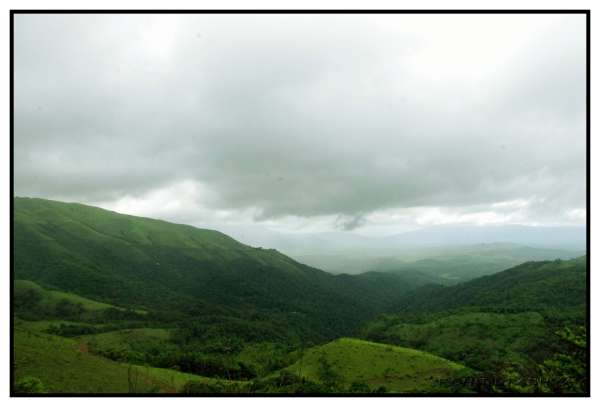 Mullayanagiri is one of the highest peak in South India standing at 1919 m.Some hairpin bends and I made it to the Mulyangiri top,but weather played spoil sport like the last time.It was all foggy,rainy and cloudy :)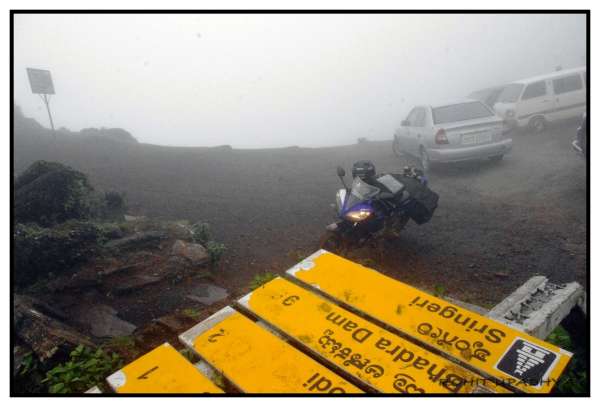 Chickmanglur was another 16-20 Kms from there.Reached chickmanglur and headed towards Belur which was just 26 Kms from there.View while descending down from Mulyangiri.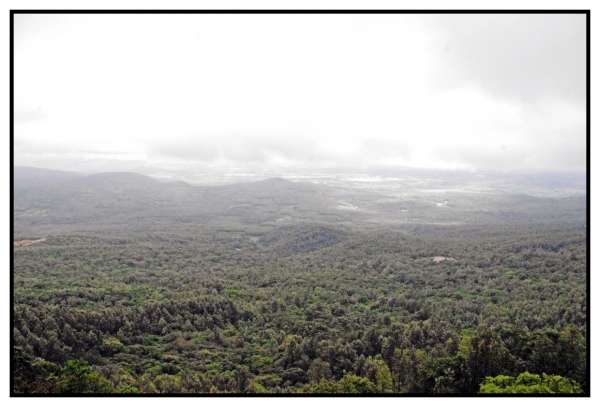 Belur is famous for the exquisite Hoyasala temples.Road condition was very good with very less traffic.So reached Belur in No time.Headed straight to the Belur Temple.


Belur Temple - Belur was the Early capital of Hyosala Empire.That is why its is gifted with the belur temple having amazing architecture and beautiful sculptures. This temple is one of the marvel of Hyosala Empire.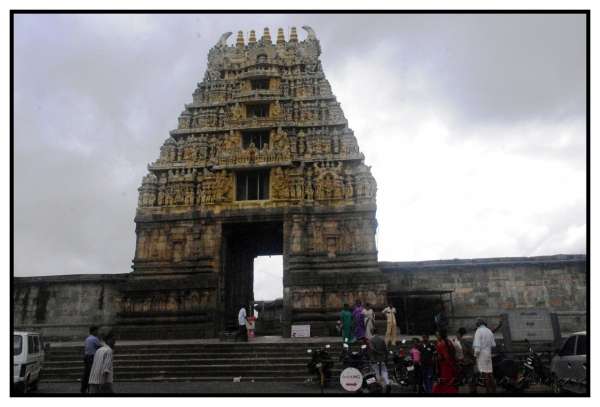 The main attraction in Belur is the Chennakesava temple complex which contains the Chennakesava Temple ( dedicated to Chennakeshava , meaning handsome Vishnu) as the centre piece, surrounded by the Kappe Chennigraya temple.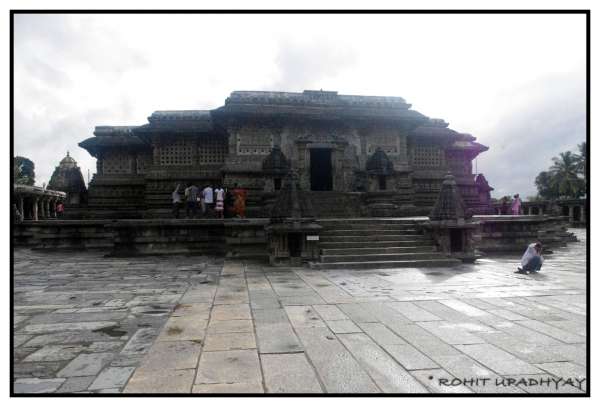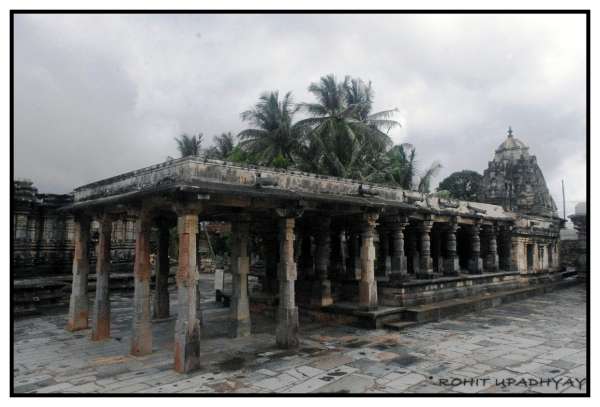 These temple were built by king Vishnuvardhana in commemoration of his victory over the Cholas at Talakad in 1117 CE. Legend has it that it took 103 years to complete and Vishnuvardhana's grandson Veera Ballala II completed the task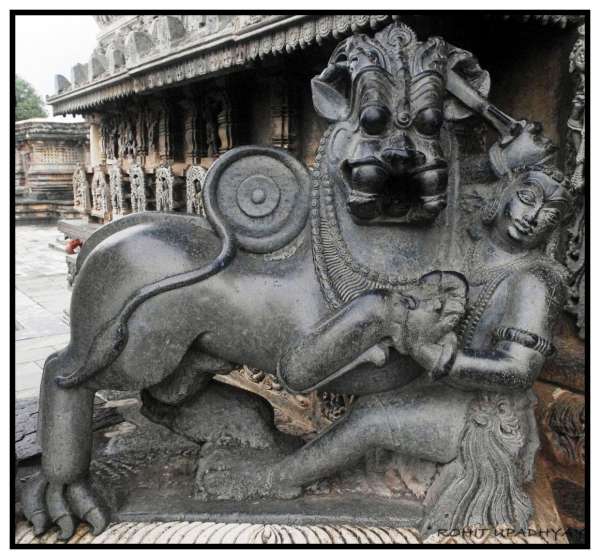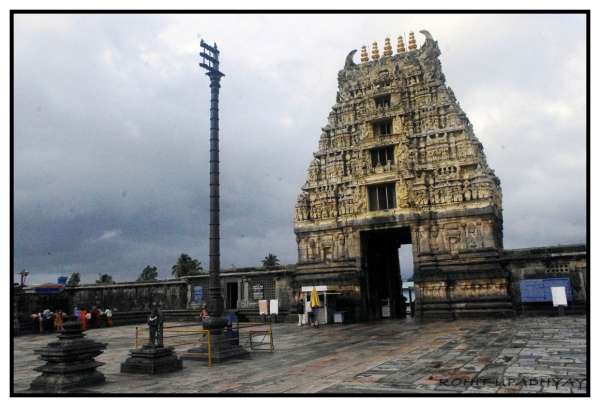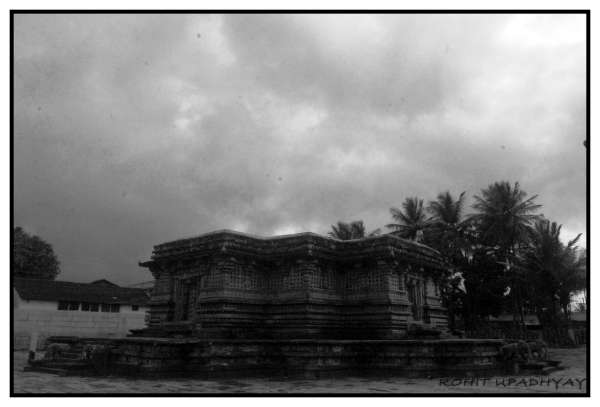 Next stop was Hailbid,another 17 kms ride.While i was leaving belur,Locals told me that the Temple in Belur is made by father and the temple in Hailbid is made by son.Beauty of the Belur Temple can be seen-enjoyed from inside.However Haibid temples beauty is all outside on the walls of the temple.

Halebid - Halebid means ruined city,reason behind giving this name was,the city was raided-ruined twice by Bahmani Sultanate.But the temple carvings were in very much preserved and undestroyed condition.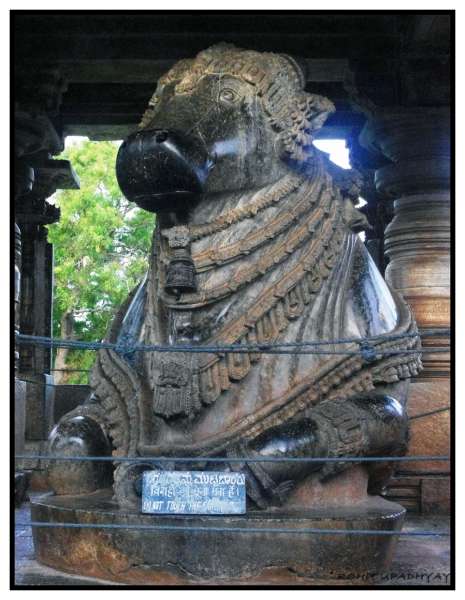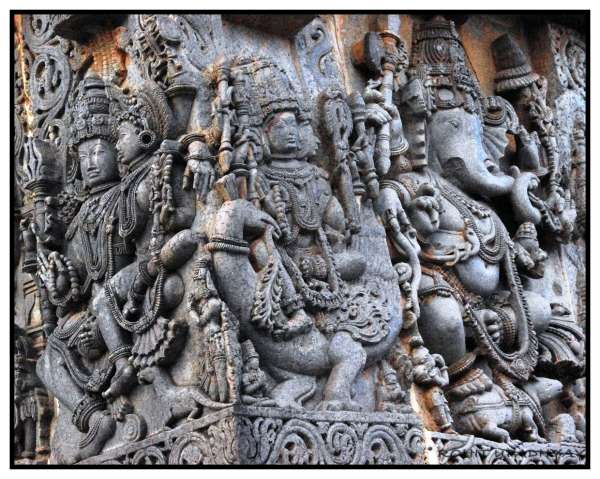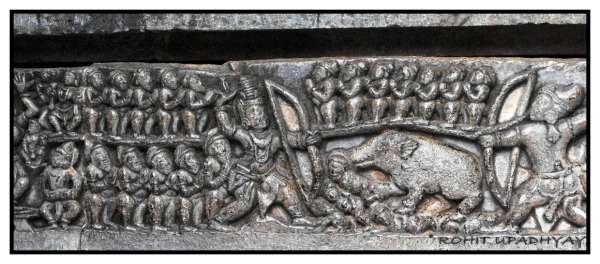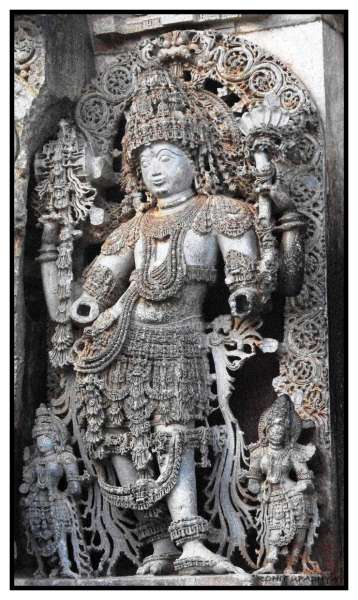 Ah !,these carvings reminded me of Khajuraho.What an fine piece of art work on stone.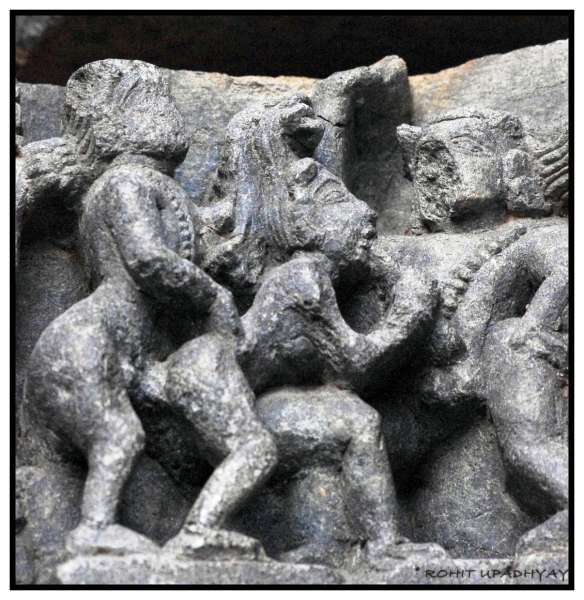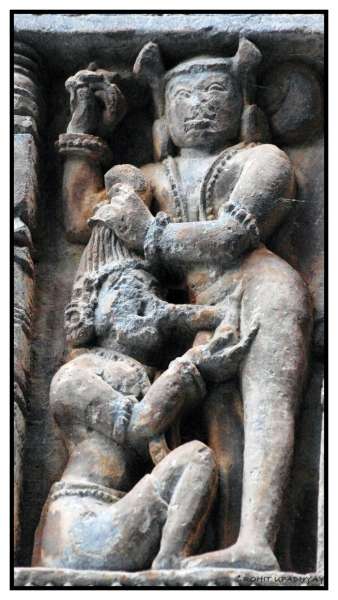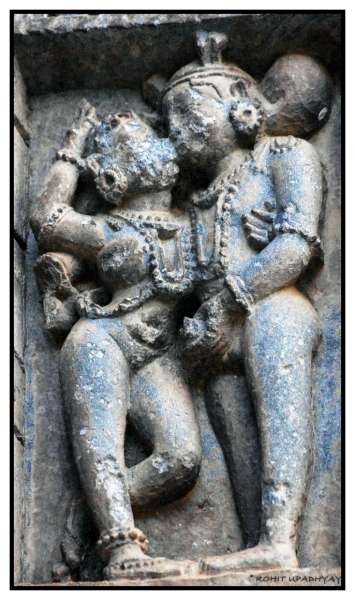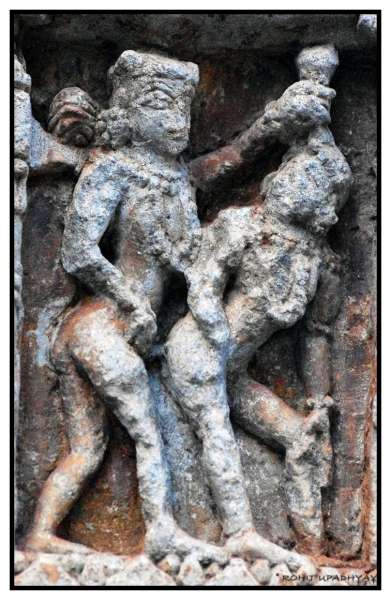 It was 06 O clock already,time to find some nest for rest.Plan was to head towards Hiryur and when feel tired.Find some place in some town and stay for the night.Reached Banavar,spotted an Internet Cafe..So stopped for blogging.Spent 2 hours and so in blogging Day 3 log.Now was the time to search for a Motel,got one hotel for 500 bucks per night.Just when i have been asked to submit the Room Charge and some advance,i noticed that i had only 200 bucks in my pocket.
Oh Hell !!...Searched for ATM nearby,but they were closed.So i was left with no other option.I started riding towards Hiryur.Reached Hiryur in the night time around 11:30 PM,all the ATM's were closed in there too.Luckily spotted one Canara Bank ATM left unlocked,sigh of relief.Checked into a nearby hotel for 1000 bucks and slept in peace.
Ride Hard,Ride Safe
Cheers
Biru
_______________________________________________________________________________________
***Day 6 - Deep Dive Into The History***
Route:- Hiryur - Chitradurga - Hospet - Hampi - Hospet
KMs Munched: - 241 Kms
Expenses: -
Breakfast - 40 INR
Lunch - 100 INR
Fuel - 300 INR
Dinner - 65 INR
Motel - 700 INR
So the next destination turn out to be Hampi(Vijaynagara Empire),where history remains from Ages in the form of Ruins/Huge Boulders.Today God showed some mercy upon me and gave me a clear sky when i started from Hiryur.Hampi was still 200 Kms far from Hiryur.From Hiryur i took NH4 (Mumbai - Banglore Highway) to reach Chitradurga which was another 35 Kms.In no time i reached Chitradurga from where i had to take NH13 (Solapur Highway) to reach Hospet.Hospet is the main town which is reffered to reach Hampi.
Stopped for a quick breakfast and chai break.I asked idli and Sambhar,and they served me Idli-Sambhar along with Mirchi-Bhaji.Without complaining about it i tried few bites of Mirchi-Bhaji along with Idli-Sambhar and it tasted pretty good.After some pretty good taste development excersice i started for Hospet.In between faced little bit of drizzle,but it didn't last longer.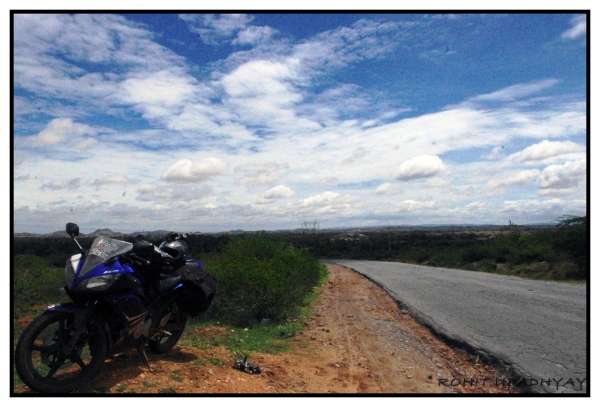 Moved around 30 Kms on NH13 and fuel indicator started blinking.Time to refill,but to my surprise didn't got any fuel bunk in next 48 Kms,Now i was little worried.I stopped and asked one of the local,
"Boss Petrol Pump,How many kms ??".
He said some "Indey..Undey..Naal."
I said "Hindi...English"
Then the intelligent guy waved his hand with 7 fingers,I said thank you very much and moved ahead.But those 7 kms turned out as 21 kmm and i saw a sign of HP giving me some relief.
I made it to Hospet at 12:30 PM.Hampi was just 12 kms away.Without wasting time i headed to Hampi.
Sky looked so beautiful and blue that i was stopping for clicks every now and then.Just when i was taking some poser shots,a local farmer bumped into me and striked a conversation.
Local Guy - Saar,Coming from
Biru - Pune
Local Guy - Tourist coming,little little english knowing
Biru - Good,India Shining :)
Local Guy - (Suddenly turned into a GAYlord) You look beautiful,you like 2 men, 1 men Sex.
Biru - I said wtf, 'Tu toh khule aam ladke ched raha he'.No Thank you.
Local Guy - Less price,more fun.
Biru - Ok..Only if you pose naked with this helmet ON.And he literally took out his Lungi in the middle of road.I shouted on him with some strong abuses and finally he took off.Damn ! that was close. :D :P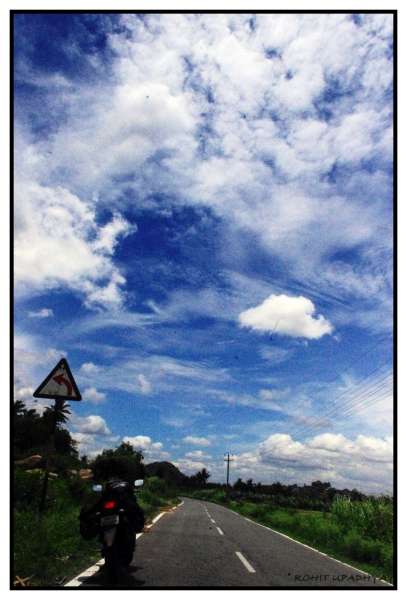 And a poser shot for Wrangler :)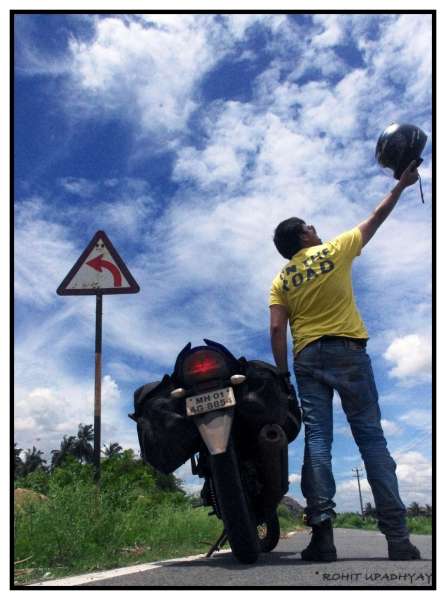 Mohammad Khabristan and Dargah - These are tombs and grave structure in typical Bahamani characters They are known for austerity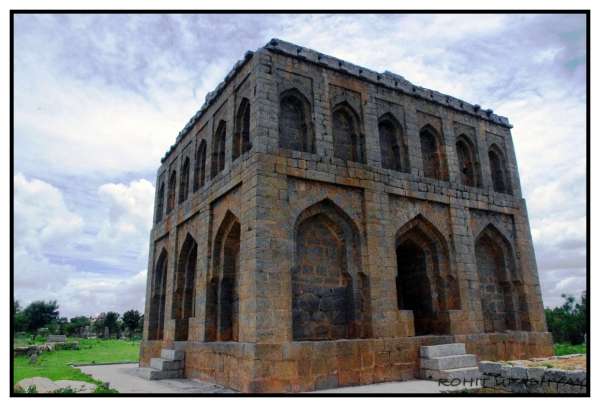 In a matter of few minutes i made it to Virupaksha temple.
Virupaksha Temple - Virupaksha or Pampa-pati as Lord Shiva is known here, was the patron deity of the Vijayanagara rulers, and it is perhaps fitting that this is among the few temples where prayers have continued, uninterrupted by the centuries.Though its off season,but it was still packed with tourists and pilgrims.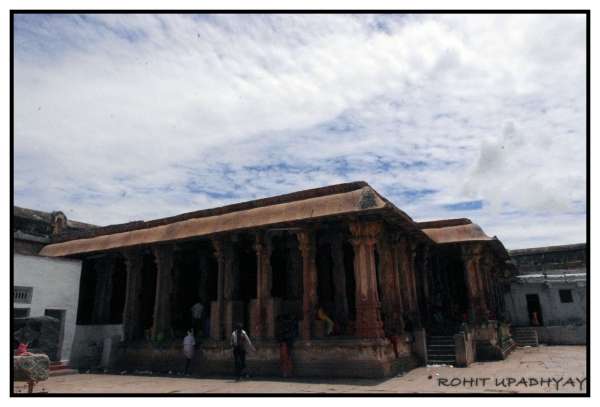 While exiting the Virupaksh temple its worth visit Hemkuta temple. One can see the dumping of large stones there and surprisingly the architecture of dumping the stones was unique. The large stones were at the top of the stack and the smaller stones were at the bottom – the whole structure was rock solid. It was like they were stragically placed.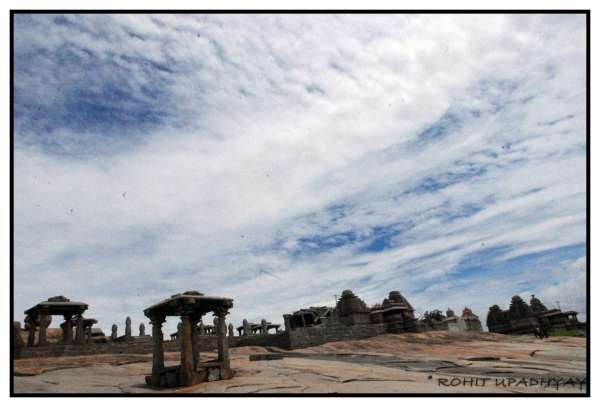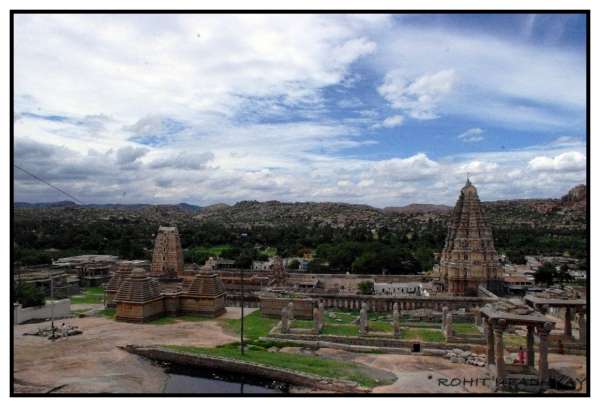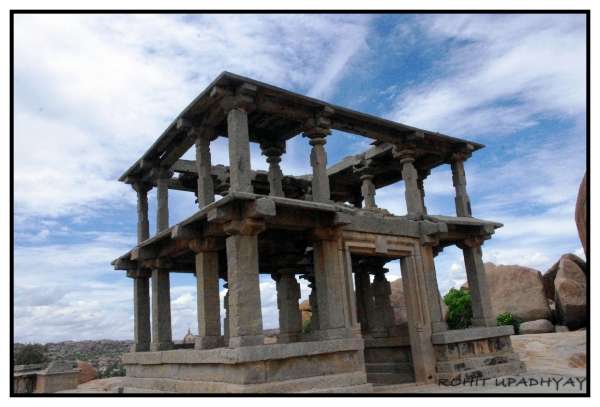 Ekshila Nandi -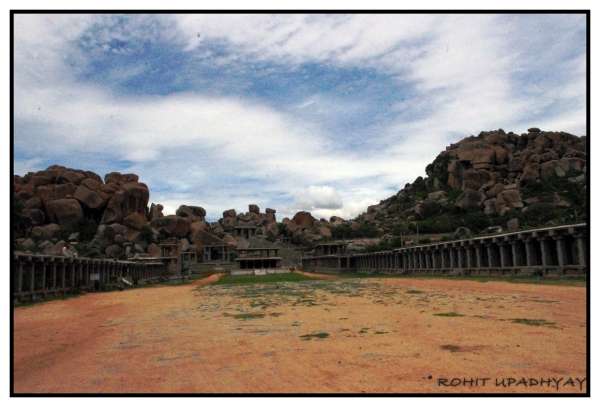 Krishna Temple and Krishana Bazaar -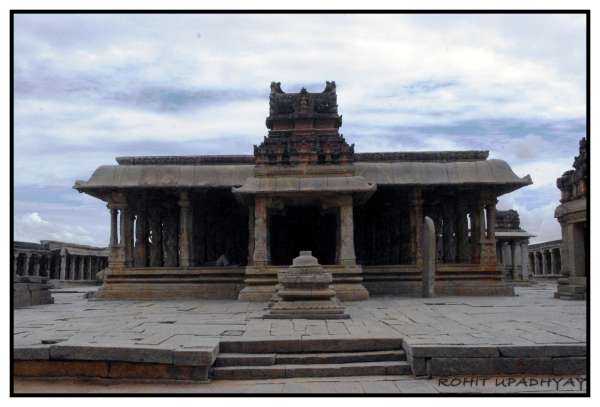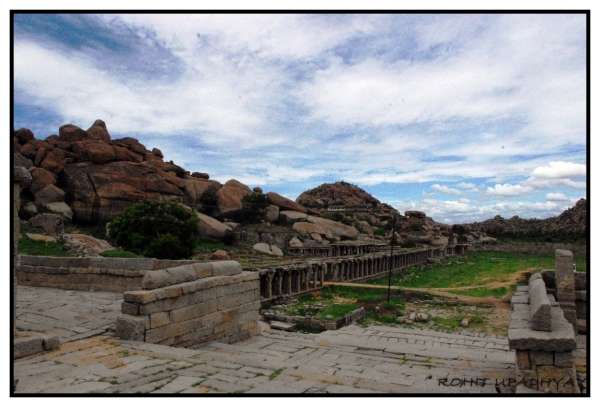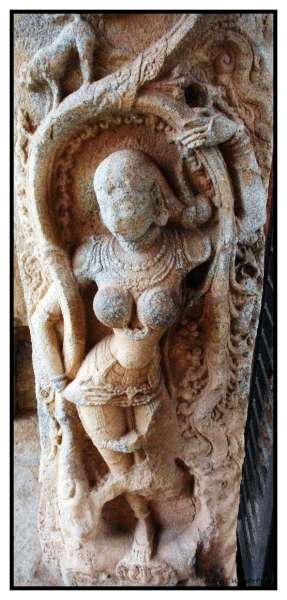 Vithalla Temple - The Vitthala temple is the most beautiful structure in Hampi.Though most of its parts are now in delicate condition..specially the main temple where tourists are not allowed to enter. :(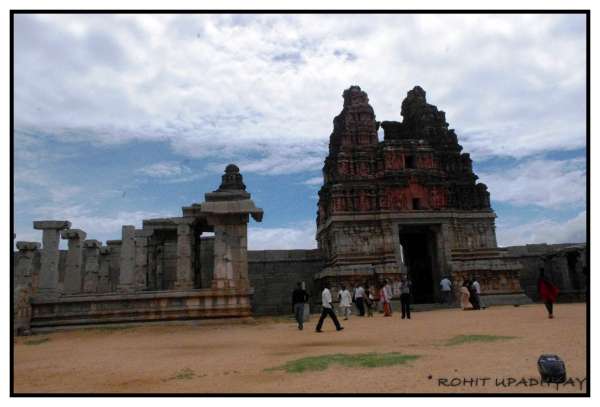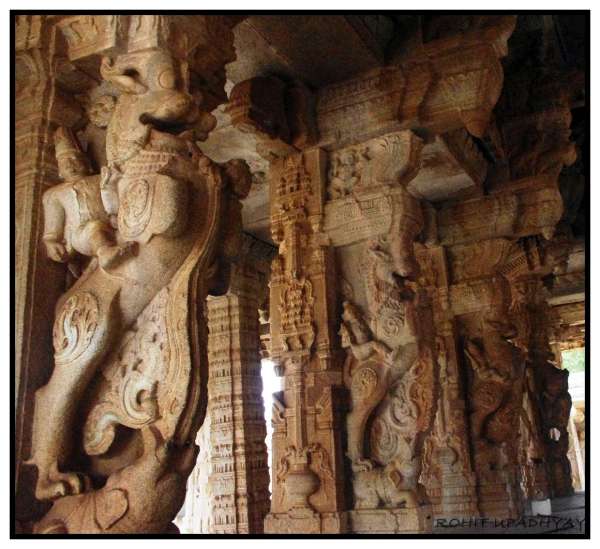 And here is the stone chariot which is the most famous and most photographed structure in all of Hampi…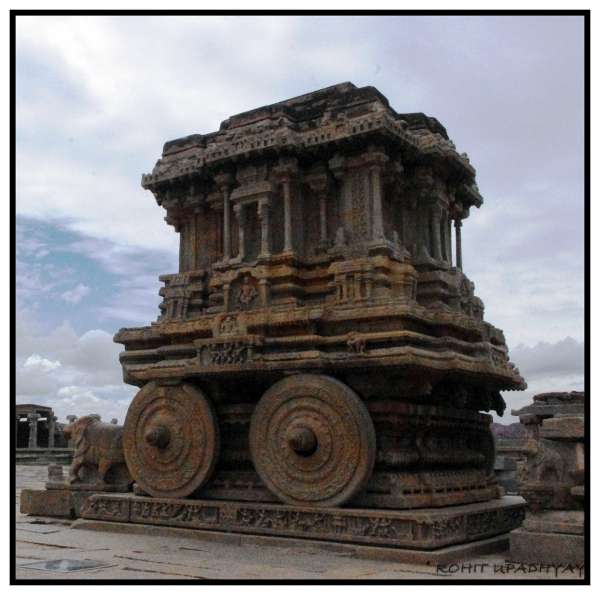 Lakshmi Narsimha Temple - The huge, monolithic Lakshmi Narasimha idol.This represents the fouth incarnation of Lord Vishnu.It is one of the finest example of the Vijaynagara sculpture.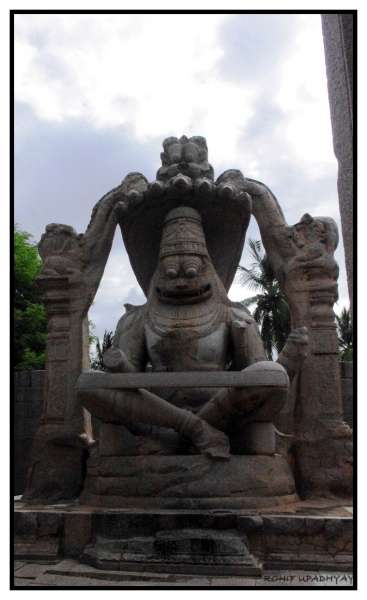 Badavilinga Temple - This 3 mts high Shiva Linga is also a monolith similar to Laxmi Narsimha carved out of one rock in situ,the pedestal remains in the bed of the water within a small damaged shrine.Legend has it,that it was comissioned by a poor woman.
Sasivekalu Ganesha -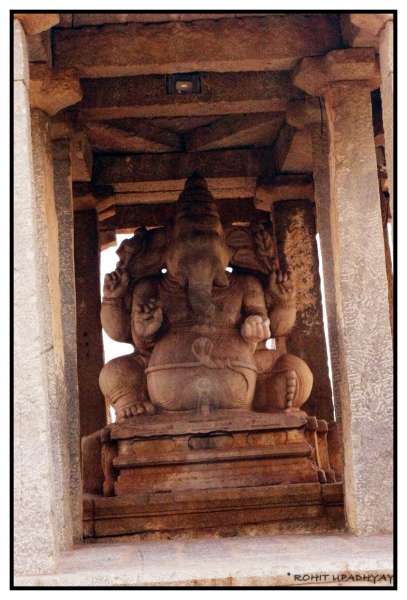 Tungabhadra River - Famous for the coracle ride, the way to the river is next to Virupaksha Temple. I was disappointed a little bit as no coracle was available. A Yamaha motor driven boat was available there to cross the river. They charge 15 bucks for one way and remember the last boat is at 6PM.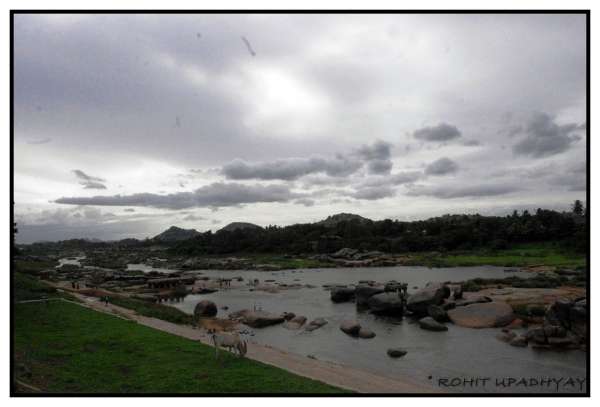 I finished my Hampi darshan and went back to hotel as it was time for some rest.
Ride Hard, Ride Safe
Cheers
Biru
________________________________________________________________________________________________

***Day 7 - More Of Vijaynagar Ruins And End Of The Wandering***
Route:- Hospet - Aihole - Pattadakal - Badami - Ramdurg -Belgaum - Kolhapur - Satara - Pune
KMs Munched: - 684 Kms
Expenses: -
Breakfast - 25 INR
Fuel - 300 INR + 710 INR
Lunch - 45 INR
Motel - 900 INR
And here comes the last day of the Wandering,Today's plan was to ride through and explore some more ruins of Vijaynagara.And the most important thing,clear the backlog of blogging.So I spent the first half in blogging and the second half in exploring Badami,Aihole,Pattadkal.To reach Badami from Hospet we have to continue on the NH13 (Solapur Highway) for around 60-80 Odd Kms and then there is a diversion to left from there,Badami is around 30 Kms.While coming from Hospet direction,the first place you reach is Aihole,Then Pattadakal and then Badami.Post Hospet NH13 is in very very bad shape.Also the four laning of the road is in progress,due to which the road has become quite messy and the Heavy Vehicle traffic added some difficulty in the riding.
I stopped in a small town named Yelbarga for some brunch,luckily the place had internet connectivity.So i stopped there to clear the backlog.Since the connection was very slow it took around three hours to post the Day 04 and Day 05 log.Phew !,time to move ON.
So i was there again In between those Vijaynagara Ruins the structures who witnessed the days of glory which are long gone. The ruins which stand silent today. If only they could talk, what a story they would unfold. Intricate carvings, magnificent images and sculptures, exquisite architecture. You can easily lose yourself in these historic ruins and sit entranced for hours basking in the aura of serenity they afford.
Aihole - Aihole was the first capital of the early Chalukyas. Aihole is to the west of Badami, along the Malaprabha river, while Pattadakal is to the east.

Durga Temple

The Durga (Fort) Temple is notable for its semicircular apes, elevated plinth and the gallery that encircles the sanctum. The interior is filled with fascinating carvings. Chamundi Devi trampling the buffalo demon, Narasimha - the half-man, half-female deity. Then there is image of the fearsome Mahishasuramardini or the Mother Goddess Durga destroying the demon Mahisha. The temple appears to be of the late 7th or early 8th century. Then there is image of the fearsome Mahishasuramardini or the Mother Goddess Durga destroying the demon Mahisha.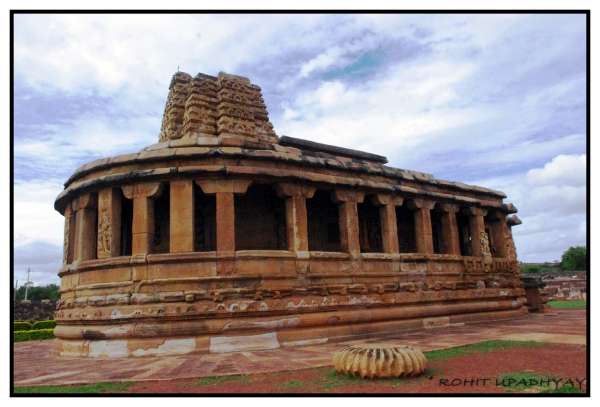 Ladkhan Temple

The temple was built in late 7th or early 8th century.The oldest temple here is, perhaps, the Lad Khan temple located south of the Durga Temple. It consists of a shrine with two mantapas in front of it. The God here is Lord Shiva.The temple was built in a Panchayat style, indicating a very early experiment in temple construction.The windows were filled up with lattice work in the northern style and the sanctum was added later on.In front of the sanctum there are a set of 12 carved pillars.Above the center of the hall, facing the sanctum, is a second smaller sanctum with images carved on the outer walls.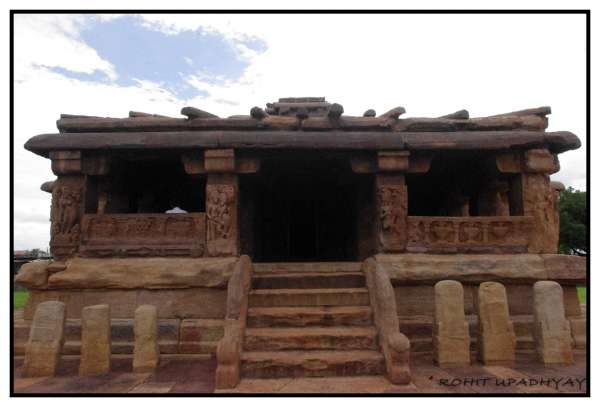 Gaudar Gudi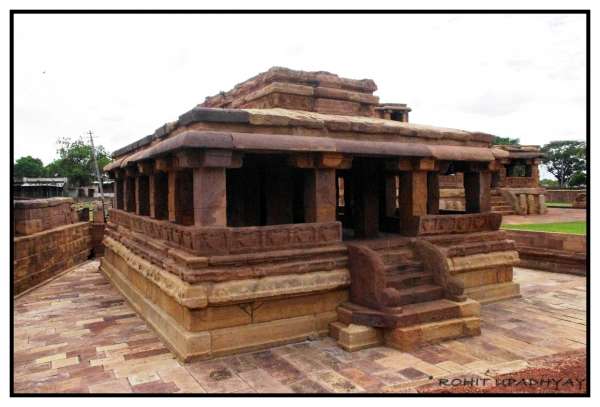 Ambigera gudi complex

Bang opposite to Durga Temple.The temple stands on a elevated platform and appears to be a 10th century creation.The complex has got its name from the Ambigera community which stayed near it.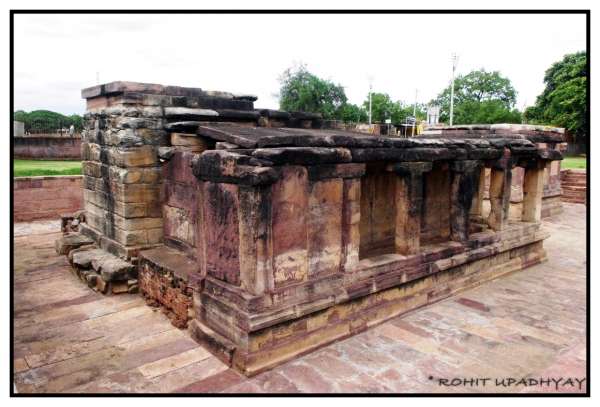 On my way to Pattadkal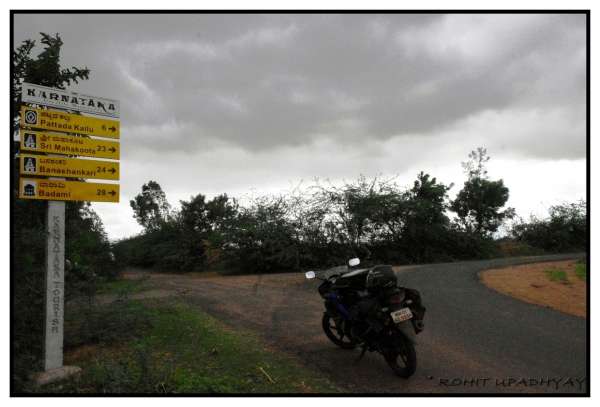 Pattadakal

Pattadkal temple complex is set along the banks of the Malaprabha River, the beautiful village of Pattadakal is a UNESCO World Heritage Site for its ancient temple complex.The sacred temple complex of Pattadakal consists of 10 major temples, each filled with beautifully textured carvings and pillars.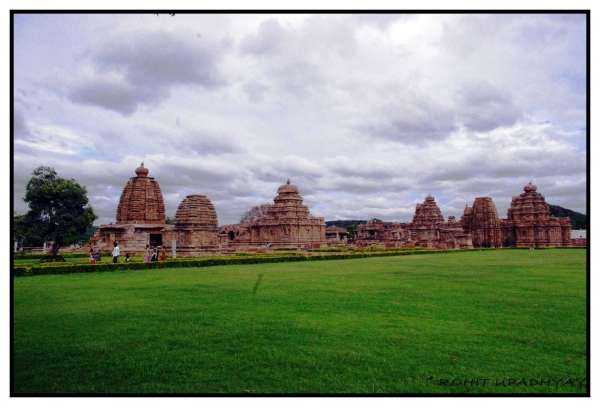 Virupaksha temple
It was built by the queens of Vikramaditya II in honor of his victorious battle against the Pallavas of Kanchi in the year 735 CE and the temples were named by them after themselves as the Lokeshwara (by Lokadevi) and Trailokeshwara (by Trailokadevi), which came to be known as the Virupaksha and the Mallikarjuna respectively. The temple is rich in sculpture like those of Lingodbhava, Nataraja, Ravananugraha & Ugranarasimha. Built in the southern Dravida style, it is the largest temple in the enclosure.
The Virupaksha temple, probably the most beautiful of all temples here is in the south Indian style and is almost a replica of the Kailasanatha temple of Kanchi. The 18 pillars in the temple has carvings depicting scenes from the puranas in each of them. There are also carvings of Ravananugrahamurthy, Narasimha, Gajendramoksham, the dance of Shiva.
A Nandi right in front of the temple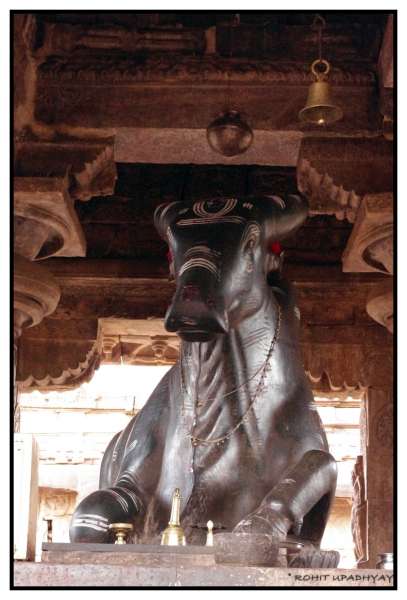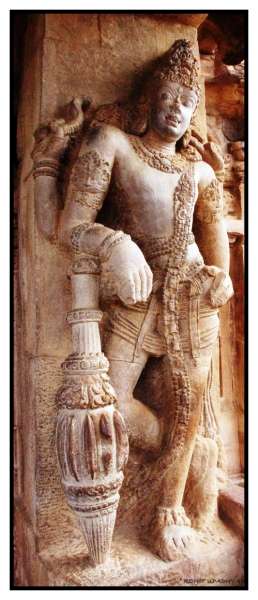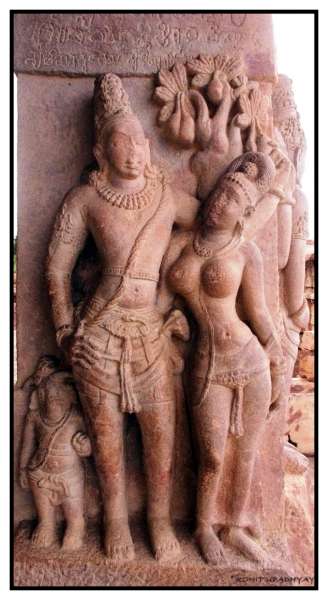 Sangameshwara Temple

Temple was buit by chalukya emperor Vijayaditya (696-733) and Orignally called Vijayeshwara,the Sangameshwara temple impresses one by its striking simplicity.The huge temple has main shrine and two subsidary ones.The nine lattice window allwoing light into the circamambulatory path are unique in thier geomatrical patterns and skilled workmanship.The thick and heavy walls of the temple have unfinished images of Vishnu,Varaha , Gajasuramardana,siva accompanied by nandi etc.Queer dwarf looks like carrying the weight of the temple.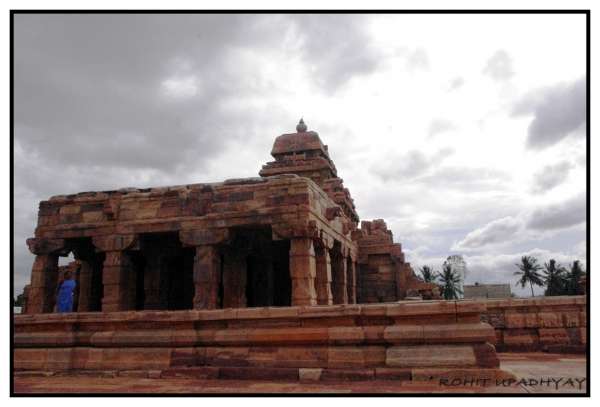 The Kashi Vishveshwara temple

Buit with Nagara (Curvilinear ) Shkhara and about 40 feet in length and 25 feet in breadth,this temple is a 8th century creation.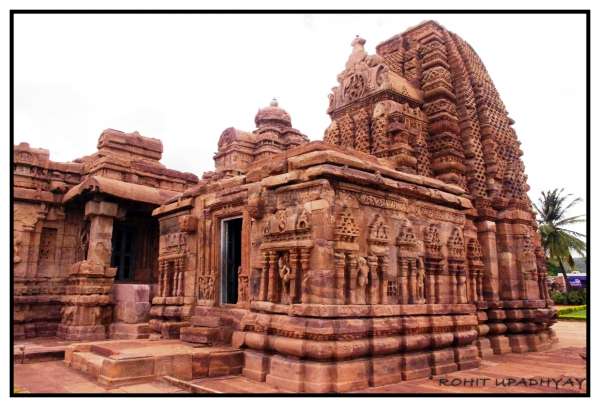 Badami - Badami(also named as Vatapi) was the center of the Chalukyan empire.Badami was founded in 540 A.D. by Pulakesi I(535-566 AD).This place is a home for several rock cut out temples.
There is a fascinating Legend that there were two demon siblings Vatapi and Ilvala who had a trick by which they could kill and make a meal of mendicants passing by. On his journey south of Vindhyas, Sage Agastya was invited by demon Ilvala for a meal. Vatapi would turn into a ram while Ilvala would cook the ram's meat and offer it to the guests. Once eaten, Vatapi would come out splitting the stomach of the guest, thus killing him.
But they didn't knew "Unka pala agastya muni se pada he". Agastya knew the whole plan and digested Vatapi before he could come out, putting an end to the evils of the pair.
Badami Caves,Bhoothnath temple,Badami fort and plenty of acient temples are very near to the city,One can easily go walking to those place.But i decided to take my bike with me.

First place to be visited was Badami Caves,there was a nominal entry charge of 5 rs.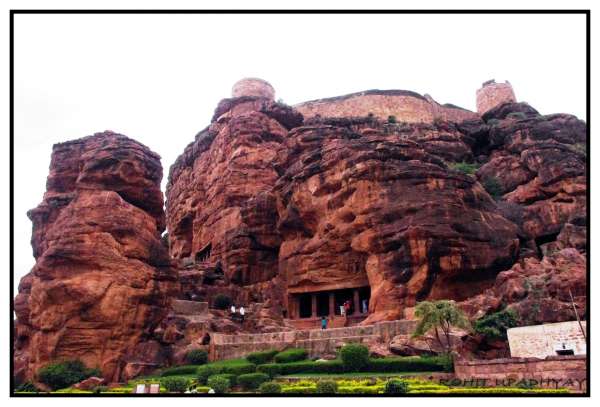 There are 4 cave temples shows the religious inclination towards Hindu,Jain and Jain gods.
First cave which is the oldest one has very beautiful carvings of Shiva in his Nataraja avatar, performing tandava.
We can also find the carvings of the god in the Ardhanarishvara,which are known as Half man and Half women, the woman part represents his wife Parvati.
There is another carving of which the right half is Shiva - the Destroyer and the left half is of , Vishnu - the Preserver.
Caves 2 and 3 are dedicated entirely to Vishnu, whereas Cave 4 is has an image of the Jain tirthankara, Adinath.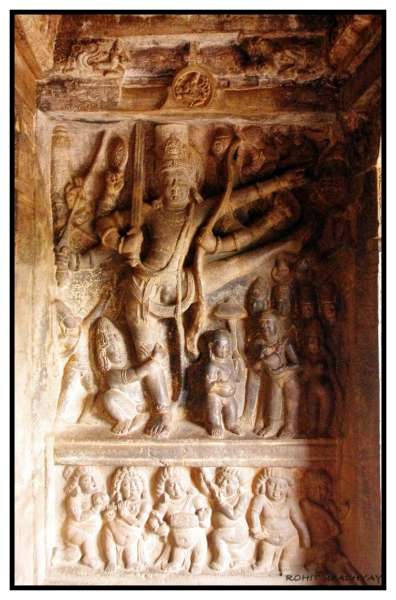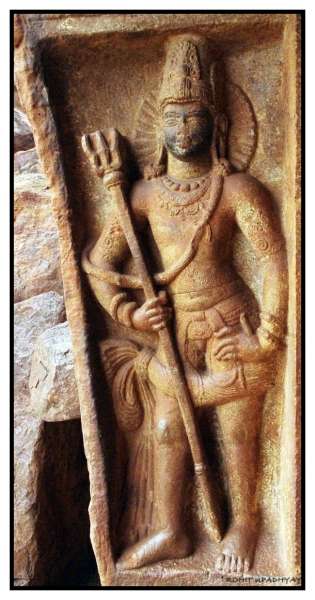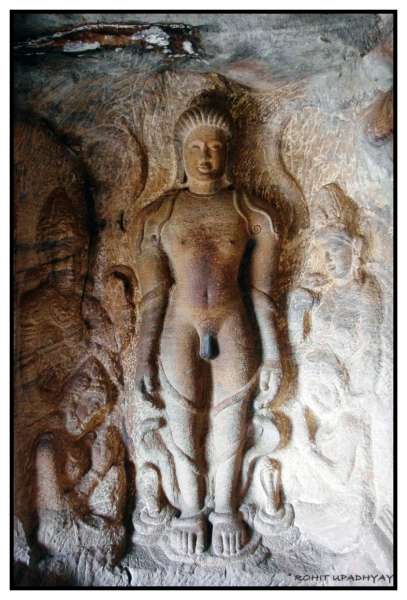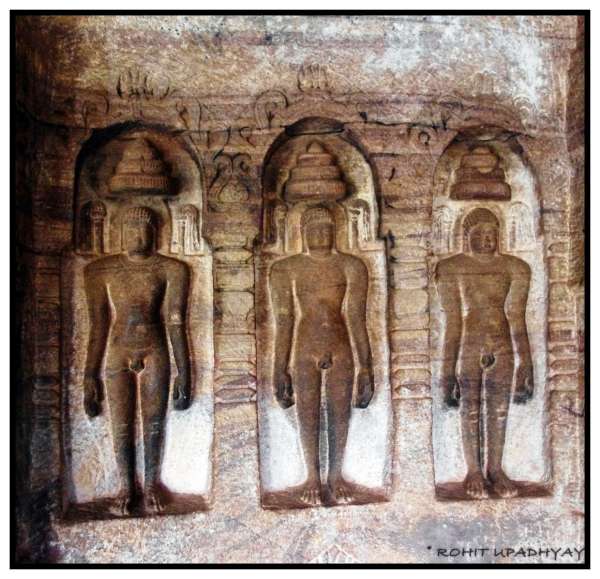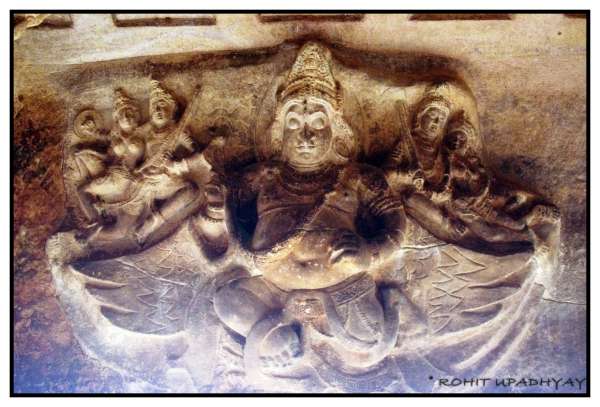 Agastya Lake and Bhootnath temple

Bhootnath is another form of Lord Shiva as God of souls, spirits and ghosts. Bhootnath temple is dedicated to Lord Shiva, the destroyer. The temple all dark inside has an image of Shiva in an angry and irate temper.Unfortunately i was too late,Temple gets closed by 6PM.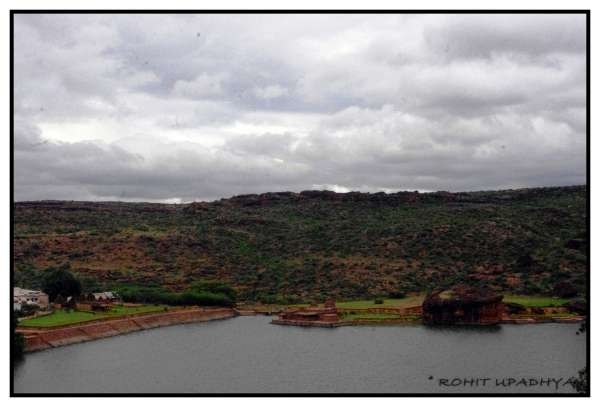 And the beautiful small town Badami.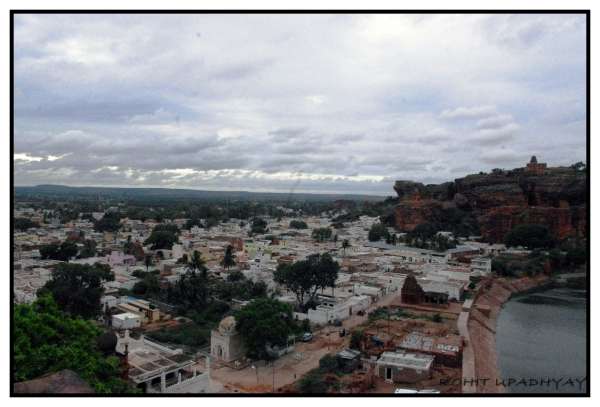 What a beautiful day,memories of my earlier ride got refreshed.Went back to Badami Town and took a break for blogging the Day 6 journey.Spent two hours and i was off to Belgaum at 08:30 PM in the night.State Highway was not at all good till Ramdurg.Things got better post Ramdurg but it started raining again..Very Heavy rains with some strong crosswinds.Somehow i managed to reach Yergatti and was in no mood of continuing ahead,but the last 300 Rs i had in my pocket,i spent it on Fuel top up at Badami.So having no other option in hand i continued till Belgaum.Halted at a ATM,withdrew some cash and checked in a Hotel which was bang on the Highway.
In the Morning, i started at 09 AM and again the rain Saga continued till i reached home at 02:15 PM
Cheers
Biru
***END OF ANOTHER EPIC JOURNEY***
These last 6 days i have rediscovered a lot about myself that seemed so lost.When you travel alone with bunch of bags for a seven days you realize how little you need, and everything you do need is in your heart and the memories you have in your mind.Got little bit emotional as i wished if this Journey could have lasted little bit longer :)
Had ups and down like most of the long road trips do.Covered around 2551 Kms of National Highways,StateHighways and on the unclassified routes.Explored the beauty of the Konkan Coastal Region,Western Ghats and Vijaynagara Ruins.5 Days of heavy rains,2 days of Sunny day.Series of hiccups,disasters and experiences .All in all,A remarkable journey which will stay in my memories for forever.
This marks the end of my travelogue "7 Days of Wandering to The Unknown Avenues"
At last i want to thanks again to XBhp and Wrangler for awarding me with such a great opportunity.
Cheers
Biru