Initial Struggle to be a part of this Dream Journey
Its been quiet a while this trip log was pending. Its taking time to remember, re-arrange the pix which are in 1000's. Afterall this was a journey of 21 days on 2 wheels, need time to recollect each moments we spent each day. While on the journey I could say the dialogue "I live my life Quarter Mile A Time.!" So am trying to re-collect the moments & pen down this trip log from my point of view. Here I would like to let you know about how easy/difficult it was for me to get ready for this mammoth journey. I will never forget what it took for me to convince my near ones & how the unplanned plans where planned.
This all started suddenly, we four riders joined in without any expectations. I met Prasad through one of my friend, as even Prasad was a tourer & insane about bikes & hence my friend thought of introducing us as we both shared the same passion & belong to same species "Biker". On first meet, he said he was planning for a ride to Ladakh. Hearing this & getting excited without a second thought & without knowing the real feasibility I gave my confirmation for this ride. To which he counted on me. Later I mentioned on xBHP thread & ride that am planning to go Leh this year. All of a sudden I get a private message from Mr. Gopi (aka RazorBlades) saying even hes interested for this ride. I met gopi on a xBHP Ganpatipule ride & interacted offline on xBHP. I never took this plan that seriously & the things started shaping up. All thanks to Prasad for taking this initiative & keeping the journey plan alive, he started working hard & making plans, itinerary collecting info & mailing us. There was also one of my friend (Lucky) who showed an initial interest for this Dream Journey, now this forth guy. So tentatively we four riders where suppose to start this journey if at all it happens. The days started nearing, things where getting real serious. The forth Guy due to some problems dropped off. Now the journey was on three of us. Making my parents understand was an extremely difficult task. But somewhere I had a faith am not gonna miss this lifetime ride. The main reason behind my parents denial was, Once on discovery channel they where showing a Journey to Leh, the host was in a SUV & his narration where "Look at this road, all ice everywhere, my vehicle is not able to get a grip at all on the roads, I may fall anytime, this mountain are very vulnerable for land slides. I cannot breath now, I need oxygen. Its very dangerous here". This things made my parents firm for not sending me to this place called "Ladakh". Damn.. I hate that bloody anchor. To make my situation more worst, just 15 days before the journey I met with a serious bad accident. Had some deep cuts & worst bruises. I left hopes, so did the other two (Prasad & Gopi). Days passed by, my wounds where not completed healed but on the verge of. I gave my fellow riders & myself a hope of trying one more attempt of making my near-ones understand about how important this journey is for me. The day came, when I dared to re-ask my parents for this journey & they straight away said a big NO, lot of emotional stuff & swears where given. I had to do lot of acts & various roles ;) (courtesy : Hindi Films), like not eating food, being depressed (which I really was watching my dreams getting shattered). One day dont know what happend I just went with Gopi to buy some things for this journey. I got Saddle Bag, Sleeping Bag, Knee Pads & rest of the stuff I already had. The evening I bought this things home, my dad was badly pissed off, he didnt even let me watch MotoGP as bikes where shown up. I said them, "Alright, am not going for this journey but henceforth no-one will question me for what I do or where I go & tears rolled down." Later due to gods grace even they understood how important this ride is for me & can give up anything for this. They started getting affirmitive & having confidence on what am doing & finally they agreed (Thanks Mom, Dad). Infact they started taking interests in the preparations, making the checklist, dad helped in getting things & ensuring everything is in place & am not missing anything. Packed up my bags with all the required things like Clothes, Bike Spares, Medicines, etc.. I promised my parents & my better half "Just have a faith & let me go, I wont let you down & I Promise will return in the same way am going, Nothings gonna happen to me, I swear." I informed about this good news to my friends & fellow riders & everyone was damn happy about it. Again my dream became alive & then I knew "Am soon gonna meet my destiny.. Just have a faith, Believe in Yourself..!" This developed an anormous confident in myself.
Just 2 days before the ride day, I get a call from Razor telling me even Winzee (Fellow xBHP member) is also seriously ready for this ride. I was like WTF.? How a person can get ready for this massive journey in mere 2 days. (FYI, hes just 22 & completed his T.Y exam). But somehow he did manage to get ready for this ride & completed our checklist for the journey. Lots of xBHP members helped him out sharing some stuff to him & last moment everything was final now. We four riders where going to get LEH'd very soon. Finally, the "Big Day" was here. None of us could sleep the entire pre-journey night. Lots of mix feelings where going on, excited, nervous, afraid, happy, curious. Razor called me up the previous night to know if I was sleeping, even I wasnt sleepy at all. Tried many times to close my eyes, but cannot get that feeling & curiosity out of me. Just we all where too anxious & waiting for the Big Day to arise..!

Info :
Riders & Rides
Rachit (Myself) (Karizma)
Prasad (Royal Enfield, Electra)
Gopi aka Razor (Apache RTR 160)
Winzee (Pulsar 150 Dts)

The Big Day , Journey Starts.,..
Day 1 to Day 4 (6th June - 9 June 2009) (Mumbai-Delhi)
Day 1 : 6th June 2009 (Destination : Ahmedabad, Distance Covered : 561kms )

I woke up by 4am. My eyes where Bang opened at the alarm tick. Got ready & geared up with the Jackets, Gloves, Knee pads. My friends where already waiting for me by my bike. Saddled up the bags which was the most difficult part for me as I had never done this. Somehow we all managed to do it. My parents came till the bike to see me off, I touched their feet & took their blessings for this journey & said Good Bye..!!. Promised them will call everyday.

We where suppose to meet at Hotel Fountain, Ghodbunder, Thane at 5am. My good old friends accompanied me for a see off till hotel fountain. I couldnt believe I was going to be out for 21 days without meeting them. Prasad accompanied me on the way & Reached hotel & it was truly amazing to find wonderful fellow xBHP friends already present before us to wish us a wonderful journey. Thank-You so much guyz. We commenced our journey by breaking a coconut which is kind of a Good Luck & acquire Gods Blessings, Gopi was totally unaware of whats going on, later we made him understand. Few pix where clicked here & finally we started for the journey. Seeing so many well wishers we than realized, Man.! We going for something big..!! Wouldnt have been possible without any of u my friends..! Thanks for being there ..!! it was a special moment for each of us travellers.
Gopi & Winzee where already waiting. Winzee didnt had any saddle bags, jacket. Our lovely xBHPians friends helped him with this stuff & he was now all set for the ride.



Before starting for this journey, we discussed & decided some discipline rules for the entire ride. Everybody will be in a formation of zig-zag, each of us will have a responsibility of his follower to keep a watch from his RVM, no body will overtake a vehicle from Left side no matter how long it takes for a vehicle to give us a side, lights on, max speed will be 80-85. This where the things which we very well followed throughout our journey & really helped us to have a safe ride overall.
We left from the hotel. Rode for around 80kms approx, me & gopi stopped for a while to drink water & for others. I was damn hungry as didnt had anything in morning & left. I was just telling about my hunger & Gopi came out with a lovely Chicken Sandwich which he packed from Fountain Hotel.. Vow.. God Bless you Mr. Gopinath.! He had bought 4 sandwhiches which we had & resumed the journey & amazingly none of us where hungry for quite a long time. The Ahmedabad highway is extra-ordinarily
As we entered Gujurat we faced the worst traffic of our entire journey. There was some construction going on for almost 10-15 kms, & literally we took over 2 hours to pass through that. The traffic was just stalled. Thanks for being on the smallest vehicle on the road we could somehow struggle & get out of the hidden gaps among the vehicles. Lot of times our saddle bags got stuck in between cars, then we realized we are loaded on bike apart from us & had to be careful with those saddle bags. As we stopped in the traffic lots of people use to scream at us asking several questions from cars, bikes, bus. They where stunned to see aliens there. Some asked us are we from some racing teams, are we there for Dhoom3 (yuk,.!!) & lots of things. They even did asked us why are wearing this jacket in this baffling heat & we didnt had any answers as we where damn bugged by the traffice & the sweat dripping off the body. Then all of a sudden a Elder Guy came in & helped us by guiding us on a off road, which was suppose to be the shortcut to reach much much ahead of the traffic. He even did invited us at his house which wasnt possible for us. But thank you to this person who came in for our rescue & yeah helpful people do exist in all parts of India.
Finally made through the heavy traffic of our lives & halted for a refereshment break.





Wherever we stopped we ensured we have lots of water. The most expense of daily was on water. We where getting lot of attention, people crowded us wherever we halted. I was chosen by the board of Leh Riders to be the Finance Manager in the Journey. We daily contributed 500 Rs & took care of daily Accomodation & Food. We managed to reach Ahmedabad by around 4-5pm. The traffic was bad, heat was burning. We where having tons of chilled water from wherever we can get it. We stopped at one point & thought of checking some hotels for cheap. Couldnt find & then we left for some nearby place & asked a traffic policeman. He instantly pointed out a perfect & ideal hotel for us & we headed there. I am partially Gujurati so it was easy for us to communicate & make us feel comfortable with the localites. There was some guy with a pillion on some bike was chasing me in traffic & came next to me asking me "Sir, are you on some mission.?" I was like.. What.?? Mission.??.. I said no, we are just exploring places & went ahead..!
Finally found our hotel "Hotel Peace".


After lot of bargaining in Hindi, Gujurati for the room rate & telling him stories like We are on the entire India Tour & college guyz, hence please give us the room for less. We would also mention your Hotel Information on internet & am doing it right now ;).. We got a good deal, a nice AC room for 850 with television. Ordered something to eat & begged for Old Monk or some drink. To which he straightaway denied & then we realized we in Gujurat. Gopi was suppose to get a Old Monk, which he forgot & he got all the curses in return from us for this big mistake. Anyways we chatted for a while as it was our first night of the journey & with other members (we all are straight :) ). A day before we didnt knew much about each other & never spoke much. So this was the time where we all got comfortable with each other. Had our dinner, did some timepass, called up friends/parents & fell down on bed. Next day had to start by 5am & had to reach Ajmer.


Day 2 : 7 June 2009 (Destination : Krishangarh, Ajmer, Distance Covered : 600kms )

Today, we woke up on time as everyone of us was too curious for the journey. We got up & all set to leave by 5.30am. Here we faced a big hurdle of finding a way to come out of Ahmedabad city.
Damn.. We where revolving on the same places. Asked few people about the way out, gopis GPS helped us & we finally found a way through sabarmati. Around sabarmati, there was a beautiful Air-Force colony. Here we asked a kid about the way, he said we have to take a turn around a centre place where couple of pipes are there where the smokes comes out from. When we reached that circle, those where God Damn Huge Chimneys & a Jet Plane. And we had to stop here for a while to click some shots..


We had a breakfast & left from there to continue our journey. The roads where so beautiful, we where so busy riding. Passed by the bypass for Mt. Abu. Wonderful Ghat..!! Awesome road.. but lots of unexpected issues so we where ultra careful. Some trucks coming by suddenly in the wrong direction, cows standing in middle,..! Filled up fuels, it was somewhere around Udaipur. I went bit ahead due to some traffic & others halted to ask directions. So had to come back where this three guyz where waiting for me. Meanwhile Gopi & Prasad clicked some pix of localites



This lady insisted to take her snap & hence posed



Saw a Dhaba & thought of taking a halt after the ghat. None of us where at all tired, later looking at our respective odometers we realized we just did 210kms non-stop stretch..! It was amazing.. so had to rest for a while atleast for our machines.



It was remarkably hot & sun was smiling at us with the max heat..
Later on the way we started seeing the rajasthan characteristics, Sand around & camels.. Saw some camels, dry terrain, dry trees & stopped for a while to click snaps..



There was a spot where lots of roads, diversions, turns where taking place. We where confused, once even took a wrong way & rode for almost 20kms in the incorrect direction. We had to wait many times & confirm the right way. All of us where getting beaten by the worst heat & burning like hell. Gulping water like a dog. No doubt the roads where incredible & best among seen in the life. Never seen so much of dessert except for movies.

Finally after a descent ride & small halts after every 100's of kms we reached Kishangarh in evening around 9pm. Kishangarh is 20kms ahead of Ajmer.
Here too after lot of search, managed to find a good hotel & after lot of negotiations & the usual story got an AC room for mere 800 bucks..! Yeah, but there where lots of mosquitoes here, Gopi's Odomus came for a rescue & mosquitoes where dead :) The climate here was very dry & warm, thanks to the air conditioner. We had chicken tandoori (Gopis all time favorite) & finally prasads effort helped us to find a drink. After failing to get an Old Monk or any other known brand we got a Whisky named "AC".. Some Rajasthan made was it.. For munching Prasad got Lehar Numkin, it was opened in such a way that our destiny remained on the packet & we where all laughing..



It was tasting pathetic, damn strong.. None of us had it & went for a sleep.. We had to wake up early as the next Destination was the Capital of India, Delhi..


Day 3 : 8th June 2009 (Destination : New Delhi, Distance Covered : 360kms )

As expected, we could'nt get up early.. Courtesy : AC whisky & nice sleep.. :)
Got ready & left around 8.30am, winzee wanted Castrol Oil, I mean his bike wanted. Today we where to reach Delhi & where quiet excited to come on bike from Mumbai to Delhi.. Reached at the diversion which is taken for Jaipur & had breakfast. Soon we located a mechanic & bought the Oil for Winzees Bike. The mechanic changed the Oil of pulsar & lubed our bike chains as well.

In the meanwhile, my lovely Mumbai xBHPians where co-ordinating with fellow Delhi xBHPians so they could be of some assistance to us for finding certain things in the crowded city & we dont end up in a mess. Thank-you guyz so much. On the way after completing some significant distance we located a tapri in a nice small hut where we stopped for a small break. Clicked some nice snaps here.




There was a nice blue bird siting on the above tree..



The sun was beating us, it was badly hot out.. But no option, had to ride.. Ride made us feel cool.
The road was fabulous, just have to hold the acceleration on 80 & dont think about anything.. I wish bike could be now put on auto-steering or I could have an acceleration lock.. We where trying all poses which could make us feel comfortable or bit relaxed. Moving legs, kicking.
Finally, after a descent riding & gulping in lot of mineral water we where nearing the capital from what the signboards showed us. Here we saw the huge toll-post of New Delhi & we where here. Vow.!! Then comes few more pix with some posergerri ;) as a witness of delhi.. No stress on our faces at all.





Now, we coordinated with Shivanshu & Abhishek. They asked us to wait below some bridge not sure where it was. Identify it delhi ppl. :)




All of us where very excited to meet Delhi xBHP. Till now we had only seen & read their threads & hardly interacted. But when it was known we from Mumbai are riding to Delhi, they went out of their way to help us. In a while Abhishek arrived, we introduced & left quickly as Shivanshu & other people where waiting for us. The streets where heavily crowded, massive traffic, suddenly we heard a RX100 & yes, it was Mr. Shivanshu. Even others joined in, this was all in the moving traffic :) We reached at some place, dont know again where it was. We could see a huge Hanumans Statue & the metro train bridge. We all introduced each other, chit-chatted for a while. Wonderful people, must say. Shivanshu is full timepass & a great buddy. We didnt felt as if we seeing & meeting them for the first time. All where like knowing each other through a common factor "Biking".




We also spotted the metro after waiting for a train just to click. "Ye Delhi Hai Mere Yaaar..!!"



Kamal, told us they have already found a descent hotel & spoken to the owner. We where like, Vow.. what more can you expect. They literally escorted us to the hotel in that intricated traffic. We went in a formation, the guyz where ahead & behind us to make sure none of us get lost which was very easy for us in that new land. This guys really helped us a lot, some even took half-day off, just to ensure we dont face any problems. Hats off to you guys, really appreciated. Thanks to xBHP, never would have met such wonderful people in my life. Reached the hotel, it was in Karol Bagh where everything was well accessible for us. We got this room for 1500 for Two Days, again an AC room which was an excellent deal compared to the area, city & the room. Without aircondition we could have died.. The temperature is so high.. Room was very beautiful, it would have been a real task for us to find such a room on our selves. We chatted for a while & then they left telling us, had there be any problem dont hesitate to let them know. Next day DesiDeep was to meet us in morning & then we will take our bikes for a check-up to their best mechanics.
We took rest for very little time & thought of roaming around the streets of Karol Bagh. Our guys where very fascinated by this Kulfim, it being so long ;)



We took some food as parcel & went back to hotel. A while back, gopi got a call from Maverick that hes coming to meet us. Then we met Maverick & had a chat for around an hour. Very chilled guy. Thanks maverick for comming all the way & giving us a visit. Later after eating nice dinner of tandoori (as usual) we all dozed off. Good night..!!

Day 4 : 9th June 2009 (Still In New Delhi)

Today we where suppose to stay, spend time in Delhi with getting our bikes checked & serviced if required & then next day leave for Chandigarh.
We got ready & sometime Desideep came at our hotel. Very much glad to meet him as we had virtually known him on xBHP through xBHP Delhi Meets. First he took us to a very popular mechanic who is also a Motocross champion & expert in disc brakes "Iqbal". He doesnt works for bullet. We took our bikes to him. Gopi had been suspecting that his clutch plates gone for a toss due to low pickup. Later Iqbal did some setting with the clutch cable & Bingo the bike was perfect. Gopi was more than happy to discover there wasnt any problem with the clutch plates.
Then he checked Winzee's Pulsar & did minor settings of brakes & clutch & it was perfect too. Later my Karizma he checked & no adjustments had to be made, he said. So all our three bikes where now set for the himalayas. Iqbal also shared his set of valuable tips & experiences of dos & donts on the mountain ride. Desideep insisted Iqbal on letting us peeping his personal garage & Iqbal happily agreed. We stepped into his rooms filled up with bikes & where stunned to see his work over them. As I said, he specialized in disc plates, he had mounted rear discs, front dual discs very well on bikes like Rx & had some real mountain kind of moto-cross dirt bikes. Have a look.




Thanks Iqbal Bhai for letting us view your state of the art creations. A big thanks to Desideep as well for that.
Then it was Prasad's Bullet turn, which we been taken to a Bullet Specialist. Man,.!! The kind of bullets we say where legendary. The punjabi mechanic suggested prasad to change the exhaust for a better performance which he agreed. Prasads silencer & Oil was changed finally. We said Bye to desideep from there & reached hotel. Now we didnt had much to do in Delhi & where already getting beaten up badly by the heat. So we decided to leave for chandigarh today evening itself. Chandigarh was around 270kms from Delhi. We got ready, saddled up the bikes & left at around 7.30. It started getting dark, highway was wonderful & hence where feeling quiet cool now while riding. The distance was covering fast. We passed by Karnal, Ambala & with one stop for little freshening up at a dhabba we reached Chandigarh by 11.30 pm sharp. Found a nice hotel with a very small room, but all we needed a place where our asses can rest for few hours. Late night we went at a dhaba where we ate nice chicken & our regular dish tandoori with chilled Beer... Vow..!!
Some guyz sitting beside they enquired about where we came from & where we heading towards. After knowing about our plan they & shocked & started criticizing each other, that even they should go & do this kind of lifetime adventurous things rather than cribbing while going to nearby place. They appreciated our efforts & wished us luck. Next day we had to start for Manali. Doing chandigarh today, saved our one day of our journey & we where open to utilize it further on a more required place. Oh yeah..! It was Razors birthday the next day.. We wished him expecting a nice party on the journey. Gopi will always remember this birthday & will be memorable throughout is life. He must have got the best gift on his special day, "Living the Dream".
Day 5 to Day 6 (10th June - 11th June)
Day 5 : 10th June 2009 (Destination : Mandi, Distance Covered : 220kms)

Today we are suppose to leave for Manali. Our last destination before the himalayas will start. Its Gopis Birthday also, so we are obliged to celebrate & take a treat from Mr. Gopi. It was quiet late by the time we woke up. The sun had come exactly on its proper position to attack us. We left by 12pm from Chandigarh after a lazy morning. Too hot was it. After riding for a while we came across really bad roads & the much worst off-roading started. This was all due the road constructions going by. Roads where very bad.. We rode like this for around approximate 50 kms. Each of us where sweating like hell, we all of us had eaten nearly 2kgs of dust ;) . Thanks to Balaclava, which helped us protecting from really hell lot of dust. Its a must on long drives. We took a small halt for a cold-drink break. There was a drink, which involved Soda & some masala, called as "Shikanji", this really helps you to cool down wonderfully. So thought of having that & halt means some posergari.. Here we go with that..!




And then resumed our riding and again the bad roads too resumed. Suddenly on the way we spotted a nice river "Sutlej". The guyz just went out of control & Prasad was desperate to get himself dipped into the water. So followed the other guyz. Finding this wonderful river suddenly after the worst roads, dust floating around, our body sweating like crazy.. was indeed a boon.





Gopi & Prasad where unstoppable & quickly got undressed, ofcourse with the last piece of cloth on the body to ensure the people passing by dont get faint. I was out for clicking their snaps. The water was amazingly chilled, I sat dipping my feet inside the water for some Kingfisher calendar shoot.

The first model..



Later even winzee got tempted & dived inside in his one piece. They all had a real blast, I was regretting being out, but else this pix wouldnt have been there.

Winzee...



The three musketeers..



Finally atleast my one pic..



After getting satisfied by the river, we again resumed our journey. Our plan was to reach Manali & we thought we can easily do it, as we lot of time till it starts getting darker.
In a short while nice mountains started. The journey started getting beautiful, with the lovely curves. It seemed the straight roads where over now. It where hours of riding in the mountains & then we took a small break.



The journey was unexpectedly turned beautiful & we still knew.. Its just the beginning or not even the start. The views started getting better & better. We could'nt resist taking halts for clicks. Saw a nice bridge connecting two mountains for walking & we returned back to our state of Posergiri..

This two guyz behind us, are from military who later shouted at us for taking photographs in a restricted area



The sun was bidding us bye & the day was turning darker. Riding in mountains for throughout the day for about 150kms, it was not possible for us to reach Manali before it gets darker. We had already decided, wont try and ride in the nights & ensure a safe & stressfree journey.
Hence waited at a place to see the signboard & decided on waiting in Mandi, which is also a real beautiful place. Oh Yeah.. We entered Himachal Pradesh. :)































































































Mandi was the closest place where we could take a break & more importantly we also had a liability of celebrating Gopi's birthday party. We where doing some inquiry at the Fuel Station, suddenly a guy with pillion came to us & asked us if we where searching for a place to stay. We said YES & told him about the tight budget we have. He took us to a wonderful hill side guest house. It was one of the best place we stayed in the entire journey. I dont remember, but we got this place to stay at mere Rs. 700. Now let me tell you the view around. It was all surrounded with mountains, had a nice open garden terrace where we can have our dinner. This terrace was the part of hotel which was out of the mountain in a floating position. Below was the valley & the river flowing by. All we could hear was the wonderful sound of the stream. VOW.. The place was fantastic. The bike parking was also very nice on the terrace facing the mountains. We all loved it. So now it was a party time. Having a wonderful dinner, with chicken, Rum, cool climate on a terrace over the valley.. What else we could expect.. I thanked God.. Am a Biker..


























































We wrapped up the things, as we had to reach Manali next morning & get our preparations done for the Leh Journey ahead. So Good Night..!!

Day 6 : 11th June 2009 (Destination : Manali, Distance Covered : 140kms)

In this hotel, luckily this same hotel owner had his hotel also in Manali, so we booked it from here itself & where relieved. All of us where damn excited, as where about to reach another beautiful destination, Manali.
This journey was even better than yesterday. The entire roads & mountains, valleys, river stream passing by was so so wonderful. We knew, the beautiful heaven has just commenced. Not much to say, let the pix do their own talking..

How we could just start without the day pix from our hotel.



our hotel in daylight :)



After a while We saw some wonderful stream passing by so close & thought of waiting there for a while. The climate was so cool & beautiful. We could hardly believe, that we are actually here on our bikes from Mumbai. We thought of sitting by the river bed & cherrishing the moment.

It was also a place for Riverrafting. The current of the river was really strong & excellent scenic.



Treasuring the moment



This flow was with us for almost our entire journey from mandi, manali for 100's of kms



What a nature..



posing is good for health ;)



ahaa..



RTR .. getting high..



Sparkling Zma



Rock hard machine



Prasad online on the move..



Master Winzee



Our own Mr. Gopi..



The river stream was taking us to manali.. it was our escort..
Pix aint over yet...



Finally the lovely river takes us to one of our ultimate destinies.. Manali.. Its a beautiful city.





Filled up with loads & loads of tourists.. specially foreigners. Its truly a fantastic place having all christmas trees around.



Now here we could see a glimpse of the first snow mountain in the life. The feeling was Incredible



We where unable to locate the hotel. Called up the hotel guy & he immediately came to help us out with the direction. Got in the hotel, threw our luggage. We wanted to venture around the place. There where no signs of stress or getting tired on either of our faces.
So we went out, to check out the place, do some shopping in case & most importantly we had to buy the Petrol Cans for carrying the extra fuel after Tandi.

There where some foreigners doing some show on the street for money.. Dont know y.?



This small kid is chopping onion so fast, couldnt see his knife



A nice scale hand made scale model of a bike



We did some shopping of shawls here. Purchased extra cans for petrol. We ended our day with a lovely chicken tandoori as usual. Next day was our first day of the entire endurance journey. Steps to heaven will start tomorrow. We couldnt wait & step on that snow now. We thought of waking up early as to skip the traffic at Rohtang. Next destination was Darcha.
Actual Journey starts tomorrow.
Day 7 (12th June 2009)
Day 7 : 12th June 2009 (Destination : Darcha, Distance Covered : 150kms)

We woke up quiet early today around 5am. All of us knew that the real endurance journey will start from here for next few days. Now we will have to test our actual potential of our body & our machines in coming days. We left the hotel for our journey by 6am so we can pass through before the traffic starts increasing till Rothang Pass. Bye Bye Manali.!! Before everything, First went to the fuel station for a tank full & filling up the empty cans of 20Ltrs. The only bike we could tie this was the macho bullet of Prasad as it was fitted with a Ladakh carrier. And we started, even the traffic was not much, but there where fairly good amount of vehicles passing by & oncoming. The altitude started rising, climate started chilling, temperature reducing & now for the first time we started feeling power reduction in our bikes which we where been expecting. The roads where truly very bad, all ice-water passing, roads started turning into dirt tracks & sometime dry having rocks around & sometimes even like desert with sand. That was fun taking turns like in dirt biking with the help of your feet. Here we saw a couple from Switzerland on their respective bikes Kawasaki 650cc Motocross. Dont know the exact name of the bike, but yes both, guy & girl where on their own bikes. It had the typical motocross tyre. Roads full of mud where making our time really hard & to add onto this situation the bike started loosing power. We could not even get on the 3rd Gear till we reach Rohtang. The thing which kept us getting excited was the terrific view. Snow getting nearer, mountains all around, valleys next to you. At some points the roads are extremely dangerous. Need to be very careful on these. My tyre was performing very well as it had hard compound with big blocks & was the best suited for this kind of terrain (MRF Meteor). Finally as we where riding, suddenly snow started passing by next to us. We wanted to stop desperately & touch it but we knew a huge Snow Land waiting for us ahead. Atlast we made to our first stage "Rohtang Pass" after a descent top speed of 30-35kmph ;). All surrounded with total snow around. Hardly any no-snow land can be seen. Mountains full of snow. I finally touched the snow & took in my hand. As promised I hit Gopi & others with the snow ball, VOW it was fun man.! The climate was damn chilling but our feeling was so immense that we started enjoying.
Pix time..!!

Sign board of Rohtang



Gopi getting crazy..



Our bikes too enjoying the chillness... That means no more engine heating.. yupee.



finally Me & Prasad going nuts.. its obvious.. :)



prasad trying his feets on



da Winzeeeee



Shoe Snow..



gopiiiiiiiiiiiiii



Gopi.. where are the safety gears...



Back to the business of Posing



'X' Man..



skiinnggg



Winzeee.. always smiles..even inside his helmet



U want me to hit u..!!



We could also feel the lack of oxygen a bit & hence breathing problems. Rohtang Pass is on 13,050 Feets, 50kms away from Manali & a popular tourist place, hence lot of crowd could be seen there. People come here for skiing & other snow games. We didnt had much time in hand as had to reach much further & most importantly didnt wanted to loose stamina by playing around. There was small stall which had some eatables like soups, omlet, maggie. We decided to hog something quickly & leave. The stall was pretty crowded & the orders given where coming quiet late. Prasad decided to help the lady by preparing omlets for us by himself. After finishing this stuff & getting little satisfied with snow we decided to resume the ride.




The journey was getting beautiful inspite of roads not so good. But the place we where in, was indeed a heaven. Atleast I was experiencing & seeing this kind of thing in real for the first time in my life. It was unbelievable. I was feeling more on the top of world after looking at my bike & realising I have come on my bike riding all the way from my home & the feeling was just incredible. Love my bike, "Yes, she has bought me here. Thanks to her..!!" I must have praised & spoke with my bike numerous time on the journey while riding hundreds of kms. Even though being in a group ride, while riding, a rider is alone with his bike. We couldnt continue our journey without taking 'n' number of breaks. The view was turning so marvelous & you can be damn sure now, this is the place where definately GOD must have lived/still lives. Trust me guys we where lucky enough to find lots & lots of snow throughout our journey, therefore we concluded that June is the perfect month to be here.. Not so warm, not so chilled, perfect snow, perfect freezing.. Complete Worth It..!! The mobile networks had dissapeared. No connection from the outer world. We where worried as how will we be able to inform our parents daily. Till we reach LEH, the network wont be there.

After couple of kms, while taking a curve downhill there where some bunch of people standing & they all started shouting at prasad for his headlight on. Prasad was distracted & while taking the turn he has a small skid. Didnt fall though, just his bike got leaned. Footrace broke. We spotted a small temple where we also decided to stop & fix the footrace. Dont have tell you again, there was a delighting view all over & a waterfall to top it up. ;) Hence the pix follows ..

da lovely Waterfall..



staring at the mountains



the temple where took a break & prayed the god.



the Golden Stone..!



gopi trying to fly..



isnt it beautiful



giving u an opportunity to pray the god now.. ;)



winzee waiting & gopi is coming.. spot it..!



winzee got covered



do we really have to go there?



desi version of Fantastic 4, no chick..



Prasad



winzee was only taught this pose..



see winzee doing the same again.. phew..!



the looooong waterfall around



refreshing rtr



Meeeeeeee



We continued finally, somehow we tied up the footrace of the bullet. The roads where not so good, but OK. Now we where started getting adjusted with the terrain condition & roads where ice-water crossing & slush is not there, all other roads are good for us :) . There where couple of times where we had to put our feet in that ice-water & it was a current passing through the body. At a small break. Wherever we halted for couple of minutes, each of us where mesmerised by the heavenly beauty around us. River flowing by, mountains surrounded.




vowww..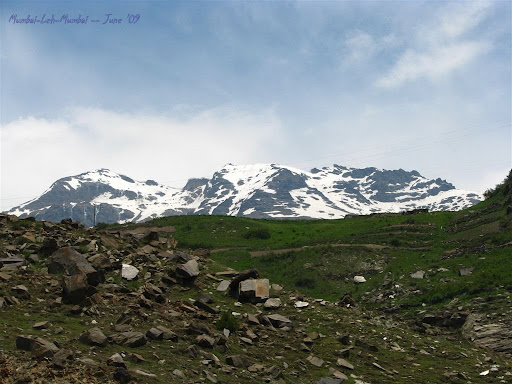 hehe



da Snow mountain, Gopi & the terrain..



Suddenly after a while of riding, we saw a petrol pump & urgently stopped to full up our tanks. Then we discovered, this is TANDI & the last petrol pump for next 365 kms. So had to fill up our tanks to whatever space was left. Here we also found that same foreign couple on their Kawasaki motocross bikes.

Fill it up guys here.. This petrol pump is uncertain, hence we had done a tank full from Manali



Re-fuelling, the swiss couple on their Kawasaki 650cc Motocross



On some distance we found small stalls, where we had food nicely & headed ahead..
Riding for a while the nature forced us stop as after a while we located again a wonderful river bed passing by. FYI : This river was with us throughout our journey in the himalayas from manali perhaps. I think it is Zanskar. We cannot afford to miss this kind of unseen places & hence a stop is compulsory. Dont know when we will be back, so just trying to utilize the moment at its best. None of us where bothered about leaves, Gopi was telling "I will be fired as I join my office back..!". So some pix on the way.. We took our bikes down on the river bed & had a lovely time.

This is where we came down



prasad



Winzeee's sincere Pulsar



Winzee sitting alone without his bike.. got too emotional



Going strong bulleettttt



i dont wanna go back..



now, what makes my hair stand up..??



now, loooking cute,. ;)



missed a beer here..



A real example of existence of GOD



Where else would you see this..



dont know where gopi clicked this pic, but somewhere around



above the sky..



sexyyy...



We resumed the ride, as Darcha was little away now where we had to take the halt for the day & even the sun will go down in a short time. Here, the day light stays till 8pm.. Unbelievable.. Believe it..!! :)
Finally, we reached a small village where could see some tents. It was a place called "DARCHA". This was our tonights destination & place to halt. DARCHA is around 150kms away from Manali & on an altitude of 12000fts. The landscapes here are awesome. There are few tents here we beds are available on a sharing basis & food one can get is Parotha, Maggi, Egg & RUM ;).

River around



isnt that awesome



Darcha Village



We checked out few places & finalized on one tent which was looking good enough. Managed to get the bed for Rs.50 per bed which was extremely cheap. They provide you with a wonderful blanket which is good enough to keep you




Dont expect any toilets around, the best place is the open nature for a nature call. We unloaded our luggage from the bikes. All of us where damn chilling, i was freezing with cold. I was not feeling good, my health was not in a condition. Was feeling dizzy, head was spinning & badly shivering. I took the blanket over & went to sleep for a while. All due to altitude. I knew if i took rest for little while, will feel good & this is a good place to stay & get the body acclimatised. While took some sleep, our own Mr. Prasad & Gopi decided to have the stocked Rum in a special way. In this freezing cold & heavy winds passing by they literally went on the riverside. Didnt carried any water, they decided to have the rum with the Himalayan water.. Yes, they took the water from river, coke & had the rum. It was indeed a pleasure for them. These two are real strong fellas.




da Monk



They came back to the tent to wake me up & yes, I was filling little better now. I had some maggie & egg. Chatted for a while & dozed off.

So the sun is going down.. Let us sleep..!! :P



Our next days destination was PANG. On the way the mighty freezing cold mountain "Baralacha La" was waiting for us with its Icicles.
Day 8th (13th June 2009)
Day 8 : 13th June 2009 (Destination : Pang, Distance Covered : 110kms)

Today was the second day for us to again stay somewhere in between Himalayas inside some tent, expecting to take a halt at Pang. We woke up quiet early & it was all chilling around as expected. We took diamox. I was not feeling well, my head was still spinning. Frankly speaking I was getting nervous for the unknown suprises waiting for us ahead. This kind of climate, chillness, altitude so far was getting too much for me. The view was just too gorgeous around. It was something like this outside our tents.




Finally saddled up everything & machines where ready to roar in the 'true' mountains. Just went some couple of kms ahead, saw a damaged bridge. We where just praying no obstacle should come in our way which may delay our schedule. Thankfully on inquiring, the metal planks had come off from one side, hence no four vehicles can go. On requesting they took a risk of allowing us as we had just two wheels smallest vehicle & finally we did make through.




Started our journey in full form again. It was extremely cold, & not to mention again about the astonishing views we where coming across. Better I have a control on my words & let the image express you what it looked like on the way.
After riding for some real good kms, we encountered for the first time a "Snow Fall".. Vow.. we where shouting & dancing on our bikes looking at each other with a wide smile having a feeling of some great achievement in ourselves. I always dreamed about facing a Snow Fall & here it was. We forgot all our stress & shiver, expressed our feelings by hugging & congratulating each other.
Located a small tent dhabha & thought of taking a tea break in there. We where letting the snow fall on our hands & showing it to each other. Trying all possibilities to treasure this moment. Am sorry guyz, we where just too excited that my dear friends forgot to take out their cams & capture the snow. Most importantly the temperature had started reducing drastically now onwards.

a tea-break




Here at this stall, some officials had come. They where some CID from Delhi, if you see here up, their vehicle with red-light. Spoke to us for a while, appreciated with the task & journey we have been doing. They told us about the heavy snow at the next point "Baralacha La". We where little nervous after facing the temerature & weather so far & hearing the amount of snow & kind of climate awaiting us further. We had to do anyhow, no turning back.
Its really difficult to take a break in this kind of chilling weather & then resuming your journey. It was definitely in minus temperature. Our bike seats where wet with melted snow & hence it was difficult to sit on it for first few seconds. But there was no point in delaying our journey & with courage we started again. As we where moving ahead, we could feel the rise of altitude & increasing snow. The mountains where getting more & more snowy as we moved ahead. Now the major concern was the temperature rather than the altitude. Our fingers had started getting numb & it was getting difficult to breathe atleast for me. Each of us where shiverring like crazy while riding. The pictures on the way to Baralacha La no doubt look beautiful & stunning, out of the world but it takes a lot to reach here & pass by. As we expect the altitude concern, now it gets double as the freaking minus temperature starts adding up.

can u see that lovely road



gopi getting freezed



winzeeess..



the black lines are actualy the ROADS



its me & winzeee



Its certainly looks so tempting, that by looking now we think to stop here play around with snow, but its really difficult to wait here for a long time. Atleast, I wasnt much able to stop for long time on this place. Baralacha La was nearing, the snow was telling us. We finally start entering the "Freezer" which is inside each of ours refridgerator. Its exactly the same with heavy snow surrounded & icicles hanging out pointing down.. The temperature was somewhere around -10 degrees & sometimes more lesser.
Baralacha La has an altitude of 16,500 feets.

Finally at Baralacha La



razors cutting the snow..



at last, in the most chillest region around Ladakh



winzee & prasad



It was getting more & more difficult for me to breathe here. Unfortunately I couldnt even stop here for a minute, just clicked some random snaps & I told them that I cannot wait here as am not able to breathe at all. It was the height of chillness. Hence I decided to leave ahead & waiting on a bit lower altitude & on next tent stall. But strangely all others where playing around fighting with icicles & posing around. Specially Prasad & Gopi are daredevil & I was seriously stunned when I saw this snaps & started wondering how they can wait for so long & bring this creative ideas of clicking snaps. If you see winzee, u will hardly find him without helmet. He was darn scared to remove his helmet as even hes bones where freezing like crazy.
Alright now, better I dont make you curious much about the visuals


taste the thunder



gopi getting his first saber to fight with the devil



finally a gun tooo



now hes darn angry & wanna shoot at someone



light-saber finally made in use, wish we could get it home to show my mom



helmets off , winzeee



they are pointed & dangerous.. be careful



isnt it awesome



me in the snow-land, that good atleast my windscreen showed up in this pic for an evidence



Winzee with frozed 'X'



a land-slide



we all know, you have managed to touch it..



So guyz.. Drooling..?? Indeed its a place to be.. I can proudly see yeah its in India.
I went ahead & after certain kms, coming little low on the altitude I located a small tent stall & waited there awaiting for others. To my realization, yes it was the most heard of "Sarchu" My health was not responding well, head was getting heavier. I was feeling restless. In some while others joined in, no wonder they took so much time.. Courtesy: Above pix.


Look at me.. may be AMS



others came in



da stall with stunning himalaya in the background



We had good food here like parothas, omlet & tea. Rested for a while & resumed the journey.
After riding for descent kms, suddenly we came across another state of the art beauty which we never dreamed about & totally unexpected for us. It was a frozen lake. We where comming across lot of jaw dropping beauties on the way which we could not think or dream about.
Presenting you "The Frozen Lake"

Prasad & Me..



Gopi.. he knows the perfect pose for the perfect frame



We where getting pulled forcely by the natures amazing beauties comming across. After a ride for 45 min, we saw a wonderful open desserted place with dry land spreaded till your sight can take you. Surrounded wonderfully with mountains which where barely covered with snow. The climate & location was just perfect for us to take another halt.


winzeee...



zma.. standing like a rock.. & ofcourse me too :D



a perfect place to cherish the journey we had so far



small tents for a halt.. not for us though



zmaaaaaa...



landscape



whose shoes are they.. no.. not of any soldier.. they r of razorss..



Took enough rest & ignited our machines to continue the remaining journey. After an hour we had to stop at a Military Post of Sarchu to make our entry. Here they noted our names & bike no.

the check post at Sarchu



some distances we covered proudly



Soon after riding for another 1.5 hrs, came across another breathe taking beautiful valley "Tsarap Chu valley". It was so amazingly beauteous. Am going out of words to describe this natures ultimate creations.




Then in half an hour we again started climbing the mountain, there we read a board "Gata Loops" start from here. Total 21 loops. This means there where 21 sharp hair pin curves. This loop will let you climb over an altitude above 15,000 feets. We took almost an hour to complete this. This kind of curves where not unusual for us as learnt from the journey so far, but this many curves in a single mountain is something unseen & un-thought.

look at those hair-pin curves



finally all the loops are over.. Phew..!



Riding for over an hour we come across another Pass "Lachulungla Pass" (Altitude : 16,616 feets)



We didnt found it worth putting in much time here, as we had to reach Pang before it starts turning dark and it was almost 4.45pm now. While continuing the further journey towards Pang, we encountered more astonishing views such as Frozen waterfall, Amazing shapes of mountains given by the speeding winds.





winzee too is frozen



thats truly stunning.. natures creation



We where closing to Pang now. All of us where darn tired & extremely chilled as all the time we rode in minus degrees which was considerably less. The surprises where not over for us, a worst river crossing was right in front of us welcomming, called as "Kangla Jal". We where like "Shit.. Not again..!!" It was just 10kms away from Pang. All of us waited to see each other passing & ensuring help in any trouble. First Prasad went in with his bullet in a swing, all of a sudden maybe a big stone may have slided & he stayed inclined in the water with his front tyre raised up. He tried a lot but in vein & finally looked at me for help as I was next. Helplessly forgetting my shiver I had to step down in that cruel ice-cold water making my shoes/socks all wet & push his bike by whipping out of so called left out energy. He went through, now it was my turn. I went slowly but all of a sudden even a stone beneath my tyre slipped which is very obvious. But after some tries of revving hard & on 1st Gear I could make it out. Gopi & Winzee passed it without much problems. I was badly chilling, with my body parts fallen numb.
Finally, we saw a small village which was out next destiny "Pang".
Pang is at n altitude of approximately 15,600 feets & has the Worlds highest Transit Camp according to Indian Army. There where couple of tents which provided bed on sharing basis to sleep. We chose a tent & thought of taking a night break over there, got it for mere 100 Rs per bed. This place was little better as there was no much snow around but the chillness wouldnt reduce at all. My health had worsten due to stepping in the ice-water to push prasads bike, I badly wanted to change my cloths & rest. The tent owner aunty looking at our condition, she gave us hot water to drink. Believe me as the water was just taken off the stove, we gulped it without waiting for a single second. I felt a bit OK getting my body internally warm. Had little food & went down to sleep as all of us where crazy tired.

This was our tent. The pic was clicked the next morning




We all where darn excited for the next day & couldnt wait to hit the road the other day as our Next Destination was LEH, the dream destination & a tag of success.
Day 9 : 14th June 2009 (Destination : LEH, Distance Covered : 270kms)

All where quiet excited to reach LEH today, hence the eyes where bang open early morning. As usual my health was bit down. The most worrying thing for all of us was "No network" for last two days & even today we doubted. My parents where use to expecting my call everyday. They must have worried for me a lot, even my better half would have been tensed including my friends too. I knew they all must be little scared, tensed & lot of mix thoughts must be wondering around their head. Everybody had usual omlet & parathas, but I was not in a state to have that. I prefered having something else, the tent owner she suggested me to have a chicken friend rice. I had that & was feeling much better. Now I was finding myself really perfect, thanks to the Aunty. I knew now, my body has got acclimatised with the atmosphere & the altitude. We did a top-up in our engine oils, Prasad used the petrol we carried. Other than bullet, our bikes had enough petrol for the further journey. Gopi clicked a snap of the tent & Aunty requested him to send her across through courier.

The tent & the wonderful Aunty. Check the solar system on the left corner which is used for generating electricity



tent



Aunty's daughter I think, liked Gopis Cross helmet ;).



As a regular habit, we inquired about the further roads & usual we got a reply, the roads are fine ahead. :) We came to know another highest pass "Tanglang La" the worlds Second highest pass was waiting ahead.
So bidding bye to the Ladakhi females, we started our journey to the ultimate destination "LEH". I forgot to tell, throughout our journey when in Himalayas, we met lot of bikers, mostly tons of Thumpers. Its so wonderful to see bikers after bunch of kms riding alone. Exchanging respect by a thumps-up or saluting or just waving is an amazing feeling & makes you feel special & proud to be "A Biker". Continuing our journey we passed by lots & lots of Sand one could expect. Suddenly we started feeling in Rajasthan but this was a Chilly Rajasthan ;). Move your head & eyes as much as you can & you will find only sand around. Heavy winds, lots of small & long cyclones dancing around. Hardly any roads where visible & present. We had to just follow the marks of big truck/cars tyre most of the time. Suddenly you going straight & out of no-where a diversion sign-board will be seen.
But this climate was bit good for us, as it was not chilling as on our past days, but atleast bit less & little warm.


Better road



dessert around



a biker in the search of peace



biker desserted



and winzee



Am sure we must have eaten kilos of sand that time. Lot of windstorms grazing around.
After almost 50-70kms in sand we started nearing "Tanglang La". It again started getting chilled & the body started freezing as we climbed the altitude. Bike started loosing power & to top up this the roads where OK, but not so good. Riding gradually we made it TangLang La. I was not having any health problems, just was freezing badly with cold. Prasad was sounding very low & hence me & prasad moved ahead just waiting merely for 5 min. Gopi got excited & was jumping around to click snaps & spent almost more than 20min on the top.

what could be more beautiful



the road converting to just sand, taking us to the pass



Himank



winzee giving proof, he was there :)



Tanglang La Baba



the temple



Gopi didnt knew hes standing on Second Highest Road in the world, later he realized on coming down



On the way to the Pass



the comparison chart from the past mountains we did



As we started heading back down, the roads where bad, but suddenly they started turning really good. Wonderful curves, it just looks brilliant to see those tiny design of hair pin curves. Looking from the top, thinking "am gonna pass those" & then comming down saying "Vow, I just did it.."

are'nt they sexy curves



can u spot winzee in this.



Finally getting down & completing successfully the second highest pass in the world we found a small dhaba where we take a small break. As we all where darn hungry by this afternoon. While relaxing we smiled at each other & discussed the mammoth himalaya we just did with a feeling of another satisfaction




Further as we continued our journey, the view & the roads where just getting hilarious. It was so beautiful & so tempting to take halts, but we couldnt as had to reach LEH in any conditions. The mountains, curves, roads, river passing by was just perfect a biker could always wish for. It was just perfectly cool & the climate was lovely.

roads getting better & mountains turning red



sky shadowing



gopi u going the wrong way straight



wish I could stay here, this is precious than a 3 BHK flat in Mumbai



grazing around



common fast.. bit more ahead



Further we located a bridge with a river flowing by below. That was actually where the Indus Valley/River starts from. So some posergiri is mandatory.

zma.. still going strong..



abey.. bas na..



Rajni Babu.. aka Gopi



rtr tested..



Ninja chacha



winzee left out



prasad



Indus river



We all excited as LEH is just around 50-60 kms more from here.. Yupieeee



the photographer



we been watched from far away..



finally the Four Conquerors .. huiaaaaaaa!!



The roads where getting more like city roads now, this was a sign of LEH nearing. As we where zooming on the road with the utter curiousity of reaching LEH & we had decided to stop at the first STD booth we locate. Back of the mind tension of my family, friends & better half was revolving. Suddenly.. I hear a SMS tone of my cell. My cell was kept in my upper pocket of the jacket. The location was silent & I hear a message tone. I was so happy about it & took a sudden stop in desperation of contacting my people. I was reaching sms after sms from my Dad, friends & my love asking about where I was. I halted there urgently & so others. No body had a clue why I waited & I told them about the network, finally they too started searching for network. I first called up my parents. My mom picked up the phone, she heard my voice & started bursting into tears. Even I got my eyes watery a bit. I explained her about the entire problem which was unknown to me & couldnt tell them in advance of no network availability. I assured her that me & everyone of us where just perfect, no problems at all & finally your son has made up till LEH right from our house. Then called up my better half, even she started crying a bit & then I had to console her about the thing happened & told her will be calling up once I find a place to stay & then we can speak for hours :) . Then I called up my close friend "Nitin", even he sounded damn worried & explained him about the entire thing & told him not to worry & convey the message to others. I messaged the good news of "Reached LEH" to all my friends, fellow xBHPians & received tons of replies wishing me. Gopi, Winzee & Prasad too called up their parents. Everybodies parents where very worried which was really obvious when you are 1000s of miles away from your family. The location where we got network had some nice views around, hence the pix :P




this is the place where I stopped & called up my near ones after a huge period



It was a feeling of real relief now. Leh was couple of kms away now & we where almost entering the city.

A popular sculpture which is a sign of LEH entrance



Finally we reached our ultimate destiny LEH.
LEH is the capital of ladakh. Its on an altitude of 11,483 ft.

After searching for some places we started heading to the inner parts of the town & found a guest house "Goba Guest House". It was a really beautiful place having an authentic Ladakh architecture. We got two rooms as we had to stay for 3-4 days here. It was darn cheap, we got two rooms for total of just Rs. 500 for one night.

the guest house



the room inside



the view from my window



We got a room exactly below Shantisthupa (a Holy Place of buddha which is extremely peaceful, about it in the next day).
It was a wonderful relaxation after reaching LEH & getting back to slightly civilized life. There are lot of foreigners staying around. The most important thing one can spot here is 1000 types of customised bullets. People here a bike crazy.. We could call it a bikers city or a bikers hangout place. Most of the bullets going around have the ladakh carrier already attached, some bullets even had 30 Lts. Tank mounted on the bike. Lot of chicks around on bullets. Lot of choppers making thud-thud sound.. Its amazing to be here..!!
Tomorrow is our holiday from the rides & we gonna look around places in LEH.
Day 10 : (15th June 2009)
Day 10 : 15th June 2009 (Destination : Places around LEH. A Stay today)


The sleep was just superb. A real satisfactory one. It was really bit difficult to believe that I got up from my sleep & was in Leh today.. Was it a dream.? Or a dream come true..! It was our holiday today. After three days, we had bath today
. The room was superb, with cozy atmosphere, breath-taking view around. We thought of chilling out today &; watching nearby places around the city. We took a break from daily hard-core riding of 18-19 hours & where commuting inside the city. The guest house owner was a nice aunty with really very good nature. Her kid was another handsome hunk

First we decided to check out some tourist office where we can make some arrangements for getting permits to visit Pangang Tso lake. Finally got a good tourist guy who got us permits done in extremely low prices. We submitted our documents & he asked us to collect the permits in the evening.
Then we headed to Shanti-Stupa. Luckily our guest house was just below that. It was a small hill where we have to ride.
Shanti-Stupa is a Buddhist white-domed stupa on a Hilltop. Its built in the memory of 14th Dalai Lama.
From up there, you see most of the Leh city & an amazing sculpture.

Shanti-Stupa
lord winzeee
and the rest three.. how will we be left behind
Beautiful artwork
lord buddha
Leh
Just moving around Shanti-Stupa, we spotted some really gorgeous little angels..
No wonder, this city was so beautiful. You will surely feel like staying here for months & cutting out the from the regular stress-full & rushing life we live everyday. It was an obvious reason, foreign tourist come here to stay for months.
Later we visited
LEH palace
. Its a very old palace built in the 17th century. Its a 9 storeys high building. But currently its in a real poor condition.
LEH Palace

the old pillar standing strong


view of LEH city

the care taker


It was getting sundown. We picked up our permits from the tourist office. Spotted some nice cozy restaurant & had some nice chicken. An important thing to mention, throughout the day we where chilling with cold. The afternoon, just looked like noon through our watches, but the weather was chilling. Purchased some nice antique stuff from the market. I purchased a wonderful Ladakh bell, winzee purchased some stones
, gopi & prasad bought awesome knifes (kukri)
Thats how we ended our day with incredible feeling. Thanking again our bikes who got us here 1000's of miles away from the rush-hour life.