The Sanskrit word ashtavinayak means "eight ganapatis". Ganpati is the Hindu deity of prosperity and learning. The ashtavinayak yatra refers to a pilgrimage to the eight Hindu temples in Maharashtra, India, which house eight distinctive statues of Ganpati. All the ashtavinayak statues are believed to swayambhu (as found, or not sculpted by human hands).
The ashtavinayak yatra or pilgrimage covers the eight ancient temples of Ganpati, situated in the Pune, Ahmednagar and Raigad districts. Each temple sports its own legend and history, as distinct from each other as the murtis (statues) in each. The form of each murti of Ganesh and his trunk are distinct. Of these eight ganapati temples, five are in Pune district, one in Ahmednagar and two in Raigad.
For quite a long time I had been planning this tour on motor-bike. Finally, in April, I had a three-day break from office. Before starting, I had collected information from various sources such as the Internet and books, about distances, alternative routs and interesting places to visit. On going though all this information, I decided on the following schedule.
9th – Dombivli – Malshej Ghat – Ozar – Nimdari – Vaduj – Lenyadri – Junnar – Pune
10th – Pune – Theur – Bhuleshwar – Siddhtek – Morgaon – Jejuri – Pune
11th – Pune – Vagholi – Tulapur – Vadhu – Ranjangaon – Chakan – Lonavala – Madh – Pali – Dombivli
I had earlier planned a four-day tour. Later, I decided to do it in three days. Before starting, I packed all essential clothes, dry food and juices, and, most important, my DSLR camera Canon EOS 500D.
9th April
Route - Dombivli – Malshej Ghat – Ozar – Nimdari – Vaduj – Lenyadri – Junnar – Pune
Distance covered – approx. 275 km
D-day finally arrived and, after obtaining the blessing of the Ganpati at Dombivli, I started towards the first Ganpati, at Ozar via Malshej Ghat. On the way, I did not feel the heat even though it was April, thanks to the Forest Department for the huge trees on both sides of the road. As the road was good, I maintained a speed of between 65 and 75 kph. While riding to Malshej Ghat, I crossed the Jivdhan fort and Nane Ghat on one side and Harishchandra Gad on the other, breakfasting at Sawarne, a village at the base of Malshej Ghat. There is a Maruti temple at the end of Malshej Ghat, which is a good site for breakfast as there is a small tea-shop too. As I had to reach Ozar by 11:30 am, I did not stop at this temple.
On a plateau at the end of Malshej Ghat, one can see the Flamingo resort, owned by the MTDC. A good place to stay during the monsoon. As soon as one crosses Khubi village, one notices the huge backwaters of the Pimpalgaon dam. From Khubi to Shitewadi the road was terrible. But I must yet be grateful for that. Because of it, I was driving at 30-40 kph, and this time secured a good photo of Shindolya fort and a reflection, in the backwaters of the Pimplagaon dam, of the Hadsar fort and the adjoining hill range.
Shindolya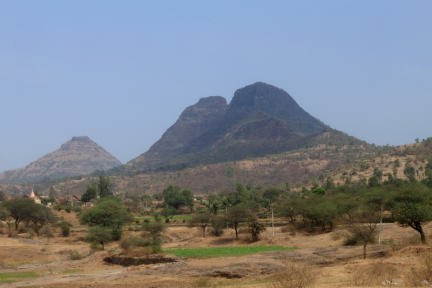 Reflection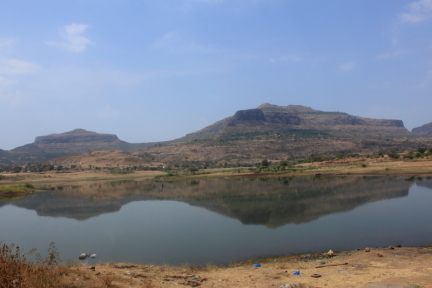 From Shitewadi to Otur phata (crossroad), the road was not so good, but I managed to drive at 60 kph. At Otur phata, I took a right to Ozar, reaching around 11:45 am. The Ganpati at Ozar is known as Vighneshwar.
The temple of Vighneshwar is situated on the bank of the Kukdi river. An east-facing statue of Ganpati, flanked by his consorts, Siddhi and Riddhi, is enshrined in this grand temple, which has interesting features such as a spacious courtyard, a grand entrance, sculptures and murals. The statue is believed to be "swayambhu". The Shri Vighneshwar temple, built in 1833, is famous for its deepmalas and its golden dome.
Vighneshwar temple entrance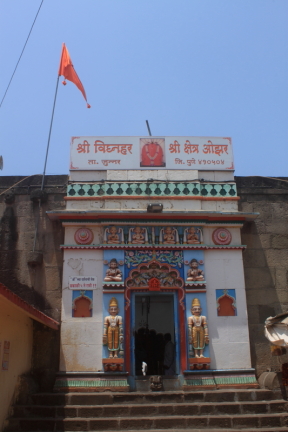 According to legend, a demon, Vignaasur, created obstacles to every good deed performed by the sages and other inhabitants of the world. Responding to the pleas of the sages, Ganesh set out to battle Vignaasur, who quickly realizing his weakness surrendered to Ganpati and agreed to stop his misdeeds. In connection with his surrender, he requested Ganpati to take the name, Vigneshwar. Legend also has it that the very same sages installed a statue of Vigneshwar at Ozar on Ganesh Chaturti and venerated it.
From the bank, one can see the GMRT (Giant Metre-Wave Radio Telescope) located at Arvi, near Junnar, the world's largest array of metre-wave radio telescopes, completed in 1995.
After Ozar, I started towards Nimdari, proceeding to which, I saw the Shivneri fort and some Buddhist caves.
Shivneri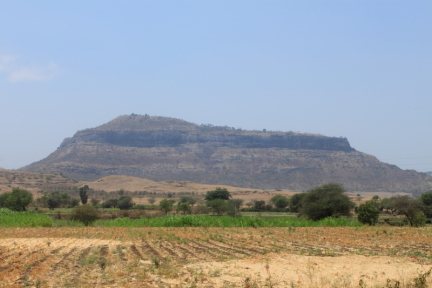 Caves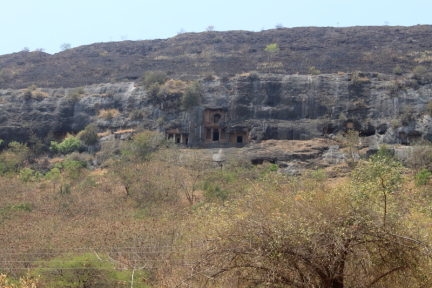 At Nimdari, on the bank of the Meena river, is a temple dedicated to Renukadevi, built during the Peshwa era. As Renukadevi is our family deity, I made a detour of around 18 km. After Nimdari, I headed towards Vaduj, where the Khandoba temple is built, in the form of a land fort, surrounded by a high wall and four bastions at each corner. The entrance gate is protected by two further bastions.
Renukadevi temple, Nimdari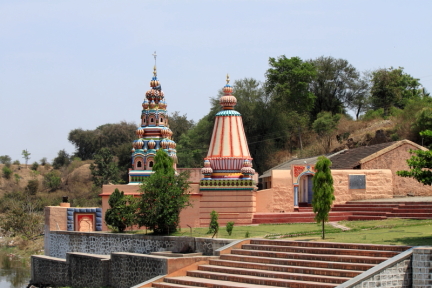 Our next destination was the second Ganpati at Lenyadri. From Vaduj, I started towards Lenyadri via Junnar. From Junnar, Lenyadri is just 5 km away. On the way, one can see Shivneri (the birthplace of the Maratha king, Shivaji). The Ganpati at Lenyadri, known as Girijatmaj, meaning Ganesh, the son of Parvati (Girija = Parvati; atmaj = son), is situated on a hill on the north-west of the river Kukadi. Of all the ashtavinakayas, this is the only one situated atop a hill in a Buddhist cave.
Girijatmaj, Lenyadri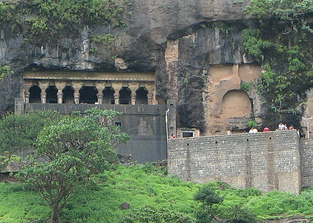 According to legend, Parvati (Shiva's wife) had a strong desire to have Vinayaka as her son. To obtain this, she performed penance for 12 years in the Lenyadri caves. Pleased by her dedication, Lord Ganesh blessed her and on the day of Bhadrapada Shudh Chaturthi when Parvati was venerating a statue of Lord Ganesh, it came alive and told her that her wish had been granted. A few months later, Parvati gave birth to a boy and, on the 11th day, named him Ganesh. The young boy spent his first fifteen years in Lenyadri, when he was confronted by a number of demons who were sent by Sindhu, another demon who was destined to be killed by Ganesh. Yet, none of the demons could succeed in their attempts to kill the young Ganesh. For this reason, Lenyardi is considered a very holy place and regarded as one of the main ashtavinayakas.
The temple at Lenyadri faces south and is carved from a single rock. One has to climb around 300 steps to reach it. On entering, one steps into a huge hall known as a 'sabhamandap', unsupported by a single pillar. Inside are around 10 meditation rooms. The main temple is supported by six stone pillars, which have ancient carvings and inscriptions. Another impressive feature is that it is designed to ensure that it is well lit throughout the day. The statue faces north, with its trunk turned toward the left. Also, only one of its eyes is visible.
The main temple is surrounded by approximately 27 Buddhist caves, inhabited around AD 3. One can notice sphinx-like structures on top of the pillars.
After Lenyadri, I started towards Pune. The road from Junnar to Pune was excellent. I managed to cover approximately 275 km.
End of the first day
10th April 2011
Route - Pune – Theur – Bhuleshwar – Siddhtek – Morgaon – Jejuri – Pune
Distance covered – approx. 300 km
I started around 5:30 am, as I had to cover three ganapatis, along with Jejuri and Bhuleshwar. Theur is situated on the Pune–Solapur highway. At Theur phata, one has to take a left to reach the temple.
According to legend, at this spot Ganesh is believed to have got back from the greedy Guna the precious chinatamani jewel, for the sage Kapila. After obtaining the jewel, Kapila hung it on Vinayak's (Ganesh's) neck. Thus, the name Chintamani Vinayak. This happened under the kadamb tree; in ancient times, therefore, Theur was known as Kadamb Nagar.
Chintamani Temple, Theur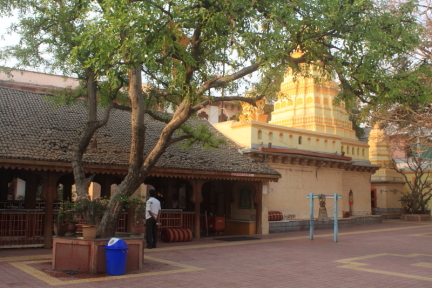 Madhavrao Peshwa was a huge devotee of this Ganpati. The lake behind the temple is called KadambTeertha. The temple entrance is from the north. The outer wooden hall was built by the Peshwas. The main temple is supposed to have been built by Dharanidhar Maharaj Dev from the family-lineage of Shri Moraya Gosavi. He must have built this around 100 years before Shrimant Madhavrao Peshwa built the outer wooden hall. Ramabai performed sati near by. Moraya Gosavi attained his siddhis (spiritual powers) here.
Ramabai Vrindavan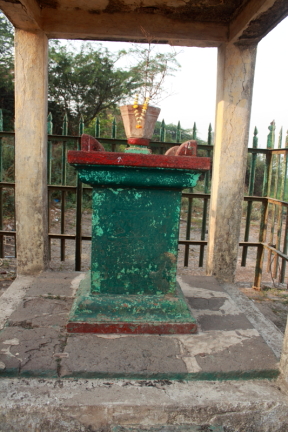 Our next destination was Bhuleshwar, to reach which, I took a right before Yawat village. The temple, situated on a hill, was built by the Choulas in the 13th century, between AD 1230 and 1240. There are beautiful carvings on the walls. The fort in which the temple is situated is called DaulatMangal, sometimes referred to as Manal Gad.
Bhuleshwar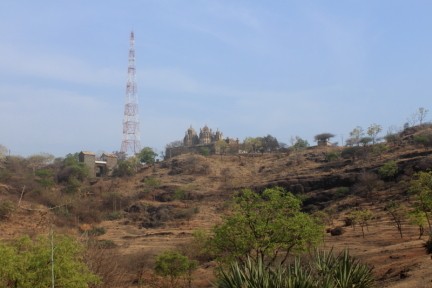 There is a huge nandi inside, along with a Ganpati statue in female form. It is believed to be the only such statue of Ganesh. Also, there are many carvings, depicting tales of the Mahabharat and Ramayan.
Vinayaki Ganesh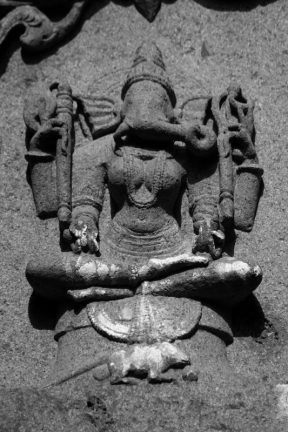 Ramayan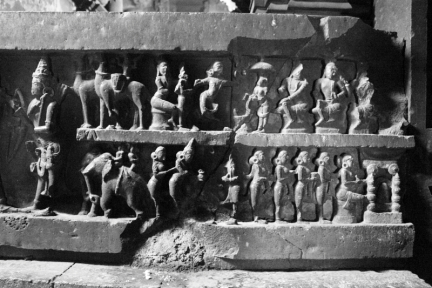 Mahabharat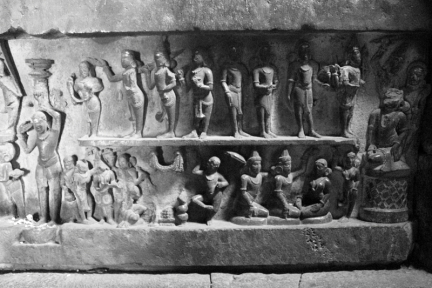 After clicking many photos, I headed to Siddhatek, via Daund. Again, the road was excellent till Patas. But, from Patas, when one takes a left to Daund, the road turns into a nightmare. A complete bumpy ride till Siddhatek. The Ganpati at Siddhatek is known as Shri Siddhi Vinayak. The Siddhatek Siddhivinayak temple was built by Maharani Ahilyabai Holkar on a hillock on the bank of the river Bhima. Ganesh is seated with his consorts, Siddhi and Riddhi.
Shri Siddhi Vinayak, Siddhatek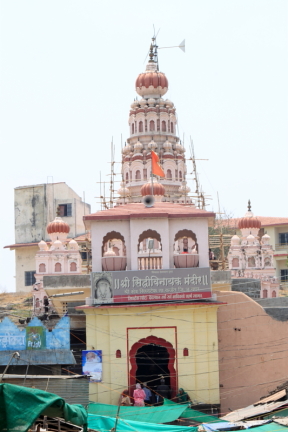 According to legend, Vishnu, who was engaged in a serious battle with the demons, Madhu and Kaitabha, was dismayed by his inability to bring the battle to a quick and decisive end. Shiva advised him to propitiate Ganesh. On doing so, Ganesh appeared on the battlefield, his appearance strengthening Vishnu's resolve and abilities, and enabling him to vanquish the demons easily. Ganesh's appearance on the battlefield is marked by the Siddhivinayak shrine at Siddhatek, said to be capable of granting siddhis.
Close to the Ganpati temple is one dedicated to Vishnu. The statue of Vishnu in this temple faces the Ganpati temple.
Vishnu temple, Siddhatek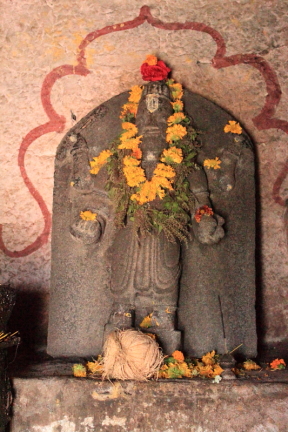 After Siddhatek, I headed to Morgaon. As this was the return journey till Patas, bike-driving did not afford me any pleasure. But once I took a left at Choufula, the road was again smooth till Morgaon. The Ganpati at Morgaon is known as Mayureshwar. This most important temple on this tour, built from black stone during the Bahamani era (the 14th century) by Moraya Gosavi, has four gates. It is situated in the centre of the village. On all four sides are minarets, giving the feeling of a mosque when seen from a distance. This was done to avoid attacks on it during Mughal times. The temple has a 50-foot wall.
Mayureshwar, Morgaon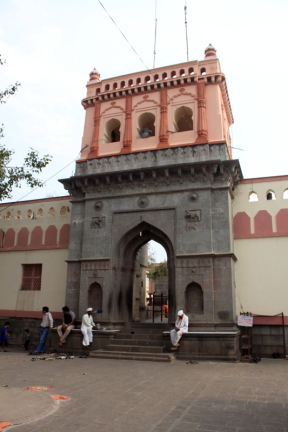 The nandi (a bull, Shiva's mount) at the entrance is unique, as a nandi is normally found only in Shiva temples. However, the story goes that, as this statue was being taken to some Shiva temple, the vehicle carrying it broke down, and the nandi statue could not be removed from its present place.
Nandi, Morgaon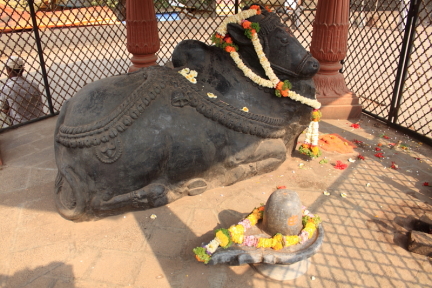 According to legend, Ganpati was born as Mayureshwar riding a peacock to kill Sindhu (son of Chakrapani), who had become powerful by venerating Surya, and was attacking the gods and imprisoning them. This is the place where the head of Sindhu fell. It is believed that one should start the "ashtavinayak" yatra from Morgaon.
From Morgaon, I headed towards Jejuri, an important place for venerators of Khandoba. The town is known as being the location of one of the most revered temples in the state, known as Khandobachi Jejuri, dedicated to Khandoba, also known as Mhalsakant or Malhari Martand. Khandoba is regarded as the 'God of Jejuri' and is held in great reverence by the dhangars (shepherds), one of the oldest tribes in India.
Khandoba Temple, Jejuri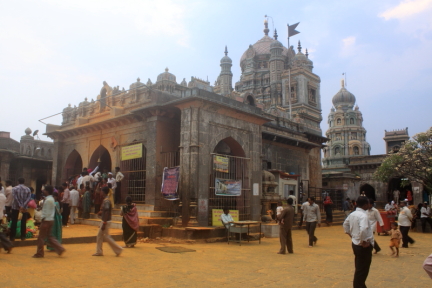 From Jejuri, I started my return journey to Pune via Diwe Ghat. At the end of the day, I was exhausted after covering approx. 300 km.
End of the second day.
11th April 2011
Route - Pune – Vagholi – Tulapur – Vadhu – Ranjangaon – Chakan – Lonavala – Madh – Pali – Dombivli
Distance covered – approx. 270 km
I started at 5:45 am as I had to cover three ganapatis and three historical sites. My first halt was Wagholi, where lies a temple of Shri Wagheshwar (or Wyaghreshwar), to the left of the highway, surrounded by a small lake. Near the temple is a black stone monument, the 'samadhi' of the Maratha sardar, (noble) 'Pilajirao Jadhav'. He fought against the Nizam and worked closely with Bajirao Peshwa-I. Jadhav belonged to Wagholi, and his heirs built this samadhi. 'Jadhavgad', now turned into 'Kamath Resort' near Saswad, belonged to these Jadhavs.
Shri Wagheshwar temple, Wagholi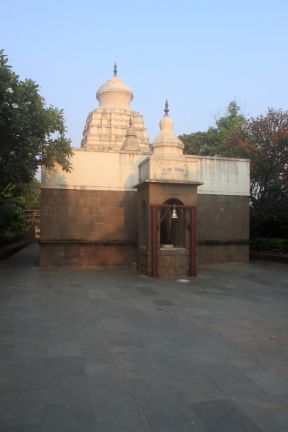 Samadhi of Pilajirao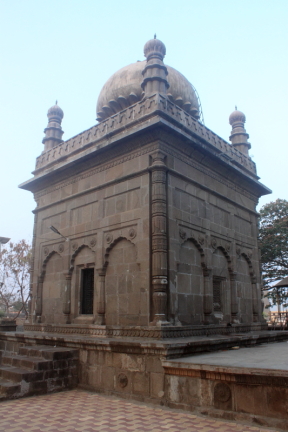 After Wagholi, I headed towards Tulapur, earlier known as 'Naagargaon'. Adilshahi Vajir 'Murar Jagdev' was advised by his guru to rebuild the destroyed temple of 'Sangameshwar', which he did. Later, Murar Jagdev wished to donate as much gold as the weight of an elephant. Shahaji Maharaj seemingly solved the problem, by offering him the solution of weighing the elephant in a boat and marking the depth. The boat was then refilled with stone and weighed and the same amount of gold was donated. With this sheer intelligence of Shahaji Maharaj, Murar Jagdev could donate as much gold as the weight of an elephant. 'Naagargaon' was then renamed 'Tulapur', i.e., 'the weighing town'.
Also, Tulapur is the place where Chhatrapati Sambhaji Maharaj was killed. According to the order of Aurangzeb, Sambhaji was tortured and executed in a most cruel way. He was asked to surrender his kingdom to Aurangzeb and convert to Islam. Sambhaji refused and instead sang the praises of Mahadev (Lord Shiva). Aurangzeb ordered his men to torture Sambhaji and his friend Kavi Kalash to death. Each cruel punishment was given to Kavi Kalash prior to Sambhaji, as if it were a rehearsal.
They were dressed as clowns, their bodies shackled in heavy iron chains, with huge wooden logs on their necks and shoulders. They were tied on camels, and driven through the village. All the men and women from Aurangzeb's troops came to see this captured Maratha warrior. People threw stones and dung at them. Their eyes were burned with hot iron bars and their tongues were plucked out. They were beaten till their wounds bled and then bathed in salt water. Their skin was peeled off with 'wagh nakh''. Their legs and hands were cut off and finally, on March 11, 1689, Sambhaji was killed at Sangameshwar at Tulapur, near Pune. His body was cut into pieces and thrown away for crows, vultures and dogs to eat.
Sangameshwar temple, Tulapur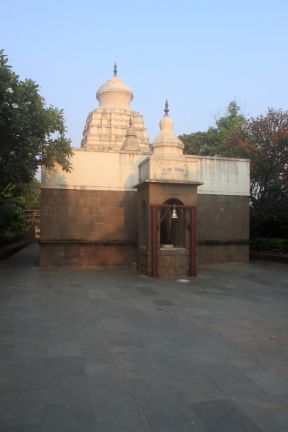 I parked my vehicle outside the small garden at the Sangameshwar temple. Sambhaji's statue and smarak stand just outside the temple. I visited both, bowed in front of Lord Shiva (temple) and at Sambhaji's statue.
Sambhaji Maharaj Samadhi, Tulapur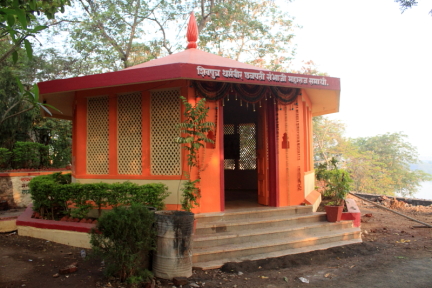 I went to the sangam ghat, the confluence of three rivers, the Bhima, the Bhama and the Indrayani. The beautiful Shri Ballaleshwar and old Ganpati temples are near the ghat. I clicked some photos. After spending enough time, I continued our journey to Vadhu.
Sangam, Tulapur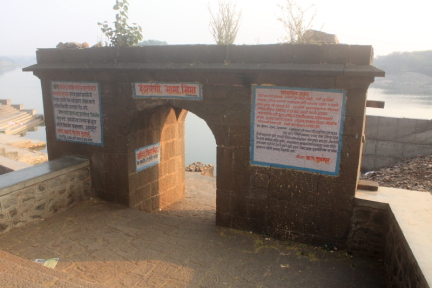 Ballaleshwar Temple, Tulapur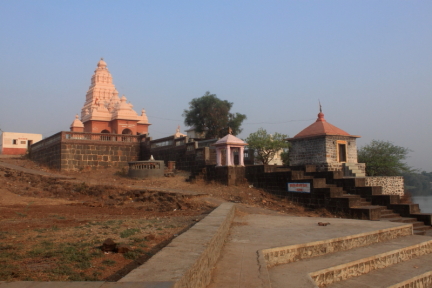 Vadhu is the place where the actual last rites (funeral) of Sambhaji Maharaj were carried out. A few brave Maratha sardars from the 'Patil' family collected the pieces of Sambhaji's body and sewed them up, then performed the final rites at this spot. They were given the name 'Shivale Patil' for this act of bravery. 'Shivale' in Marathi means 'sewing'.
After a few years, Sambhaji's son Chatrapati Shahu, along with his mother, Yesubai, came to Vadhu and made a donation to preserve the place. The statue of Sambhaji is superb. Here too are samadhis of Sambhaji and Kavi Kalash. I paid my tribute and started towards Ranjangaon.
Sambhaji Maharaj Samadhi, Vadhu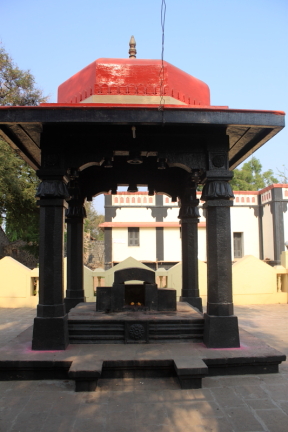 Statue of Sambhaji Maharaj, Vadhu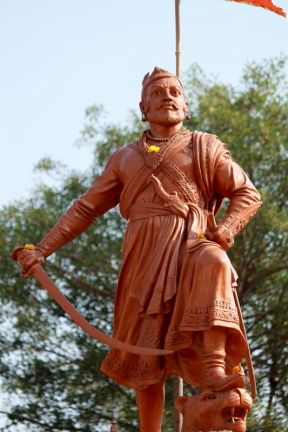 I reached Ranjangaon around 10:00 am. The Ganpati here is known as MahaGanpati, commemorating the coming to Shiva's aid in destroying the citadels of the demon, Tripurasur.
According to history, the temple was built in the 9th and 10th centuries. Madhavrao Peshwa made a room in the basement to keep the statue of Lord Ganesh.
MahaGanpati, Ranjangaon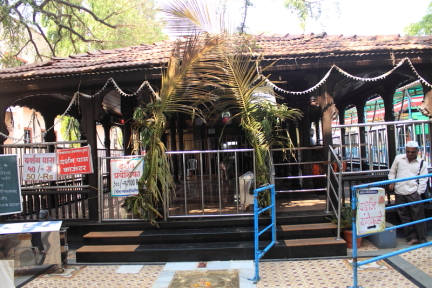 My next destination was Madh. The road from Pune to Ranjangaon and Ranjangaon to Madh was excellent. The seventh one on my tour, the Ganpati at Madh is known as Varad Vinayak.
According to legend, the handsome Prince Rukmangad refused sage Vachaknavi's wife Mukunda's illicit call, and was cursed to suffer from leprosy. Mukunda was satisfied by Indra, who had deceived her by taking the form of Rukmangad, and she bore him a child, Grutsamad. When Grutsamad came to know the real story, he cursed his mother Mukunda to become the Bori tree; she, in turn, cursed him to bear a demon son Tripurasur, the one defeated by Shiva after praying to the Ranjangaon Ganesh. Grutsamad, after being cursed, went to the Pushpak forest and venerated Ganesh. The sage Grutsamad is famous for the mantra Gananatva. He founded the temple and called this Ganesh, Varad-Vinayak.
The statue was found in the adjoining lake (by Dhondu Paudkar in AD 1690); hence, its weathered look. In AD 1725, the then Kalyan subhedar, Ramji Mahadev Biwalkar, built the VaradVinayak temple at Madh.
Varad Vinayak, Madh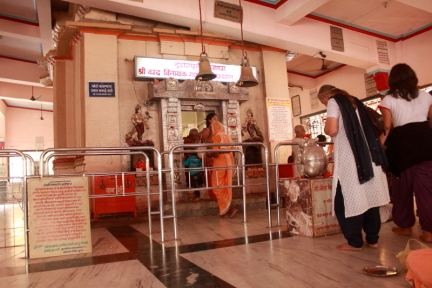 After Madh, I headed towards Pali to visit the final Ganpati on my tour. The road from Khopoli to Pali was good. Ballaleshwar is the name of this Ganpati.
Before proceeding to the main temple, one has to pass through the temple of Dhundi Vinayak. From ancient times, it has been the practice to take the darshan of Dhundi Vinayak before proceeding to the main statue of Shree Ballaleshwar.
The original wooden temple was reconstructed and a stone temple built by Nana Phadnavis in 1760. There are two small lakes constructed on two sides, one, reserved for the puja (veneration).
The legend about this place is that Kalyansheth, a merchant in Pallipur married to Indumati, was childless for quite some time, but later blessed with a son, Ballal. As Ballal grew, he spent much of his time in venerating and praying. As a devotee of Lord Ganesh, he would venerate stone statues of Ganesh in the forest along with his friends and companions. As it used to take time, the friends would reach home late. Regular delay in returning home irritated the parents of the friends of Ballal, who complained to his father, saying that Ballal was responsible for spoiling their children. Already unhappy with Ballal for not concentrating on his studies, Kalyansheth was boiling with anger when he heard the complaint. He immediately went to the place of veneration in the forest and devastated the pooja arrangements organized by Ballal and his friends. He threw away the stone statue of Shri Ganesh and broke the pandal. All the kids were frightened but Ballal, who was engrossed in pooja and japa, did not know what was happening. Kalyan beat Ballal mercilessly and tied him to the tree, telling him to get fed and freed by Ganesh. He then left for home.
Ballal, semiconscious and tied to the tree in the forest, was lying like that, with severe pain all over, and started calling on his beloved god, Ganesh. "O Lord, Shri Ganesh, I was busy in praying to you. I was right and humble but my cruel father has spoiled my act of devotion and hence I am unable to perform pooja." Shri Ganesh was pleased and responded quickly. Ballal was freed. He blessed Ballal as a superior devotee with a long lifespan. He hugged Ballal and said that the father would suffer for his wrongdoing. Ballal insisted that Lord Ganesh continue to stay at Pali. Nodding his head, Ganesh made his permanent stay at Pali, as Ballal Vinayak and disappeared into a large stone. This is famous as Shri Ballaleshwar.
Ballaleshwar, Pali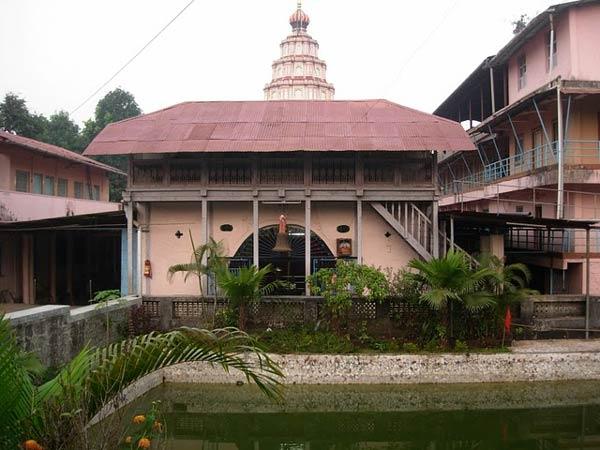 I finished our ashtavinayak tour at Pali, though one Ganpati still remained, the one at Jambhulpada, a small village 15 km before Pali on the Khopoli-Pali highway. The Ganpati statue at Jambhulpada is unique.
After Jambhulpada, I headed home to Dombivli.